By Jay Landers
The term "straight piping" has a benign ring to it, but it refers to a practice many would rather not think about — using a pipe to dispose of raw wastewater directly from a residence to a backyard or stream without any treatment whatsoever. In certain areas of the United States, often rural places where poverty is endemic, the practice is more common than might be expected in a society as affluent as modern America. In other cases, residents in such areas may have on-site treatment systems that do not function properly, resulting in the same unsanitary outcome as straight piping.
Although the exact number is unknown, more than 2 million people in the United States are thought to live without access to adequate wastewater infrastructure, representing a clear threat to public health. In a bid to address this situation, the U.S. Environmental Protection Agency and the U.S. Department of Agriculture jointly launched a pilot project in August to help provide sanitation services in 11 rural communities across the country, in part using funds from last year's $1.2 trillion Infrastructure Investment and Jobs Act, also referred to as the bipartisan infrastructure law. Known as the Closing America's Wastewater Access Gap Community Initiative, the project ultimately is intended to address unmet sanitation needs in rural areas throughout the United States.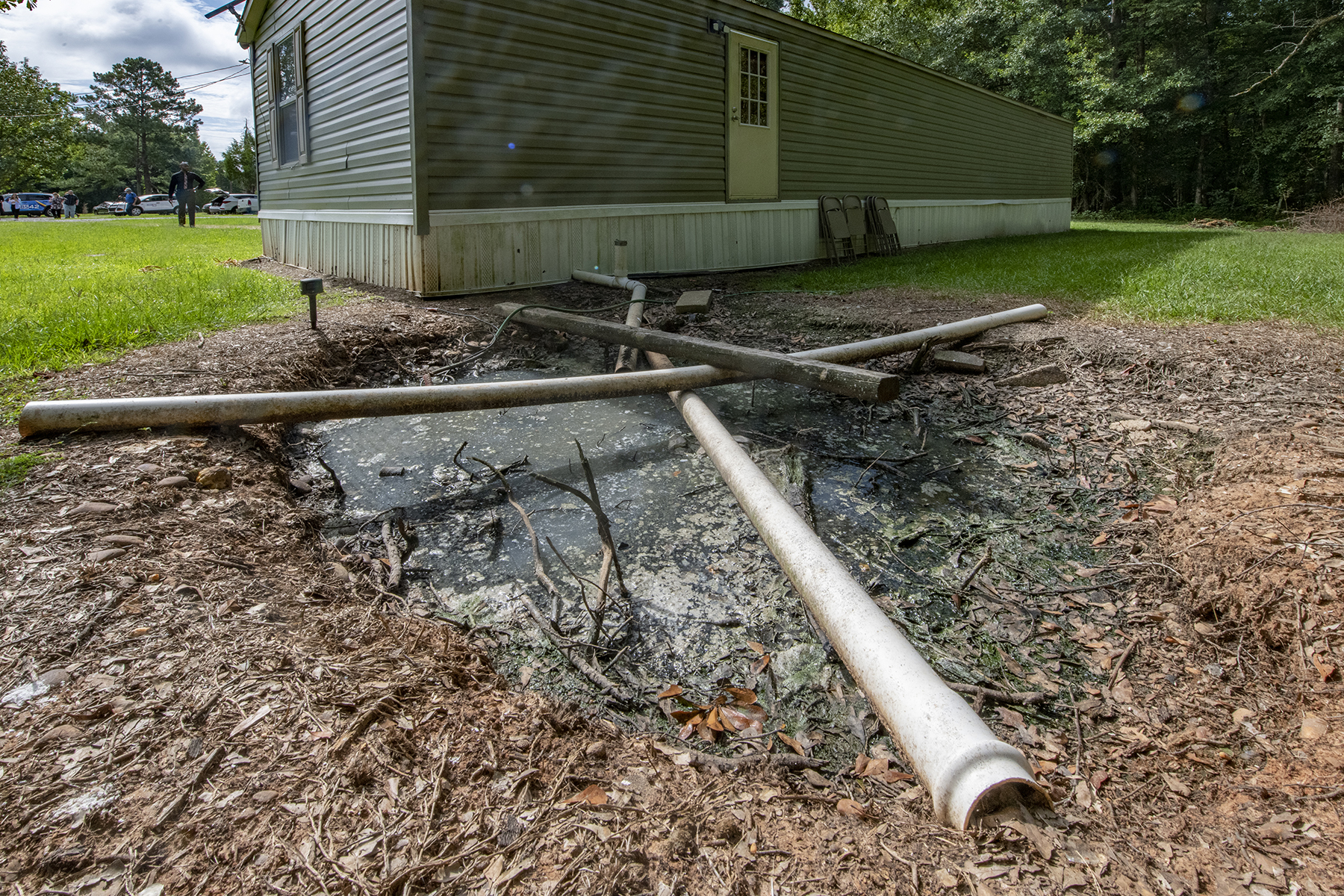 Risks to public health
"An estimated 2.2 million people in the U.S. lack basic running water and indoor plumbing in their homes," says Melissa Sullivan, an EPA spokesperson. "Many more live in communities with unsafe wastewater infrastructure."
Typically, such communities are located beyond the reach of existing centralized wastewater collection and treatment systems, while functional on-site treatment systems are either unavailable or unaffordable. "As a result, these Americans are exposed to raw sewage in their own yards," Sullivan says. "And when it rains, the sewage backs up into their homes. The health implications to exposure to raw sewage is clear and unacceptable."
Indeed, a 2017 study reported in the American Journal of Tropical Medicine and Hygiene found hookworm in more than one-third of its participants, all of whom lived in Lowndes County, Alabama, one of the communities participating in the new EPA/USDA initiative. The parasite, which results in anemia and can cause pulmonary problems, spreads by means of dermal contact with soil contaminated by fecal matter.
Marginalized communities
Race is the strongest predictor of access to sanitation services in the United States, according to a 2019 report from the U.S. Water Alliance, a nonprofit organization that supports sustainable water policies, and DigDeep, a nonprofit entity that works to provide running water and sanitation for those who lack such services. Titled Closing the Water Access Gap in the United States: A National Action Plan, the report found: "Nationwide, 0.3 percent of white households lack complete plumbing, as compared to 0.5 percent of African-American and Latinx households, and 5.8 percent of Native American households."
Not surprisingly, the other key predictor of access to sanitation services is income. The analysis found that census tracts with a higher average household income had lower percentages of households that lacked access to complete plumbing.
Among the states, Alaska was found to have the highest proportion of the population lacking access to sanitation, at 5.75%. New Mexico ranked second, with more than 1.6%, while Arizona and Maine both had slightly less than 1%. However, "small pockets of communities without complete plumbing exist in every state," the report notes. For example, the report includes in-depth examinations of residents living without adequate sanitation in California's Central Valley, the Navajo Nation, low-income housing areas in south Texas known as colonias, and rural areas in the South, Appalachia, and Puerto Rico.
"The America that we all believe in is a land of opportunity," said Michael Regan, the EPA administrator, in an Aug. 2 news release. "But, for historically marginalized communities from Alabama to Alaska, that opportunity is stolen when basic sanitation doesn't work — exposing adults and children to backyard sewage and disease."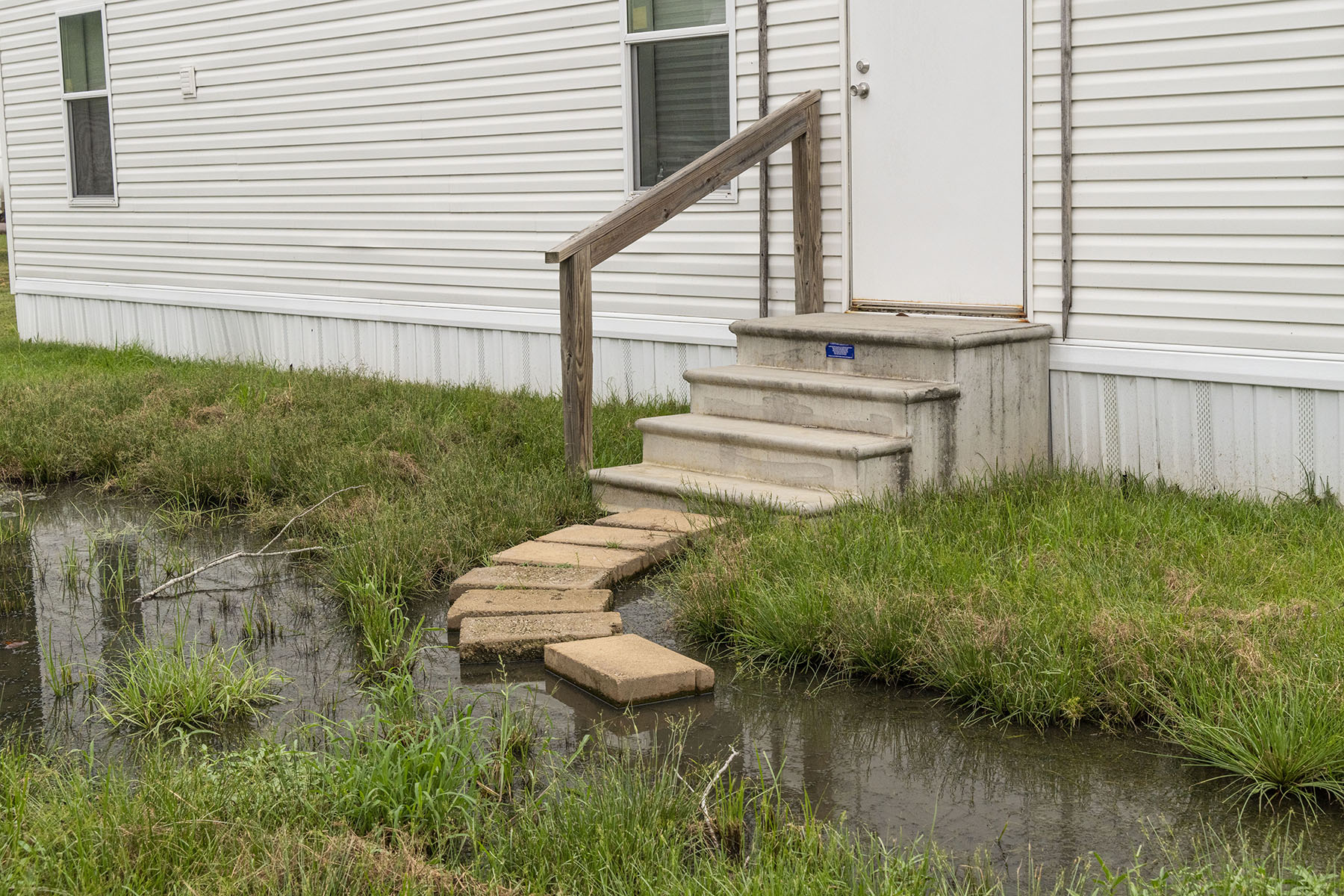 Tom Vilsack, the USDA secretary, pledged to address such problems, in part by drawing on funding provided by the bipartisan infrastructure law. "We recognize that there are still people who have been going without the basics," Vilsack said in the Aug. 2 release. "By combining USDA and EPA resources and taking advantage of the historic bipartisan infrastructure law, we can restore to these communities a sense of economic vitality and social dignity that the people living there deserve."
Six states, two tribes
The wastewater initiative involves, in addition to the EPA and USDA, six states and two tribal governments: Alabama, Kentucky, Mississippi, New Mexico, North Carolina, West Virginia, the New Mexico-based Santo Domingo Pueblo, and the Arizona-based San Carlos Apache Tribe. Initially, the program will focus on providing sanitation to those who need it in the following areas:
Bolivar County, Mississippi.
Dona Ana County, New Mexico.
Duplin County, North Carolina.
Greene County, Alabama.
Halifax County, North Carolina.
Harlan County, Kentucky.
Lowndes County, Alabama.
McDowell County, West Virginia.
Raleigh County, West Virginia.
San Carlos Apache Tribe, Arizona.
Santo Domingo Pueblo, New Mexico.
"The EPA utilized a variety of approaches, including leveraging data and collaborating with participating states, to identify the participating areas," Sullivan says. "The 11 areas participating in the pilot represent a snapshot of the challenges faced in communities across America. All participating areas experience challenges related to inadequate wastewater infrastructure and unsewered families."
Rather than directly funding technological solutions for the participating communities, the EPA and USDA aim "to provide technical assistance to help communities access bipartisan infrastructure law funding," Sullivan says. "Every community has unique needs that require a tailored approach — which can make it hard to give a specific dollar figure for one project. If we had to estimate right now, we anticipate the initiative will invest around $5 million in targeted technical assistance."
Key activities
The Closing America's Wastewater Access Gap Community Initiative will involve four "key activities," according to a fact sheet from the EPA and USDA describing the program. The first activity entails conducting community wastewater assessments to determine the current status of wastewater infrastructure in the 11 participating communities.
"In addition to a physical infrastructure assessment, the pilot will support capacity assessments to identify what additional support may be needed to build the technical, managerial, and financial capacity of local governmental agencies to steward the project," according to the fact sheet.
For the second key activity, program participants will develop what the fact sheet calls Wastewater Community Solutions Plans, which will be based on the information from the community assessments. Such plans "will include preliminary technical recommendations for a sustainable wastewater solution, based on local conditions."
Three categories of solutions generally will be pursued, based on the location of a given residence or residences, according to the fact sheet. Homes that are "located near to but not connected with an existing centralized wastewater system" will be connected to such systems. In the case of "clusters of homes on individual decentralized systems," the program will "facilitate development of new and sustainable shared systems." Finally, "for geographically isolated homes" the program will "facilitate conversion into reliable individual, decentralized systems," that is, septic systems.
The third key activity will entail helping communities identify and pursue funding opportunities, including those offered by the EPA and USDA. The fourth key activity will focus on building long-term capacity within communities to operate and maintain wastewater infrastructure.
Looking ahead
Assuming the pilot goes well, the goal is to expand the program to address sanitation challenges in other communities. "The Closing America's Wastewater Access Gap Community Initiative will be a road map to scale up efforts in the rest of the country," the EPA said in its release.
The North Carolina Department of Environmental Quality is one of several state agencies participating in the program. Involvement with the program will improve their ability to address sanitation challenges within their borders, says Cathy Akroyd, a public information officer for the North Carolina DEQ. "Working closely with the communities will help the agencies more thoroughly understand the needs of communities and local governments that have similar wastewater access needs elsewhere and how to improve access to funding," Akroyd says.
Funding, of course, will be key to closing the wastewater access gap in communities that lack the means to do so on their own. "Generally, extending sewer lines and connecting homes to a wastewater system can range in the hundreds of thousands to millions of dollars, depending on number of connections, distance, and collection system design," Akroyd says. "If a treatment facility must be built or expanded, costs would be higher. There may be alternatives, such as large, decentralized wastewater systems, that may reduce those costs. Alternately, repair or replacement of failed or failing on-site systems can be cheaper in some cases, costing a few thousand dollars per system, but would require regular upkeep by the homeowner."
Long-term solutions needed
For its part, the U.S. Water Alliance applauded the formation of the wastewater access initiative. "Closing our nation's wastewater gap addresses a critically important priority for our collective future," said Mami Hara, CEO of the U.S. Water Alliance, in an Aug. 3 email to the organization's members and supporters. "We applaud this commitment and investment and look forward to the development of community-level solutions that can be replicated across our country."
For Catherine Coleman Flowers, the newfound federal attention to the problem of inadequate sanitation has been a long time in the making. Flowers is an environmental activist and the founder of the nonprofit organization the Center for Rural Enterprise and Environmental Justice, which works to improve environmental conditions in rural areas across the United States. Flowers also wrote Waste: One Woman's Fight Against America's Dirty Secret. Published in 2020, the book chronicles her decadeslong attempts to bring attention to and provide solutions for those residents who live without adequate sanitation in rural areas within Alabama, particularly Lowndes County, where she was raised.
"When I first started writing about (inadequate sanitation) and talking about this, nobody acknowledged the existence of this as a U.S. problem," Flowers says. "I think the fact that we've gotten this kind of federal attention, where they're going to do a project across the U.S. in several states and counties where this problem exists, is significant."
For Lowndes County and the other communities involved with the initiative, Flowers wants to ensure that they receive appropriate, resilient sanitation solutions that work long term and are designed with climate change in mind, particularly in the case of on-site treatment systems.
"We are pushing for at least 10-year warranties on any septic system where government money is used to put it in place," Flowers says, noting that such systems have frequently failed to perform well in Lowndes County.
Although the county's dense clay soils and high water table are notoriously problematic for septic system performance, Flowers says that future on-site systems must be designed to account for more than just the local subsurface conditions. "We're talking about the soil and the high water table," she says. "And we're (also) talking about the types of rainfall, extended rainfall that's coming from the sky as well. It's more than just the soils. That's the old narrative. The new narrative includes climate change."