By Jay Landers
Nearly 10 years after Hurricane Sandy devastated coastal communities throughout the New York metropolitan area, the U.S. Army Corps of Engineers released the draft version of a plan to protect the region from coastal flooding associated with a similar event in the future. Issued in late September, the proposal calls for a nearly $53 billion plan involving a dozen storm surge barriers as well as a wide range of shore-based features and other measures to reduce the effects of coastal flooding.
'Significant milestone'
On Sept. 26, the Corps' New York District released the New York-New Jersey Harbor and Tributaries Coastal Storm Risk Management Feasibility Study as a draft report that also looked at the proposal's environmental impact.
"This is a significant milestone as we move towards a more resilient New York and New Jersey coastline," said Col. Matthew Luzzatto, the commander of the New York District, in a Sept. 26 news release.
"The Corps has been tasked with solving the nation's toughest engineering challenges, which includes making communities more adaptable and stronger in the face of powerful coastal storms that are becoming more frequent," Luzzatto said. "This study will ensure we are prepared to do everything possible to provide additional coastal storm risk reduction measures to the communities we serve."
Sandy starkly illustrated the very real flooding threat that coastal storms pose to the region. "Flood depths due to the storm surge (from Sandy) were as much as 9 ft in Manhattan, Staten Island, and other low-lying areas within the New York metropolitan area," according to the report. And the threat from future storms is anticipated to intensify. Potential damages are expected to increase due to "an increase in the extent and depth of inundation, increase in wave heights, and increased erosion caused by higher water levels and wave heights associated with a projected relative increase in the region's sea level," the report states.
For the purposes of the report, the Corps assumed a relative sea level rise of 2 ft between the years 2102 and 2117. (This is what the report calls an "intermediate scenario.")
Myriad elements
The Corps' tentatively selected plan — titled Multi-Basin Storm Surge Barriers with Shore-Based Measures — includes 12 storm surge barriers, each of which features complementary shore-based measures such as flood walls, levees, elevated promenades, buried sea walls and dunes, revetments, berms, bulkheads, pedestrian and vehicular gates, and road raisings. Together, the myriad elements are intended to function as a cohesive system.
The plan also includes risk-reduction features to manage flood risk in areas behind the storm surge barriers when the barriers are not operating as well as induced-flooding mitigation features to manage flood risk in areas in front of the storm surge barriers when the barriers are operating.
In its current form, the proposal provides a "conceptual level of design," according to the report. As a result, specific types of nonstructural measures to be included as part of the project have yet to be chosen, though they may take the form of floodproofing and elevating structures. Similarly, the project will include natural and nature-based features, such as wetlands and living shorelines, but the specific types and locations of such features have yet to be chosen.
Key components
The proposed storm surge barriers would have spans ranging in size from nearly 4,000 ft down to 200 ft. For example, an approximately 3,800 ft long storm surge barrier would be erected across the mouth of Jamaica Bay to protect against flooding in southern portions of Brooklyn and Queens. Equipped with 15 vertical lift auxiliary flow gates, the barrier would include two 200 ft wide conventional sector gates to facilitate navigation.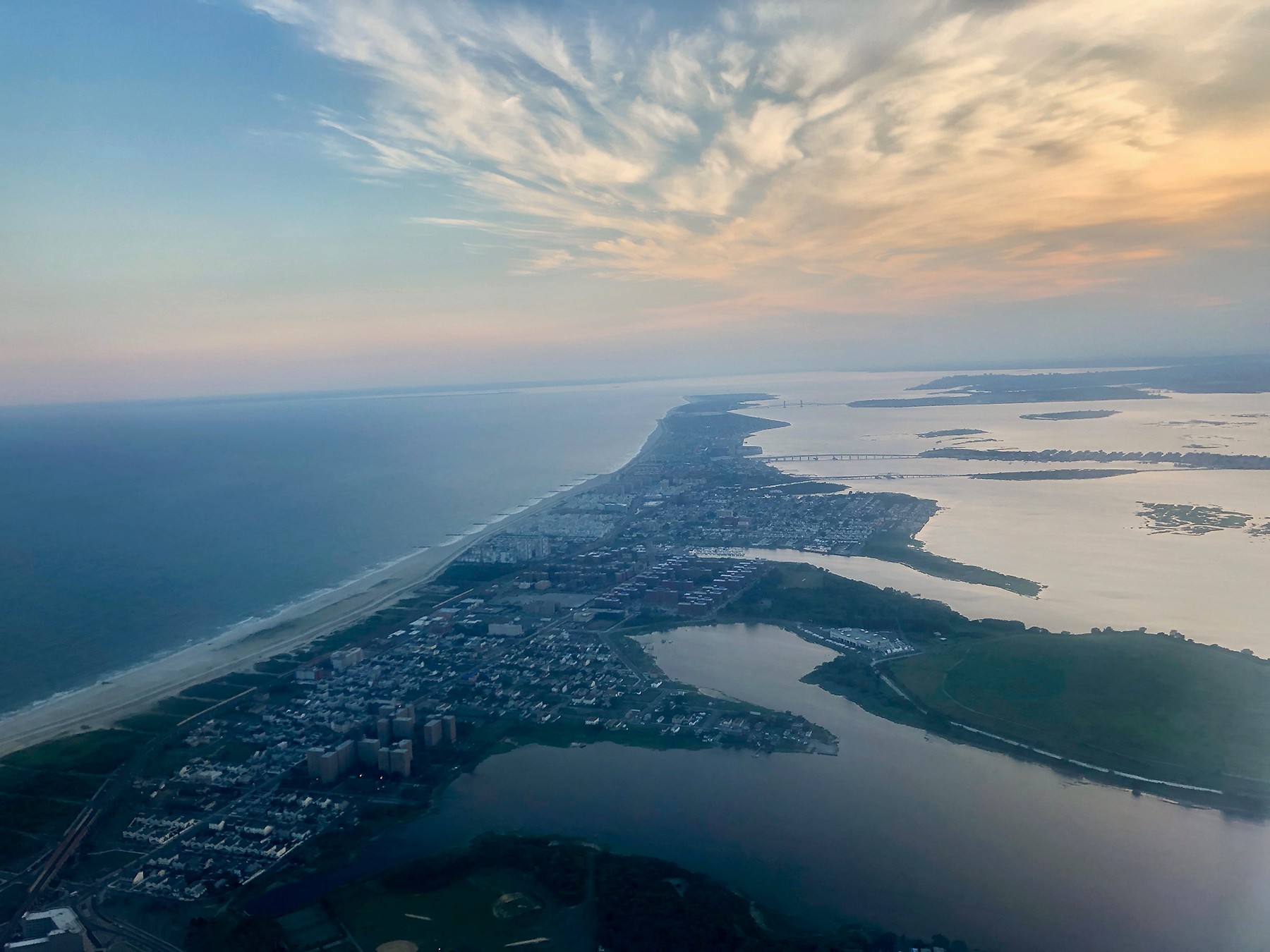 Among the other large storm surge barriers called for in the plan, an approximately 3,300 ft long structure would be located on the Kill Van Kull, the tidal strait separating Bayonne, New Jersey, and Staten Island. Navigable floating sector gates would provide an 800 ft wide navigable passage. (A sector gate is a pie-shaped gate having a solid-skin plate that wraps around the outer edge and that moves through an arc to open and close. Two such gates operate in tandem to prevent or allow water to flow through a barrier or other structure.)
On the Arthur Kill, the waterway separating the western edge of Staten Island and New Jersey, an approximately 2,300 ft long barrier would include a floating sector gate to provide a 600 ft wide navigable passage. Both the Kill Van Kull and Arthur Kill barriers would also include multiple auxiliary flow vertical lift gates, which are gates that can be raised or lowered vertically within a barrier to provide additional openings through which water may flow.
Elsewhere, navigable storm surge barriers would be located on New Jersey's Hackensack River, Newtown Creek and Flushing Creek in Queens, and the Gowanus Canal in Brooklyn. To provide additional flood-risk reduction in the vicinity of Jamaica Bay, navigable barriers would be added to Sheepshead Bay, Gerritsen Creek, Head of Bay, and Old Howard Beach.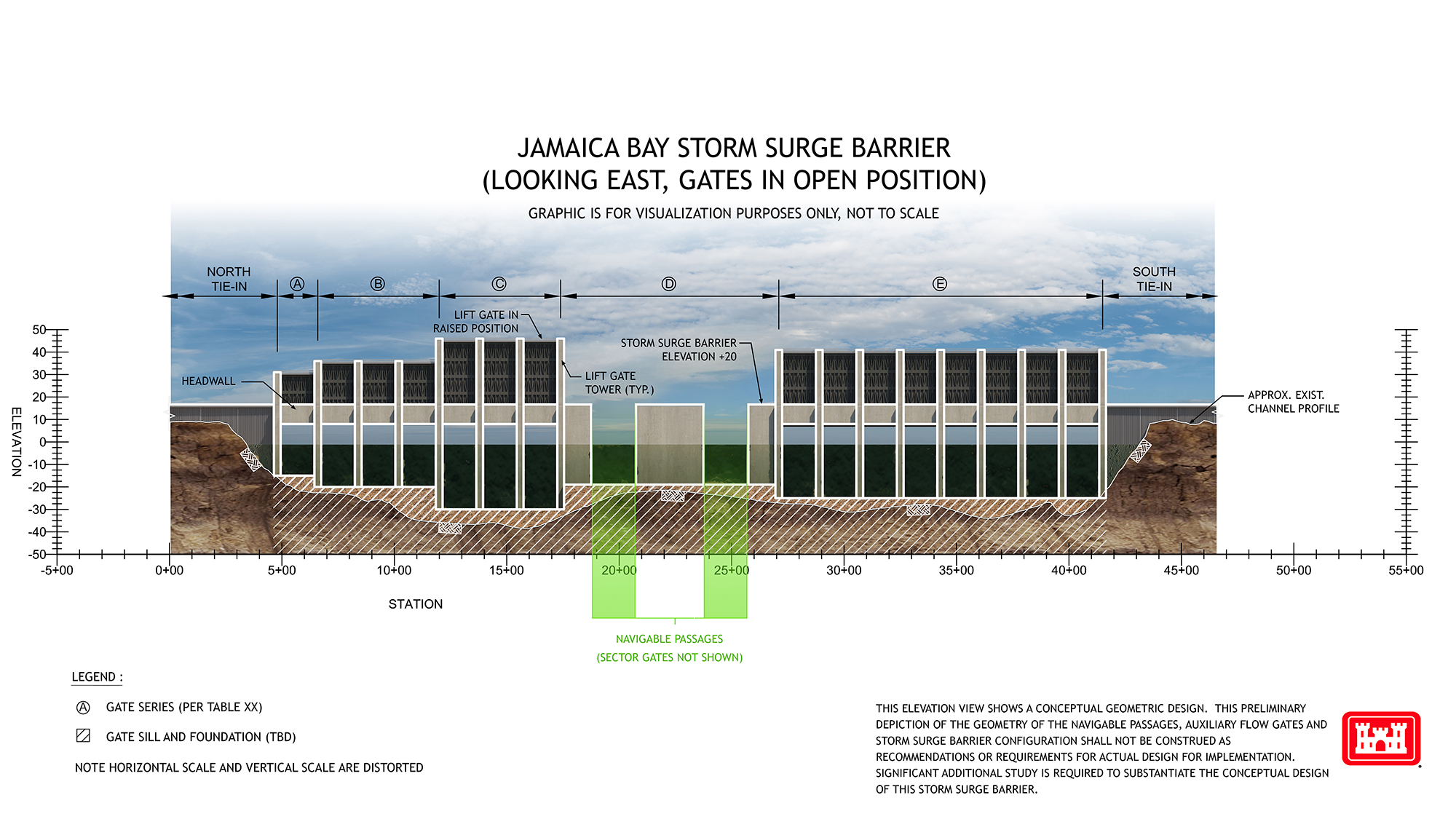 Other key components of the plan include what the report describes as "three primary structural shore-based measures" in the lower west side of Manhattan, East Harlem, and Jersey City, New Jersey. Expected to consist of deployable flood barriers, flood walls, sea walls, and elevated promenades, these measures will extend for nearly 6 mi in Manhattan, nearly 5 mi in East Harlem, and more than 8 mi in Jersey City.
Costs and concerns
The project would be expected to begin in 2030, last 14 years, and have an estimated cost of $52.6 billion, in 2022 dollars, according to the report. Of this amount, 65% would be provided by the federal government and 35% would come from nonfederal sponsors: the New Jersey Department of Environmental Protection and the New York State Department of Environmental Conservation.
The plan is estimated to have annual average equivalent benefits of approximately $6.3 billion and annual average equivalent costs of approximately $2.6 billion, resulting in a benefit-cost ratio of about 2.5, according to the report. Operation and maintenance costs are estimated at approximately $347 million annually.
The Corps has set a Jan. 6 deadline for receiving comments on the draft plan via email at [email protected]. Along with comments from the public, the Corps will receive and review input from other agencies, an independent external peer review process, and other sources, says Bryce Wisemiller, the project manager for the New York District.
After reviewing the feedback, the Corps will "decide whether to keep with the tentatively selected plan or to develop or advance some other plan," Wisemiller says. "Whatever plan is advanced would then be evaluated more rigorously."
The Corps' tentatively selected plan will receive careful scrutiny from at least one local environmental organization. Riverkeeper Inc., which has as its mission the protection of the Hudson River, indicated in an Oct. 14 news release that it has concerns about the plan. "We remain concerned about the need to properly protect and value our living rivers and natural systems, which are vital to all of us and to our region's future," said Tracy Brown, the president of Riverkeeper, in the release.
Such concerns extend, in part, to the proposed use of storm surge barriers, which "pose numerous threats to waterways and the marine life within them," according to Riverkeeper's release. "Such barriers, even if left open most of the time, can hamper sediment transport, fish migration, and flushing of combined sewer overflows."