By Leslie Nemo
On Sept. 1, the first anniversary of the remnants of Hurricane Ida hitting New York City, Mayor Eric Adams announced the city had recently installed 2,300 rain gardens and infiltration basins to help protect the Bronx and Queens from flooding. The installments are a fraction of the more than 11,000 existing green infrastructure projects already operating in New York. As of early 2022, the city had spent $1.09 billion on the design and creation of these sometimes-lush, sometimes-discrete attempts to absorb stormwater. Construction will keep going for several years. By 2030, the city intends for green infrastructure to eliminate 1.67 billion gal. of the combined sewer overflow that rushes into waterways each year, or about 6%-7% of today's overflow volume.
The thousands of rain gardens, retention basins, permeable pavers, and more constitute one of the largest publicly supported green infrastructure programs in the country. Over the years, city leaders have gotten better at knowing exactly what they would like contractors to build — and are introducing tools to evaluate what the installations accomplish for the neighborhoods they are in.
Though the city first explored the potential water quality benefits of green infrastructure in 2010, a 2012 consent order between the NYC Department of Environmental Protection and New York state made it mandatory for the city to deploy the technology and reduce how much runoff overflowed local sewers during storms.
Starting with city-owned
Since then, the DEP has focused its green infrastructure efforts in the spaces struggling with overflow the most and where the city has the final say in how pieces of land are used. A map marking each piece of DEP-authorized green infrastructure shows the emphasis so far on watersheds like Jamaica Bay, the Bronx River, and Westchester Creek, regions that deal with chronic flooding. Over 60% of the existing structures sit on public right of way — the medians, parking lane, and sidewalks that the city maintains, which account for about a third of all impervious ground in New York. "We obviously started on public land, first and foremost, because we have control with the right of way," says Melissa Enoch, managing director of green infrastructure capital planning and partnerships for the DEP.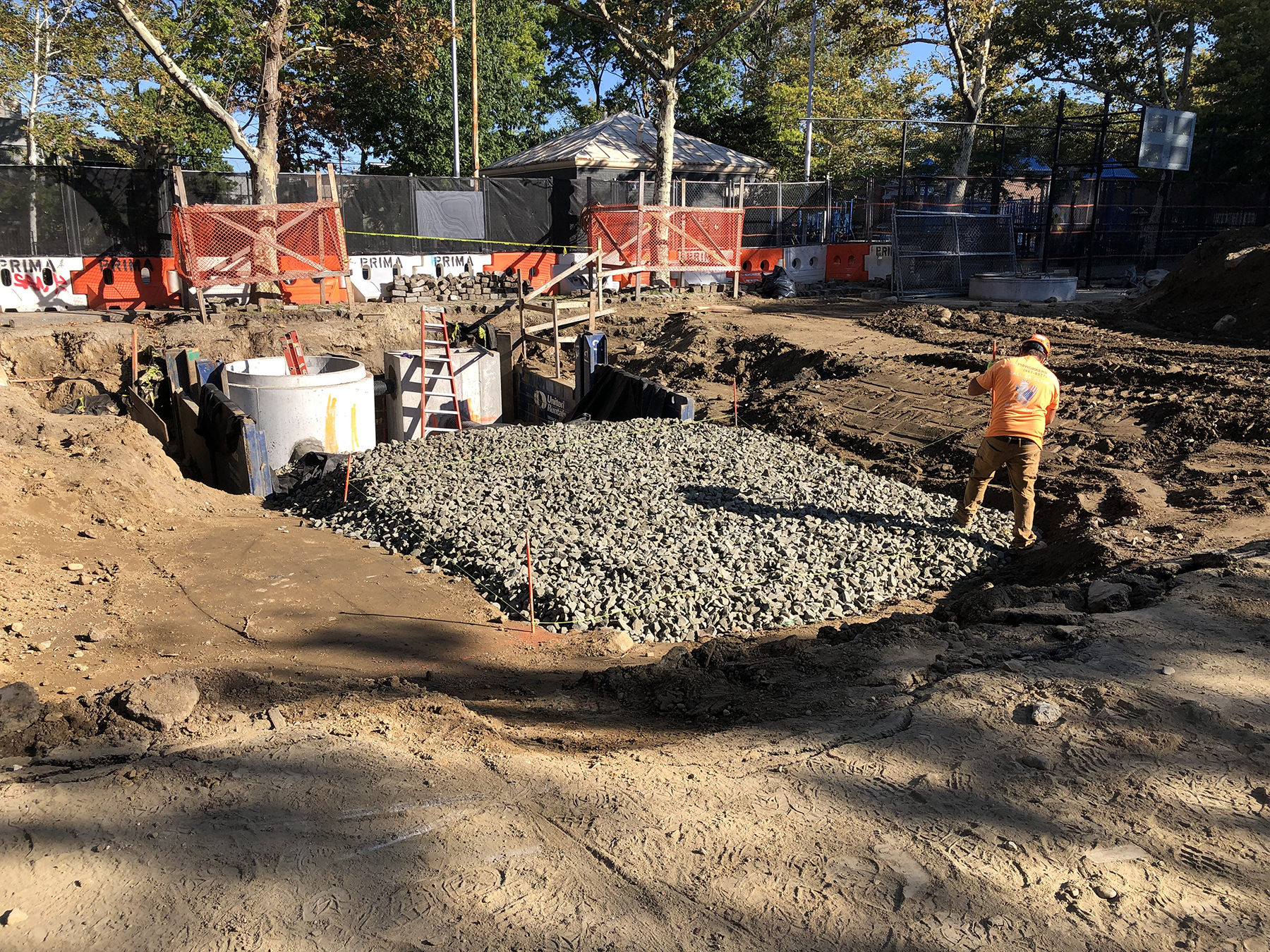 The right of way also gave the DEP space to figure out how specific the department had to be about what kinds of green infrastructure the city needed and how it would come about. In the early days of contracted work when the department would make field modifications, "we were very annoying," jokes Angela Licata, the deputy commissioner for the DEP Bureau of Sustainability, "although we've gotten a lot better."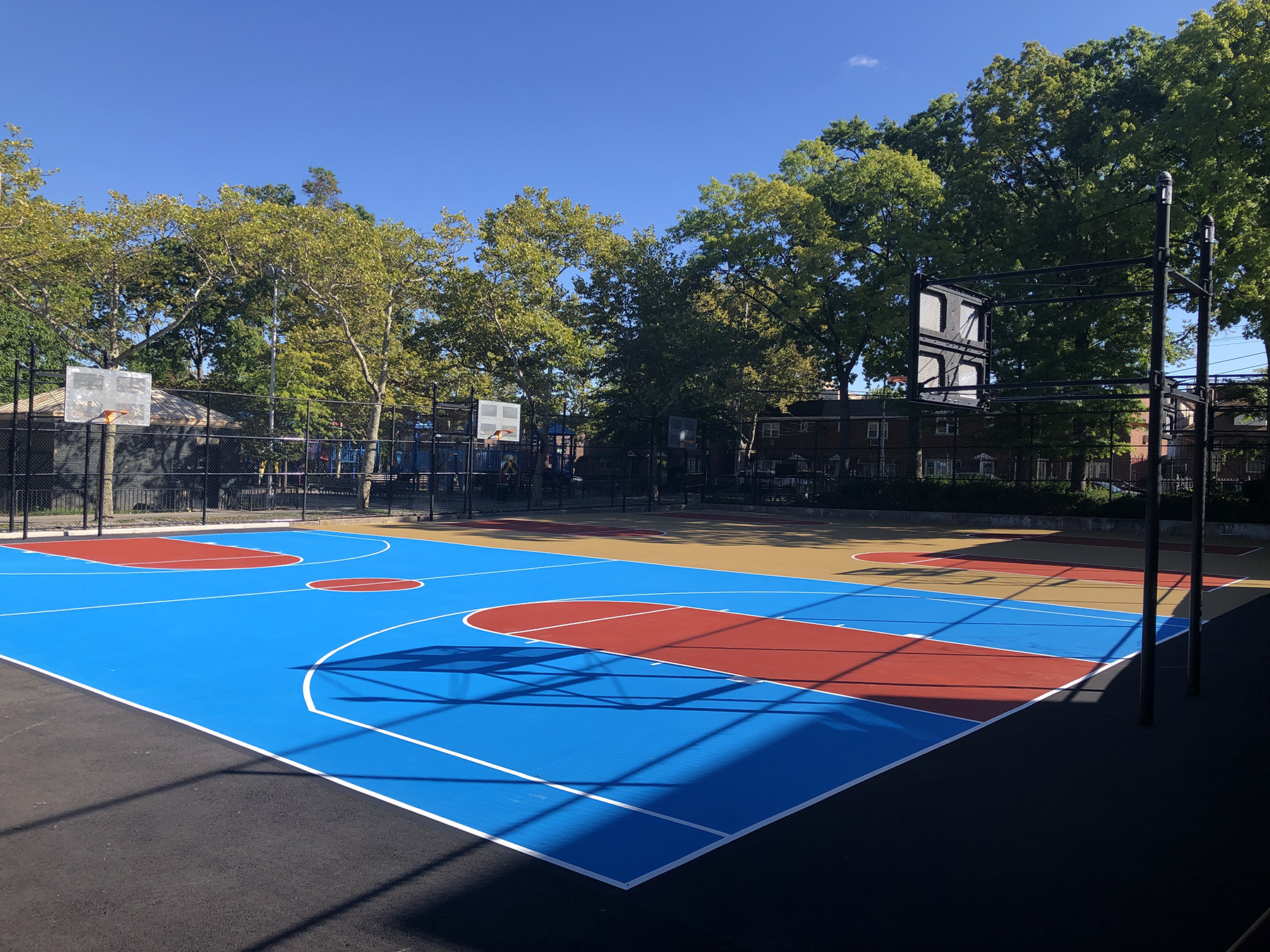 Currently, land surveys examining topography and possible interfering infrastructure like utilities are required. Geotechnical surveys gauge how close bedrock and water tables lie as well as what the surrounding soil is like. Minimum distancesbetween the edge of an installation and other street features, from maintenance holes to crosswalks, have to be maintained. Once contractors identify plots that can meet every standard needed for a bioswale or other design, the DEP also has requirements for component sizes, materials, and sometimes exact suppliers.
"In some ways, it's become prescriptive to get more consistency. In other ways, it's actually evolved to be able to get more green infrastructure installed based on lessons learned from the past," says Vincent Lee, P.E., LEED AP, ENV SP, an associate principal and civil and water engineering team leader at Arup.
When Lee's firm won its first design contract for green infrastructure in New York's Newtown Creek area in 2013, plant-heavy bioswales were essentially the only installation the team could create — and the structures couldn't go in front of any building entrances as they would block emergency services access.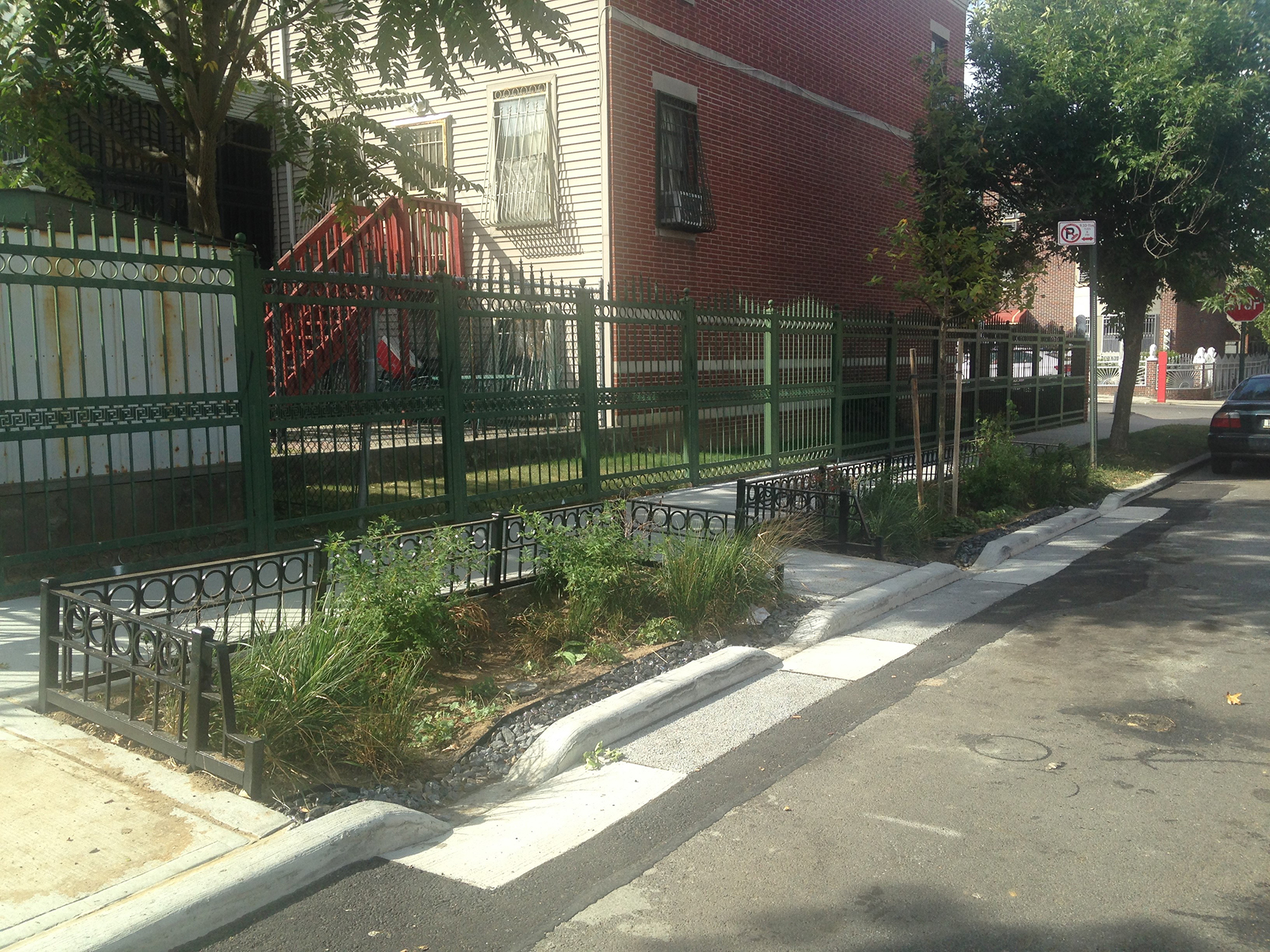 By 2018, when Arup won a $7.4 million contract for designs north of Coney Island, the DEP had expanded design allowances to include concrete-topped infiltration basins, or containers that collect stormwater from the street and slowly leak runoff into the ground. Where Arup fell short of targeted interventions in the early 2010s because of the limitations of what it could do, the firm will meet and maybe surpass goals for the Coney Island area, thanks to the other green infrastructure designs that are now available, Lee says.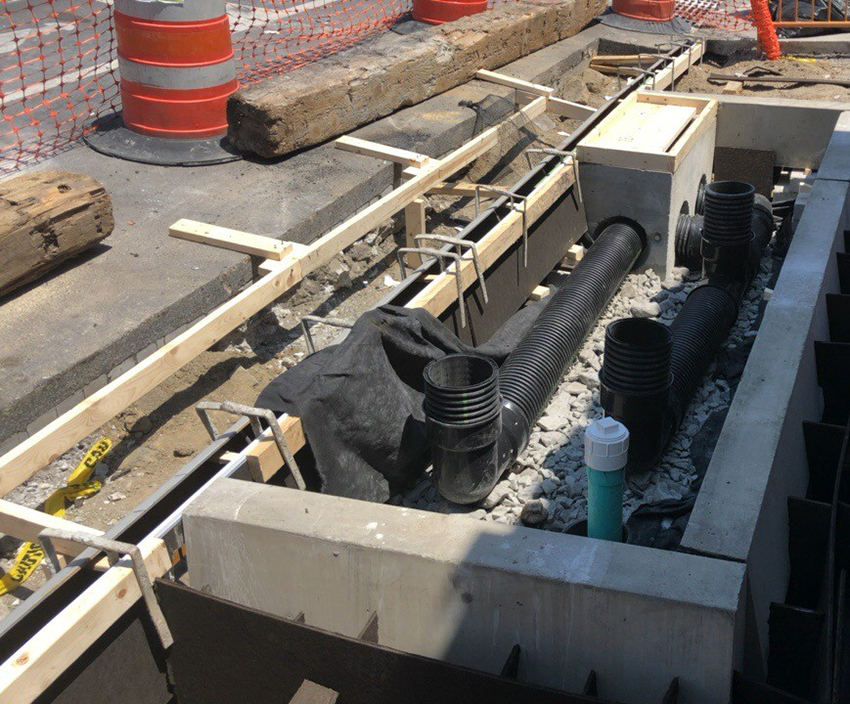 Even with this degree of specificity, plans get constantly tweaked. The bedrock in the Bronx, for example, sits unusually close to street level. Though survey teams spent years drilling to confirm there were pockets with enough soil to allow green infrastructure to perform as designed, initial digging in some places revealed stone that test drill-downs had barely missed and failed to detect, says Nick Gibson, a project manager with Hunter Roberts Construction Group, which won a $34.5 million contract in 2018 for what has become 355 installations in the Bronx River area.
Another complication was that completed bioswales in the area unfortunately led to some mild basement apartment flooding, despite high-density polyethylene linings and project surveyors' attempts to see the basements in person to better assess conditions before construction. Because the underlying soil has been protected from water infiltration by the hardscape infrastructure that has been in place for so long "sometimes you just have to be very careful," says David Kane, P.E., AICP, a senior vice president with HRCG.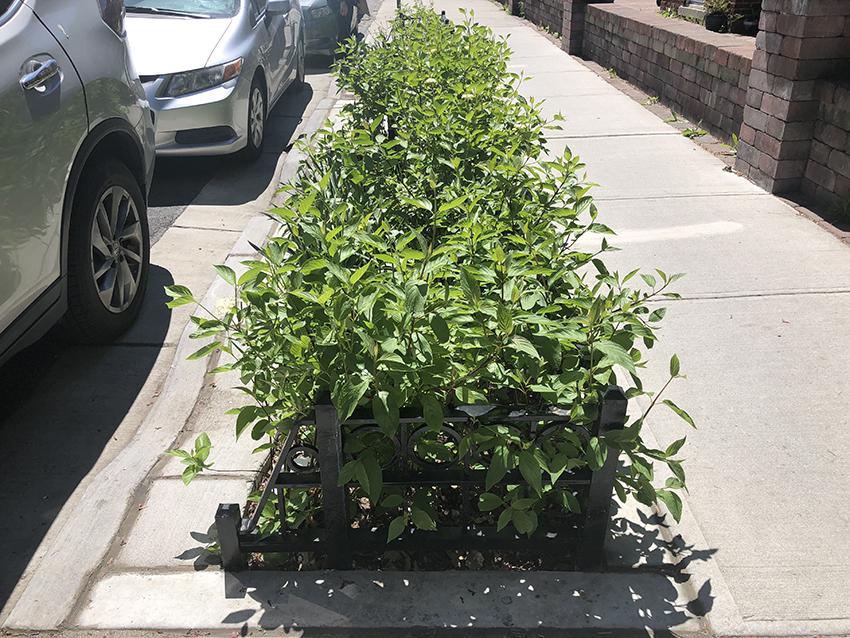 When problems arise or predetermined plans don't look like they will pan out, Licata and Enoch said the best contractors to have in those situations are the ones who reach out to the agency implementation team. That way, everyone can agree on alternatives before work continues.
Gauging green infrastructure success
Hovering above the ground on flood-prone streets are small sensors, constantly providing updates on whether sidewalks are covered with water. Referred to as FloodNet, a suite of remote-detection devices will allow the city to collect and report real-time flooding data.
Andrea Silverman, Ph.D., an assistant professor of environmental engineering at the New York University Tandon School of Engineering, along with her colleagues at NYU and researchers at the City University of New York developed the remote-sensing technology and the web platform displaying feedback after the NYC Mayor's Office of Climate and Environmental Justice reached out to both universities.
The technology had to be developed because previously, "there wasn't a low-cost sensor that was easy to build and deploy that could give you quantitative information on flooding," Silverman says. Each sensor costs less than $200 to make and holds a battery, a small solar panel, an ultrasonic range sensor, a microcontroller, and an antenna.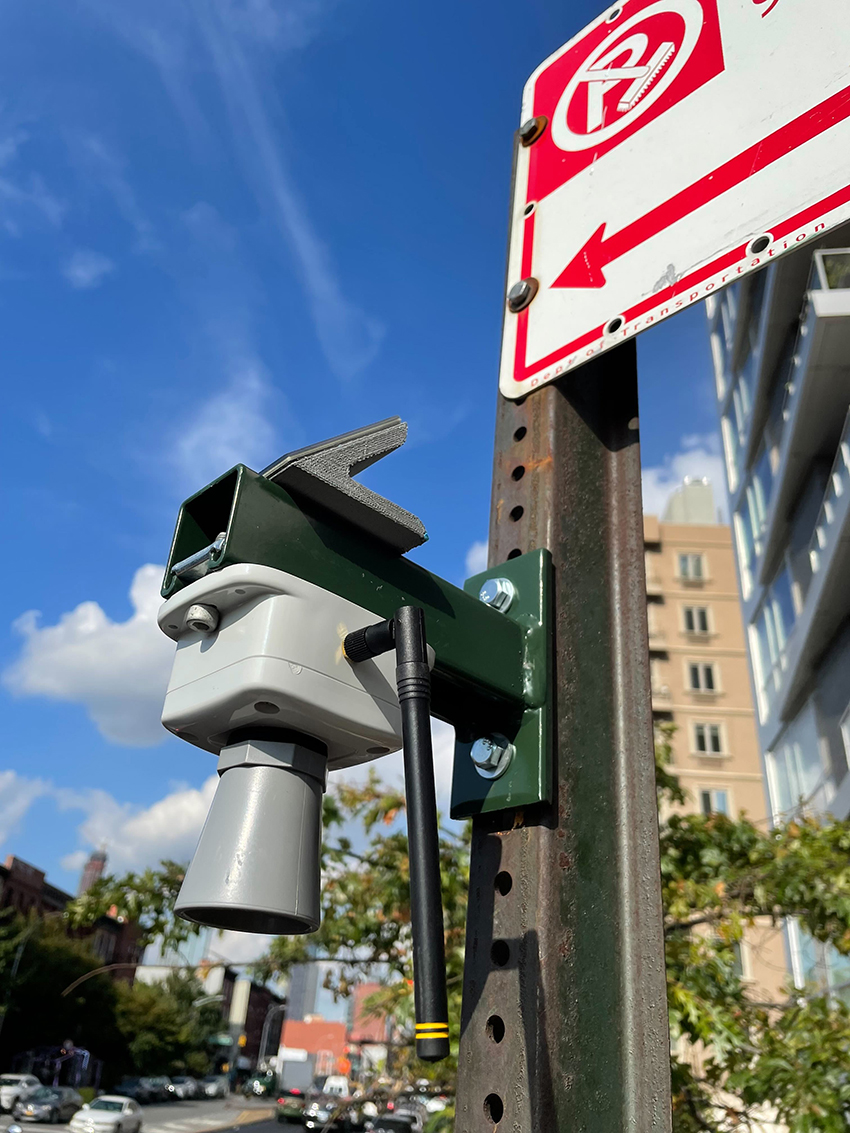 Seed funding from both universities, the U.S. Department of Transportation-backed C2SMART program, the Empire State Economic Development Fund, and the Alfred P. Sloan Foundation paid for initial sensor and online dashboard development — processes and methods the team made publicly available. So far, 23 are up and running, with the goal of installing 500 total.
With no similar, existing programs to provide guidance on how many might be adequate across the city, "it is a bit of a finger-in-the-wind number," says Ricardo Toledo-Crow, Ph.D., a research associate professor in the Environmental Science Initiative and the director of CUNY's Next Generation Environmental Sensor Lab. The lab began collaborating with the Science and Resilience Institute at Jamaica Bay and local residents on flood monitoring before FloodNet began.
City-provided flood maps, the team's modeling of stormwater scenarios, and feedback from community members and the New York City administration guides sensor placement. Ideally, monitors sit in spots that are representative of the flooding conditions in various parts of town. As the team narrows down possible locations, it will reach out to nearby neighborhood groups for conversations about the project. The team is developing a more systematic approach to locating sensors that evaluates the hazards, possible impacts, and equity concerns of different monitoring spots.
Flood data could help determine whether green infrastructure is reducing local flooding and shape future hard infrastructure like streets and bulkheads in areas that deal with too much stormwater. Silverman and Toledo-Crow also hope the sensors will help with real-time emergency management and road quality warnings during storms.
Meanwhile, the city is still building out public land green infrastructure and figuring out how to maintain it. "Maintenance is tough," Licata says. "We're still kind of evolving and learning about maintenance requirements."
Newer contracts have construction and design firms responsible for the first year of green infrastructure maintenance and repairs, but the DEP is still building a workforce and facilities for long-term care. The need includes private-sector development too, as the city wants larger percentages of private property to adopt more green infrastructure.
In fact, for New York to block 1.67 billion gal. of stormwater from the sewers every year, the sidewalks, streets, and yards of private and public New York properties will have to change. As Licata puts it, "In order to meet our goals, we're having to saturate each of these sectors."