By Ron Queen and Tyler Lirio
After four years and more than 3,000 linear ft of advanced microtunneling, an upgrade to the wastewater system of Tampa, Florida, will benefit millions of people for decades to come in one of the largest, fastest-growing metropolitan areas in the United States.
Microtunneling is a trenchless construction method for installing pipeline that uses a remote-controlled boring machine, a laser guidance system, a jacking system for thrust, and continuous pressure on the face of the excavation to balance groundwater and earth pressure, as defined in ASCE's Standard Construction Guidelines for Microtunneling (ASCE/CI 36-15).
In addition to causing far less disruption than the conventional open-cut and continuous pipeline installation method, microtunneling offers a much lower carbon footprint and reduced environmental impact. It is also one of the latest advancements in underground trenchless technology and engineering.
In April 2023, Kimmins Contracting Corp., one of Tampa's oldest civil construction and design-build firms, led the placement of a 3,175 linear ft, 78 in. outer-diameter steel casing microtunnel in a 65 ft deep subaqueous crossing of the Ybor Turning Basin, which is at the confluence of the Garrison and Sparkman channels near Port Tampa Bay. The tunnel originated in a 40 ft diameter launch shaft at the eastern port area of Tampa and terminated in a 20 ft diameter receiving shaft in Fort Brooke Cotanchobee Park, a waterfront park along the Garrison Channel in downtown Tampa.
The installation marked one of the final phases of a four-year project to replace a force main that conveys under pressure nearly one-third of Tampa's wastewater. Kimmins teamed with infrastructure consulting firm Wade Trim as principal designer and engineer of record, specialty microtunnel and geostructural consultant Brierley Associates, and specialty general engineering and microtunnel contractor Vadnais Trenchless Services.
The microtunnel is the key link in a $79 million replacement for a system whose service life has exceeded 70 years.
Involving one of the largest, longest microtunnels ever attempted in North America, this solution exemplifies a prime example of overcoming obstacles inherent in navigating a densely populated, commercially essential, and geographically diverse area.
A long-serving but aging system
Originally placed into operation in 1951, the 54 in. diameter Harbour Island Force Main has served as an essential pipeline in Tampa's wastewater system.
The force main conveys more than 15 mgd, approximately 30% of the city's wastewater, from the Krause Street Pumping Station, in west downtown Tampa, to the Howard F. Curren Advanced Wastewater Treatment Plant at Hooker's Point near Port Tampa Bay, south of downtown.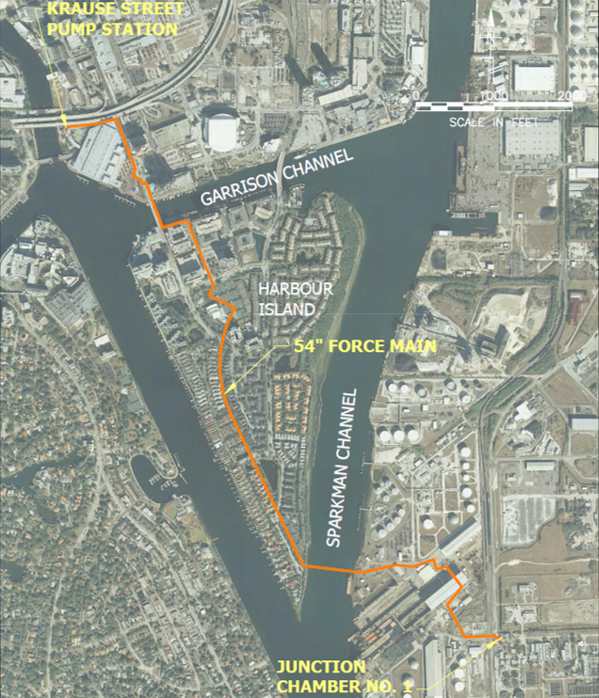 A troubling discovery
Some 25 years after the installation of the Harbour Island Force Main, the city began replacing and relocating select segments to better serve its needs. This included renovating the Krause Street Pumping Station. By 2015, though, approximately 9,000 linear ft of the system's original 11,134 linear ft remained in service.
In 2017, while performing maintenance on the Harbour Island Bridge, from downtown Tampa to Harbour Island, Kimmins detected several leaks and signs of deterioration in the aerial force main system suspended from the underside of the bridge. Kimmins presented these findings to the city, recommending a broader assessment of the tie-ins to this segment.
The city then commissioned Kimmins to assess the system immediately north of the bridge along Franklin Street, all the way to the Krause Street Pumping Station. After this assessment found additional leaks in this segment, the city contracted Kimmins to perform a systematic two-year renovation of this section.
However, the pipeline's oldest segment, south of the Harbour Island Bridge, had not yet been assessed. Because of the pipeline's location and the inability to conduct visual internal inspections, an impact-echo method was used to evaluate its integrity. The findings were conclusive. This section, for all practical purposes, also had deteriorated and was in critical need of repair. With these findings in hand, the city took the proactive step to replace the entire force main segment south of the Harbour Island Bridge.
This project would begin north of the bridge with a tie-in to the original system on Franklin Street, continue east beneath Old Water Street, into Cotanchobee Park, through the tunnel under the Ybor Turning Basin, extending through the port and then south to the wastewater treatment plant. The microtunnel would comprise approximately 3,175 ft of the more than 13,000 ft of pipeline to be installed.
The city, opting for the design-build guaranteed-maximum-price contract method, solicited proposals from local and national civil contracting and engineering firms. Of the five evaluated, the city selected Kimmins and its partner, Wade Trim, to lead the Harbour Island Force Main Replacement Design-Build Project.
Primary challenge
In addition to the usual challenges of any major civil engineering project, the primary challenge with this project entailed rerouting the new system away from what had become a densely populated area.
Specifically, the new route would have to circumvent the older downtown Tampa development, its thriving businesses, the Garrison and Sparkman channels, and the Ybor Turning Basin. To this end, implementing the least disruptive and most cost-effective solution would be paramount.
A microtunnel solution
The answer took the form of a microtunnel.
After interactive constructability reviews, the project team selected a slurry microtunnel boring machine to provide continuous face support while conveying the excavated materials back to a separation plant via a recirculating slurry system.
The 53 ft long MTBM used on the project had a rated capacity of 1,800 tons. Designed as a five-piece machine, the MTBM had a cutter head with face access and articulating steering joint, a second steering joint to assist in steering if soft ground were encountered, a decompression chamber section for three people, a decompression operation section, and an MTBM power pack section.
Because of the long tunnel length, a total of five intermediate jacking stations were strategically installed along the casing pipe, with each having an additional thrust capacity of 1,032 tons.
Rerouting the force main
The microtunneling solution resulted in the rerouting of the new Harbour Island Force Main system away from its existing north-south Harbour Island corridor to the crossing of the Garrison and Sparkman channels. This new alignment, now completely bypassing Harbour Island, could be routed directly into the port area and on to the wastewater treatment facility.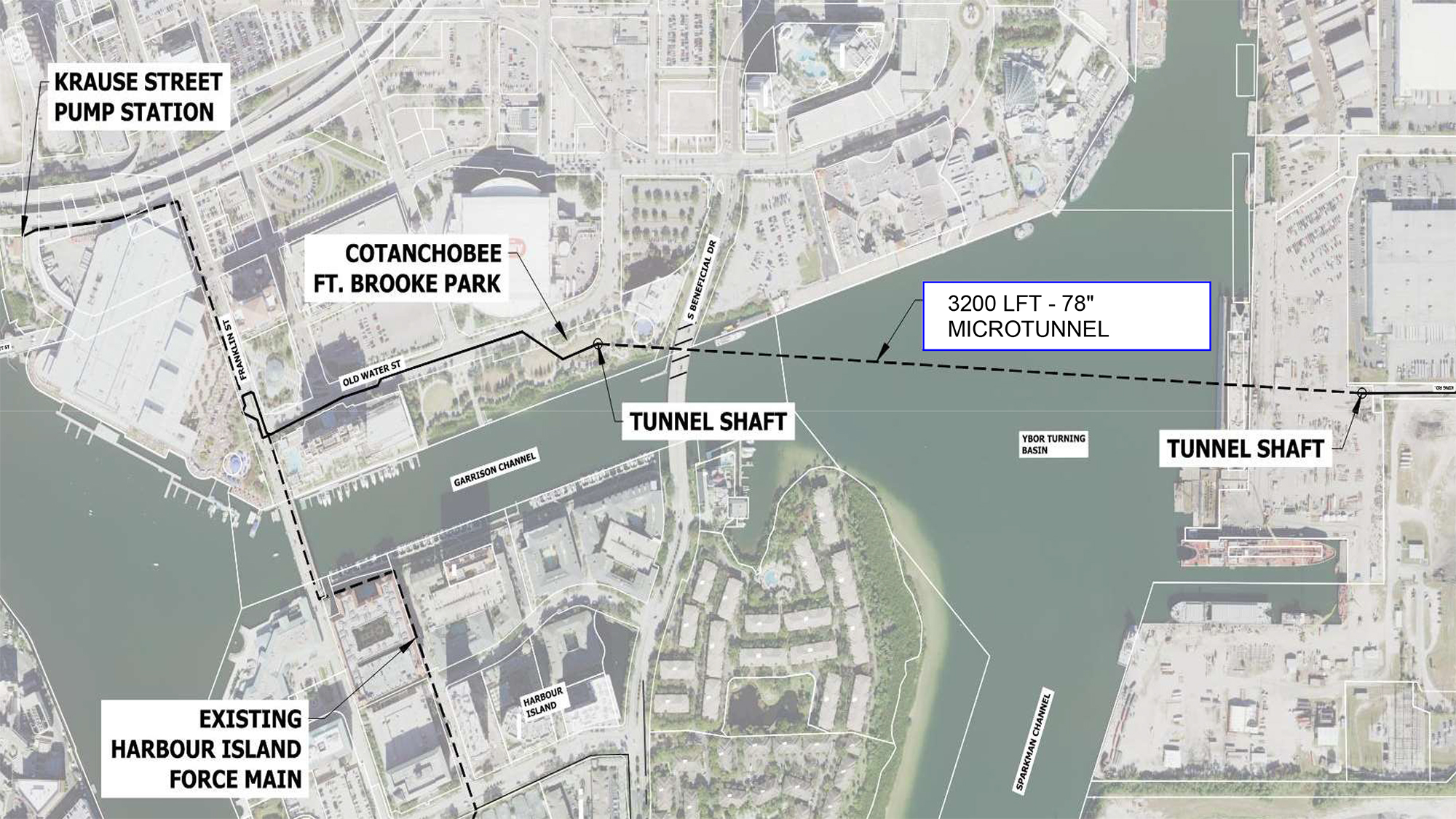 Kimmins, in partnership with Wade Trim, undertook the required research and delivery systems needed to successfully design and install a microtunnel of this magnitude, developed a scope-specific design criteria package, and evaluated potential microtunnel contractors' qualifications. During this process, Brierley joined the team. In collaboration with the city, the team ultimately chose Vadnais as the microtunnel contractor.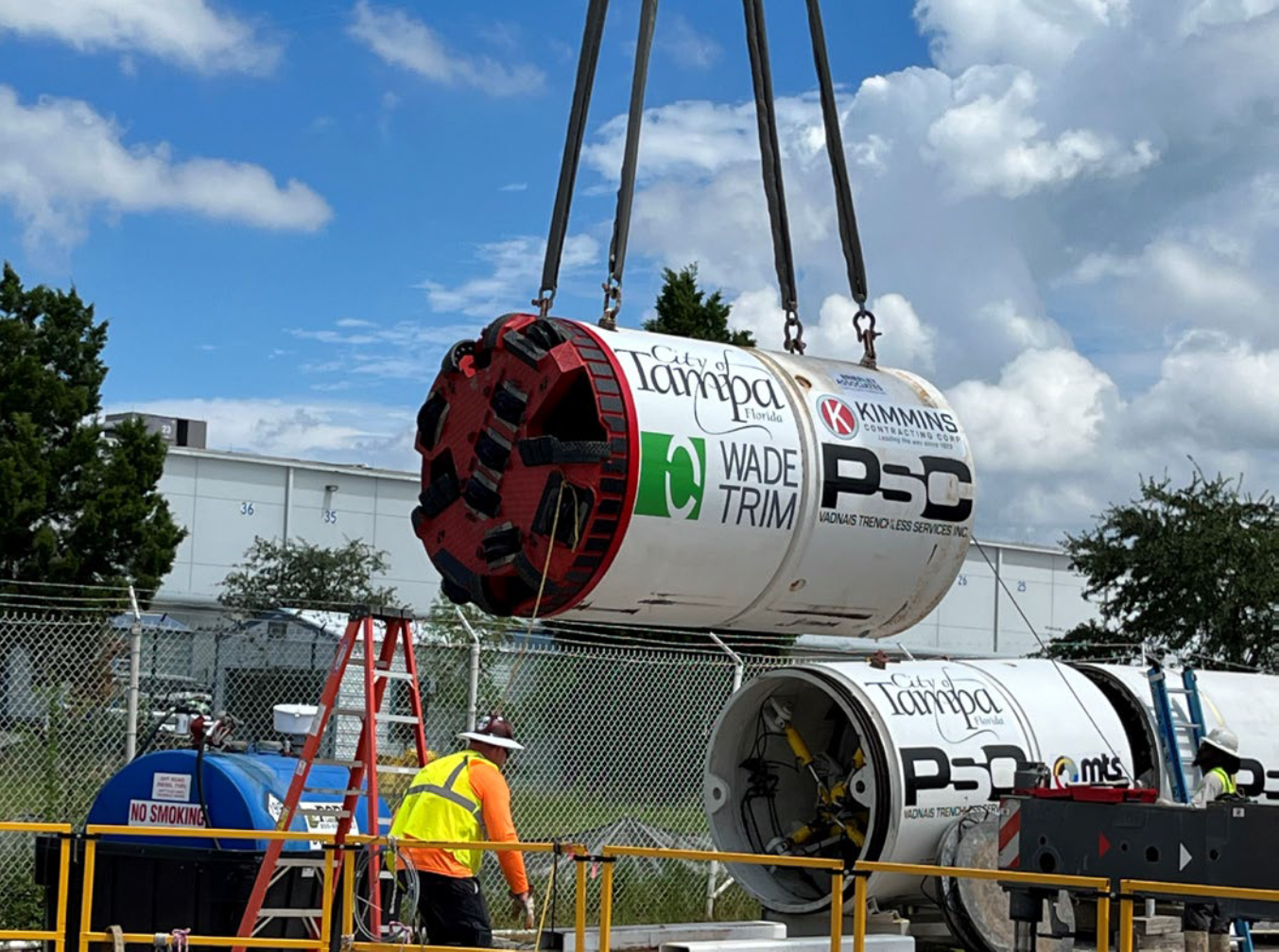 Construction of the launch and receiving shafts commenced in March 2021 and concluded in July 2022. Tunneling operations began September 2022 and proceeded at an average tunneling rate of 25 linear ft/day. With production crews peaking at 50, the microtunnel breakthrough into the receiving shaft in Cotanchobee Park was accomplished in April 2023, some seven and half months after launch.
The original Harbour Island Force Main will remain in operation until the completion of the entire replacement system in April 2024. At that point, the original force main will remain in place, adding redundancy and serving as a backup should it be required in the future.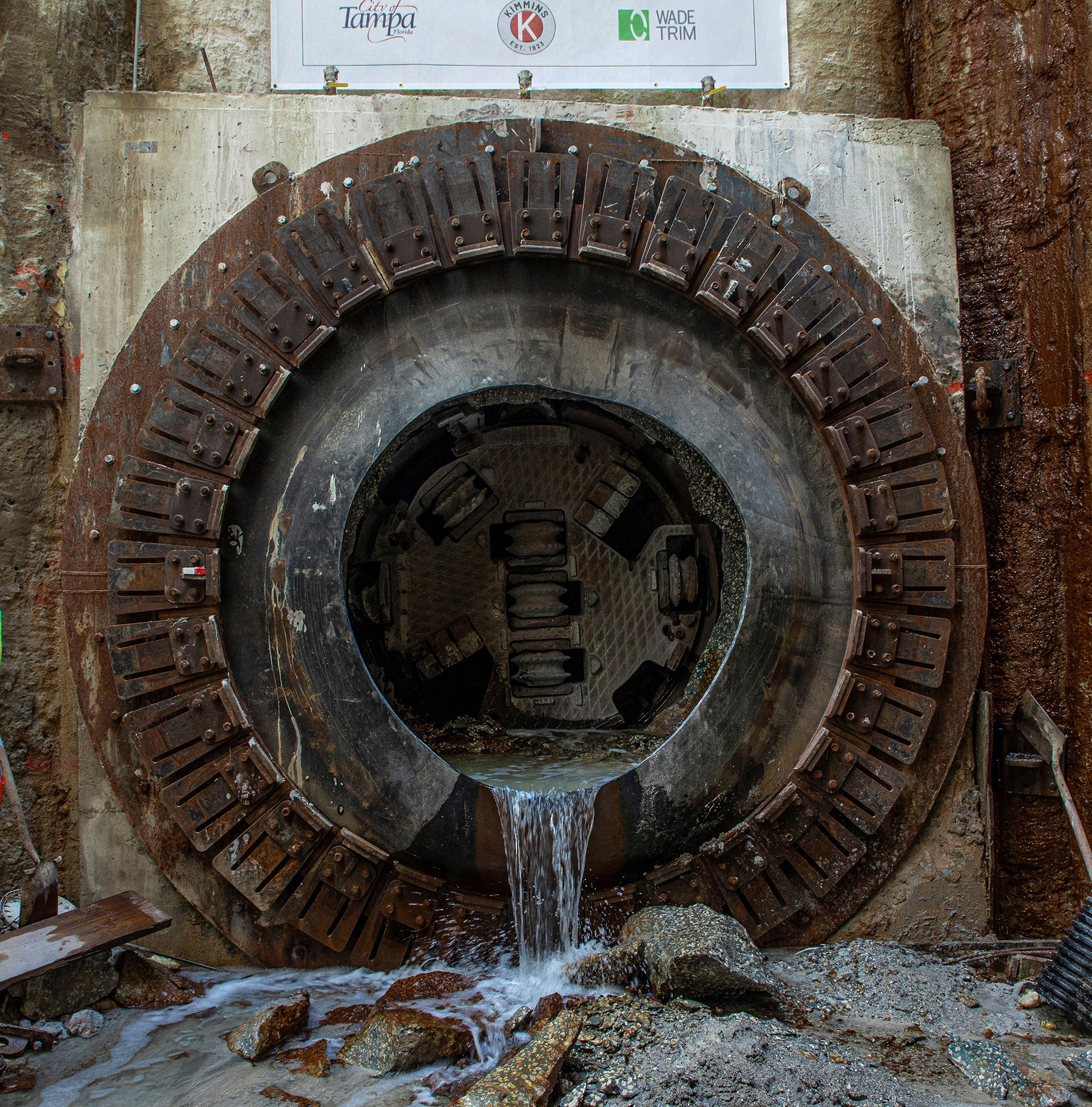 Lessons learned
The microtunnel project provided a number of lessons learned, which may offer insights to others considering microtunneling of a similar magnitude.
First is the significance of building relationships and working closely with communities, residents, and business owners, so they understand the importance and processes involved and so their buy-in can be secured as soon as possible. This step is critical to staying on schedule and budget.
Second is allowing adequate time to obtain all necessary permits, including permits related to working around and under transportation corridors, specifically within railroad rights of way. This process can be extensive, cumbersome, and exhausting, particularly when addressing seemingly never-ending requests for additional information. Ultimately, this process can take considerably longer and cost significantly more than originally anticipated.
In addition, analyzing the subsurface conditions of the microtunnel crossing through selective boring locations, collecting meaningful samples, and performing extensive laboratory testing proved to be crucial to this project. After the completion of the investigations, it was clear the existing conditions encountered by the MTBM would be far less homogeneous than originally anticipated. It turned out that the limestone was far more weathered and laced with sands and clays than expected. This discovery provided the microtunnel contractor with the necessary information to better prepare for a more successful operation.
Lasting solution
The new force main has proved to be a vital component in the effort to replace a 70-year-old force main sewer system. The resulting modern, dependable, and cost-effective system has the capacity and permanence to better serve the city's wastewater needs for decades to come.
In a number of ways, this project demonstrates how a microtunnel can effectively be used in overcoming obstacles inherent in navigating a densely populated, commercially important, and geographically diverse area. At the same time, the project illustrates how a microtunnel can provide a viable solution for civil engineers undertaking projects in similar multifaceted environments.
Ron Queen is a senior project manager and Tyler Lirio is a project manager for Kimmins Contracting Corp.
Project Credits
Owner: City of Tampa, Florida
Design-build contractor: Kimmins Contracting Corp. and Wade Trim
Microtunneling specialist: Brierley Associates
Microtunnel contractor: Vadnais Trenchless Services
This article is published by Civil Engineering Online.