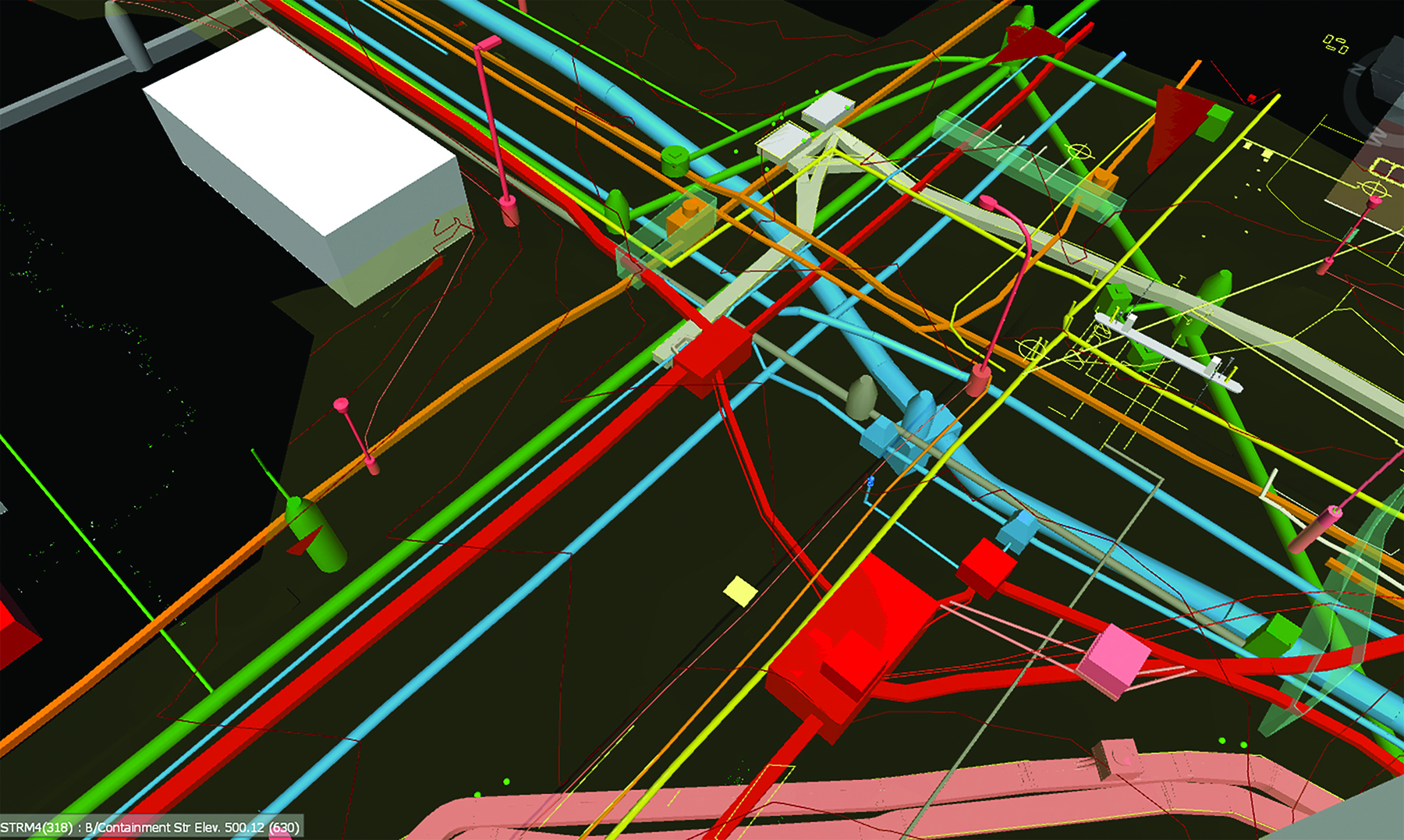 This summer, work was completed on an extensive utility infrastructure upgrade project at the 200-year-old north campus of Saint Louis University. More than 33,000 linear ft of new infrastructure was installed as part of the project, which used sophisticated underground mapping, virtual design, and construction planning to upgrade electric, gas, chilled water, and communications systems. The work creates a fully private SLU system separate from the city of St. Louis.
The age and tightness of SLU's existing public and private underground utility conditions complicated the project. SLU is the oldest university west of the Mississippi, and its main campus is located in St. Louis' historic Midtown neighborhood, explains Mike Hartwig, the McCarthy Building Cos. project manager responsible for the utility system project. The Midtown Historic District of St. Louis was placed on the National Register of Historic Places in 1979.
The amount of work that had been completed on campus over the last 150 years meant that the existing utility record drawings were unreliable. "Buried utility lines and other underground hazards generally pose a significant risk to construction projects, particularly on dense urban sites where utility line records may be incomplete or inaccurate," Hartwig says. "Waiting to discover underground hazards until construction is underway can result in unplanned schedule delays as well as expensive cost increases."
To ensure that the project could be completed on time and on budget, McCarthy developed 2D and 3D models of the existing underground infrastructure. This included using geophysical locating technologies such as electromagnetic locators, acoustic pipe locators, ground-­penetrating radar, closed-circuit television cameras, and push cameras that were fed through the underground system.
All were used to inventory, locate, and depict the existing utility systems. This enabled McCarthy to design, model, and coordinate the proposed routing and identify in advance of breaking ground where subsurface conflicts, design challenges, and constructability issues might be.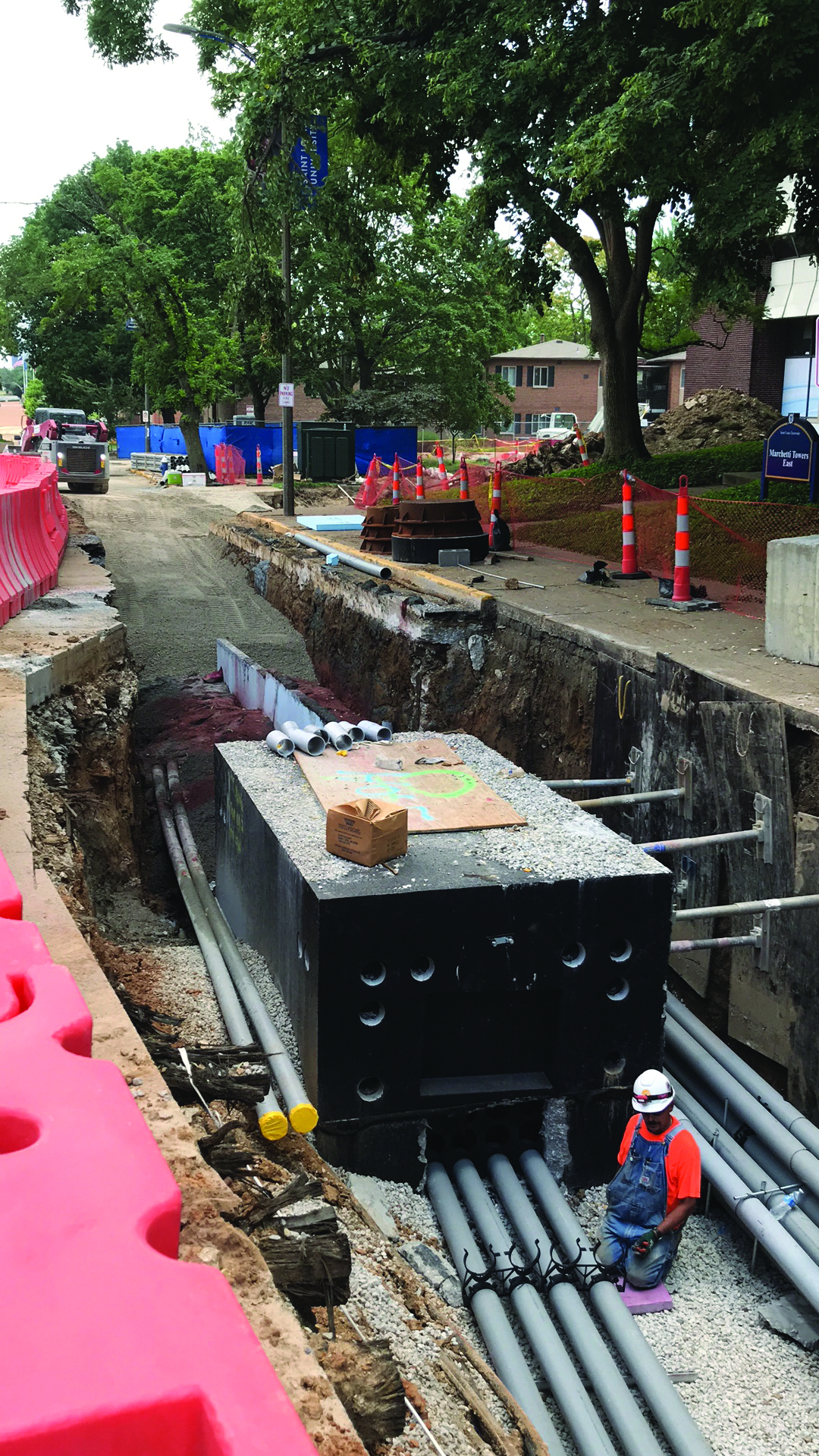 After this design coordination, "a key element of this project was McCarthy's virtual design and construction capabilities," explains Hartwig. "VDC involves the alignment and execution of people, process, and technology to drive client-focused value downstream." VDC goes beyond what building information modeling makes possible.
"Whereas BIM involves the 3D modeling and data input of physical objects, VDC is the process of using BIM technology to plan and coordinate the design and construction processes from beginning to end. And it focuses on project stakeholder value by aligning the client's goals from the beginning to meet the end user's needs," says Hartwig.
"As a fast-paced, design-build project, 3D deliverables were a differentiator," Hartwig says. "As work was being rapidly designed, coordinated, signed off, and approved for field installation, the live linking of all project models (through the cloud) ensured a 'single source of truth' for the most current design models."
The team used a seven-step signoff process that included twice-weekly meetings for its model coordination and layouts. Mapping, civil, piping, and electrical subcontractors all attended. "Everyone was fully aware of field changes in real time, and adjustments were immediately pushed up to the cloud as work either changed or was installed to ensure all field operations personnel were in the loop," Hartwig says. "In addition to having a positive effect on the schedule and budget, it instilled a mindset of collaboration among all team members."
The coordinated process also included strict protocols that relied on designated specialists to provide oversight, including walking alongside mapping surveyors to ensure accurate data collection and meeting with drafters to ensure accurate data depiction.
The mapping process and coordination work implemented by McCarthy was so successful that redesigns for planned utility routing were not required, Hartwig says. In addition, "the two- and three-­dimensional deliverables will also be used by the university in its ongoing facilities management operations," he says.
The mapping process was completed by McCarthy's specialized mapping team, which worked alongside its virtual design and construction, preconstruction, and construction teams on the project. A number of partners worked on the project, including Ameren, an electric utility company and Spire, a gas utility company. Primary subcontractors were Sachs (electrical), Corrigan (mechanical), and Castle Contracting. McCarthy's civil division installed the utility work in the field.
Planning the project using VDC and the detailed utility map reduced the uncertainty of subsurface unknowns and mitigated risk for SLU, according to Mike Pranger, the vice president of operations for Castle. As a result, "Castle crews were fully informed before starting work in the field," Pranger says. This meant that Castle could employ "a directional boring rig — a trenchless method — to put in place this extensive network on the active SLU campus versus traditional cut-and-cover methods," he explains.
"This enhanced safety for pedestrians and vehicles, minimized the construction footprint, and allowed the team to be nimble in small spaces and efficient in their sequencing," Pranger notes.
Ameren installed a new two-unit power substation and distribution facilities so that the new SLU electricity distribution system that was being installed could be fully separated from Ameren's, according to Russ Robertson, P.E., a supervising engineering in the Archview Division of Ameren Missouri. This portion of the project included laying all new underground hardware so that the affected buildings could be cut over from the Ameren system to the new SLU system. Depending on how complicated the systems were, the cut-overs were accomplished in as little as a few minutes to as long as three to four hours, according to Robertson.
"We could not have asked for better coordination with the level of complication around trying to coordinate four or five different departments working together on the same day in sequence," Robertson explains. This was, he says, due to the excellent job McCarthy did as the coordination consultant.
This article first appeared in the December 2020 issue of Civil Engineering as "Mapping, Coordination Streamline University's Utility System Upgrade."