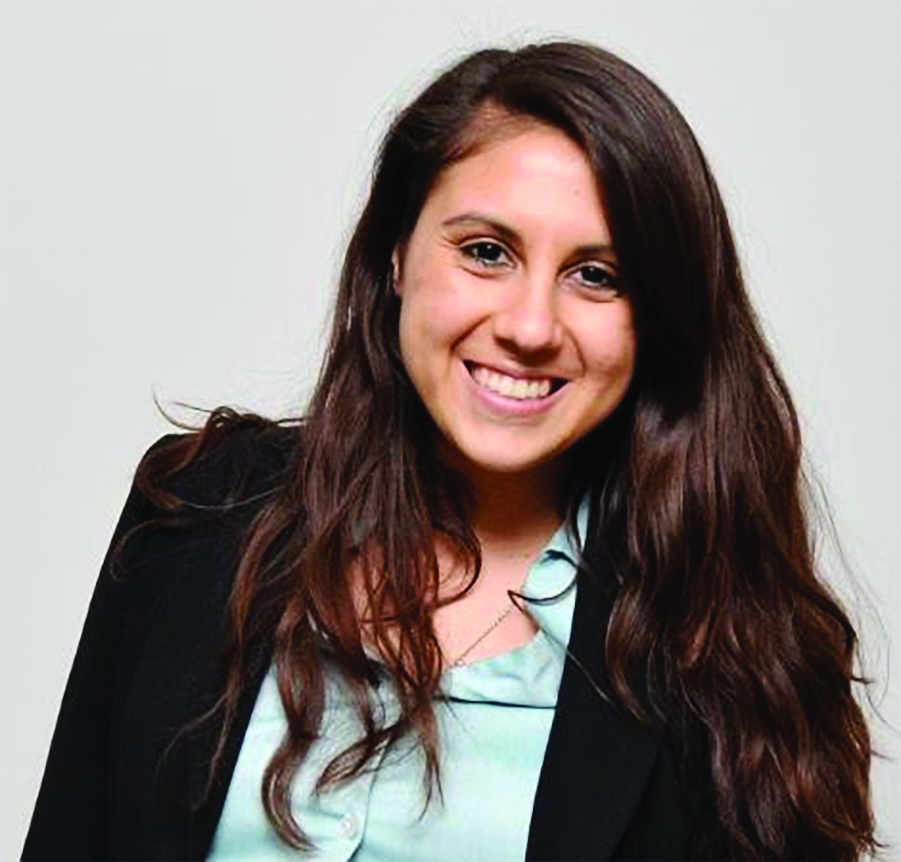 Sabrina N. Rivera, P.E., M.ASCE, graduated from University of California, Long Beach with a Bachelor of Science in civil engineering in 2013. While there, she took advantage of two internships with public utilities, one with the city of Los Angeles and one with the Metropolitan Water District of Southern California. After several positions with consulting engineering firms, she moved to Henderson, Nevada, and recently returned to working for a utility, her true first preference. As a utility services engineer for the city of Henderson, she has become enamored with the power of data to help drive informed decisions about performance-based, cost-effective asset management.
What are the new responsibilities that come with this job?
I now do asset management, which is something I didn't really have experience with beforehand. My two areas of focus are the wastewater plant and the recycled water plant, and my base workload is performing condition assessments. I do a lot of data analysis, pulling data from the supervisory control and data acquisition system and IBM's Maximo (asset-­management system). I start with annual, big-picture data and break them down into unit processes — 24 on one and 13 on the other. Then I break things down into individual assets to measure performance at that level.
I recently put an overall asset-­management plan together for our wastewater treatment plant, which was cool because we didn't have one before. It was interesting to roll that data up; some of our assumptions were supported by that data, but sometimes the data supported a different outcome than we anticipated. That has been super cool.
All of this in turn supports our capital investment plan and asset renewal forecasting. It justifies the expenses we have coming up and the priorities we give them.
What are the chief skills and abilities that you developed in your previous positions that enable you to succeed in this new position?
When I was in school, I interned for two public agencies. I saw the value of public service, being the owner of the assets, and having that perspective. When you are the owner, you have to keep the community in mind with your projects.
And then in talking to more experienced professionals at the time, I learned it was important to get some consulting experience. That was really valuable because I got to see the other side of the business and work with different agencies as a consultant. Every agency does things differently, so you get multiple perspectives and a broader understanding than just the way one entity does things. You also get to work on different projects because some have a wider variety of services.
I have also learned to take initiative and be self-motivated. In school and in consulting, there is a lot of work that needs to be done, and if you need to be spoon-fed, it's going to be a lot harder to progress. Your manager likes when you ask what else you can do. Every time I do that, I get pulled onto something that's a little different. I developed the flexibility to take on new skills.
What nontechnical skills helped you achieve this position?
I'm a product of ASCE. I was president of my student chapter and my younger member forum, and now I'm on the Infrastructure and Research Policy Committee. That taught me communications and management. I like the technical aspects of things, but a lot of what we do as engineers is communications. You need the ability to write and to translate the project and its concepts to the public and different stakeholders. You need to get buy-in, political support, and financial backing. You need to be able to bring all those together to make something successful — on time and on budget. Those are the skills that make the technical part successful!
What personal traits or characteristics do you believe helped you win this new position?
In my personal and professional lives, it's the same: initiative and flexibility. I seek out opportunities that will support the work I do and my life as a whole.
What role have mentors played in your career?
I've been lucky to have a lot of mentors, starting with my internships. I still talk to them today. I had good bosses and co-workers through the years; I reached out to many of them before I took this job. People with more experience serve as a sounding board, and that's invaluable.
What advice would you give to other young engineers who would seek positions similar to yours?
I would say for the first couple of years, work on getting all the technical know-how you can, even if it's something you don't think you will want to do in the future, like modeling or permitting. Dive in because the further you get in your career, the harder it is to get that experience.
And don't be afraid to move. I'm relatively new to Nevada; I moved from Los Angeles three years ago. I hesitated a bit because I had a lot of good things going for me there and it was a big change. But the driver was quality of life. I like outdoor activities, and the stress levels and pollution levels are high there. I may have lost some opportunities by leaving LA, but I know I created some too. I've met people who don't want to leave the city they are in, and they may be limiting themselves. I mean, if you hate it, you can always move back.
What do you hope to accomplish in this new position?
I've been able to dive into the world of asset management and making data-­driven decisions. It's a new idea, so we don't have buy-in from everyone yet. I want to get that buy-in.
We can break it down to how much it costs to treat a gallon of water, and because we have two sides to the plant, we can compare east versus west. And then we can layer in all these different parts of the process so we can make decisions on the basis of a much better understanding of where our costs really lie. If we use more chemicals over here than over there, for example, we have real data on that; we can ask if something is running wrong or if something needs to be improved.
You can do capital-cost planning based on the average life of an asset or process, but sometimes assets do a lot better than the average, and that may mean we can get five or 10 years of additional life out of them. It doesn't make sense to replace something that is running just fine. On the other hand, sometimes things corrode, and when we find that, we can prioritize replacing those. We can make more mindful decisions about where we put our time or what we are going to just run to failure, if we have good data.
We're just in the rollout phase now. Previously we were in the process of gathering the data; if you don't have the data, you can't do anything with it. Now we are at the phase where we have the data to show the stakeholders and to use it to build the buy-in. We can use the information to improve the community. That is what I want to do.
What types of positions do you see yourself moving toward in your career?
Honestly? I would like to run a utility one day and make the high-level decisions. Utilities are the backbones of our communities, and I've enjoyed it; I feel a lot of job satisfaction.
Where do you think the field of civil engineering is headed in the next five to 10 years, and where would you like to see it go?
Well, of course, I think it will be more data driven. There are a lot more systems and processes that collect data now, and we have better processing power to deal with that data. I think we'll be able to make more informed decisions and have the proof to back it up.
I was talking with someone recently who told me about a software program that could spit out a 30 percent design for a water treatment plant. And I talked to a contractor one time who said they had literally built the exact same plant in two locations. Data can drive efficiency.
What is one item that you can share from your personal or professional bucket list?
I don't really have a bucket list, but I like to travel, and I love to do anything outdoors. I like to hike and camp. And this area is very well situated for that.
What daily routine could you not do without?
With COVID-19, being home, I have to get out of the house to do some activity every day. I roller skate, do yoga, bike, or walk. And I have a nutritious green drink that I drink every day before I have my coffee. It's too easy to just keep drinking coffee all day!
What quote or principle do you try to live by, in your work or your personal life?
I have a few. One is "Be the active molecule." When you heat molecules up, they move around and bump into each other, and there's a lot of activity there. But in a cold state, everything is static. You need to put yourself out there, into different situations and challenges. Once you get out there, you bump into others, and that's how opportunities are formed. You form community by being in motion.
Another you might not be able to print. When given an opportunity, say either '(Expletive) yes!' or 'No.' Commit. If you feel like, 'whatever,' about it, say no. Don't waste your time.
Then, finally: 'Live life without expectations.' I've noticed when I have my own expectations about experiences or people, they often do not meet what I had in mind. Instead of trying to make them what I think they should be, it's better to accept them for what they are. Go with it.
Are you a younger member who has recently taken the next step in your career? We'd like to hear from you. Email [email protected] using the subject line "Next Step."
This article first appeared in the December 2020 issue of Civil Engineering as "Use the Data, and Be the Active Molecule."