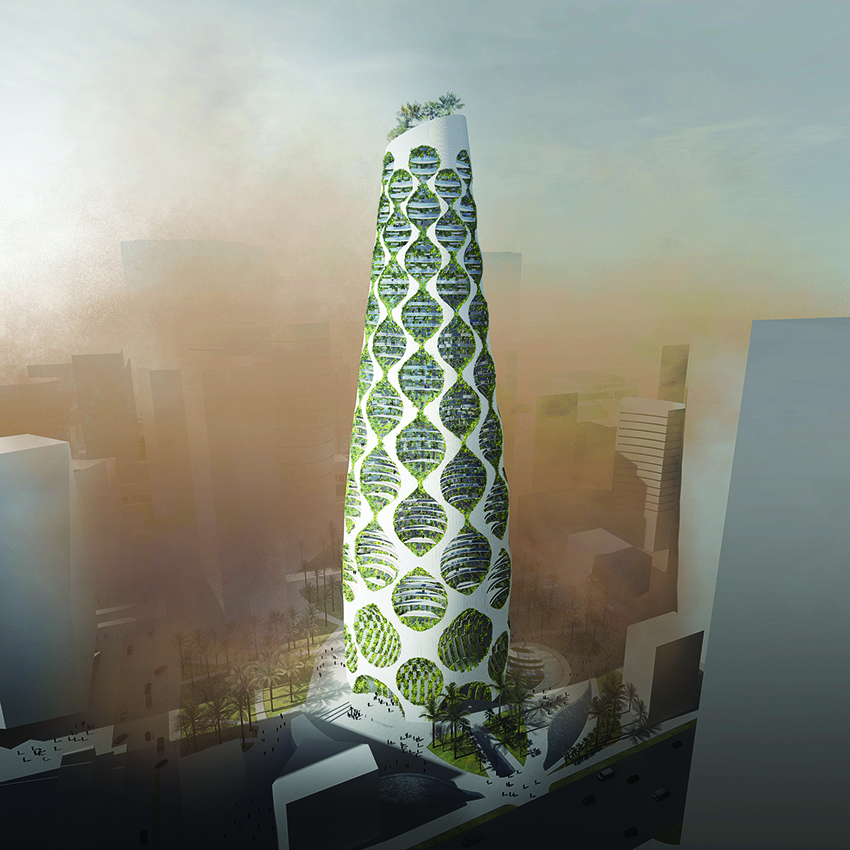 Polish firm FAAB Architektura has released the design for a 53-story tower dubbed Vertical Oasis. The building will be capable of changing the climate in its immediate proximity through a combination of geometry, vertical gardens, artificial intelligence, machine learning, and renewable energy harvesting.
The tower has been designed for dense urban populations, be they in areas of extreme heat, such as the Arabian Gulf region, or extreme cold, such as Sweden. The mixed-use building will combine retail, office, hotel, and residential spaces.
The 181,975 sq m tower will contain numerous gardens located in what appear to be a series of hollowed-out niches that extend vertically up the building. Carefully selected local plants and microorganisms will be grown, taking advantage of such building features as a stormwater capture process.
Closed-circulation technologies will purify the air of carbon dioxide, nitrous oxides, and particulate-matter pollution. The plants' natural process of transpiration will humidify and cool the air, while their sound absorption and deflection properties will reduce noise pollution. The geometry of the tower's niches will also create shade for the building's users.
This green facade will be paired with a mobile application driven by AI and machine learning that will be capable of improving its own performance, according to the architects. Users will be able to monitor how each plant is doing and how much oxygen is being produced. The prototype design indicates that, together, the plants and microorganisms will reduce the building's demand for air conditioning by up to 66 percent in the Arabian Gulf region and for heat by 30 percent in Sweden.
The tower's facade will use opaque and transparent building-integrated photovoltaic materials to harvest solar energy. The design also calls for ground heat pumps. This combined system will enable the tower to act as a local heat distribution center for the surrounding buildings.
The goal is to establish a new type of "urbanity," where technology and biotechnology will work together to create a comfortable and ecofriendly environment.
This article first appeared in the March/April 2021 issue of Civil Engineering as "Climate Changer."