Kush A. Vashee, P.E., CAPM, ENV SP, LEED Green Assoc., M.ASCE, has successfully navigated many changes, from growing up in Zambia to moving to the United States, from working in land development to switching to transportation, and most recently, from being an associate engineer to being promoted to project engineer at RK&K in Fairfax, Virginia. Along the way, he has learned the power of clear communications, especially in email, and of asking questions. He advises younger civil engineers to keep learning, prepare for change, practice empathy, and set boundaries.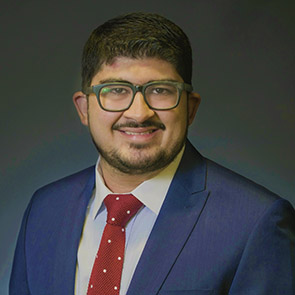 What are the new responsibilities that come with being a project engineer?
I will be leading design efforts on larger projects and coordinating with other disciplines in our company, which is something I'm really excited about. As a roadway engineer, I'll work with our water resources group to coordinate things like drainage conveyance and roadside ditches and also with our traffic group for things like pavement markings and traffic signals. I'll be making sure everyone's at the same stage and working together.
I'll also be able to mentor interns and entry-level engineers and do some quality control on some of their work, and I think that's cool. Coming from that background recently, I know how difficult it can be when you don't have a mentor or someone to ask questions of, so I hope to provide that.
Also, my supervisor just recently let me know that I'm going to be attending more client-facing meetings and coordinating with clients. Hopefully that will help me develop my management skills and facilitate my moving up in the company.
Will you be comfortable working directly with clients?
Yes, I did a little of that before, at my very first job out of college. I was working on utility relocations for a site-development project, and one of the clients was Washington Gas, the local gas utility. There was a time when my division manager was on vacation, and my supervisor was out studying to take the P.E. exam, so I was the only person available to attend a couple of client meetings. I was still a graduate engineer at the time. I was terrified, but it was eye-opening.
And I did OK, so that led to my being able to attend more client meetings with my project manager. I was working on the plans while he worked on the management side of things.
What are the chief skills and abilities you developed in your previous positions that helped you get promoted?
Getting better and more efficient at using software programs has definitely helped me. In my first job and in this one, I became proficient in AutoCAD Civil 3D, and in this job, I use MicroStation and OpenRoads. I have also improved my technical skills for specific clients like the Virginia DOT and (two local county departments of transportation); understanding the way different jurisdictions approach their projects has helped.
And at one point my previous supervisor at RK&K went on maternity leave, and I got to take over one of her projects. I did management-level functions, like delegating tasks, working with clients, coordinating the utility work with the utility owners, and getting the various stages of the project ready for submittal. I am still working on that project to this day as the co-project manager. I was lucky to have that experience.
What personal traits or abilities do you believe helped you win this new position?
Communication, delegation, a growth mindset, and empathy. In terms of having a growth mindset, I've tried to take every opportunity as a learning opportunity. I've advocated if I want to get training in management or specific types of software. I've also joined professional organizations like ASCE, its Transportation & Development Institute, Young Professionals in Transportation, and the American Society of Highway Engineers. I am the secretary of ASCE's National Capital Section Younger Member Forum, and I try to get on the boards of organizations to develop my leadership skills and grow as much as possible.
And in terms of empathy, I feel like I relate well to people from different backgrounds. I grew up in Zambia and did some internships there, and there are a lot of differences in how people work. Certain things are valued more there that are valued less here and vice versa. That changed my perspective and helped me learn more about how to work together collectively for the good of a project.
What nontechnical skills have been important in your career?
One skill I learned on the job is how to write good emails. For crafting emails to the client, you want to keep it professional, keep the project goals as the main focus, and let them know what you are doing to meet those goals. You have to convey, without necessarily spelling it out, that you have things under control and the project is moving along.
What were the most valuable lessons you learned from mentors?
The best mentors pushed me to do more than what I thought I could do and supported me and provided the help I needed. One of my mentors, Lorainne Barksdale, P.E., CFM, who no longer works here, would show me how she was responding to clients' emails, what she looked for when she was reviewing plans, and how she was able to mentor younger engineers while still getting her own work done. And even though she no longer works here, I contact her from time to time because that is a relationship that I want to keep for as long as possible.
What do you hope to accomplish in this new position?
Honestly, I just want to do a good job. I want to deliver good projects, maintain the good relationships we have with clients, and then help all the engineers I work with succeed.
After that, my goal in the next couple of years is to go up those couple of rungs into project management. I'd like to manage small and large infrastructure projects as well as develop a team of my own.
What is your best advice for younger engineers right now?
Set good personal boundaries. In my previous job, I struggled with saying no, and that led to a lot of stress. I learned that it is OK to say no and that it is important to maintain your own personal health.
Also, as a new engineer, don't be afraid to ask questions. No one is expecting you to know everything. And build trust with your team and supervisor by showing you are someone who can be relied upon. If you come upon a problem, try to suggest a solution and discuss it with your supervisor, so they see you are someone who is thinking proactively.
Vashee offers even more advice for younger engineers on his blog at kushvashee.com/blog.
This article first appeared in the July/August 2021 issue of Civil Engineering as "Keep a Growth Mindset and Lead with Empathy."