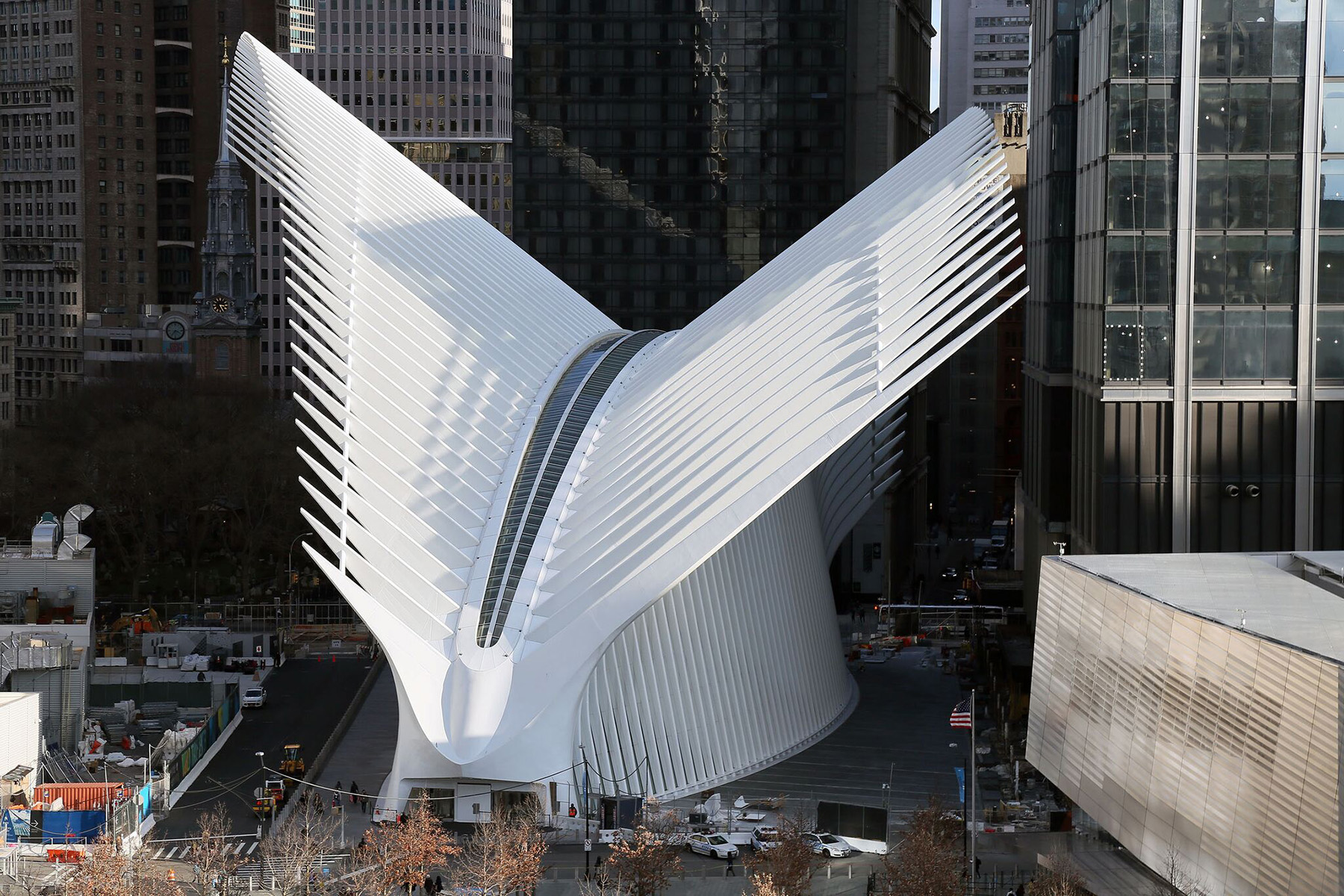 By Laurie A. Shuster
The redevelopment of the World Trade Center site included a new terminal on the Port Authority Trans-Hudson subway line. The original was closed after being badly damaged by debris and water from the events of Sept. 11, 2001.
The new $4 billion PATH station house, designed by Spanish architect Santiago Calatrava, is located just east of the footprint of the twin towers and opened in 2016. It is formally named the World Trade Center Transportation Hub but is also called Oculus after the building's elongated skylight.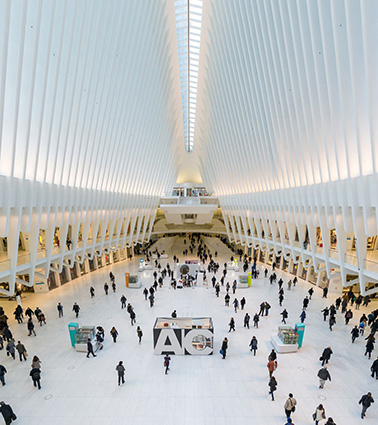 The Oculus is an iconic multiuse structure inspired by the image of a hand releasing a dove. Its white metal-clad steel ribs extend outward to create shade canopies along the plaza to the north and south of the structure. The rib motif is continued on the interior.
Calatrava carefully chose the building's exact position on the 16-acre site so that every year on Sept. 11, the oval structure is perfectly aligned with the sun's rays from 8:46 a.m., when the first plane struck, until 10:28 a.m., when the second tower fell. During this time frame, the interior is also awash in light, thanks to the skylight.
The terminal serves as a portal for 12 subway lines but also as a bustling retail hub. Farmers markets, art exhibits, and musical performances are held within the multilevel structure.
The train platforms are situated four floors below ground level, with fares collected at a mezzanine just above. The New York City Subway's WTC Cortlandt station, also badly damaged in the attacks, was also rebuilt and now connects to the WTC Transportation Hub. (Read "New York City Reopens Once-Damaged Subway Station at World Trade Center," Civil Engineering, November 2018, pages 20-22.)
Laurie A. Shuster is the editor in chief of Civil Engineering.

This article first appeared in the September/October 2021 issue of Civil Engineering.
Read the next article in the collection: "From the ashes: The memorials."