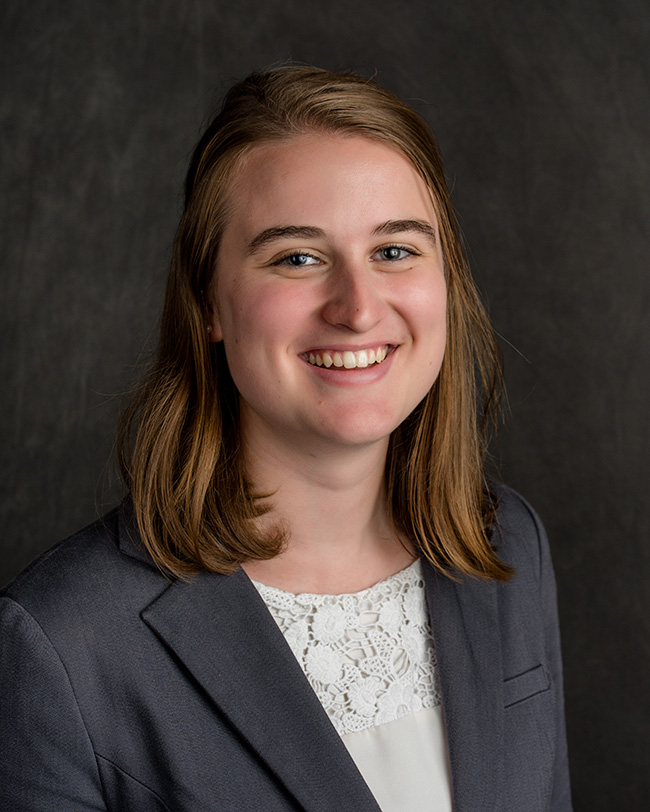 Edited by Laurie A. Shuster
Abigail "Abby" Cowser, EIT, is a staff engineer at WDP & Associates Consulting Engineers Inc., a job she took in April after spending nine months in construction management with HITT Contracting Inc. Although she values her time with HITT and enjoyed her co-workers, she learned that construction management wasn't the career path for her. At WDP, she works in forensic engineering, a field that makes good use of her energy, enthusiasm, and curiosity. She recommends that younger engineers keep in touch with past mentors, stay flexible — and roll with the punches.

Why did you switch jobs less than a year after taking your first position as a civil engineer?

I accepted my offer with HITT thinking I wanted to get involved in construction management and general contracting. I had a previous internship in construction management in my hometown of Pittsburgh, and I enjoyed it. But once I got into the working world, I realized it wasn't really for me. While I loved learning about construction and being on job sites, I realized the management side just wasn't a good fit.

When I started to look for another job, I was super careful because I absolutely loved my team at HITT, and I felt lucky: I had a job in my field during the pandemic. So it wasn't the end of the world. I didn't want to just jump ship. I always thought forensic engineering was cool, but I thought it was a niche field for more experienced engineers. Still, I looked up forensic engineering firms near me and kept changing the keywords ever so slightly, and one day WDP popped up. And they had an entry-level position open in northern Virginia. So I applied, and I really connected with everyone I talked to. They asked me to submit a technical writing sample, and I had two interviews.

I got to talk with some of the younger staff engineers in the same positions. That was very helpful for me. I didn't expect to hear anything for a while because it was at the beginning of their recruiting season, but the weekend after my interview I had an offer. It just felt right, and it has been a great fit for me so far.

What are the responsibilities that come with your new job?

We investigate buildings or components of a structure that aren't operating the way they are supposed to and design a repair to fix them. I am responsible for performing field investigations, preparing summary reports, and designing remediation and rehabilitation procedures for concrete, steel, and masonry structures, including building enclosures, roofing, and fenestration systems. We also get involved in litigation cases in which someone maybe didn't hold up their end of the bargain, and they call us to serve as expert witnesses. We go through all the construction documents to determine if that is the case. And then we also do commissioning of new construction — testing windows or facade components, often for LEED (Leadership in Energy and Environmental Design) certifications.
I've been here just three months and I feel like I have barely scratched the surface, and I'm really happy here.
What are the chief skills and abilities that you developed in your previous roles that are helping you in this new position?

Twice over summers during college at Penn State I was involved with Engineers in Action, a nonprofit that builds suspended pedestrian bridges over otherwise impassable rivers in developing and emerging countries. I loved being a part of that. I had the opportunity to travel to Bolivia and Rwanda, building bridges. The skills I developed during my construction internship and while working in the nonprofit world were mostly about how to interact with people who have different perspectives and different cultures. It's a huge component of being an engineer in the real world — half of what you do is coordinate with other people, act as a good team player, and solve problems as they come up.

And at HITT, being able to go through construction documents and find what I was looking for was big. It sounds like a basic skill, but I didn't look at that many construction drawings in college. I also became familiar with RFIs (requests for information) and submittals, and I coordinated with subcontractors, which I still do in my new role.

What personal traits do you believe helped you win this new position?

I have my bachelor's degree, and I found that in forensics, they sometimes do prefer candidates with a master's degree, but at the end of the day, I think the reason they look for that is to prove that you have a passion for learning. So I think having had a good GPA and having been in the honors college at Penn State proved that I have that passion for learning.

I also have a passion for service. I am already serving on our employee interaction committee, which helps get people involved with each other and with volunteering together. And I have been traveling maybe one week per month in my job, so it helps to have the flexibility and interest in traveling.

I also have the desire to really be truly 'on the job' and get down-and dirty. You can't be scared to get dirty.

What role did mentors, advisers, or your network play in your achievement?

I reached out to my network to write letters of recommendation, and that helped. It's always good to keep a couple of people in your court that you know you can reach out to. Even people who are only a few years older than I am served as mentors to me when I was considering changing jobs. One of them sent me a big list of pros and cons to consider and articles she had read, and that helped me sort through my thought processes. I also reached out to professors who had been good mentors, and they reassured me as well.

What role did the projects you worked on overseas play in your commitment to civil engineering?

Back in high school I had no idea what I wanted to do or where I wanted to go to school. But in my junior year I had a physics professor, who is still my mentor, who took a few of us female students who had an aptitude in his class to a Women in Engineering Day that a company in Pittsburgh was putting on. And I really saw myself in those women engineers. I didn't know what an engineer was until then, but right then I fell in love with engineering.

In college I didn't have to declare what type of engineering I wanted (to major in) until almost the end of my sophomore year. I went in thinking of mechanical engineering. But then I found Engineers in Action, and they were civil and architectural engineers. In Rwanda, we built a 60 m bridge for a rural community so they could access markets, education, and health care, and I was enthralled with the idea that a simple piece of infrastructure that college students can build can change the life of a community. So I studied civil engineering.

That project in Rwanda was smooth sailing; everything went according to plan. But then when I went to Bolivia with the same group after my junior year, I was the project manager, and everything that could possibly go wrong — out of my control — went wrong. We arrived a few days early to do sightseeing, and I got a call from a staff member at the site who said that the community we were going to be working with had decided to wait and save their money in hopes of building a vehicular bridge. So our pedestrian bridge was canceled.
It turned out that there were teams from other universities building pedestrian bridges in Bolivia, so we tag-teamed with them. If they had to leave before they could finish, we finished things up. Or if a team wasn't arriving for another week, we'd go to their site and get started.
It was a big lesson in rolling with the punches. And it was also a lesson in international development, in remembering that it's about what the community wants. Civil engineering is about respecting the needs of the client.

What do you hope to accomplish in this new position?

I really want to someday be a mentor for younger engineers. So I want to gain all the experience I need to do that but also remember what it's like to be an entry-level engineer. On the technical side, I'm pursuing my P.E. license; that's a big goal. I'm lining up mentors to help with that too.

And sometimes at WDP we work on historic buildings, so I hope I get to work on something super cool and recognizable. If it was in Washington, D.C., that would be even better!

What advice would you give to other young engineers who would seek positions similar to yours?

First, keep your writing samples from college; just make a folder on Google Docs or something. You might think you're just turning it in for an assignment, but when WDP asked for a technical writing sample, it was helpful that I had that paper from college.

And I can't speak to the job market right now, but definitely keeping your network is important. Your professors know so many people, and mentors help so much. I feel like I didn't know much about forensic engineering in college. Maybe forensic engineers could do a better job of getting out there and telling students about it. It's cool and doesn't involve sitting behind a desk all day.

What is one item that you can share from your personal or professional bucket list?

I want to hike Machu Picchu in Peru. Even if I don't do the whole thing, I just want to be there.

What, if anything, would you do differently regarding your education or work experiences?

I wouldn't change anything, because your experiences shape you and put you on the path you are meant to be on. If I hadn't had that first job, I wouldn't have known that construction management wasn't for me, and I wouldn't have made good friends with those co-workers. I might not even have the job I have now, because that job brought me to northern Virginia. It's hard when you are in the stress of an event to realize how it helps you, but you have to have faith that it's a steppingstone for your next role.
Laurie A. Shuster is the editor in chief of Civil Engineering.
This article first appeared in the September/October 2021 issue of Civil Engineering.