Edited by Laurie A. Shuster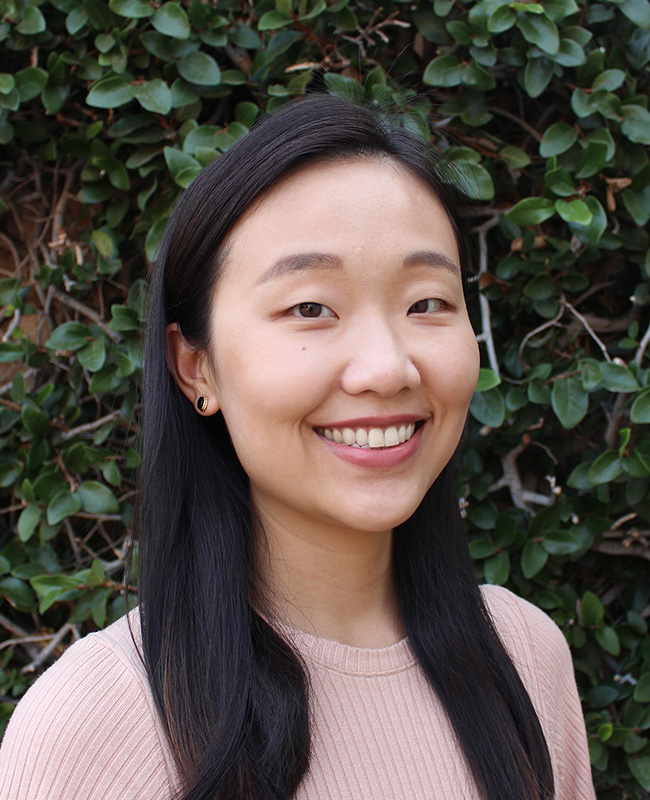 Seven months ago, Jessica Chen, P.E., S.E., was recruited to the position of senior structural engineer at Southern California Gas Co., known as SoCalGas, after spending a year and a half with Holmes Structures and four years at Walter P Moore. She transitioned from the consulting engineering side of the profession to the client side with ease, thanks in part to her preparedness and her willingness to say yes to new challenges. She advises younger engineers to volunteer with professional organizations, learn the details of applicable building codes — and keep that LinkedIn page up to date!
How did you hear about your current position with SoCalGas?
I had been working as a structural engineer in commercial construction, and I was approached with this opportunity through LinkedIn. I was at a point where I was open to opportunities. I learned that maintaining a LinkedIn profile is important.
What are the new responsibilities that come with this job?
It is quite different from the environment I was in before. SoCalGas is a utility company, so I get to engage with people other than architects and contractors. Here it's much more multidisciplinary; we may interact with electrical and mechanical engineers, legal consultants, and environmental impact consultants. So now I feel like I am more involved in the larger civil engineering field.
Also, before, as a consultant, I worked on design packages for other people; here we do a lot of our own design in-house. Sometimes, if the project is really big, we'll outsource to a consulting firm, and then we serve as the plan checkers and reviewers. We're in the owner's rep position. That's very different.
What skills did you develop as a consultant that help you interact with consultants now, as the client?
You need a strong technical background. When I first started working, something that people always told me was to get more familiar with the building codes so you can discuss them. And I always thought that was a bit boring. But then with time and experience in studying for the licensing exams, I found the code is essential for this profession. Now, as a reviewer, knowing the code and being able to find the right citation in the code that maybe someone didn't abide by has become important. I can quickly zoom down to the detailed section that something relates to when I review the consultants' designs. It's similar to lawyers being able to cite cases.
Sometimes as a structural engineer, you are kind of like the one who ruined the party. Other people may propose some fancy stuff, but the structural engineer is always the one saying, 'We can't do that, physics-wise.' The way to explain that is to point to the building code. That persuades people.
What personal traits or characteristics do you believe helped you win this new position?
I'm always trying to do better with communications. I think you can never stop improving that, especially right now as we are all working remotely and there is so little opportunity to talk face to face. Sometimes your technical skills, your personality, and your abilities are validated only through text messages or emails. If you can articulate yourself well in those media without any confusion, that is important.
In my past job I had worked on a project that went into a second phase. My manager at the time suggested I go back and review the emails from the first phase to review lessons learned. It was so interesting to read my emails from back then. So many times I jumped the gun, or I didn't convey things as clearly as I could have. And at the time I wondered why they didn't understand me better. I thought I had conveyed myself pretty clearly, but after a period of time, I could see that I didn't express what I wanted to express. So communications is something I always want to improve on.
What nontechnical skills helped you achieve this position?
Something I realized is that before you have that title of manager, there are still tons of opportunities for you to do management tasks. For example, you can be organized and archive documents in a clear way; that helps you and your teammates.
Even when I was early in my first job, there was a time when I had been working on a project for a long time, and other staff members were changing over. So people were brought in at a more senior position than I was, but they didn't know the history of the project, so I became the one who helped to manage the project. People knew me better than my new co-workers. That is a very fluid thing that you can start to do anytime.
And you always want to try to take on some responsibilities that are part of the next job up before they promote you. Sometimes I may have thought I was too young, but there is a saying, 'Fake it 'til you make it.' Sometimes it's just a matter of faking your confidence until you get your confidence.
Saying yes whenever you can is also quite important. I heard a speech by an accomplished structural engineer who said one of the things he recommended was being a yes man, which meant not to say no too easily. Like for this interview, I wasn't planning on anything like this, but I thought I should welcome the opportunity. A lot of things might happen organically from there.
Saying yes might lead you to feel a little overwhelmed, but sometimes if you are overwhelmed, that just means you need to step outside your comfort zone. Maybe putting yourself face to face with that nerve-wracking experience will help you to grow.
Do you have mentors who have helped you along the way?
I don't think I have one specific mentor. I think a mentor-mentee relationship is just like any other relationship; if you hit it off and have good conversations, you can develop a good relationship, but if it was just set up to hit a target within the company, it may not go well. I find good mentoring advice just sprinkled over time from multiple people.
I remember attending a meeting with my manager and some architects where they showed a design and asked us if we thought it would work. I found that question to be absurd because we couldn't just do the calculations on the spot. But my manager gave an answer off the top of his head, and after the meeting, he explained that you have to develop a sense of the engineering in the back of your head to be able to answer. He said years from now I would probably be put on the same spot he was. Discissions like that really stick with me and mean more than any formal mentoring program.
What advice would you give to other young engineers who would seek positions similar to yours?
I feel like you have to be ready when the opportunity comes. That may sound cliche, but I was ready when this job came up; for example, I had my P.E. and S.E. licenses. It can be pretty grueling to go through those long exams, but being licensed has its merits when you are trying to switch jobs, even if it is within the same company. I have friends who put it off, and then things happened in their private lives that made it harder for them.
And gaining visibility through organizations is important. I have been the co-chair of the Younger Members Committee for the Structural Engineers Association of Southern California for the past year and a half. Volunteering gains you some visibility and allows you to talk to so many people at so many levels that you might not otherwise be able to talk to. And that is something that belongs to me instead of to the company. It's part of personal branding, which I think is important.
What do you hope to accomplish in this new position?
I'm still fairly new; I've been here less than six months. And I've only been working from home since I joined. So eventually it will be nice to meet with the team in person.
Eventually I'd like to take on more responsibility, especially on some of our long-lasting programs. For example, we're assessing all the facilities we own right now for the equipments' and buildings' structural integrity following seismic activity, and that will last for years. There are a lot of opportunities to take on a bigger role in that. I'll need to reach out to a lot of people in the company, and I don't really even know who to reach out to yet. So a lot of these goals involve communications tasks.
What types of positions do you see yourself moving toward over the next few years?
I am the type of person to try to keep things fluid. A lot of the changes in my career so far I didn't plan. But when things happened, I embraced them.
What quote or principle do you try to live by, in your work or your personal life?
As I've gotten older, I've realized how important it is to keep an open mind. After meeting more people, I have found that everyone has their own story and challenges, that maybe you cannot imagine because that wasn't part of your background. It's important to be a good listener.
Where do you think the field of civil engineering is headed in the next five to 10 years, and where would you like to see it go?
Sustainability is going to be more important. At SEAOSC, we have the annual student scholarship program, and students wrote essays as part of their applications. One student made the point that infrastructure and the built environment may not be the sexiest things in the world, and the media don't always give them the kind of attention that they give, say, Elon Musk. But sustainability is what his electric cars are all about.
Her essay took the position that the (Leadership in Energy and Environmental Design) credentials should be considered like the P.E. license; they should be part of every engineer's technical background. I thought that was really inspiring, and I totally agree. Right now, sustainability is still seen as a niche. But in the future, I think it will need to be much more common.
Laurie A. Shuster is the editor in chief of Civil Engineering.
This article first appeared in the November/December 2021 issue of Civil Engineering as "Be Prepared, Say Yes — and Know the Codes."