Edited by Laurie A. Shuster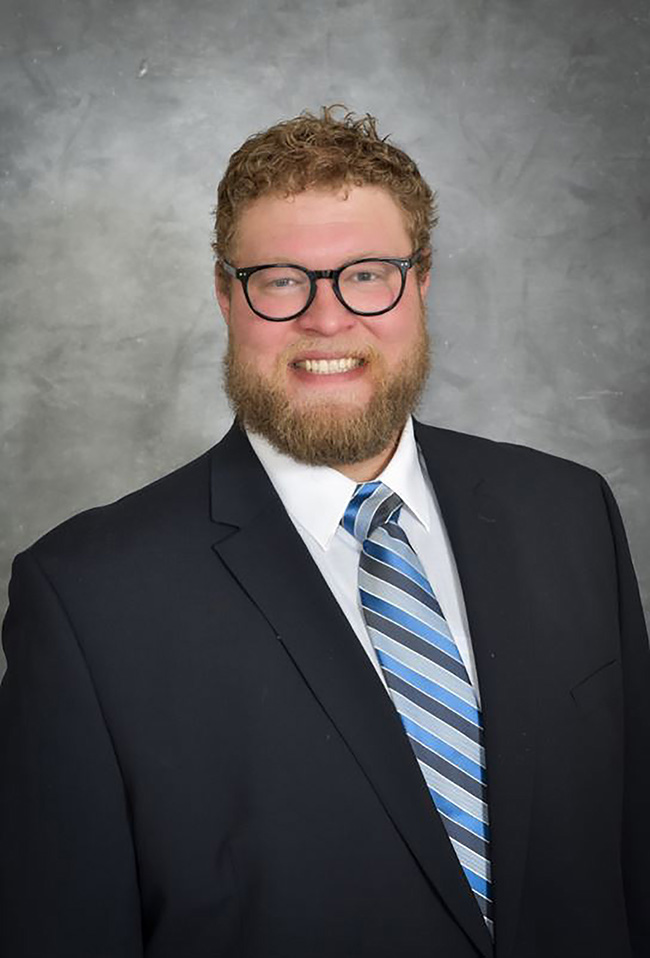 At an age of just 31, Wesley P. Davis, P.E., M.ASCE, has progressed quickly in his career as a roadway and transportation engineer. After working for roughly three years as an engineering technician for the Koochiching County Highway Department and just over one year as a graduate engineer for WSB, an engineering consultancy in Golden Valley, Minnesota, Davis was hired in 2016 as an engineer-in-training at Bogart, Pederson & Associates, a 25-person transportation firm in Becker, Minnesota — about 50 miles northwest of Minneapolis. There he progressed to senior engineer, and after a founder retired in January 2020, Davis assumed the role of principal engineer. In addition to those duties, Davis also serves as the township engineer for six small townships in Sherburne County. He attributes his success to his skills with industry software, dedication to good communication, and passion for work and family.
What are the responsibilities that come with your new position as a principal?
I do whatever I must for our company to succeed. I mentor younger engineers in our office in using software such as Autodesk Civil 3D to develop construction plans as well as in best practices for construction inspection during the project to ensure that we comply with all the local and state rules and regulations. I use geographic information systems software to create maps and exhibits to present information. I'll even water the plants to make sure that they look good for the clients who walk through the door!
What do you do in your role as township engineer?
I work with our townships to budget, plan, design, and construct road reconstruction or maintenance projects. They have one to two meetings a month in the evenings, and I go to those meetings. We discuss their capital improvement plans, and I try to help them look five years ahead.
Their work goes by seasons. In the winter months, it's developing the projects, designing them, and getting the bid packages ready. In the spring, we go out for bid and award the contracts. Then the projects begin construction in the summer.
In the fall, I do a 'road tour' with the township board members. We get in a van and drive all the roads to see if they are holding up as expected or if they have experienced any abnormal damage from, for example, plowing snow in the winter. It gets kind of cold here. Pavement does funny things when it ranges from 90 degrees to negative 40 degrees within a year!
What skills help you in these two roles?
My experience with Koochiching County and private companies helps; I became proficient with the software I needed. And I had worked for smaller companies where we kind of did everything. We would do the surveys, draft the project, create the plan sets, and do the construction inspections. When I took over as principal, I was really grateful for that experience because it gave me foresight into what all the aspects of projects would be, from start to finish.
For example, with a lot of rural roadway projects, your 10-ton road isn't what matters to people as much as what customers use every day, which is their driveways. So making sure the grades and slopes to driveways are good is really important. And for some reason that is really hard to model.
How many people do you manage and how did you gain the management skills?
I manage anywhere from six to 10 people, depending on the season because in the summer we hire interns. Managing people was a big learning curve, especially in terms of communication and delegation. Coming from a place where you handle a project from start to finish to one where I'm now in management, communicating to clients and getting all the pieces together, I try my best to hand off those pieces to co-workers. You learn to say, 'This is the finish line we need to reach; how can we work together to get there?'
What personal traits or characteristics help you in your roles?
I have a passion for what I do and for good communication. As my wife could probably attest, when I am passionate about something, whether it's my work or outdoor activities or health and fitness, I devote a lot of time and energy to be the best that I can at that.
And I am good with communication; I love talking to as many different people as I can and trying to draw from their experiences. And that translates really well to communicating to industry experts in a field that is constantly changing and improving in its techniques, technologies, and software.
I hit that point a lot with my inspectors. I tell them that when they are out on a job, whether it's paving or concrete or turf establishment, they are there with the people who do that every day. So ask questions about their design. Ask about the new techniques they are seeing in their projects. I've come across a lot of really interesting new processes that way.
What personnel management skills help you in this role?
I try to understand what each employee wants to accomplish because they are on their own career path. I ask about their goals and then try to expose them to work that helps with that. Even though it may be scary for them to try new things, I reassure them that in the end, they will then have that experience to draw on — whether it's positive or negative.
How did your engineering education prepare you for your current roles?
I went to Michigan Tech and learned a lot of engineering practices there. I had a lot of good mentors. But it is totally different from what happens in the field. In private practice, it's all about efficiency, time management, and being cost-effective because any effort is an attempt to make the company money. But I value the engineering principles I learned. Especially the ethics; you can't compromise your ethics even when you are in a time crunch.
How have mentors helped you?
I wouldn't be half the engineer I am today if other people hadn't taken the time to invest in me and allow me to learn from experience. And maintaining those relationships is very important to me. I know that if I have a question or need guidance in a certain situation, it's likely that they have already been in that situation and I can learn from their experiences. I highly value the mentors I have had in my life, and I try to pass that down to the younger engineers I mentor now.
You have five kids between the ages of 1 ½ and 14. How do you balance your work and personal lives?
I am really fortunate that the company I work for really values family. As long as you put in the time with the townships and clients and get the work done, you can make the most of family time when you get it. Our co-workers also feel like family to us. At our company picnics, there are always a lot of kids!
What advice would you give to other younger engineers looking to move up?
Experience as many aspects of a project as you can. Get outside with the survey crew and run the equipment with them. Work with contractors to understand their processes and what kinds of questions they have. That way you can incorporate all of that into your design.
Also, get a good handle on the software you need, and go beyond even what they teach you in college. Run through all the tutorials.
Where do you see the civil engineering profession heading in the next several years?
I see environmental concerns as a big area. The impacts and regulations — especially, for us, in terms of stormwater management from roadway projects — are only going to grow. I've been trying to consider that in our projects whenever I can.
Are there any items from your personal or professional bucket lists that you can share?
My wife and I have grown to love hiking. We took a vacation to Utah and hiked Angels Landing in Zion National Park. It was terrifying! But we are now discussing either hiking to the highest point in every state or visiting all the state parks in Minnesota. That second one is probably more realistic for now, with the kids.
Professionally I want to keep developing my relationships and my experiences in creating good plan sets, implementing new technologies, and using new materials. Townships have smaller budgets that can get eaten up pretty quickly. So presenting them with cost-effective technologies and materials allows them to remain within their budgets.
Do you have a quote or principle you live by?
I have posted on my office wall the four agreements (from The Four Agreements: A Practical Guide to Personal Freedom, Amber-Allen Publishing, 2003). They are: be impeccable with your word, don't take anything personally, don't make assumptions, and always do your best. I try to stay professional and not take anything personally; you just have to do what is best for the clients. In terms of not making assumptions, if there is a conflict on our team, I try to go to the source. I open that line of communication right away to determine what the issue is and come to a resolution.
Is there one daily habit you rely on?
Other than caffeine?
When I go into the office, I always make a point to connect a bit to each member of my team. I ask about their weekend or their family. I want to know what their interests are. I think that builds trust and confidence and lets them know I will be there for them.
Laurie A. Shuster is the editor in chief of Civil Engineering.
This article first appeared in the March/April 2022 issue of Civil Engineering as "Passion and Communication Are Key."