Edited by Margaret M. Mitchell
Gilda Barabino, Ph.D., is many things: researcher, scientist, professor, wife, mother. And that's not all. She is also a trendsetter and pioneer, having been in situations in which she was the first and/or only woman or person of color — as a student and professor at various colleges and universities and now as president of Olin College of Engineering, in Needham, Massachusetts. She is only the second person to hold that title and the first Black female to do so in the school's 25-year history.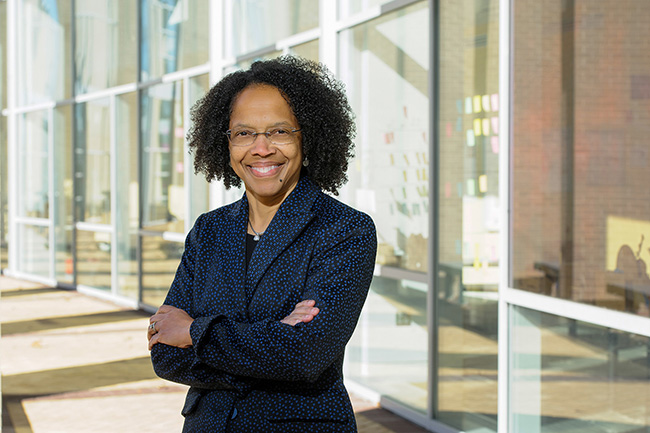 She is a strong proponent of diversity, equity, and inclusion in science and engineering and is working with the Olin community to ensure the college is a place for all students. "Under the umbrella 'Engineering for Everyone,' Olin is taking steps to make engineering more inclusive, accessible, and inviting," says Barabino, "which we believe will influence other higher education institutions and the practice of engineering itself."

Barabino discusses the vision for Olin College's next decade and its DEI initiatives with Civil Engineering.
You are a champion for diversity in engineering education. What is your No. 1 goal at Olin?
Since its founding, Olin has been disrupting traditional approaches to the teaching and learning of engineering. It's why the college was founded. Today, Olin is still revolutionizing engineering education and applying this spirit and commitment to advancing equity within and through engineering education.
When I say within engineering education, I mean that Olin is committed to providing an education that is relevant and sensitive to the needs of students from all backgrounds and life experiences. This also means taking a hard look at our business model to assess how we can make engineering education more accessible to students from different economic and racial backgrounds.
When I talk about advancing equity through engineering education, I mean that Olin will be using its platform and curriculum to reimagine how engineering, engineers, and the profession of engineering can contribute to the world. Over its first two decades, Olin changed the definition of engineering to include understanding people's needs by working with and listening to people. This is a departure from designing and building things without input from end users and then just imposing them on people and communities.
Over the next decade, we will further broaden that definition of engineering to include social responsibility and equity so that our graduates — and engineers more broadly — will always ask questions about the impacts of their work on society.
We are committed to being a force in further influencing engineering education and driving this shift in the teaching and practice of engineering. Change won't be easy or comfortable, but I believe that the engineering community should be serious about making sure the future of engineering is explicitly inclusive and has value for people from all backgrounds and walks of life.
How did your own education experiences inform your mission to increase access to quality STEM education for women and other underserved groups?
I believe we are the product of our lived experiences and that our experiences are shaped in part by the culture and environment we are exposed to. My parents believed deeply in the transformative power of education and instilled that value in their children.
As early as elementary school, I learned that there were forces outside my parents' control that would impact my education, that the color of one's skin and where one lived could be determinants of educational opportunities. Raised in a military family, I was educated in different locales, depending on my father's assignments. In first grade, I attended a predominantly white elementary school in Delaware and was the only Black student in my class. In second grade, I attended three schools in one year with a brief stint in Germany.
In high school, the women in my chemistry class were ignored, and women were made to feel like chemistry was not for them. So, to some extent, I pursued a BS in chemistry to prove my male chemistry teacher and others wrong. As a new chemical engineering professor and researcher at a major research university, I faced barriers associated with being the solo female, African American, non-tenured faculty member, and working mother. My male colleagues and the students — unaccustomed to a Black female professor — seemed to be at a loss as to how to include and support the new member of the community.
So, with these experiences in my life, I know very well that Black people — especially Black women — and other people of color and women find themselves in places where they don't see themselves reflected.
Why must there be diversity in engineering and the other STEM fields?
Simply stated, diversity drives innovation, and innovation drives new knowledge creation and the development of tools needed to solve the complex challenges of today and the future. Diversity and excellence are inextricably linked. The quality and quantity of innovation — whether in the research setting or industrial/commercial setting — increase when you have a diversity of minds and life experiences working together.
This is something that I've researched and written about, and it is something we facilitate at Olin in our team approach to learning. In the end, by having a diversity of minds working together, you can boost discovery, knowledge creation, and the economy.
Why is it essential for students to see themselves reflected in those teaching them and those they may work with?
Students from all backgrounds need to see themselves reflected in the faculty, fellow students, and the curricula. This engages students on several levels and shows the possibility of anyone from any background and life experience succeeding in the science and engineering fields. Concordant role models and mentors by race, gender, and other identities help foster a sense of belonging and the development of a science/professional identity.
We have a student body with an almost equal population of women and men. This is true of our faculty too, which is still an anomaly in engineering programs.
It is also important for students from marginalized communities to be taught by faculty who share their life experiences and who can demonstrate that science and engineering can be applied to social justice issues and improve one's community. If this isn't made clear to these students who are looking to advance equity in their communities, we may see them lose interest and move to areas of study that they believe would enable them to have a greater social impact.
What advice would you give to your colleagues who wish to increase diversity at their schools?
Leaders need to be bold, courageous, unapologetic, and intentional in their words and actions to ensure diversity, equity, and inclusion at all levels. We need to hold a mirror to ourselves and constantly examine our policies, practices, and behaviors and be models for the change we want to see.
To increase diversity within our institutions, we should prioritize the creation and sustenance of inclusive environments, broaden areas of recruitment and criteria for admissions and hiring, set and achieve meaningful goals, promote rewards and recognition for contributors to and advances in DEI, and match opportunities with talent. Recognizing the relationship between racial and gender diversity of the faculty to racial and gender diversity of students as well as an emphasis on the hiring of racially minoritized and women faculty are critical elements of a successful DEI strategy.
What do you want your legacy to be?
I would want my legacy to be that I was an instigator for the change that helped create the just and equitable world we want to live in. I want to have helped Olin College further its mission of doing good in the world through our graduates and leading transformation in education by reimagining the face and practice of engineering.
Margaret M. Mitchell is the managing editor of Civil Engineering.
This article first appeared in the May/June 2022 issue of Civil Engineering as "Pioneering Equity in STEM Education."

Do you have an innovative program for reaching and teaching today's technology-savvy civil engineering students? If so, email [email protected] using the subject line "Higher Learning."