Edited by Laurie A. Shuster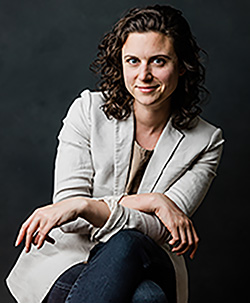 Natalie Carmen, P.E., M.ASCE, combines her experience in landscape architecture and agricultural engineering with her knowledge of civil engineering principles to design erosion-control, environmental, stormwater, water, wastewater, site development, and roadway projects. In August 2021, she was promoted by her company — Stewart, an engineering, design, and planning firm with offices in North Carolina and South Carolina — from project manager to director. She credits her success to her mentors, a three-year leadership development program, and her passion for meeting the needs of clients, communities, and team members.
What does your job as a director entail and how does it differ from your role as a project manager?
Stewart has seven practices and civil engineering is one of those. Within that practice, we have three offices, and I am the director of the Raleigh (North Carolina) civil engineering office. My boss is the practice leader, and I supervise six people.
As a project manager, while I was managing day-to-day tasks and the efforts of staff, I was not completing one-on-one or quarterly reviews or recruiting and hiring. Those are all part of my responsibilities now. Stewart did a great job in the two years preceding my promotion to support me in building those skills.
How did you learn those skills?
I was invested in by several groups. One is the Caldwell Fellows program at North Carolina State University, where I obtained my bachelor's and master's degrees. It's a leadership development program focused on servant leadership (as defined by author and speaker Robert Greenleaf). It's a three-year program that runs from sophomore through senior year, and its goal is to develop global leaders. It focuses on being a leader in your community and being more than just a business leader.
With that experience I was able to go to a local center for creative leadership. I took many of the same personality tests and skills assessments that are done when people are being considered for the management level, so I started to get the vocabulary to help me understand how I approach situations, how other people process information, and how to communicate when we maybe see things differently. I learned to adjust my communication and management styles so my message will be received well.
I was able to transfer that over when, in 2018, Stewart started to look at assessing employees' emotional intelligence and using a skills assessment and development program specifically for women leaders to make sure people are a good fit for management roles, given their natural tendencies.
We have a very well-defined culture at Stewart. Our values are captured in the acronym THREAD: trust, humility, respect, excellence, accountability, and discipline. It's how we make decisions, how we treat each other and our clients. That — paired with our leadership structure — is very important to our organization.
What skills did you develop in your previous position that help you in this position?
The project manager role had a lot of job responsibilities that transferred to the job I have now; communication is the biggest one. That's about knowing when to pick up the phone, when to have an extra touch point with a person, when to take an extra day to think through something to make sure you are providing a thoughtful and appropriate response.
For both internal and external communications, it comes down to developing good relationships. We design things for the physical world, but at the end of the day, we are designing them for people to use and for the benefit of the public. We have to keep that in mind.
What personal traits or characteristics do you believe helped you win this new position?
When I am interacting with staff, they can tell I care about them. They know they are valued members of the team. I am also willing to give constructive feedback. I'm invested in the long-term development of staff — not just what will make them feel good now but what will help them reach their potential.
I also approach projects with curiosity and flexibility. I can adapt and work with other team members to make sure we arrive at the best solution. Whether it's an interpersonal or engineering problem, I, of course, approach it with my own viewpoint and ideas, but I am also very interested to hear others' perspectives and ideas. I am open to adjusting and even being wrong.
How did you become interested in civil engineering?
I wanted to be an artist; as a child I was always drawing. I still consider what I do to be a form of artistry, and I still draw every day. I paired that with a love of math and the physical world. A lot of people said I should pursue architecture or engineering. But I have a bit of a contrarian streak, so I rebelled against that for a while. I originally went with landscape architecture.
As I was working in landscape architecture, I became very curious to learn about the civil engineering and technical aspects of what we were doing. So I went back to school for a master's in engineering. That degree was in biological and agricultural engineering, with a focus on stormwater design and research.
Now, at Stewart, I have been able to see a number of projects through from conception to design, construction, and completion, so I have a few creative stormwater solution projects that I am excited about. We also do a lot of downtown infill projects. There are lots of challenges with those that we need to solve for.
What role did mentors, advisers, or your network play in your achievement?
I have to start with my teachers. I benefited from teachers who saw potential and invested in me — in particular my math and science teachers. When you are trying to figure out how you fit into the world and where your skill set meets the world's needs, having someone in your corner really goes a long way.
Recently I've participated in Stewart's robust internal mentoring program. It pairs management-level employees with less experienced staff, and that has been hugely beneficial for me.
What types of positions do you see yourself moving toward over the next few years?
I'm not working toward a specific promotion right now. I am focused on the impacts of our projects on the community. I want to maintain the creative solutions that serve multiple needs.
I also think all the 'easy' sites are gone, so we're appropriately being forced to be more thoughtful with our use of land and to ensure the land serves multiple purposes. I want to continue to maintain our impact on those types of projects and be a resource for our communities. We're partners in that with our clients.
What do you hope to accomplish in this new position?
For me it is important to see my team thrive. I am excited about the licensures that are anticipated this year among my staff. I am excited about people moving into assistant project management roles. My goal is to equip them with the theory and technical knowledge but also the hands-on experiences through field visits so they understand how important their job is and how it makes an impact on the community.
As a director, how do you determine who is best to take on which tasks?
From a practical standpoint, we try to give everyone experience with the full range of a project. We don't have an erosion-control person and a grading person, for example; we want everyone to be a generalist. We have a robust onboarding program with a checklist of all the things that we think people need to become proficient at in their first four years. It's pretty comprehensive. But for me it gave me a lot of confidence when I did go to get licensed that I had the experience necessary to be a professional engineer.
Where do you see the profession heading in the near future?
One of the benefits that has come out of the past two years is that people are now more willing to get on a quick phone call or video call to connect and share ideas. I see that continuing, particularly across disciplines. I'm thinking about engineers, contractors, and owners and how that helps them understand each other's perspectives and constraints.
Optimistically, I see a lot more pedestrian and bike infrastructure being prioritized. And I think people will be able to connect more with nature and their neighbors through that.
What advice would you give to other young engineers seeking positions similar to yours?
Being present and open to opportunities goes a long way. There is a lot of potential for new engineers to really make an impact right now.
I would also encourage them to be ready to ask questions and adjust their direction, and then be ready to run with it — take initiative.
And when given the opportunity, try to make work light for other people, whether that is having a positive attitude or taking an extra step. Think about how to not just do what was asked but a little more to make it easier for the next person.
And I would encourage entry-level engineers to have confidence in their voice and know that their ideas are worth sharing. We need everyone's ideas to arrive at the best solution.
Laurie A. Shuster was the editor in chief of Civil Engineering.
This article first appeared in the May/June 2022 issue of Civil Engineering as "Moving into Management."