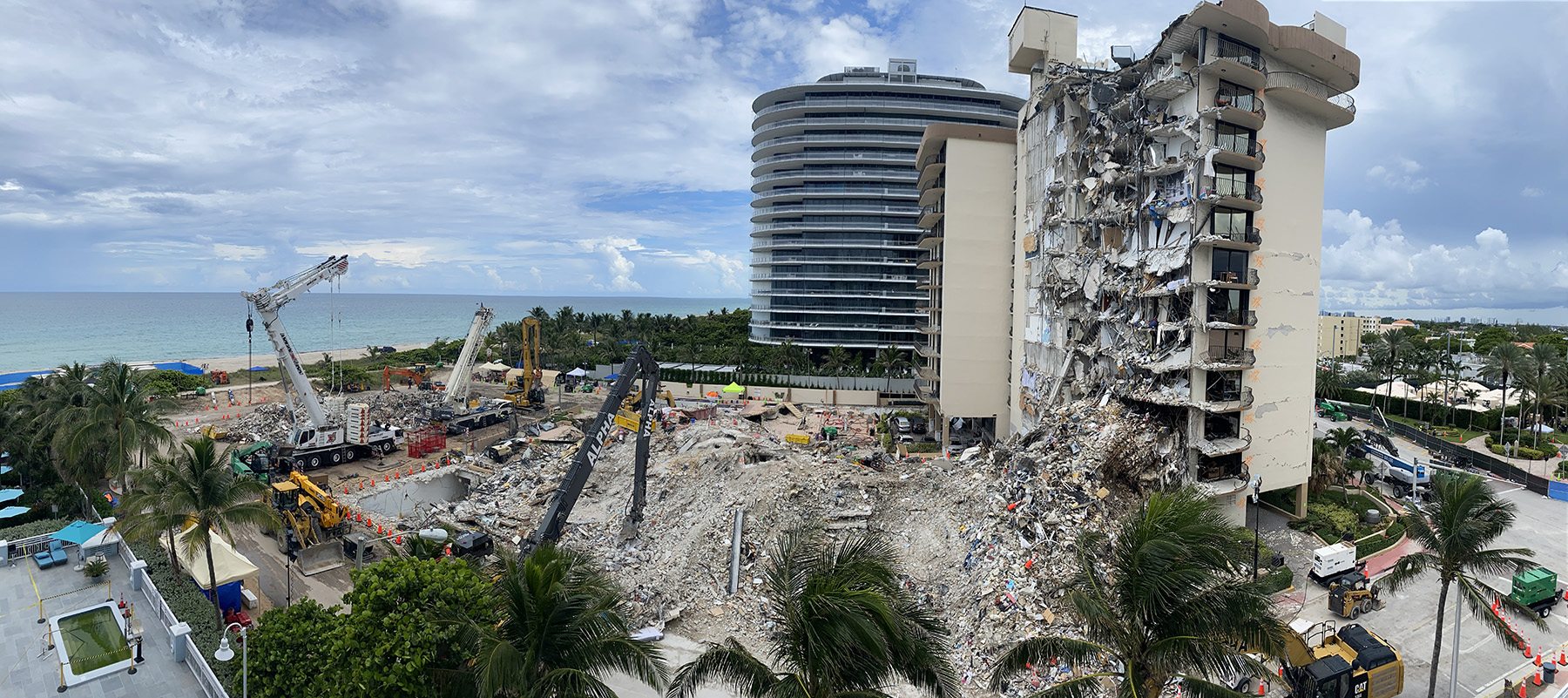 By Tom Caldwell, P.E., M.ASCE, and Army Reserve Maj. Mike Riccitiello, P.E., PMP
When disasters strike, search and rescue efforts come first. FEMA's urban search and rescue teams, which often include specialized civil engineers, are often the first responders to disasters in the built environment. This work has come into sharp focus recently after disasters ranging from collapsed buildings and industrial explosions to regional devastation caused by earthquakes and hurricanes.
Urban search and rescue teams deploy after major disasters when people are trapped, injured, or cut off from help. Certified, trained, and funded by the federal government, these US&R teams feature coordinated, multidisciplinary efforts that include civil and structural engineers who work alongside experts in fire/rescue, heavy equipment, canine search, emergency medicine, and other disciplines. It is unique and challenging work that requires extensive training and specialized skills on the part of every team member.
Dealing with disasters
Established in 1989 under the authority of the Federal Emergency Management Agency, US&R teams are part of the National Urban Search & Rescue Response System, which is "a framework for organizing federal, state, and local partner emergency response teams as integrated federal disaster response task forces," explains a FEMA webpage on the system.
Civil and structural engineers have been an integral part of US&R teams since 1990. It is a fascinating discipline — but one that many engineers have never heard about. To become involved, engineers must undergo specific training and make critical adjustments in their mindsets to accommodate the demands of working at disaster sites.
Engineers can play critical roles in US&R teams because they know the terrain of the built environment. They design buildings, bridges, roadways, and dams, and when these infrastructure systems fail and people are trapped or injured, US&R engineers can help rescuers reach them.
Yet working in a US&R team can be a challenge for civil and structural engineers because it requires new ways of thinking about safety and risk as well as the ways that engineers can contribute to search and rescue missions (read "The Engineer's Role" below).
National response

The idea for US&R teams began with the technical rescue squads of larger municipal fire departments. The desire for a national-level federal response can be traced to the enactment of the National Earthquake Hazards Reduction Program, a 1977 congressional mandate to develop organized emergency services on a national level. FEMA was formed in 1979 and tasked to lead NEHRP. Following the Loma Prieta earthquake in 1989, the National Urban Search & Rescue Response System was officially formed and organized.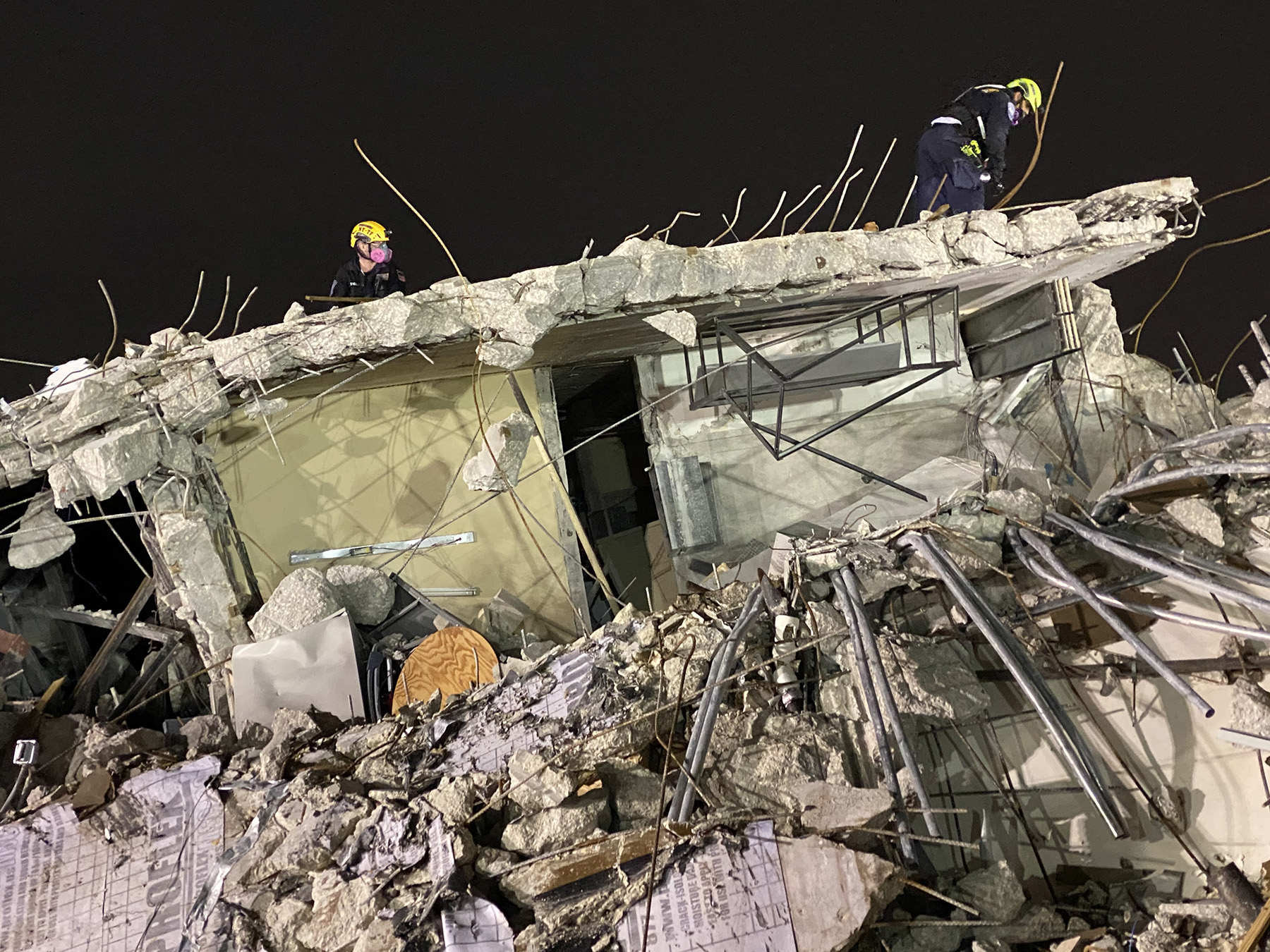 Although the US&R program has gone through many reorganizations over time, its mission now falls under FEMA's Emergency Support Function 9, Search and Rescue, as designated under the National Response Framework, which serves as "a guide to how the nation responds to all types of disasters and emergencies," according to the FEMA website.
There are 28 federal US&R teams located across the country, each consisting of approximately 240 people. Every US&R team consists of heavy-rescue firefighters and career first responders, augmented with civilian experts in medicine, canine search, and engineering.
These federal US&R teams have responded to many disasters, including the Oklahoma City bombing in 1995; the 2001 attacks on the World Trade Center in New York City and the Pentagon in Arlington, Virginia; 2005's Hurricane Katrina; the 2010 earthquake in Haiti; and the 2021 condominium building collapse in Surfside, Florida.
In addition to the federal system, some states have adopted similar US&R team models to support local operations.
Traits and training
Although every civil or structural engineer who serves on a US&R team is a unique individual, there are some common traits many of them share. For example, they are typically midcareer professional engineers or licensed structural engineers with field experience in construction, demolition, or forensics. They are often well above average in technical ability, have excellent communication skills, and are in good physical shape. And they must be able to suddenly leave work and family for training, drills, and deployments.
The training and drills — which help everyday civil or structural engineers transition to US&R engineers — involve a highly technical and rigorous program that has evolved over time, based on the many lessons learned from each successive disaster response. Once this training is finished, engineers earn the title of structures specialist.
Completed over a period of two to three years, the training program puts the candidate engineers through numerous courses that teach them the necessary skills to respond to disasters. This training, jointly run by FEMA and the U.S. Army Corps of Engineers, covers specialized engineering topics that range from recognizing collapse patterns to rapid assessment of damaged buildings.
Although the basic subjects are familiar to experienced engineers, the US&R training expands these topics to cover the disaster environment, focusing on such topics as tracing load paths in partial collapses, calculating dead loads for irregular items such as debris or rubble, and developing rescue shoring to support those loads. In addition, engineers become familiar with crane operations, monitoring equipment, area mapping, and GPS systems.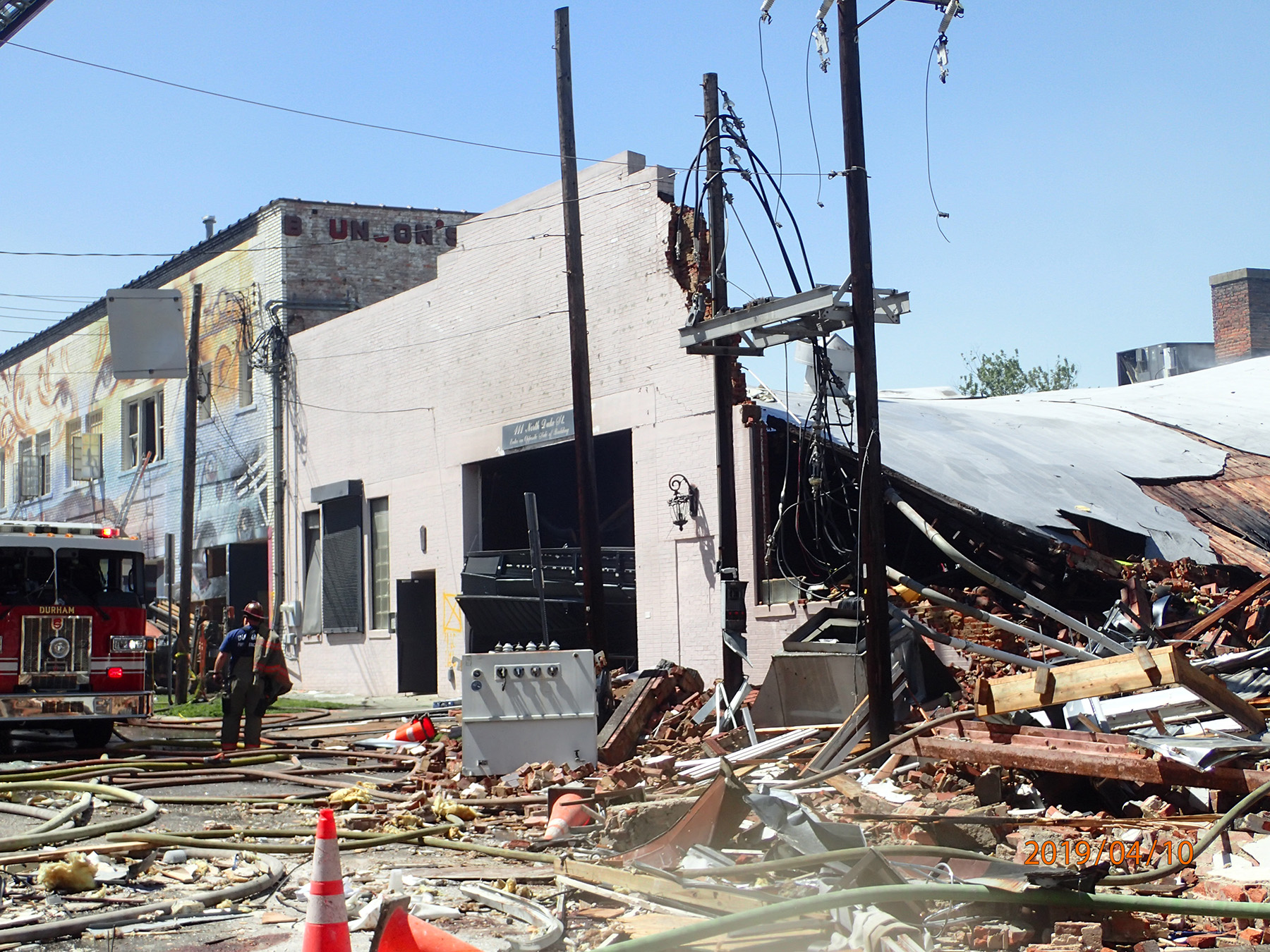 Additional nonengineering courses are also required. Starting at the strategic level, engineers learn about the National Response Framework and how the nation's resources are put to work in disaster situations. Incident command system training focuses on the way response operations are organized and how the various local, state, and national assets are integrated. Finally, engineers participate in their respective US&R task force's training and drills that include hands-on exercises and classes in hazardous materials, critical incident stress management, and CBRNE challenges, which refers to chemical, biological, radiological, nuclear, and explosive events.
The team training exercises strive for realism, with drills and simulated disaster scenarios designed to test every part of a team's response, often under severe conditions. Many drills take place at specially designed, full-scale mock-ups of collapsed structures, where "live victim" volunteers and mannequins are hidden deep in the debris. Teams must locate these hidden victims, often by tunneling through steel and concrete, and then administer first aid and get the victims to safe locations.
Training complexes such as the Guardian Centers in Perry, Georgia, and Disaster City in College Station, Texas, offer large, national training grounds for US&R operations. The Guardian complex includes several city blocks of urban buildings and four buildings that appear to be partially collapsed. Inspired by the flooding that inundated New Orleans' 9th Ward during Hurricane Katrina, the site also features a complete, floodable town with eight single-story homes sitting in a 5.5 million gal. basin that can be flooded up to 8 ft deep, explains the Guardian Centers' website.
One of this article's authors, Tom Caldwell, helped train a US&R team from the United Kingdom at the Guardian Centers' floodable town. Because the U.K. team might have to respond to bomb damage in the London Underground — where such an attack could flood the subway system's tunnels — the team members had to practice how to construct structural shoring in chest-deep, freezing water.

Technical advisers
Training and drills do more than just help civil and structural engineers practice their skills. They are also essential for helping engineers understand their roles within the hierarchy of rescue operations. Structures specialists must realize that they serve as technical advisers to the team but are not part of the US&R command structure. Instead, US&R teams are led by highly experienced fire service experts, such as fire chiefs and specialists in heavy rescue, hazmat, technical search, communications, and logistics.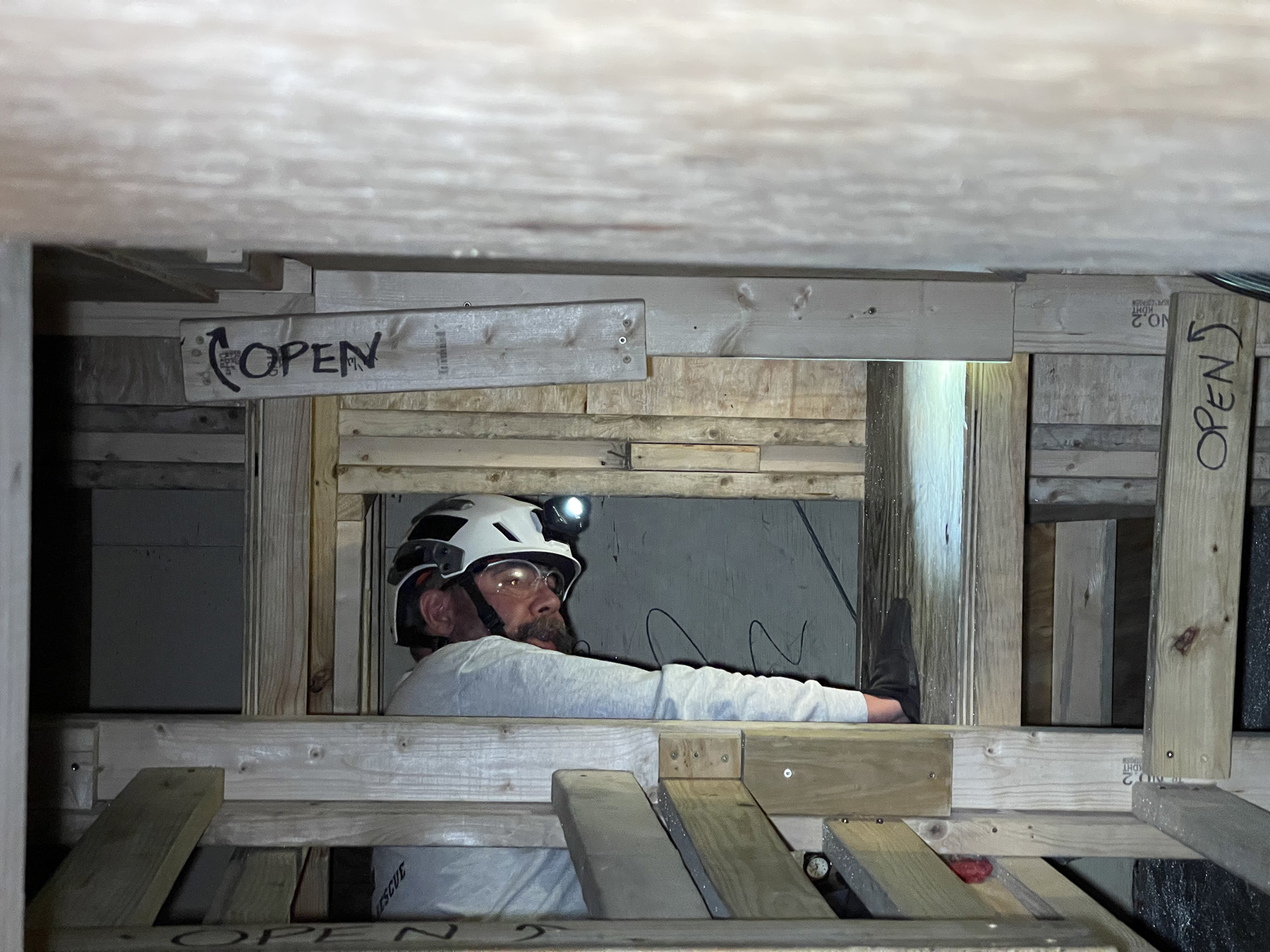 The fire service culture is strong in the US&R system, and civil or structural engineers who come from non-fire backgrounds — considered by fire professionals to be from the civilian world — often begin their US&R careers as outsiders. It can take considerable time for these engineers to be accepted, fit in, and be effective. Moreover, taking orders gracefully can be a new challenge for accomplished, self-confident engineers. But to serve well on a US&R team, everyone involved must respect the chain of command, be a team player, and support every aspect of the team's mission.
To succeed, civil and structural engineers need to leave their egos at home, avoid thinking they are in charge, and maintain a sense of humor. They must be prepared, on time, and willing to help any part of their teams at every opportunity.
Flexibility and support
The technical side of US&R engineering and disaster work can be fascinating and intensely rewarding. At the same time, US&R service makes substantial demands on engineers' careers and spare time — which requires flexibility and support from the engineers' families and employers. In particular, many engineering firms simply are not prepared to have senior-level staff suddenly disappear for what might be considerable lengths of time. For those that do allow their employees to participate, it can be a struggle even when the firm is committed to this type of public service. The authors consider their own firm to be somewhat unique in that it allows three of its 12 employees to serve on federal and state US&R teams.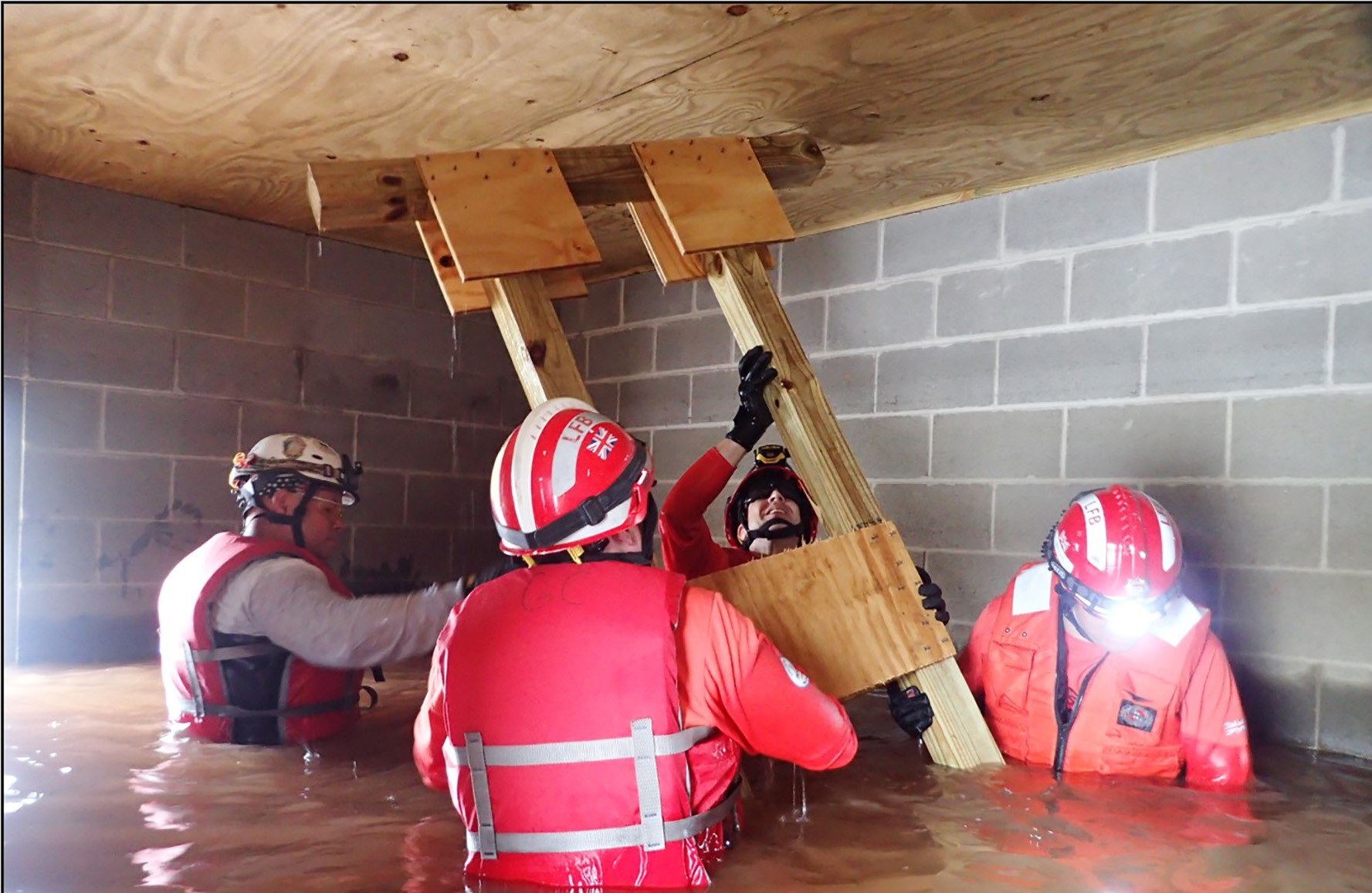 During actual deployments, US&R team members become temporary federal or state workers, with government-provided pay and insurance. While this deployment pay can be generous, the US&R engineers typically take time off without pay from their regular jobs during the disaster response operation. And the time spent in training and drills is usually unpaid. So when all these factors are added in, the engineers are not joining US&R teams for the money.
Moreover, they must be willing, as the old saying goes, to drop everything else at a moment's notice. Federal US&R teams, for example, are required to be on the road or in the air within four hours of activation. To make this possible, each team includes three qualified specialists for each position. Thus, there are six civil or structural engineers per team, two of them on call at any given time, ready to leave at any time, day or night.
When a team is activated to respond to a disaster, the on-call engineer gathers several bags of gear and changes into a response team uniform — which is typically dark blue and made from a flame-retardant ripstop material. The uniform displays a federal or state insignia as well as the engineer's name and specialty. Team members quickly gather at a rallying point, typically a fire training center or armory, before they get underway along with several tons of prepacked equipment.
Every deployment includes long hours of travel and some boredom and discomfort. The work at the front line of a disaster is usually heavily physical and sometimes very intense. The demands are great, and this work is not for everyone. But for some, US&R service can be incredibly rewarding. Working on a vital task alongside dedicated teammates, all of them seasoned experts, is where it all becomes worthwhile.
Lessons learned
All deployments end with an After-Action Report — a clear-eyed, objective review for every part of the team — that explores what went right, what went wrong, and ways to improve before the next mission. From the Oklahoma City bombing to the Surfside collapse, US&R engineers have learned valuable lessons about how to best serve their teams and do their part to make missions successful.
In normal practice, engineers gather and confirm all pertinent data before making life-safety decisions. But this just is not possible during most US&R operations. One of the hardest lessons for US&R engineers is that decisions still have to be made, even when information is scarce.
Another lesson is about time and work tempo. When US&R teams need engineering during a rescue, they need it right now. People trapped in rubble cannot wait for a lengthy analysis. Engineers must deliver a workable plan as quickly as possible. Delaying a rescue for a more refined plan is just not an option.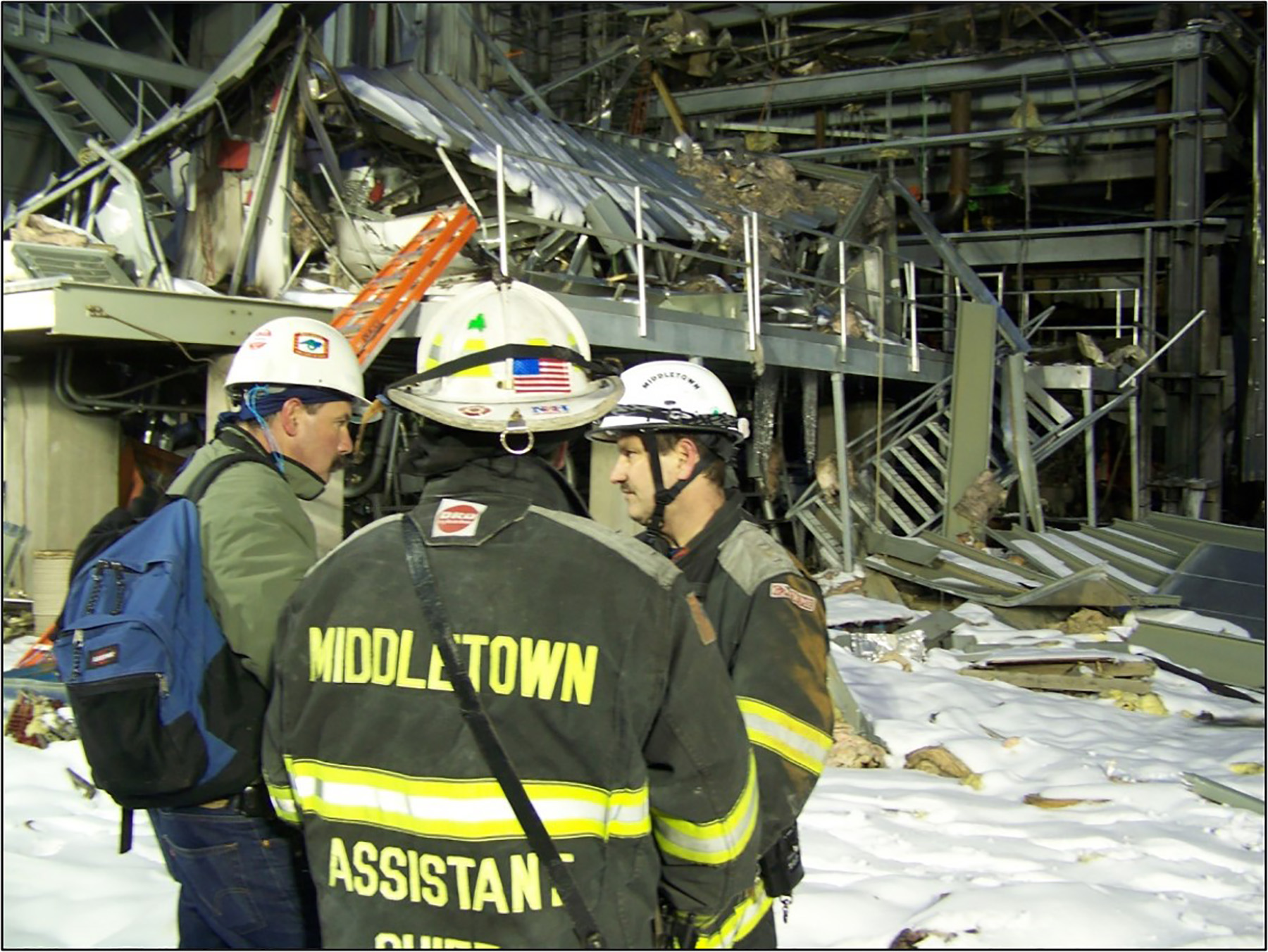 On the technical side, an important lesson is that a structure "at rest" is not the same as a "stable" structure. Following a partial collapse, the remaining structure has found a new equilibrium. If what's left of the structure is dormant for a few days or survives a windstorm or aftershock, people might see this as evidence of safety and stability. But that view can make them complacent, which is dangerous. Windstorms or aftershock are not reliable load tests. Damaged structures can only become more dangerous with time.
Another technical lesson involves the limits of analysis when applied to damaged structures. Civil and structural engineers grow to trust their analytic tools, but most of these rely on well-defined materials and regular geometry. There are many unknowns in a damaged structure, and US&R engineers have learned not to make confident assumptions when faced with severe structural damage.
The importance of consensus is another critical lesson. Every US&R team deploys with two engineers, and there might be several teams — federal and/or state — working together at a single disaster site. Although good minds working together are a tremendous asset, the teams require a single answer — not an engineering debate. There can be discussion among the engineers, but in the end, they must agree and advise the teams as a single voice.
As designers, civil and structural engineers know how things are built, so they can apply traditional engineering concepts to help make rescues happen. But engineering in the disaster zone has unique demands. US&R engineers must prepare for these demands through extensive training and by learning the trade from established experts in technical rescue. Other lessons come from actual disasters, and through these, the discipline of US&R engineering continues to evolve.
US&R service makes great demands on every team member. The work is intense, difficult, and stressful — but also deeply rewarding.


The engineer's role
Civil and structural engineers on urban search and rescue teams learn new lessons from every disaster. A few case studies illustrate some of the on-the-ground challenges engineers face during US&R operations. Compared with normal engineering practices, US&R work demands similar technical abilities but requires a whole new mindset about safety, acceptable risk, and work tempo.
Factory explosion
A key challenge for US&R engineers is assessing risk — and doing it in a hurry. This was the case in 2009 when a natural gas explosion at a large manufacturing plant in Garner, North Carolina, caused massive structural damage at the 70,000 sq ft facility. Three workers were missing in the wreckage.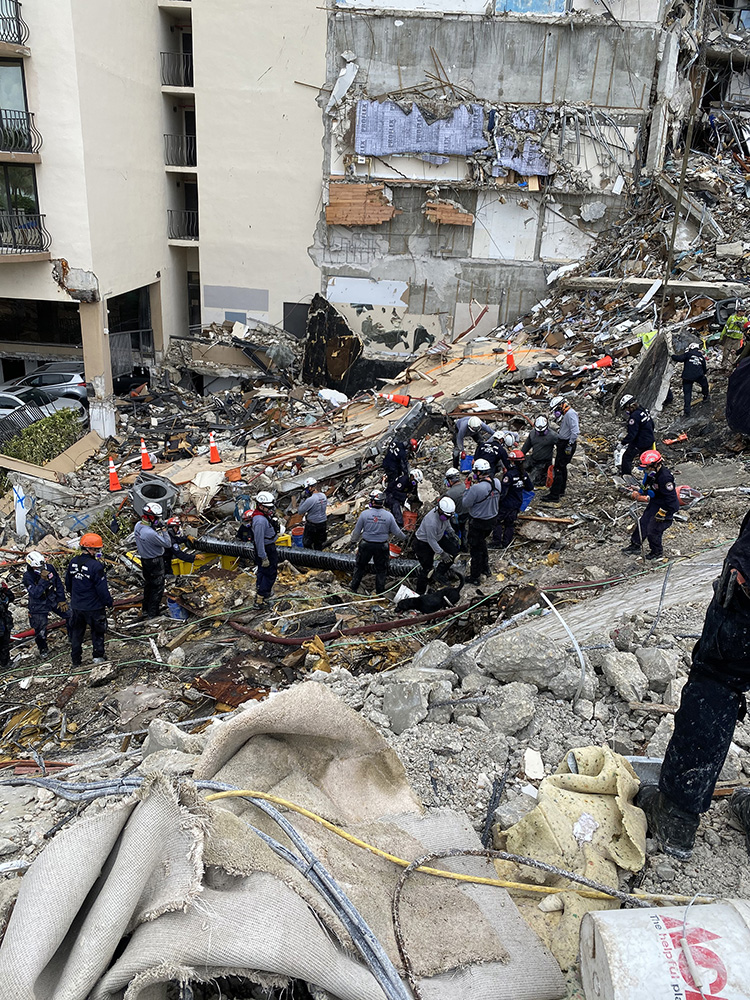 The structure included 24 ft tall concrete columns supporting concrete girders and concrete double T roof members. The blast fractured dozens of the roof-level double Ts, breaking them upward, in reverse bending. Many of the double Ts collapsed, falling onto manufacturing equipment below. The falling concrete also ruptured refrigeration pipes, filling the plant with ammonia gas. Responders had to wear hazmat suits and use self-contained breathing apparatuses.
A US&R squad of two hazmat specialists and an engineer entered the facility and found many searchable voids under the crushed equipment. They also noted that many unstable, broken double Ts remained overhead, 24 ft above the floor. The squad exited and reported in. Team leaders asked the engineers for a shoring plan to prop up the broken overhead concrete and provide some protection for crews during search efforts. A trained US&R shoring crew was standing by. The engineers quickly developed a plan.
But clearing floor space and building the shoring towers would take several hours and be difficult for crews wearing the necessary safety gear. Shoring would also delay the search for the missing factory workers. Plus, the shoring crew members themselves would be working with no overhead protection.
Yet if the site was not shored up, the search for the missing employees could also take many hours, during which the search crews would be working beneath tons of loose concrete hanging over their heads.
So which was the best approach: build the shoring towers or immediately start the search? It was an agonizing choice — and it had to be made quickly. The engineers weighed the risks and advised the team leadership to forgo shoring and start search operations. Leadership agreed.
In the end, it took 30 hours to recover the bodies of the three workers, who had all been killed in the initial collapse. The engineers stayed with the searchers throughout the process, monitoring the overhead conditions from inside the collapse zone and from outside, using ladder trucks and binoculars to watch for any movement of the building's remains. They also helped rig crane lifts and move debris.
Was going without shoring for 30 hours the right decision? Or just the lucky one? It is not clear, even now in retrospect. But this case study does provide a clear example of a critical decision that had to be made rapidly and without much information to go on. These sorts of decisions are one of the central challenges of US&R engineering.
Earthquake experience
Engineers normally design structures to meet well-established levels of safety and risk. But in US&R operations, the acceptable risk changes with the circumstances. This is second nature for career firefighters but not for civil and structural engineers. The search and rescue operations after the 2010 Haitian earthquake offer a stark example of when greater risks are justified.
During that earthquake, two-thirds of the multistory buildings in Port-au-Prince suffered pancake collapses, and an estimated 200,000 citizens were killed. Multistory construction in Port-au-Prince typically included cast-in-place concrete floor slabs with integral beams, supported by square columns. Lateral systems were not often used. Many columns were under-reinforced and just snapped. Lower floors pancaked and broke apart, often leaving one or two upper stories perched on top, distorted and barely standing. The earthquake left thousands of buildings across the city in this condition, and aftershocks rocked the area throughout the 12-day rescue period.
US&R teams targeted collapse sites in search of survivors based on local information, usually reports of voices heard from within the rubble. Sometimes the reports were days old, and sometimes the reports were based more on hope than accuracy. Most of the collapse sites searched yielded no signs of life. Search techniques included canines, cameras, and microphone arrays. Keeping aftershocks in mind, squads walked on top of the rubble piles and dug access pits from the top down. They limited their time below the loose rubble or damaged structures and used dogs or technology in the most dangerous situations.
But when live victims were detected, techniques and tempo changed rapidly. Rescue crews tunneled horizontally into loose rubble, cutting through concrete and steel debris, and spent hours deep inside collapsed buildings working toward the trapped victims. The civil and structural engineers advised on entry points and hazards, tried to determine the load paths around the tunnels, and helped rescue squads decide what debris could be safely cut or moved — while constantly dreading the next aftershock and its effect on their teammates.
For engineer Tom Caldwell, an author of this article, the sudden increase in risk and work tempo was a shock because he was experiencing his first live rescue operations. But US&R teams are led by career fire and rescue personnel, experts in balancing risk and reward. They know when to be cautious and when it's time to take substantial, justifiable risks.
Engineers have to adapt, accepting that they cannot actually make things safe for the team; they can only make things safer. And sometimes not even close to safe. During US&R operations, risks and rewards have to be balanced, and engineers need to adapt on the fly.
Condo collapse
The 2021 collapse of the Champlain Towers South condominium in Surfside, Florida, was one of the deadliest structural failures in the nation's history. US&R engineers played an important part in the rescue efforts.
During the sudden progressive collapse of the building, the entire eastern portion of the building pancaked while the western section of the building remained standing. In the end, 98 people died and only a few dozen residents were able to flee from the standing portion. Local and state rescue teams provided the initial operations and were soon joined by additional resources from the Federal Emergency Management Agency.
The US&R engineers were charged with monitoring movement of the remaining tower section and providing structural recommendations for search operations. With the full 12-story western portion of the building looming over the rescue site, engineers monitored its movement from the surrounding areas and adjacent buildings, observing both damaged and intact structural target points on the standing structure and logging the position of those points in 3D space using total station survey instruments. Any significant movement observed in the structure was quickly corroborated by other engineers at different locations — to check for accuracy and avoid false alarms — and then this information was relayed to the search teams.
The engineers provided advice on key aspects of the search operations, such as how close the rescue teams could get to what remained of the building, which areas of debris could be safely removed for equipment access, and how the teams could safely lift rubble to gain access to the lower levels.
The freestanding, western portion of the building presented the engineers with perhaps their greatest challenges. With hundreds of large concrete slabs and other building components hanging off the structure, high above the work zone — plus the high potential for additional collapse — this section of the building posed a deadly hazard to the search operations.
Several senior US&R engineers studied options and reached a consensus that the best way forward was to demolish the remaining tower section. This recommendation was forwarded to site officials, who made the final decision and ordered the demolition, which successfully opened all areas of the debris pile to the searchers.
Once the tower came down, the engineers were charged with additional monitoring and marking certain portions of the existing rubble with spray paint to help document the conditions and locations of structural members in their at-rest positions — information that was critical to the investigation being conducted by a team from the National Institute of Standards and Technology.
Tom Caldwell, P.E., M.ASCE, is a senior partner, and Army Reserve Maj. Mike Riccitiello, P.E., PMP, is the president of Atlas Engineering in Raleigh, North Carolina. Together, they have a combined 30 years of urban search and rescue experience with federal and state teams and service at dozens of disaster sites.
This article first appeared in the May/June 2022 issue of Civil Engineering as "Team Rescue."
---
Civil engineering specialties
Rescue engineers are involved in just one type of specialized work that civil engineers perform. For other examples, read "Snow Bound" (Civil Engineering, April 2016, pages 60-67), which explores civil engineers who conduct snow surveys to help predict runoff, and "Diving into Engineering" (Civil Engineering, July-August 2017, pages 46-53), which discusses civil engineers who conduct underwater inspections.