Edited by Margaret M. Mitchell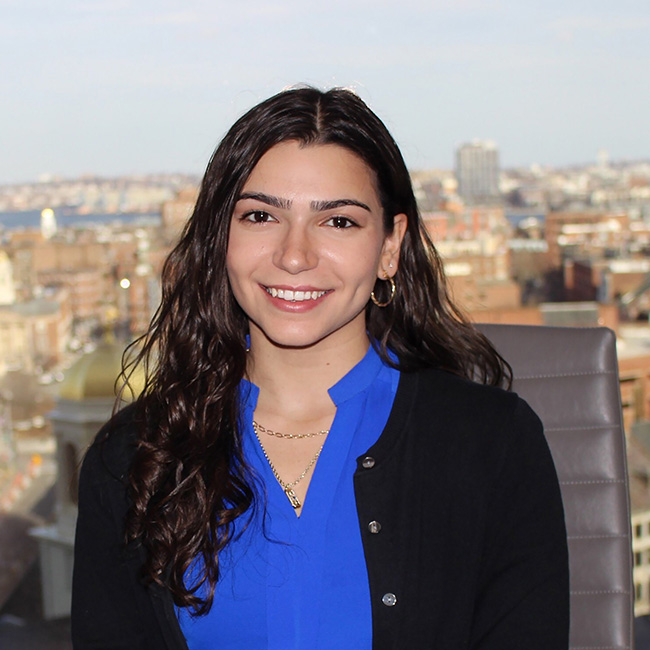 So far for Annahid (Anna) Dastgheib-Beheshti, P.E., M.ASCE, her professional journey has been a mix of traditional engineering consulting, learning, working to make successes out of setbacks, and networking. She began her career at Bohler, where she worked on various large-scale commercial and residential projects in the Boston area. While there, she gained experience providing technical design and consulting services to developers and their partners. In 2019, Dastgheib-Beheshti joined Arup's Boston office in a junior position. By April 2021, she had been promoted to senior civil engineer, where she has had the opportunity to work on some "amazing, transformational projects" that will help facilitate more connected, sustainable cities. Dastgheib-Beheshti is the recipient of the Boston Society of Civil Engineers 2021 President's Award, and this year she was named as one of ASCE's New Faces of Civil Engineering-Professional.
What does your job as senior civil engineer at Arup entail, and how does it differ from your role at Arup before the promotion?
Prior to my promotion, my title was simply civil engineer. I think like most people working in consulting engineering, your role does not always change significantly with a new title. However, I would say a significant difference between that role and this one is simply the expectations. While I still work on the same projects, as a senior engineer I am expected to not need as much supervision, be able to lead small projects or groups, and manage project outcomes as well as be able to solve more technical/complex issues than junior staff are.
My day to day differs based on what project I am working on. Some days it involves reviewing construction submittals and RFIs (requests for information) or going on site visits. Some days I am working in AutoCAD, drafting and designing site and drainage layouts. And some days it involves mainly project management such as coordinating workflows, task deadlines, and team resources.
What personal traits or characteristics do you believe helped you win this new position?
I have always been a very organized and scheduled person, so I believe these traits lend themselves very well to managing project outcomes and coordinating teams and deadlines. Everyone in my life knows that even just making social plans with me involves me inviting them to the event on Google Calendar or Outlook!
I think it is important to always know and be honest with yourself about what your strengths and weaknesses are. I am always asking questions of myself, learning, and improving on any 'weaknesses.' I believe this behavior has been an asset in my growth as an engineer.
What do you hope to accomplish in this position?
I am excited to mentor and supervise incoming interns. I believe my own internship experiences really shaped my career trajectory, and I want to be a positive influence on future engineers who work with our group. I also hope to continue to successfully lead more projects from concept through to design and construction/completion.
What led to your interest in civil engineering?
Like many other first-generation Americans, the importance of a STEM (science, technology, engineering, and math) education, especially the importance of women in STEM, was always impressed upon me by my parents. Additionally, my father worked both in academia and the industry as an electrical engineer. So engineering was not a foreign concept to me. As a child, I could often be found trailing around his office or the university he worked at, seeing what he was up to.
Consequently, I knew I was interested in engineering and science, but I quickly realized I enjoyed the more physical/tangible aspects of these subjects more than the theoretical parts. Upon doing some research for college majors, I learned about civil and environmental engineering from a blog post I read about ASCE's 2009 Report Card for America's Infrastructure. To me, this seemed to be the perfect fit to marry my interests in engineering and making tangible impacts.
Now that I'm a working professional, the attractive part of being a civil engineer has always been the opportunity to see your designs come to life or the ability to be a part of a city's transformation in a positive way. Watching projects that will connect communities become a reality is a special part of working in this field.
You participated in contests and science fairs growing up. What did you learn from those experiences?
On one hand, participating in all those contests and science fairs really just gave me the opportunity to nurture my interests in science and math in a fun way. But what I did not realize at the time is that they also allowed me to practice my public speaking skills, learn how to take responsibility for a project, and work with others to reach a common goal. These programs also taught me the satisfaction you can get from accomplishing something you worked hard on. I have taken these lessons with me long past my school years.
What is your No. 1 piece of advice for students who want to be civil engineers?
My advice to them is to take as many opportunities as you can to explore the field before graduating — whether that means doing internships, attending panels, or networking with professionals. I had the opportunity to intern at four different engineering firms through my university's co-op program when I was in college, and those internships have equipped me with a diverse array of practical engineering experience, which really allowed me to narrow down what was exciting about civil engineering to me … and also what wasn't.
What is your No. 1 piece of advice to other young engineers who want to move up in their careers as you have?
My advice for young engineers trying to move up in their careers is to never let anyone make you feel like you are not good enough for something you want, and to always be vocal about your goals. Even the greatest manager cannot read your mind: Speak up and be your own biggest advocate!
What do you like to do for fun?
When I am not working or volunteering, I like to express myself creatively. I am currently co-captain and co-choreographer for a Persian dance team, Aftab Dance Group, in Boston, where I manage a group of young professionals and students who share a passion for Iranian culture by way of dance and performance. But before joining Aftab, I had been dancing, training, and performing in many other dance styles basically since I could walk.
This additional outlet helps keep me creative and ready for my engineering work. I have learned that it is important to make time for all the things you love.
Where do you see the civil engineering profession heading in the next five years?
I think the biggest technical change will be the shift from just planning and talking about the importance of sustainable and resilient design to actually implementing these practices and integrating them into all development projects.
What's more, hybrid and remote work are not going away. I think these changes to how we approach our workdays will really transform the industry in an interesting way.
What do you want your legacy to be?
I don't know about my legacy. But I do hope that I leave positive impacts on the people and the communities I work with. I have had some great role models and influences in my life, and I hope that I can return some of that positivity to the next generation of engineers and STEM/CRE (commercial real estate) professionals.
Margaret M. Mitchell is the managing editor of Civil Engineering.

This article first appeared in the July/August 2022 issue of Civil Engineering as "Keep Learning, Speak Up, and Be Your Biggest Advocate."