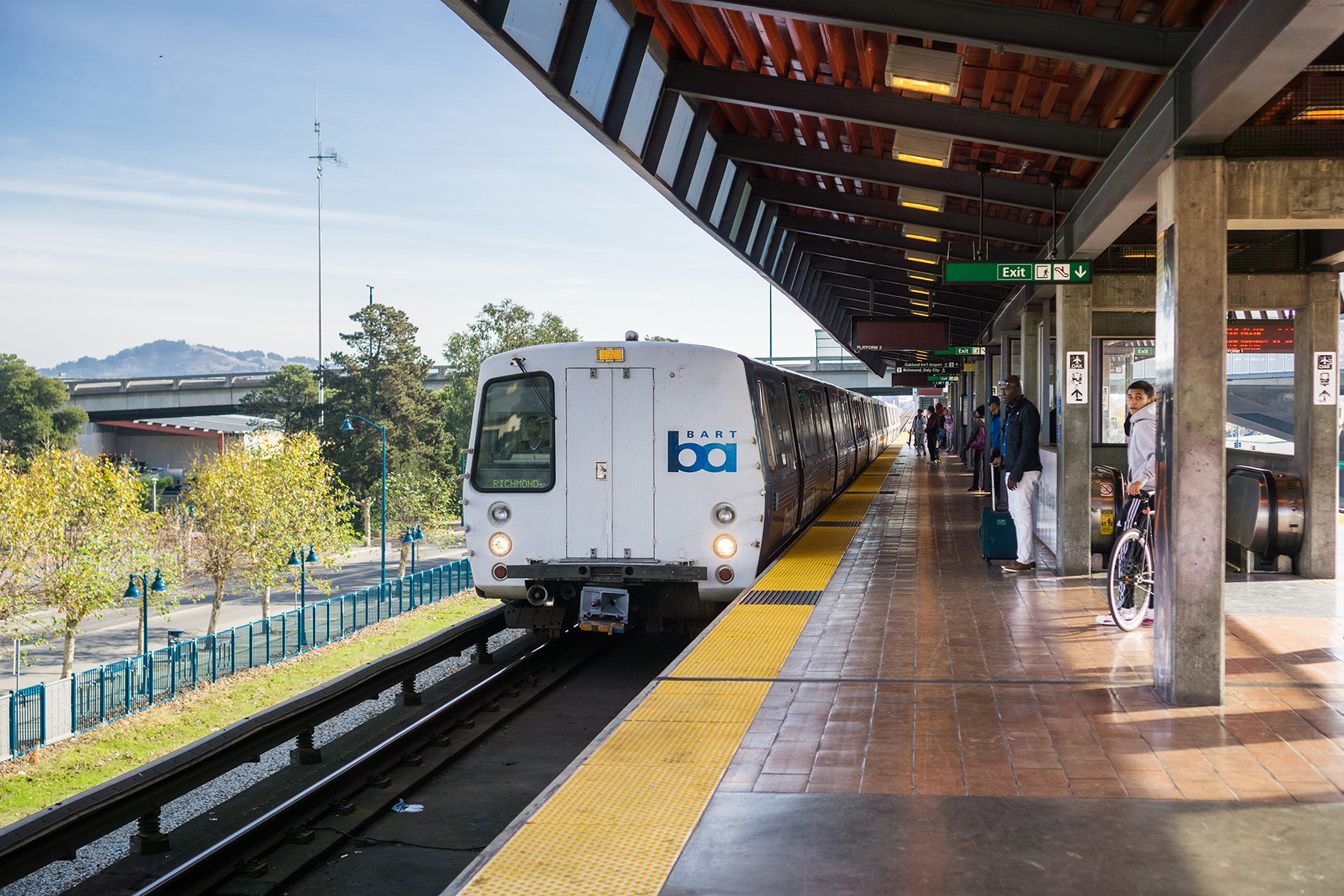 By Leslie Nemo
A small stack of dynamite detonated by the push of a button by President Lyndon B. Johnson officially started the construction of the Bay Area Rapid Transit system in June 1964. Before the ceremony and rounds of polite applause, years of pitching and planning had already begun what would be the first regional rapid transit system built in the U.S. in 50 years.
The goal of BART was straightforward: offer the residents of the California counties of Alameda, Contra Costa, and San Francisco a chance to leave their vehicles at home.
Convincing locals to exchange personal cars for train cars meant tunneling through a challenging Bay Area environment. "Bisected by water, split by hills, clinging to cliffs, spread along shifting dunes of sand — these surprises of earth and elements make (the bay) a place of beauty," explains the narrator of the short promotional film, 50 Years of BART: A Vision to Reality. "They are also barriers to people on the move. And if the region is to remain vital, its people must move."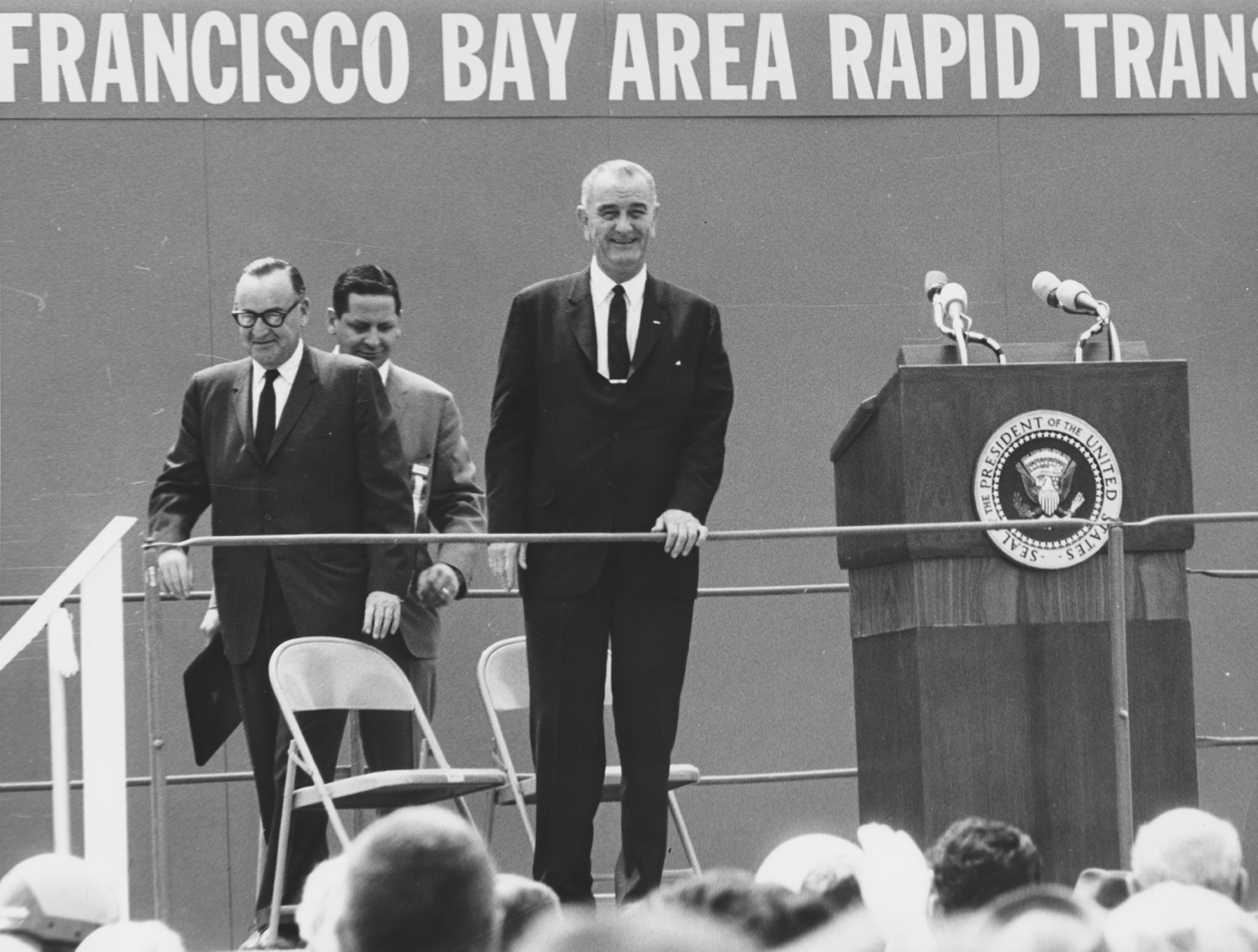 Before the concept of a regional rapid transit system was ever officially proposed, Bay Area residents were confronting the limits of their local travel options. Postwar America saw a huge rise in car sales. In California alone, there were fewer than 3.5 million vehicles registered in 1946. By 1958, the number was just shy of 8 million.
Federal plans to accommodate all the nation's new drivers solidified in 1956 with the passage of the Federal Aid Highway Act, funding the U.S. Interstate Highway System. It took a little more than a month for the first IHS construction contract to be signed and a few decades for more than 40,000 mi of roadway to be built.
The freeway expansion boom was intended to include San Francisco. But when it came time for construction, residents pushed back on much of what was offered. In what became known as the Freeway Revolts, local protests stopped the construction of what was supposed to be the Embarcadero Freeway in 1953, as reported by the California Department of Transportation in 2016. In addition, residents also convinced the San Francisco Board of Supervisors to cancel its approval of seven freeways in 1959, according to a 1999 report by William Issel in the Pacific Historical Review.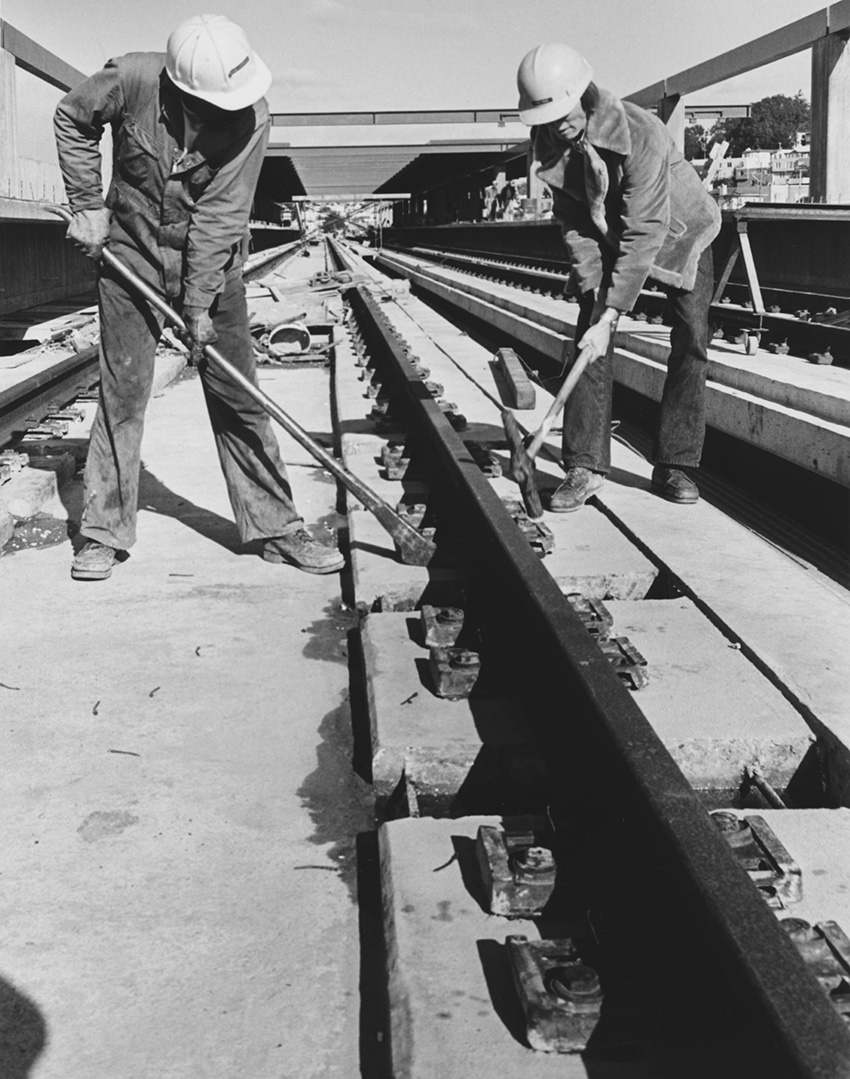 Before the conflict between more cars on the road and rejected freeways, the idea to build a transportation alternative had already been talked about. In 1947, a congressionally authorized board of U.S. Army and Navy officers — investigating how residents could get from San Francisco to Oakland — concluded that an electrified subaqueous tube would be the best option, according to Michael C. Healy in his book BART: The Dramatic History of the Bay Area Rapid Transit System (Berkeley, California: Heyday, first edition, November 2016). The recommendation sparked other evaluations, including whether the area could benefit from a transit system, what it might look like, and whether residents of the served counties were willing to tax themselves for it, according to Healy.
Ultimately, in 1957 the California state legislature passed a bill creating the Bay Area Rapid Transit District — an entity that could levy a small property tax in the counties the train would occupy. The income enabled a commission of local residents to hire an engineering firm for a preliminary design and bring on Oakland Tribune writer B.R. Stokes as the first official district employee. Parsons, Brinckerhoff, Hall & MacDonald engineers drafted a design for a train system that would require $716.5 million to build — a value that would pan out to be only about half the actual cost — and Stokes would rise from information officer to BART general manager, according to Healy.
In 1962, a BART system went on the ballot for the residents of Alameda, Contra Costa, and San Francisco counties, per BART's website on the history of the project. To build the proposed 33-station, 71.5 mi system, residents would have to approve $792 million worth of general obligation bonds paid for with property taxes. The measure received 61.2% approval — just past the 60% required for the project to move forward.
A joint venture of three engineering firms — Parsons-Brinckerhoff, Tudor, and Bechtel — was contracted for designing and building the system, according to Stokes in the BART article "A bright new day for the Bay Area." Some of the earliest steps involved determining permits and right-of-way agreements with local communities. PBTB engineers assumed that a voter-approved plan meant voter-approved station and track designs had already been decided. However, that proved not to be the case. Community hearings about station design, color schemes, landscaping, and other issues sometimes resulted in shouting matches between residents and contractors, according to Healy.
Eventually, BART got its ceremonial start when Johnson appeared at the Diablo Test Track. The 4.5 mi stretch of track is where PBTB and its contractors decided on a "chopper" train car propulsion system. Proposed by Westinghouse Electric Corp., the choppers — or devices that converted direct current power to variable — made for smoother acceleration and deceleration. Regenerative braking in the Westinghouse system also meant some of the electrical power went back into the track's third rail, according to Healy.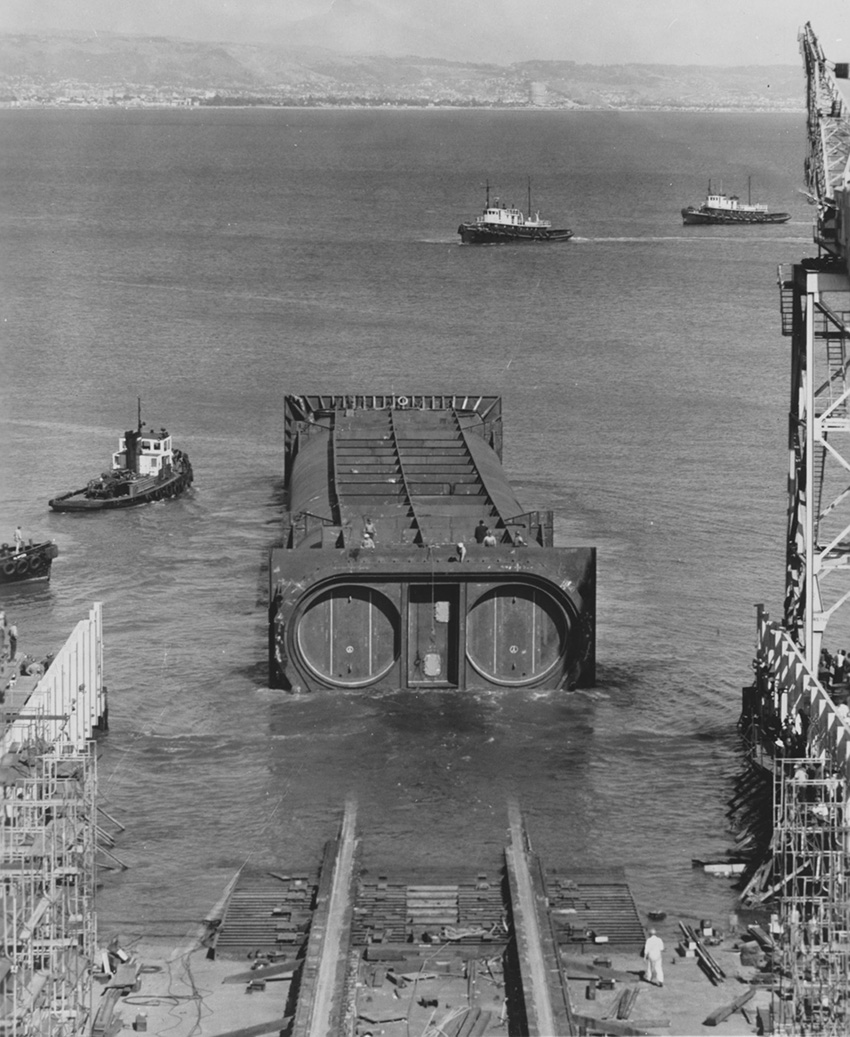 The weight of the cars and the width of the tracks were also critical elements in the design. Plans for the system required trains that operated at high speeds and at close intervals, according to the report Assuring the Stability of the BARTD Lightweight Rapid Transit Vehicle that the PBTB team submitted to the district in April 1964. The trains had to accelerate and decelerate quickly between stations. In short, lightweight cars would be more efficient.
The team also had to consider vehicle stability, especially because within the BART system "vehicles (would) be subjected occasionally, on 31 miles of aerial structures and 24 miles of at-grade construction, to high winds," according to the report. So how did PBTB engineers solve the issue of stability? Wider-than-normal tracks. Typical train tracks have a standard rail gauge of 4 ft, 8.5 in., however, BART trains have a 5 ft, 6 in. rail gauge.
In a letter that accompanied the report, project director W.A. Bugge wrote:
It is now conclusive that the lateral stability of lightweight vehicles in the 800-pounds-per-linear-foot class can be assured through designs incorporating a 5'-6" gauge track. This is the most effective and most economical design measure by which the desired stability can be obtained.
Innovative engineering also had to extend to the most crucial part of the entire system — the Transbay Tube. Between 1960 and 1966, engineers used geophones and 30 borings drilled into the bay to assess how the alluvial deposit and rock bed would respond to earthquake tremors and what the soil and settlement conditions were. The data helped the engineering teams design a tube that sits in a trench dug into the soft alluvial mud bed. This design and placement meant the tube could undulate along its length, and any effects from the shock waves generated would be mitigated.
With tube placement decided, channel excavation began. A clamshell dredger first bit into bay mud in 1966 with BART officials and their guests cheering from a nearby ferry. The carving out of 6 million cu yd of material stayed on the right course with guidance from lasers, a relatively early use of the alignment technology.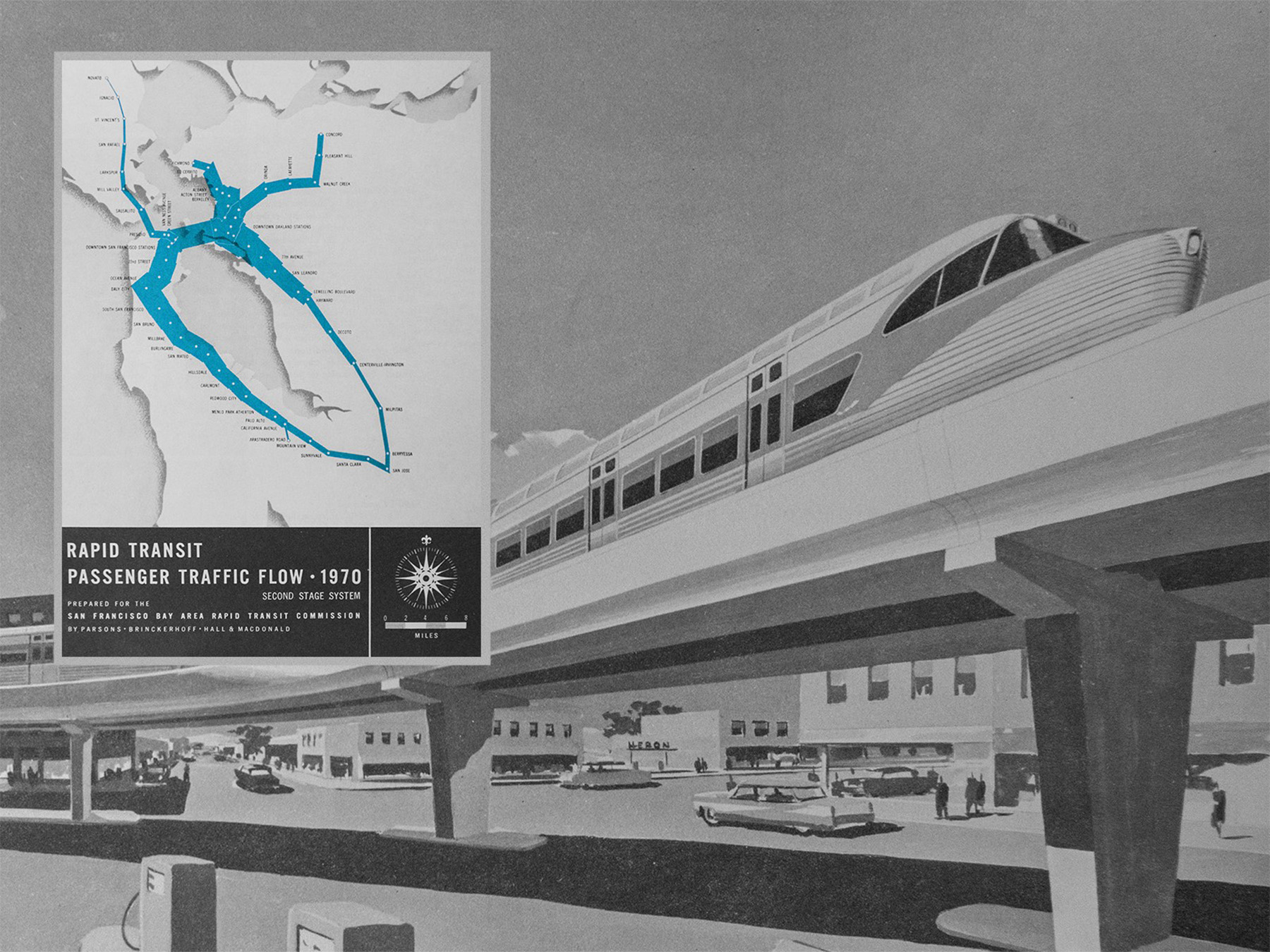 On land, construction teams assembled the 57 segments of parallel tubes that would be lowered into the trench and connected end to end. Welded-steel reinforcements and a continuous steel case around the tubes made each installment resemble a pair of binoculars. Make that a massive pair of binoculars: Segments were on average 330 ft long, 48 ft wide, and 24 ft high, according to Healy. Workers capped off the tube ends with bulkheads, floated each piece out to its trench position on a specially built catamaran, and poured about 500 tons of ballast onto the segments to sink them into the trench.
Neoprene gaskets between neighboring segments allowed crews to pump out any water and physically draw the portions together before removing the bulkheads and welding on liner plates from the inside of the tube. When the last segment was slotted into place on April 3, 1969, workers took away the final bulkhead to see two co-workers sitting on the other side, seated at a table with a bottle of champagne. The first test train took to the tunnel in August 1973.
The East Bay portion of BART demanded other forms of earthquake readiness. BART planners wanted the train to cut through Berkeley Hills to connect the Rockridge and Orinda stations. Unfortunately, the Hayward Fault Zone, which runs roughly parallel to the San Francisco Bay, overlapped where the proposed tunnel would sit. Starting in 1963, engineers and geologists with Bechtel, which was contracted for tunnel exploration and data reporting, drilled 32 borings to examine the local rock and carved two test adits. The path the engineering teams decided on crossed the Hayward Fault as well as several smaller fault lines in the area.
The reports the Bechtel geologists put out in June 1964 and resulting construction contracts did not mention what, if any, design choices accounted for aseismic creep, or the slow migration that happens along fault lines that can twist infrastructure. The missing mention was particularly surprising since nearby California Memorial Stadium at the University of California, Berkeley, which is also in the Hayward Fault Zone, was under seismic observation that eventually showed gradual shifts, according to Engineering Geology of the Bay Area Rapid Transit (BART) System, 1964-75 by J. David Rogers and Ralph B. Peck.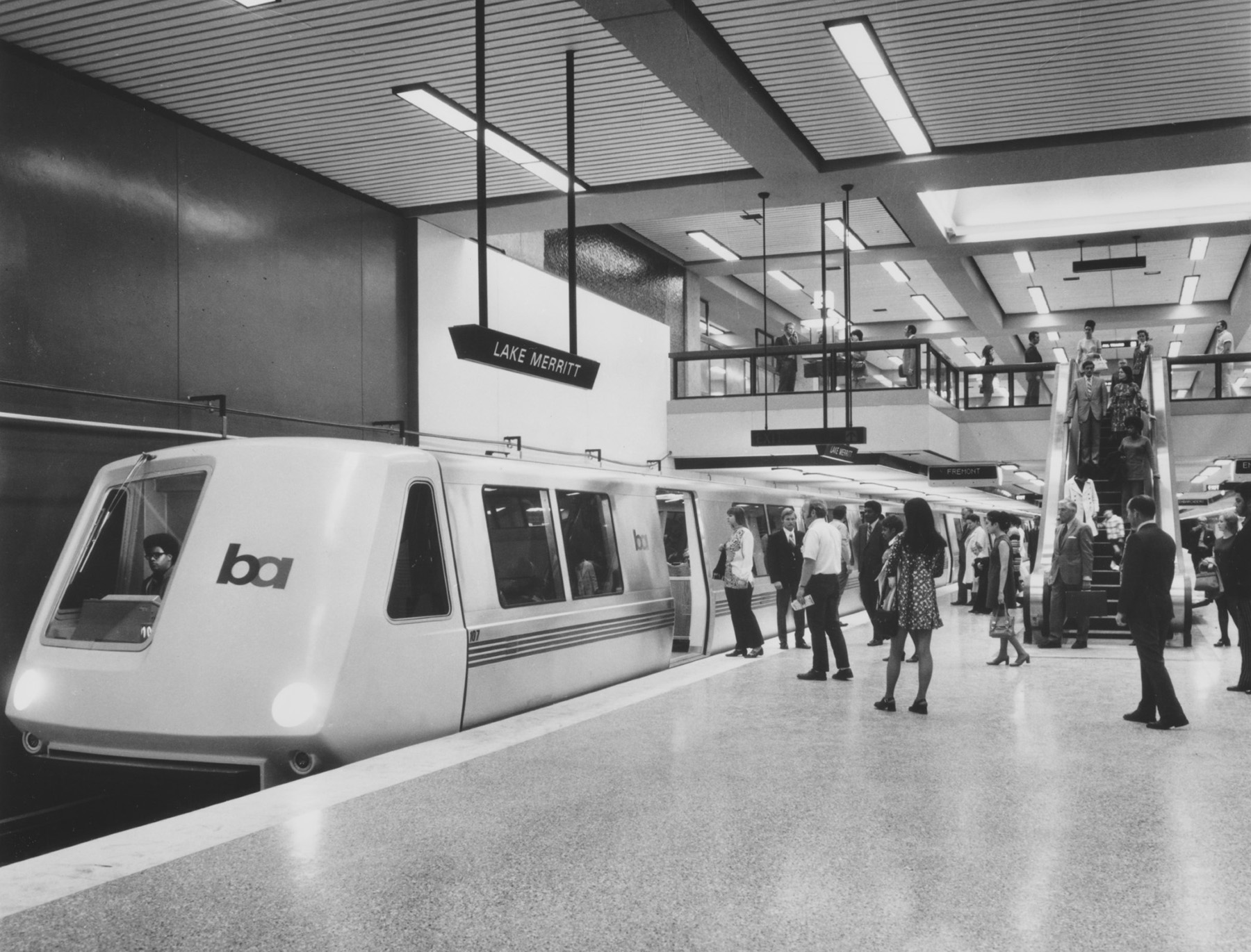 Once the U.S. Geological Survey weighed in with its own report, Tectonic Creep in the Hayward Fault Zone, California, in 1966, warning about how creep might damage infrastructure along the fault, the PBTB team decided the tunnel would need minor changes. Construction had already begun in Berkeley Hills in 1965: Drill-and-blast methods created the parallel tunnels, with the bores supported by horseshoe-shaped sets. So midway through the work, PBTB decided to shift the track onto wooden ties which could easily be picked up and moved if creep forced the rails out of alignment over time. PBTB also installed 75 load cells and 20 rock movement indicators.
Diving underwater and crossing fault lines were some of the more extreme natural hazards BART engineers encountered, but San Francisco's existing infrastructure required workarounds too. Market Street, running perpendicular to the bay before curving south in San Francisco, would eventually have four stations. Each is double-decked: one to host BART trains and one for the San Francisco Municipal Railway.
From July 1967 when construction crews started excavating for a cut-and-cover operation, the challenges of building in an active, nearly 200-year-old city became clear. A mess of utilities from more than 200 companies, many of which were defunct, sat about 10 ft below the street. Crews had to distinguish the various pipes and wires and work around them, as services to the surrounding businesses had to continue as usual.
Once contractors worked their way past the utilities and dug out a staging area, tunnel boring machines were lowered in. In some areas, the borers made faster progress than expected because they were digging through soft soils. Much of the ground around the two stations closest to the waterfront existed because the bay had been dredged and filled in at its edges. Though easy to dig through, the mud and the depth at which teams were operating generated high hydrostatic and lithostatic pressures.
After weeks of debate among the PBTB team, the crew opted to use ultra-thick piles to support some of the excavation. The idea was, as Rogers and Peck described in their summary of the construction, "a heroic measure intended to support the adjacent ground with brute strength because of all the existing structures lining Market Street."
Even building the caisson ventilation system came with problems. While tunneling, contractors found gold rush-era ships and, more alarmingly, human bones and old timber piling that had supported the existing ferry building wharf that was used in the early 1900s. "These conditions proved nerve racking for the contractor (Perini-Brown & Root)," wrote Rogers and Peck. The contractor "was forced to advance the excavation with shields while probing ahead, finding the old piles, then using chain saws to sever the piles 3 to 4 inches above and several inches beneath the shield."
It took until January 1971 for the final Market Street tunnel to be bored through, according to BART's website.
When officially opened, the BART system was still a fraction of what it would become. The automated train control system was unreliable and lacked a backup control protocol, save manual braking systems that train conductors could use. Only after system improvements were completed and the backup automated method (to ensure trains stayed far enough apart) was installed could residents cross the bay via the Transbay Tube in September 1974, according to Healy.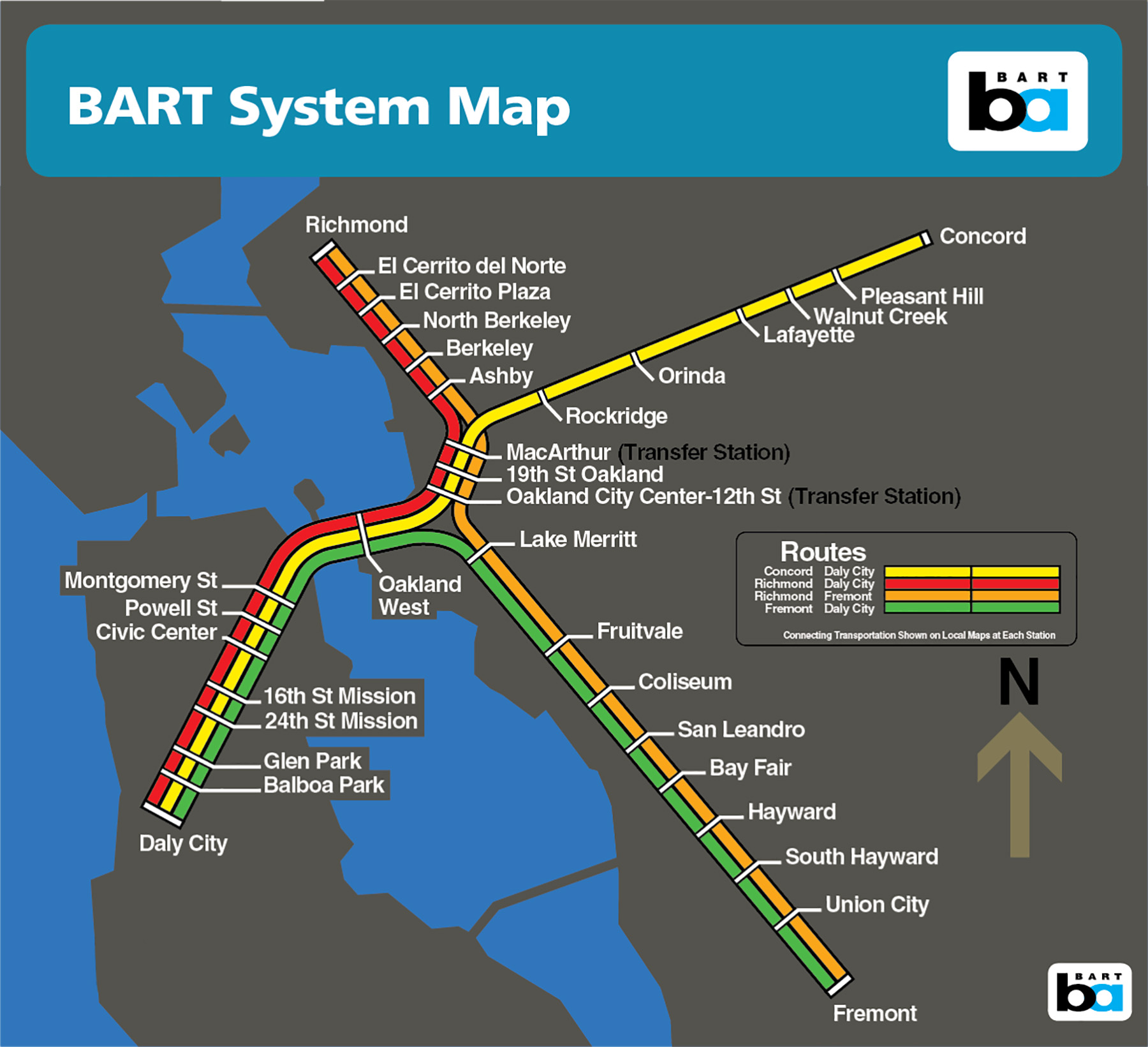 By 1975, BART was becoming a more regular part of commuters' lives — specifically for people crossing the bay. Of all trips made to and from work across the water in May of that year, 21% were on BART, according to a 1976 U.S. Department of Transportation and Department of Housing and Urban Development report Transportation and Travel Impacts of BART: Interim Service Findings.
Early in 1979, a fire on a train in the tube led to several dozen people being treated for smoke inhalation and the death of a firefighter. Officials closed the tube for several months as investigators determined how to improve fire safety and emergency standards.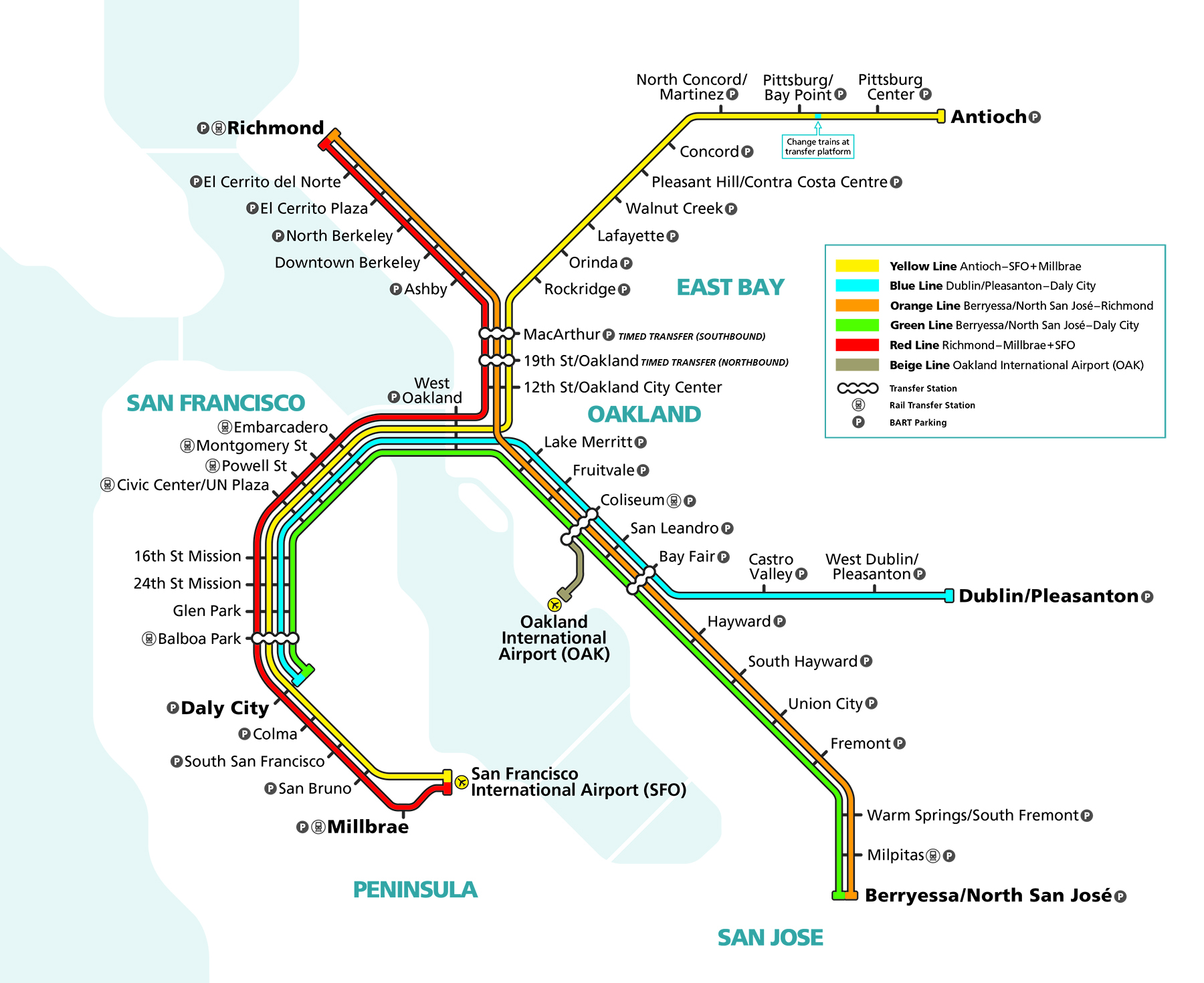 The makings of the BART system generated side benefits too. Data gathered at the Diablo Test Track helped inform the design and construction of transit systems in Montreal; Washington, D.C.; Baltimore; and elsewhere. San Franciscan Harold L. Wilson, who was paralyzed from the waist down, pushed BART to accommodate people in wheelchairs and those with other mobility concerns. His pressure led to the installation of elevators in every station, a design change the Atlanta and Washington, D.C., train systems imitated.
By coming first in a line of new urban transit systems across the U.S., BART provided examples for the many urban transit systems that would follow.
As the 1976 DOT reported noted, "in many respects, BART is a prototype" — a project for the nation and other cities to watch.
Leslie Nemo is a journalist based in Brooklyn, New York, who writes about science, culture, and the environment.
References
BARTable. 50 years of BART: A Vision to Reality.
BARTable. 50 years of BART: The Transbay Tube.
Bay Area Rapid Transit. A History of BART: The Concept Is Born.
Bay Area Rapid Transit. A History of BART: The Project Begins.
Bay Area Rapid Transit. A History of BART: The Project Is Rescued.
Bay Area Rapid Transit. Elevator Locations/Outage Options/Accessible Pathways.
Bay Area Rapid Transit. Fremont Flyer.
Bay Area Rapid Transit. System Map.
Brocher, Thomas M., Jack Boatwright, James J. Lienkaemper, Carol S. Prentice, David P. Schwartz, and Howard Bundock. 17 October 2018. The Hayward Fault — Is It Due for a Repeat of the Powerful 1868 Earthquake? Drawn from: U.S. Geological Survey Fact Sheet 2018-3052.
Brown, Ian R., Tor L. Brekke, and Gregory E. Korbin. June 1981. Behavior of the Bay Area Rapid Transit Tunnels through the Hayward Fault. U.S. Department of Transportation.
California Department of Transportation. 2016. A Historical Context and Methodology for Evaluating Trails, Roads, and Highways in California. Prepared for the Cultural Studies Office Division of Environmental Analysis.
Coppin, R. S., and R.C. Peck. February 1963. California Vehicle Registrations and Driver Licenses — 1946-1961. California Department of Motor Vehicles.
Earthquake Hazards. Creep Evidence of Active Faulting. U.S. Geological Survey.
Ellis, Raymond, and Alistair Sherret. 1976. BART Impact Program. Transportation and Travel Impacts of BART: Interim Service Findings. U.S. Department of Transportation and U.S. Department of Housing and Urban Development.
Fancher, Lou. 29 May 2013. "BART's First Employee, Former General Manager B.R. (Bill) Stokes, Dies at 89." The (San Jose, California) Mercury News.
Federal Transit Administration. Last updated March 27, 2020. A Brief History of Mass Transit.
Issel, William. 1999. "'Land Values, Human Values, and the Preservation of the City's Treasured Appearance': Environmentalism, Politics, and the San Francisco Freeway Revolt." Pacific Historical Review 68 (4): 611-646.
Lacy, Lee. 20 February 2018. Dwight D. Eisenhower and the Birth of the Interstate Highway System. U.S. Army.
National Research Council (U.S.) Highway Research Information Service. January 1973. Transit Research Abstracts.
O'Mara. Kelly. 6 February 2020. "Large Parts of the Bay Area Are Built on Fill. Why and Where?" KQED.
Parsons-Brinckerhoff, Tudor, and Bechtel. Assuring the Stability of the BARTD Lightweight Rapid Transit Vehicle. April 1964.
Radbruch-Hall, Dorothy H., and M. G. Bonilla. 1966. "Tectonic creep in the Hayward fault zone, California," Circular 525. U.S. Geological Survey.
Rogers, J. David, and Ralph B. Peck. (no date). Engineering Geology of the Bay Area Rapid Transit (BART) System, 1964-75. Geolith Consultants.
Stokes, B. R. 1972. A Bright New Day for the Bay Area. Bay Area Rapid Transit.
Weingroff, Richard F. Last updated June 27, 2017. The Greatest Decade 1956-1966, Part 1: Essential to the National Interest. U.S. Department of Transportation's Federal Highway Administration, Highway History.
This article first appeared in the January/February 2023 issue of Civil Engineering as "BART: Testing the Nation's Transit Waters."