Edited by Celeste Brown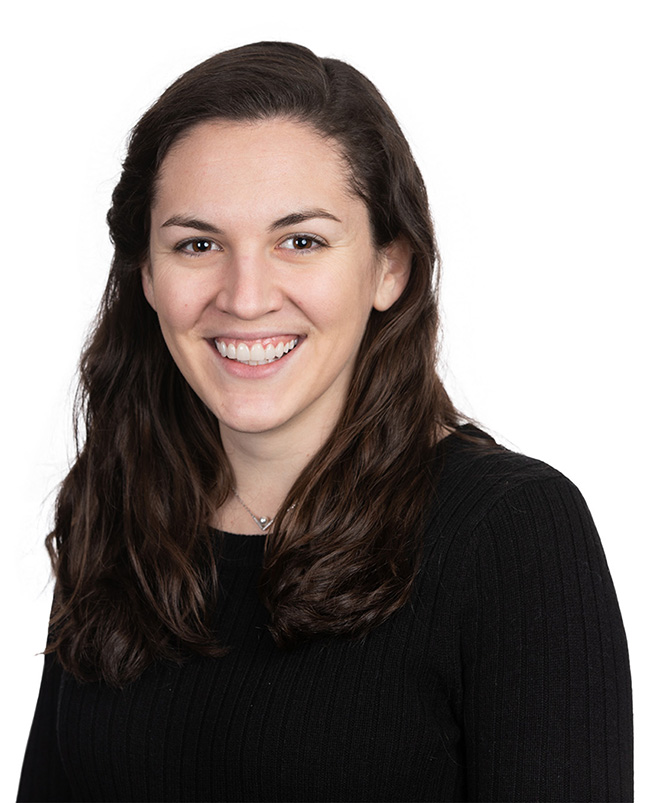 Elizabeth (Betsy) Kirtland, P.E., M.ASCE, is a 29-year-old structural engineer who is living out her childhood dream on the bridge design team at Stantec in its Boston office.
IBM engineers in Kirtland's community initially sparked her interest in engineering when she was a kid, and since then, she has not looked back.
She is working on three projects: designing the second half of a rail trail, a rehabilitation project at Logan International Airport, and a movable bridge in Gloucester, Massachusetts.
But as much as Kirtland enjoys her field, she has a passion for developing the next generation of engineers. Through her teaching and mentoring, she hopes to equip more minority and female students to bring their unique experiences and insights to the field.
Kirtland is a 2023 New Faces of Civil Engineering-Professional.
What does your job as a structural engineer entail?
My day-to-day life has varied a lot over the course of my six years at Stantec. Entry-level engineers start off doing a lot of computer-aided drafting and drawing details and slowly get more into design. Then, they can get into project management if they want to go that way. At this point in my career, I'm in more of a management role, which is bittersweet.
I like managing people and projects, but I also miss the technical side. I'm still trying to keep my feet in both buckets, and I've been pretty successful so far. I do a lot of design coordination between disciplines and various subconsultants. So, for example, if it's a moving bridge project, I'll make sure the mechanical designers have the equipment they need, that the structural designs accommodate the electrical and signal systems, and that everyone knows where the components are going.
I also do my own design work.
How does your job today compare to your expectations when you entered the field in 2017?
The thing that has surprised me the most is how much politics play into civil engineering. Bridge projects are not controversial, but because they are publicly funded, you have to be clear about what you're doing and why.
You've wanted to be a bridge engineer since eighth grade, and now you are on the bridge design team at Stantec. What originally sparked your interest in that?
My middle school hosted a 'Girls in Engineering Day' so that IBM could introduce engineering to eighth-grade girls. IBM had a big presence in my hometown, and a lot of my friends' parents were IBM engineers. A lot of us thought that engineers were train conductors.
That day, there was an engineer who drove across the stage on a cart he had made from junk in his garage. I thought that was really cool, and I said to myself, 'I want to do that!'
After that presentation, my dad bought me the book Robot Building for Beginners by David Cook. It shows you step by step how to build a line-following robot. We'd gotten pretty far into building it when I realized I liked the theory behind it more than working with my hands. Shortly after that project, I researched other types of engineering and stumbled upon structural, specifically bridge, engineering. I loved bridges because they can be beautiful and enhance the landscape. And that's when it clicked that someone actually designs them.
That was additional confirmation I wanted to be an engineer. Now, it's satisfying being part of the brains behind building bridges because when they are designed well, they are functional art.
What has it been like for you to reach your dream job?
I feel very lucky because I know that not a lot of people get to say that, and in fact, a lot of people don't know what their dream job is. They don't even like their jobs. So not only being able to say I am doing what I wanted to do since eighth grade but that I also really enjoy it is a real privilege.
What is the best part about being a member of the engineering community?
This is going to sound so cheesy, but I really believe the best part is making society better. Civil engineers are the people who make societies go. Without civil engineers, there wouldn't be sanitation or water distribution to the same degree that we have right now, and people wouldn't be able to get to and from work and home without well-built bridges and roads. I like to think that civil engineers design the basis for everything.
So, I find it really rewarding to be a part of the group that helps make society exist.
What's the greatest skill young engineers need to be successful in their careers?
I teach freshmen at Tufts University every fall, and I give them a lot of unsolicited advice. But my No. 1 piece of advice is to learn how to use Excel. It's shocking to me sometimes that none of them know how.
The other piece of advice that I give them is to be curious. Curiosity is a really important quality to have. I encourage my students to ask themselves: 'Why do we do it that way?' or 'Why was something done like that?'
You played rugby at Tufts. Was there a lesson you learned playing rugby that you have also used in your professional endeavors?
Teamwork. Everybody's on the same team. You can get frustrated with or mad at somebody and not like the way they handled a situation, but at the end of the day, you still need to know you're working toward the same goal. In rugby, you have to have good team spirit and recognize that you're not always going to be the one who scores the try.
You also became an ASCE member before you graduated. How does your membership contribute to your success?
As a student member, I was active only in meetings, but that opened the door for me to become a member after graduation. I've been an active member of the Construction Institute of the Boston Society of Civil Engineers Section. In Boston, the industry is a really small pool of professionals, especially in the transportation world. I've met a number of people at BSCES events that I then had the chance to work with on projects later on. It's pleasant to know who you're working with.
Where do you see the civil engineering profession heading in the next five years?
I'm sure that this is an answer that nearly everybody gives you, but it's one I really hope comes true, so I'm willing it into reality: I want the field to become more diverse. It's jampacked with a lot of white people, and especially white men, and we need younger and more diverse staff and engineers to join the field. I think all industries do, but we really need it, especially because civil engineers are building the built environment.
If the team of people building the environment isn't diverse, how can it possibly be serving a diverse society? I especially appreciated ASCE's Equity & Infrastructure series that explains how the built environment affects systemic racism. In previous decades, I think it was more common for engineers to do their calculations, draw their plans, and walk away. They didn't think about how putting a road through an underserved neighborhood would displace a lot of people.
But even today, deciding where a project goes is a team effort from planners and organizations like departments of transportation in each state. And the final decision isn't always in engineers' scope of practice within the overall system. Engineers should speak up when they're able while recognizing the system also needs to be changed.
What would you like to be remembered for as a civil engineer?
I think I'm going be remembered for this quote: I want to make civil engineering sexy. That's a way of saying I want younger engineers to become excited and passionate about civil engineering — and then for the whole industry to become more diverse. And I want to be remembered as being a passionate engineer who loved her job.
Celeste Brown is the writer/editor for Civil Engineering print magazine.
This article first appeared in the May/June 2023 print issue of Civil Engineering as "Bridge Engineer Finds Great Joy in Inspiring Future Engineers."