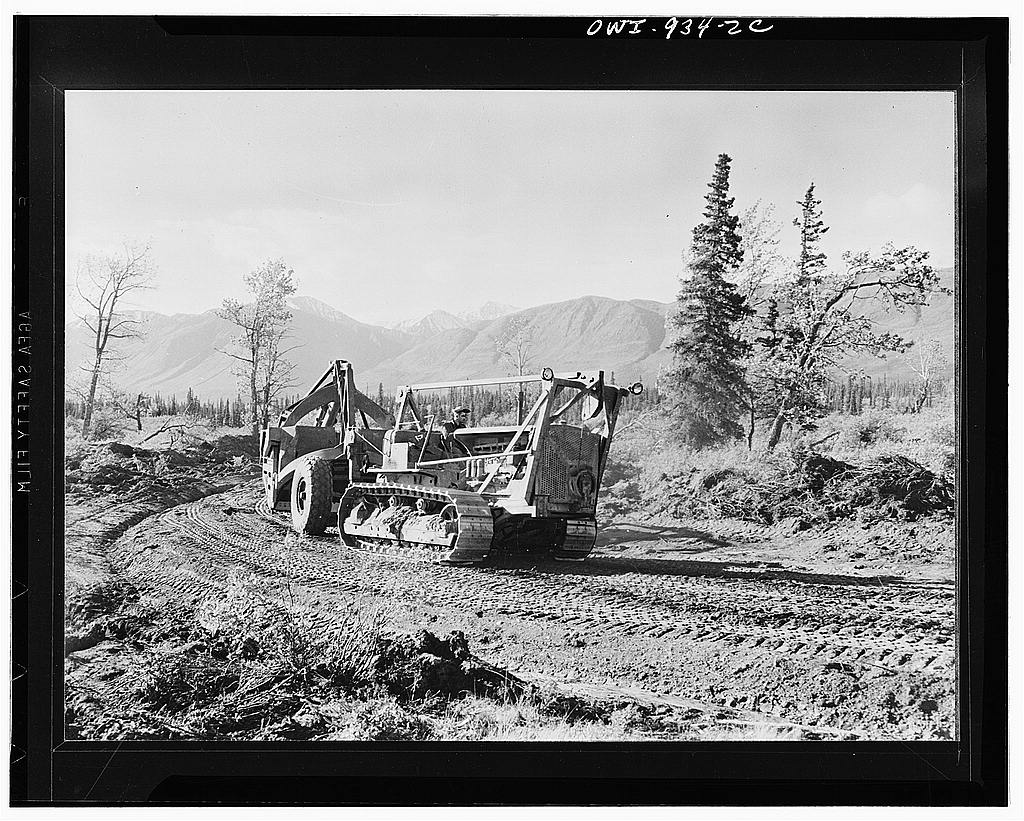 This week in civil engineering history: The first construction equipment and crews arrive to begin work on the Alaskan Highway, March 9, 1942, Dawson Creek, British Columbia.
Owing to military threats to the West Coast shortly after the United States entry into World War ll, construction of the Alaska Highway was hastened after two decades of planning and international cooperation between the United States and Canada. Congress and President Franklin Roosevelt authorized the construction in February 1942 and within a month the U.S. Army Corps of Engineers began arriving to build the highway.
The first group of soldiers and equipment arrived in Dawson Creek on March 9, and six other regiments followed at strategic locations along the 1,500-mile route from Dawson Creek to Delta Junction, Alaska. Building in both directions from various locations, each regiment would work toward other groups until meeting. Scouts and surveyors stayed approximately 10 miles ahead of the construction teams. Surveyors were followed by teams of bulldozers who would clear the mapped route and then by a team of graders who would level the surface of the roadway.
By June, 10,000 soldiers had been deployed for the undertaking. Construction was completed in October, and the highway was opened to the military in November 1942. The road was originally built as a supply route, although the road ultimately served little of that purpose as most supplies to Alaska during the war were sent by sea. The road was opened to the public in 1948.
During the project, significant experiences were gained in Arctic engineering and construction, particularly in permafrost. The Alaska Highway was recognized by ASCE as an International Historic Civil Engineering Landmark in 1995.
Reuben Hull, P.E., PMP, M.ASCE, is civil regional manager for LaBella Associates in Albany, New York, and a self-made historian who has penned numerous articles on civil engineering history. An active ASCE member, Hull is a corresponding member and former chair of the History and Heritage Committee, serves as vice president of the Mohawk-Hudson Section, served as president of the New Hampshire Section, 1999-2000, and was named New Hampshire Young Engineer of the Year in 1997.
Follow his daily Civil Engineering Almanac series on Twitter: @ThisDayInCEHist.