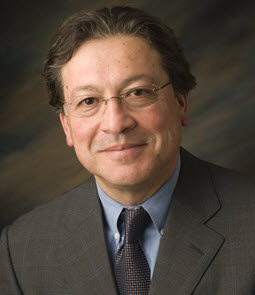 Ramirez has held various professorships at Purdue's Lyles School of Civil Engineering, in West Lafayette, Indiana, since the 1980s. He is also director of the university's NSF-funded Natural Hazards Engineering Research Infrastructure Network Coordination Office Center. He is well-known for his research and work improving the design of concrete structures, mainly in such areas as strut-and-tie design and bond of reinforcement in structural concrete and behavior of existing concrete-framed buildings in seismic events.
Specifically, his research at the University of Texas at Austin and the continuation of that work at Purdue provided a significant basis for the introduction of strut-and-tie models and detailing requirements for transverse reinforcement into the ACI 318 Structural Concrete Building Code. His career efforts brought about the introduction of this alternative shear approach into the Code, first as an alternative method in an appendix and more recently into the current 2014 edition as a standalone chapter. The strut-and-tie method is directly responsible for improving the safety in deep beam members and regions with severe discontinuities such as abrupt changes in geometry, which had been in question for decades.
Ramirez's attention to the behavior of nonductile reinforced concrete buildings subjected to seismic events has been another important contribution. The West Coast, select midcontinent regions, and certain regions of the East Coast of the United States have had significant earthquakes, which make pre-1970s buildings of this type particularly vulnerable to extensive damage and potential collapse. Ramirez has leveraged NSF funding to provide valuable insight into thousands of buildings around the world that have nonductile details. Procedures are now in place for quick assessment of vulnerability and cost-effective strategies for improving performance.
He has also made significant contributions in the design and construction of new concrete bridges through his earlier research on the use of high-strength concrete and epoxy-coated reinforcement that extend bridge service life and performance.
Ramirez is a gifted educator who demonstrates his commitment by supporting the Summer Institute for young researchers held by NHERI each year. His students consider him an exceptional teacher and this has earned him several Purdue teaching awards, including the Harold Munson Award for Best Teacher (1991). He has advised 50 doctoral and master's degree students as well as numerous undergraduates in civil engineering.
The American Concrete Institute honored him with the Delmar Bloem Award (2000) and the Joe Kelley Award (2006). Ramirez has authored 70 archival journal papers and many conference papers and technical reports. In 2014 he was an expert witness before the U.S. House of Representatives Committee on Science, Space & Technology, Subcommittee on Research and Technology.
He has presented many invited and keynote lectures, and he is an ACI fellow.