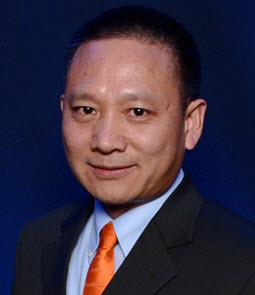 Wang started early research in the 1990s and his team developed the Digital Highway Data Vehicle, which could acquire data sets at real time from video and imaging devices, lasers, and accelerometers. His development of the 30-kHz 3D-laser imaging sensor system 10 years ago acquires pavement surface data at 60 mph in 3D at 1-mm resolution in all three dimensions with complete lane coverage. His recent innovations include 0.5-mm 3D resolution Pave3D 8K technology and Deep Learning-based data processing called CrackNet. Wang's company, Waylink Systems Corporation, is a major supplier of the technology for the setting of standards.
His efforts have succeeded in reducing the cost and shortening the time needed to evaluate infrastructure conditions. Not only have 3D-laser sensors been developed under his leadership, but also machine vision and deep learning for conducting airfield and highway pavement and rail-and-tunnel condition surveys. Wang's use of intelligent computing and database systems as well as optimization techniques for infrastructure assets has significantly advanced the use of nondestructive techniques to evaluate infrastructure at high speed. His contributions to pavement survey technologies are highly cited in the research community.
Wang, while at his first position in academia in 1993 built an advanced information system for highway asset management. During this time, his work for the Arkansas Highway Department resulted in the Multimedia Highway Information System. This system produced the highest return on investment value in the department's research program over a period of two decades.
Since the 1990s, Wang has enjoyed federal and state funding in his quest to tackle automation of the survey of pavement distresses. His work profoundly changes the landscape of pavement survey, and he is the most lauded university-based researcher in the world who has created both hardware and software solutions to survey roadway and airfield runway pavements.
For ASCE and the Transportation Research Board, Wang has been a member of many technical committees. He was president in 2017 of ASCE's Transportation and Development Institute. He chaired and co-chaired over 13 international conferences in the United States and abroad.
Wang has been recognized with ASCE's 2018 Francis C. Turner Award and the 2011 Frank M. Masters Transportation Engineering Award. In 2017 he was given the Distinguished Regents Research Award by Oklahoma State University. He has edited 13 conference proceedings and co-authored over 100 peer-reviewed journal articles. He became Regents Professor at OSU in 2020, which is the highest honor for OSU faculty.