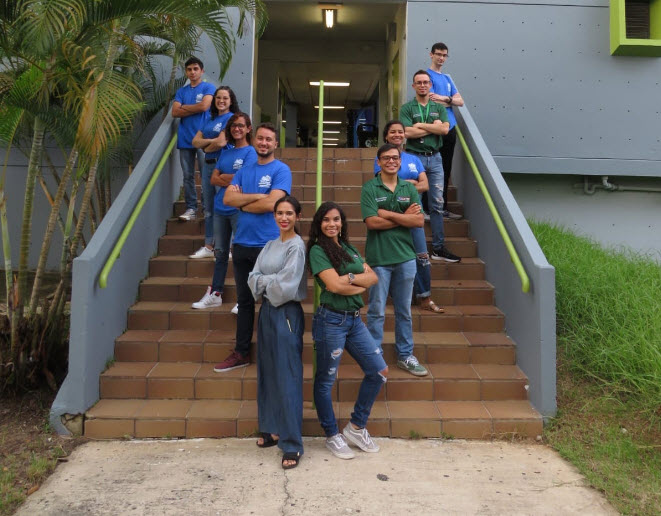 Adriana Ramírez Cuebas needed only one word.
After a remarkable weekend of success for the students from the University of Puerto Rico, Mayagüez, at the ASCE 2021 Virtual Concrete Canoe Competition+, Ramírez Cuebas explained her fellow students' accomplishments like this: resilience.
"The students who are here right now in Puerto Rico, we're familiar with having to be resilient," said Ramírez Cuebas, co-captain of the UPR Mayagüez sustainable solutions team, along with Adrián D. Colón Ortíz.
"We've been hit by hurricanes. We've been hit by earthquakes. And then right after that ended, we got the COVID situation that we're all going through. So I think those previous events already gave us endurance and the ability to keep on working hard no matter what came up."
The resilience of the Mayagüez students resulted in not one, but two Society-wide student competition championships during the ASCE 2021 Virtual Concrete Canoe Competition+, hosted online June 25-27 by ASCE and the University of Wisconsin–Platteville. While the University of Florida clinched the 2021 concrete canoe championship, UPR Mayagüez won both the ASCE Sustainable Solutions Competition and the ASCE Utility Engineering and Surveying Institute Surveying Competition.
"It feels amazing," said Gabriela A. García López, captain of the Mayagüez surveying team. "It's a surprise for us. We worked hard and said, 'OK, we want to win.' It's amazing now that we actually did.
This year marked the first for the ASCE UESI Surveying Competition as a Society-wide event. Student teams had to complete two tasks as accurately as possible – one a topographic mapping project and the other a differential and profile leveling with engineering design project.
García López credited her Mayagüez professors and mentors: "In the surveying competition, we applied everything we've learned through university. I think we were very well prepared."
The ASCE Sustainable Solutions Competition, meanwhile, challenged student teams to design an outdoor recreation area that both educates users on sustainable construction and allows for socially distant activities in an outdoor setting.
The teams were judged on three areas: employment of sustainability concepts (including an Envision checklist), their design proposals, and an interview presentation.
"Our team prioritized creating social equity," said Ramírez Cuebas, noting their proposal's genderless bathrooms. "We were very conscious of that pillar in the project. I think it's very important that when you design for people it's not just one specific box. There are so many cultures and abilities and preferences. And as sustainable-mindset engineers, that is something that we have to take care of."

This marks the first time the school has won any kind of international or national competition title. The Mayagüez double championships are all the more impressive given that the 2020-21 school year was unlike any they had experienced. Many of their team meetings had to be virtual. The surveying team often met deep into the early morning hours to work on their projects.
"All of us had a lot of other responsibilities, so we were very limited in our schedule," said Alexander Cruz Noriega, surveying team member and ASCE student chapter president. "But we found a way."
As if the two competition titles were not enough, UPR Mayagüez also won the 2021 R. John Craig Legacy Competition, a new event that asked schools to produce a short video detailing how participation in the concrete canoe competition has positively affected alumni.
Clearly, the UPR Mayaguez Student Chapter is doing something right.
"I think we like to tell a good story," Cruz Noriega said. "We're suckers for a good story, and we know everyone else is too. So we focus on sharing how we make a project and explaining it in the simplest way possible.
"And the civil engineering department here is fairly small. So, a lot of us knew each other from before.
"I think part of the special sauce at UPRM is that bond that we all have."
ASCE Sustainable Solutions Competition top 3 finishers
First place: University of Puerto Rico, Mayagüez
Second place: Hohai University
Third place: Louisiana Tech University
ASCE Utility Engineering and Surveying Institute Surveying Competition top 3 finishers
First place: University of Puerto Rico, Mayagüez
Second place: Cincinnati State and Technical Community College
Third place (tie): Bradley University and California State Polytechnic University, Pomona
Learn more about ASCE's student competitions.
This program funded in part by the ASCE Foundation. Learn more.