Luis Duque didn't find podcasting as much as podcasting found him.
Two years ago, he was volunteering as a topic moderator for ASCE Collaborate when he noticed an abundance of great civil engineering conversation happening around a variety of career growth topics. Duque enjoyed the discussion so much that the proverbial light went on in his head and the Engineering Our Future podcast was born.
"The podcast is where I explore those topics and interview the people who know the answers," Duque said. "I feel like it is a coaching call every week about a variety of topics to help these students and young professionals succeed in their careers."
The show's back catalogue has grown to 53 episodes, released weekly. Duque, P.E., M.ASCE, works as a bridge engineer for Foothills Bridge Co. in Colorado and has two young children at home. Somehow he makes it all work. He even did an episode of Engineering Our Future about balancing family and career (and podcasting) with his wife, Callie.
"The podcast is definitely a lot of work, and all of it is done after the kids are sleeping," Duque said. "The most important part is that I enjoy having these conversations and sharing them with everyone. The best part has been the great feedback I am receiving as well as the process to learn more every week. I have been able to connect and talk to a lot of people who are amazing engineers, and I just hope to make the show the best I can for others to enjoy as well.
So on this International Podcast Day, Sept. 30, here is a list of 5 civil engineering podcasts you need to be listening to.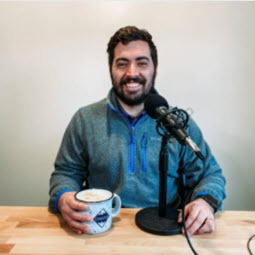 Engineering Our Future
OK, so we took away the suspense by highlighting Luis Duque's show in the intro, but it certainly belongs on any list of engineering podcasts.
The show tends to focus on practical, career-related topics, guided by Duque's insightful, easy-going conversational style as host.
Start with: Duque is in the midst of a Hispanic Heritage Month series, but you might also want to check out Episode 14: "Career Coaching in Civil Engineering," a fascinating conversation with fellow ASCE New Face of Civil Engineering honoree Fernando Ceballos, who hosts his own excellent podcast, Dealing With Life Stuff.
Subscribe: https://podcasts.apple.com/us/podcast/engineering-our-future-empowering-engineers-to-become/id1503452956
Learn more: https://www.luisfelipeduque.com/engineering-our-future-podcast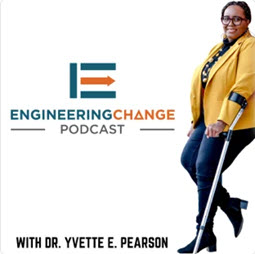 Engineering Change
Last summer, Yvette E. Pearson, Ph.D., P.E., F.ASCE, started a podcast aimed at redefining civil engineering education at the precise moment when the United States was grappling with many of these same issues of unlearning and relearning to build more inclusive, sustainable, and just communities.
A longtime leader in ASCE, Pearson is an outstanding podcast host (one would think she had a background in broadcast communications and not civil engineering), and Engineering Change is notable for its high production values. The show's conversations transcend mere talk and provide tangible strategies for listeners to employ in their careers and lives.
Start with: Check out the episode in which Pearson answers what she calls the most disheartening question she's ever heard: "What does social justice have to do with engineering?"
Subscribe: https://podcasts.apple.com/us/podcast/engineering-change-podcast/id1512715975
Learn more: https://engineeringchangepodcast.com/

The Civil Engineering Podcast
ASCE Fellow Anthony Fasano is the civil engineering "podfather," having launched the Civil Engineering Podcast way back in 2015 with another ASCE member, Chris Knutson, C.Eng, P.E., M.ASCE. The concept is simple: career advice and success stories, with useful takeaway nuggets each episode in the "Civil Engineering Hotseat" segment.
"Today, civil engineers are dealing with the most complex of projects in an industry that is evolving fast," said Fasano, P.E., F.ASCE. "Podcasts provide an efficient way for civil engineering professionals to stay up to date on technical and other industry news and trends. They can also provide CEs with professional development information that can give them a competitive advantage in their careers."
Fasano's Engineering Management Institute has added podcasts to its roster in the last two years – the Structural Engineering Channel, hosted by ASCE members Mat Picardal, P.E., M.ASCE, and Cara Green, EIT, A.M.ASCE, and the Geotechnical Engineering Podcast, hosted by ASCE Fellow Jared M. Green, P.E., D.GE, F.ASCE.
Start with: During an April episode, ASCE incoming President-Elect Maria Lehman spoke with Fasano about ASCE's Report Card for America's Infrastructure and how civil engineers need to position themselves to lead systems of systems.
Subscribe: https://podcasts.apple.com/us/podcast/the-civil-engineering-podcast/id993416182
Learn more: https://engineeringmanagementinstitute.org/cep-podcast/
Lead to Soar
OK, it's not a civil engineering podcast, strictly speaking. But it still fits nicely onto any civil engineer's "need-to-be-listening-to" playlist.
Lead to Soar is a podcast geared to ambitious women looking to advance, hosted by Michelle Redfern, and co-hosted and produced by Mel Butcher – author of the ASCE Civil Engineering Source Design Thinking series.
The ideas and conversations are all applicable to civil engineering – particularly given Butcher's background as a water resources engineer.
Start with: Episode 26, which kicked off Lead to Soar's third season this past summer, is not necessarily a typical episode. There's no guest, no interview. But it's a great starting point for new listeners as co-hosts Butcher and Redfern cover a wide range of topics, answering listeners' questions. And who doesn't love a mailbag episode?
Subscribe: https://podcasts.apple.com/us/podcast/lead-to-soar/id1539937389
Learn more: https://www.leadtosoar.com/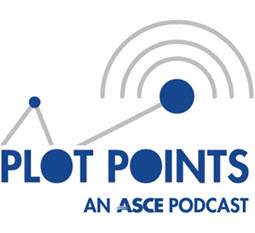 ASCE Plot Points
Did you really think ASCE would make a list of civil engineering podcasts that didn't include ASCE's civil engineering podcast?
ASCE Plot Points launched in November 2018 with the goal of telling the story of civil engineering one civil engineer at a time. Three years and nearly 90 episodes later, that story has gotten complicated in ways that could never have been foreseen, but civil engineers continue to inspire with the work they do, the solutions they create, and the conversations they've shared.
Start with: The back catalog includes a daily series detailing the COVID pandemic's early stages in the United States during the spring of 2020. But it might be best to begin with the most recent episode, Sept. 28's timely discussion with Rebecca Shelton, an ASCE leader in Georgia, about her ongoing efforts to advocate for infrastructure investment.
Subscribe: https://podcasts.apple.com/us/podcast/asce-plot-points-podcast/id1441824662
Learn more: https://www.asce.org/search#sort=%40itemdate%20descending&f:searchwithin=[News]&f:contenttype=[Podcasts]
Did we forget your favorite podcast? Let us know in the comments.