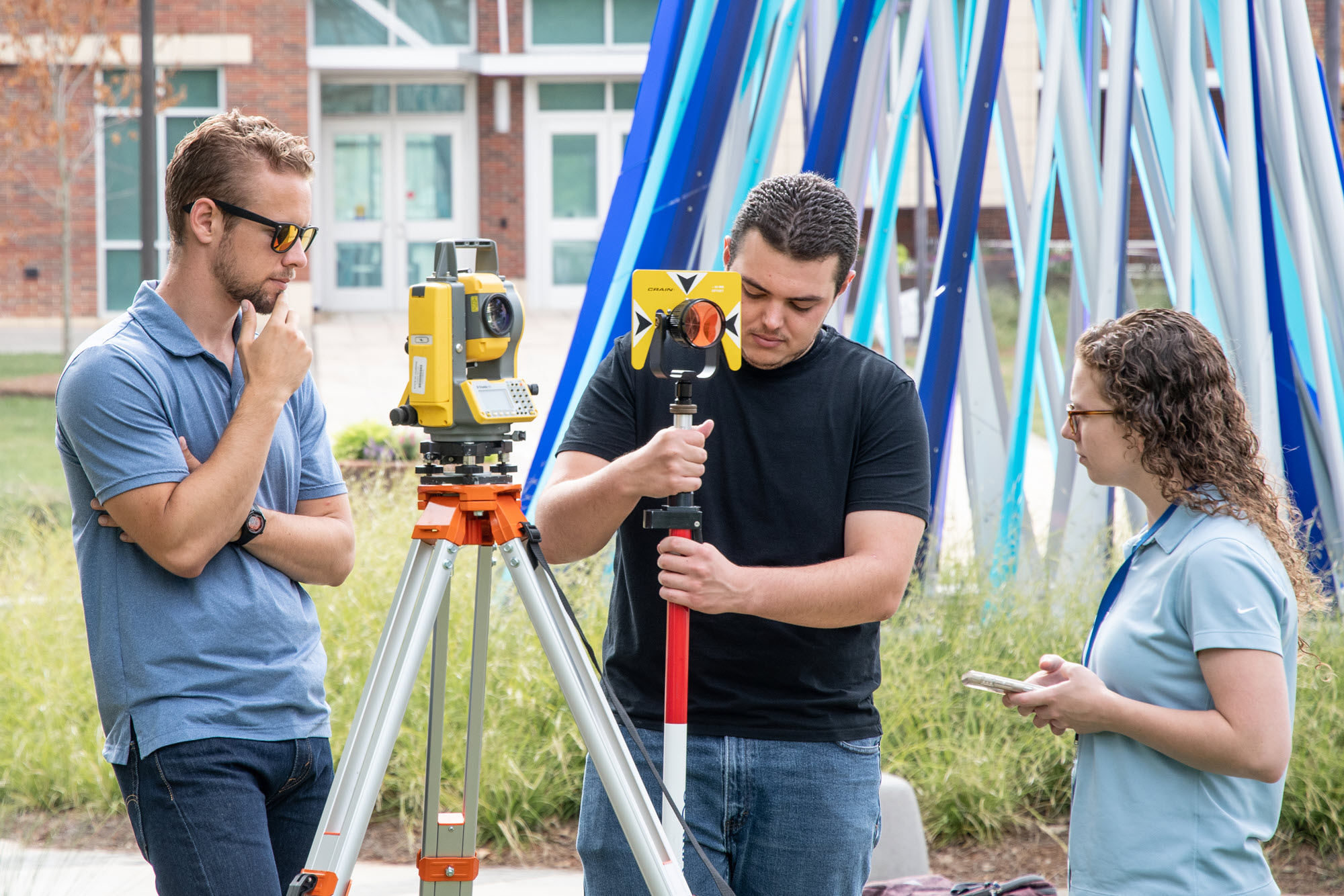 As far as college goodbyes go, this was pretty good.
The Colorado School of Mines surveying team – consisting of three senior civil engineering students closing their college careers – earned first place overall at the 2022 ASCE Utility Engineering and Surveying Institute Surveying Competition, June 3-5, at Louisiana Tech University as part of the ASCE Concrete Canoe Competition+ weekend.
"Finding out that we won the overall and the fieldwork competition was just really awesome," said Mines team member Caleb Roth. "I think it was just a great way to cap off school and kick off summer and our careers."
To call Roth and his fellow surveying teammates, Hanna Fitzgerald and Cooper Henry, seniors isn't quite accurate. Each graduated in May. In fact, Roth had to leave Louisiana early before the awards ceremony to prepare for the following day, his first as a full-time practicing civil engineer (he's working at RockSol Consulting Group in Thornton, Colorado). Fitzgerald and Henry, too, begin their engineering careers later this month.
They'll take with them a great experience together at the competition and some useful surveying skills.
"It may be something unique to surveying but these are helpful skills to have no matter what you go into, whether you're talking about understanding the topography of plans or if you need to physically go check a site out as a civil engineer," Roth said. "It's something I find super cool. I've used these skills in internships in the past, and I'm sure I'll use them again going forward."
The ASCE UESI Surveying Competition is still relatively new. This year marked the first time the Society-wide finals were held in person, COVID having pushed the 2021 event onto a virtual platform and forced the cancellation of the 2020 competition.
Student teams competed in this spring's various ASCE student symposia, and 13 finalists advanced to the Society-wide competition at Louisiana Tech. The competition featured two main categories – a topographic map each team created in advance and presented during the weekend; and four field events held in person at the competition.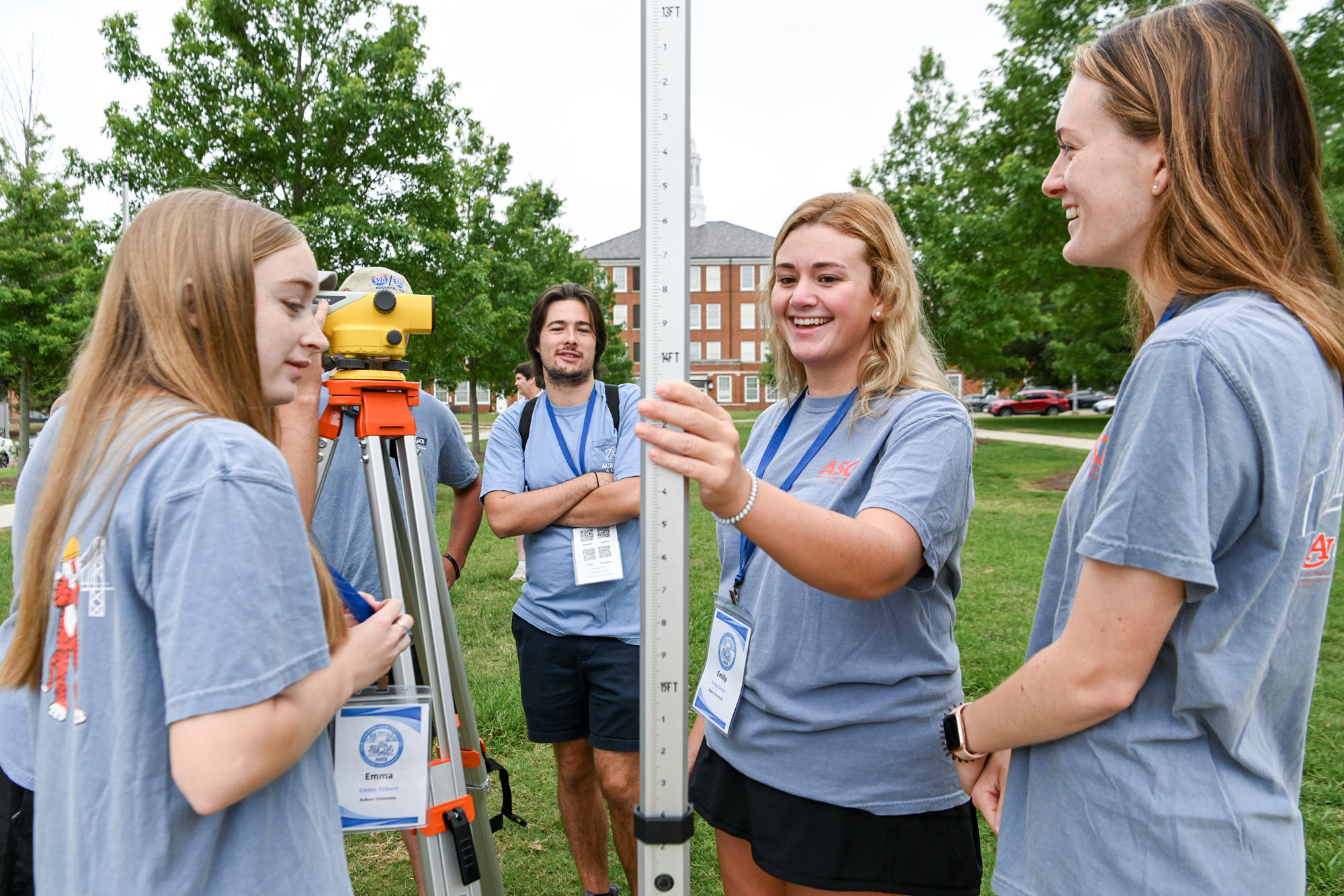 Colorado School of Mines finished first in the topographic map standings, followed by Christian Brothers University in second, and Utah State University in third.
The field events challenged students' skills in pacing, differential leveling, building stakeout, and determining the depth of a proposed sewer line and cut.
The team from Mines tied for first in the field events with Cal Poly Pomona, with George Mason University second, and Auburn University and Ohio University tied for third.
"With us being seniors, we'd each taken all of our surveying classes and the Mines field session," Roth said. "So we've been exposed to a lot of that before, but they definitely threw us some curveballs that had us sweating a little bit. But at the end of the day, I think we managed to figure them out pretty well."
Mines topped the final overall standings, with Cal Poly Pomona second and George Mason third.
Colorado School of Mines was one of only two schools – host school Louisiana Tech being the other – to qualify teams for concrete canoe, sustainable solutions, and surveying. So the overall event was a little bit like a big Mines party.
"It was really cool," Roth said. "We got to spend a good chunk of time with the underclassmen who were there as part of the sustainable solutions team and just talk to them a little bit because that doesn't always happen when you're in school.
"The civil engineering program at Mines is not super huge. I believe 58 of us this year graduated from that department. So all the seniors are people we've known and been in classes with and done projects with, so it was just cool to have our little community out there and have one last big hurrah."
Learn more about the ASCE UESI Surveying Competition.