Good News is a regular feature on ASCE's Civil Engineering Source, highlighting positive, inspiring stories happening every day around the civil engineering profession.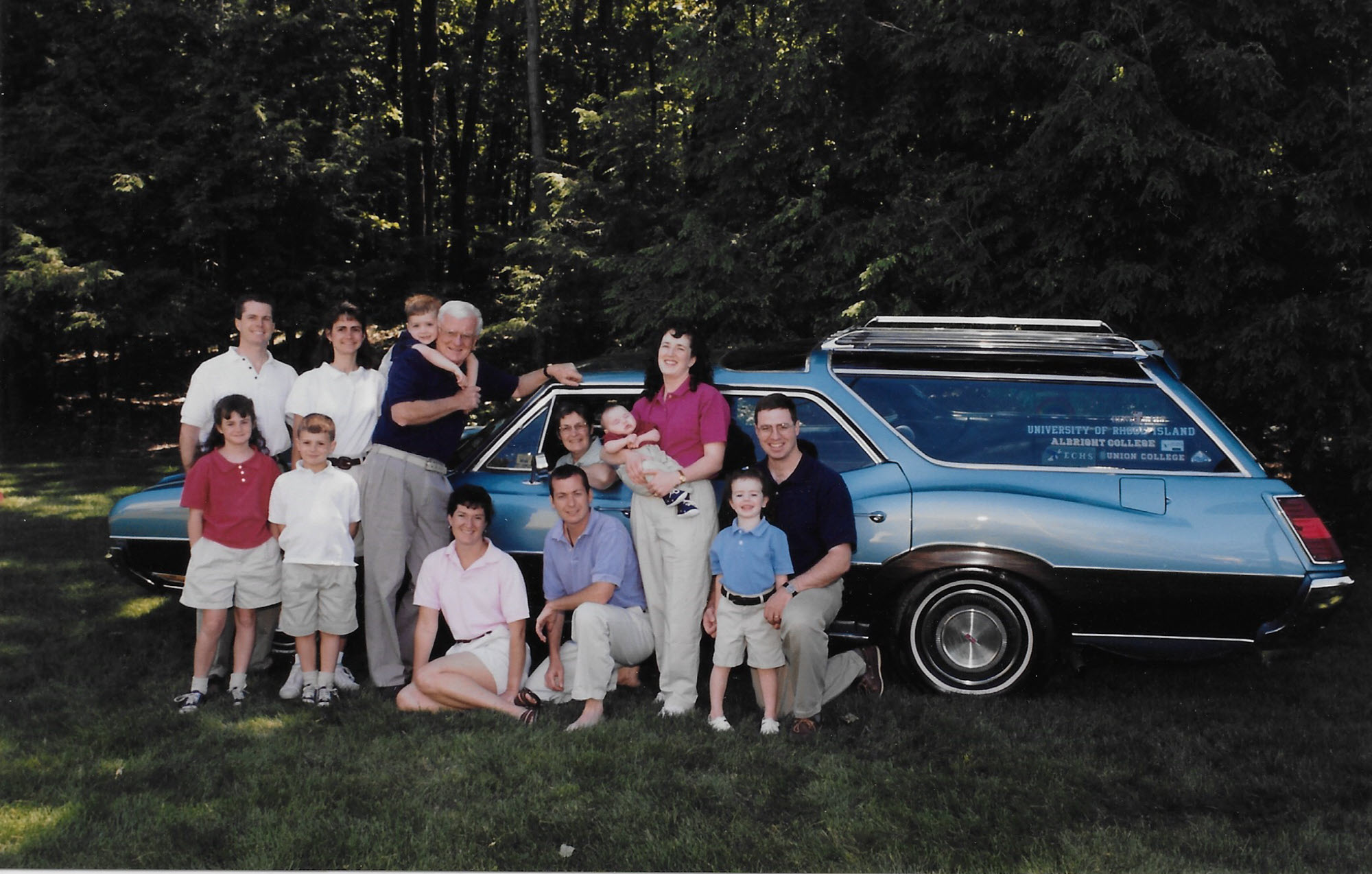 Bill O'Neill kept the photo in his office at the University of Rhode Island for years.
The whole family – from Bill and his wife, Carol, on down – gathered in front of their 1970 Oldsmobile Vista Cruiser. Enough engineers in the frame to start a small firm.
"I love that photo," said Bill, himself now retired from a remarkable civil engineering career that saw him work on projects around New England – including several groundbreaking transportation projects that were early adopters of pedestrian and bike mixed-use infrastructure; that saw him serve as partner and president of Fuss and O'Neill for years; and saw him teach at URI.
Problem is the vintage station wagon wasn't the only thing about that photo that had gone out of date. The O'Neill family had changed and grown – and added several more engineers to its ranks – since 1997.
A STEM-friendly family tree
The story starts at the University of Massachusetts in the late 1950s. Bill, a civil engineering student, met Carol, a math major, and the STEM sparks flew.
That part is familiar. It's the next generation and the next generation that begin to set the O'Neills apart among engineering families.
Firstborn Dan, P.E., M.ASCE, earned his bachelor's degree in civil engineering from Union College, worked for a decade-plus as a transportation engineer, and has been co-owner of a consulting engineering firm, Vliet and O'Neill, for 24 years.
Second-born Kathleen earned her bachelor's degree in mathematics and teaches high school math. Her husband, Mike, is an optical engineer.
Third-born Steve, P.E., earned his bachelor's and master's degrees in civil engineering and now works as a principal for VHB and is the director of transportation for its Connecticut office.
Fourth-born Susan earned her civil engineering degree from RPI, where she met and married Kent, P.E., who – you guessed it – was a civil engineering major.
But there's more.
Dan and his wife, Kathy, have three children: Beth, a nurse, Tim, P.E., a civil engineer at Langan, and Joey, also a civil engineer at Rimkus.
Susan and Kent have three children: Elyssa, a staff scientist for Langan, Ben, a structural engineer at 1200AE, and Lyn, studying ecology, evolution, and behavior.
Steve and his wife, Jen, have a son Evan studying data science.
And not to be outdone, cousins Lindsay (daughter of Steve and Jen) and Michael (son of Kathleen and Mike) are freshmen together at UConn majoring in civil engineering.
Michael's younger brother, Will, a high school junior, is the next in line to decide.
"I don't think any of us are musical," laughed Susan, adding, "Definitely there's a lot of different personalities but some similar interests.
"I see having so many engineers in the family as a point of interest, not a necessarily a point of pride. The pride comes in when we see that everyone has found something they are interested in and work hard at – STEM or not."
And then laughing again – "Or some people might just say it's weird."
Nature vs. nurture
It's interesting to note how this kind of engineering family develops. Is it genetic predisposition to numbers or an engineer's mindset? Or is it simply parental influence?
If Bill and Carol were artists, would the children have taken to an easel instead of the blueprint?
"Maybe I would've been a painter. I don't know! You caught me off-guard here," said Steve. "It's funny. I don't have an artistic bone in my body. I don't like to read. My dad doesn't like to read either.
"I don't know if that's part of your upbringing. But I've always had an interest in physics. In high school, I liked physics, and I hated chemistry like many civil engineers.
"That certainly would've been because of my father. That's what we were exposed to."
Bill worked in numerous leadership roles, including as director of public works, for the town of Manchester, Connecticut, when the children were young and impressionable.
Steve remembers Saturday mornings spent on project sites, "riding around in a white Jeep looking at mounds of dirt," thinking what his dad did was "pretty cool." Each kid, almost as a rite of passage, would be put to work on one of their dad's survey crews as a summer rod person.
"As a kid, it was exciting," Steve said. "I don't want to say our lineage was set for us, but we grew up in a house where we got exposed to quite a bit of engineering."
Susan remembers her childhood similarly: "Some of it probably is part of our genetic makeup. But I do know that I liked that my father could talk about different things around town that he'd worked on or knew about. That was exciting."
As for the next generation, all four O'Neill children have made a point to let their own children – Bill and Carol's grandchildren – find their own paths. There are even some visual arts and creative writing interests among the bunch. Ultimately, Steve said he thinks the essence of engineering sells itself.
"I find great satisfaction in civil engineering, that we do things that people use every day. We better the overall environment for people as a whole," Steve said. "That's what I hope for our children – that they get a good cross-section like I was able to get in civil engineering. There are just so many things you can do in civil engineering."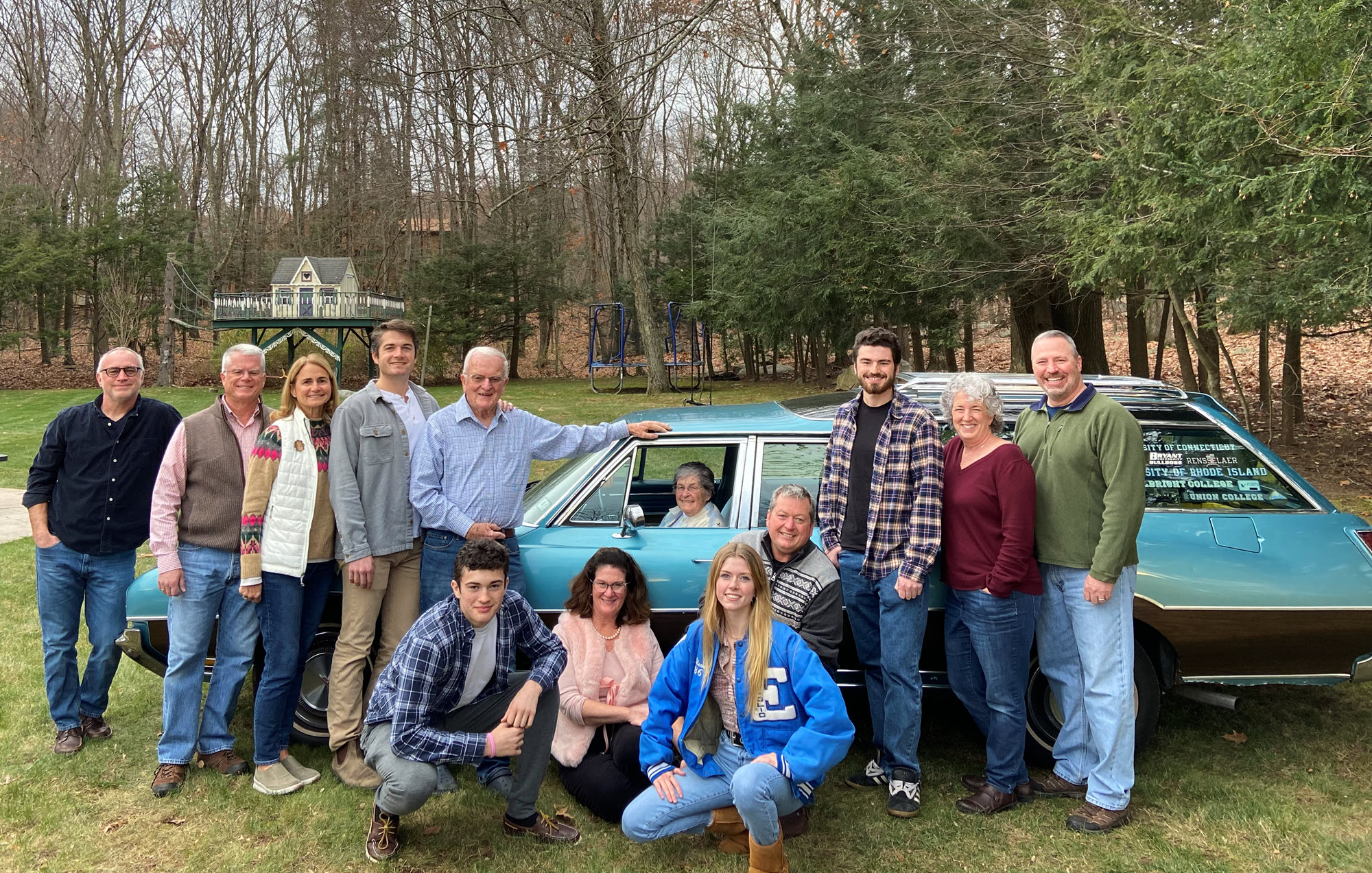 Updating the family photo
So back to the family photo. The 1997 snapshot needed updating.
Fortunately, the O'Neill family hasn't only stayed close to home career-wise; they've remained incredibly close geographically. Steve and family live next door to Bill and Carol; Susan and family are across the street; Kathleen and family a half-mile down the road; and Dan and family a few towns over.
"The beauty of it is we still have that same car," Bill said. "We'll roll out the Vista Cruiser again."
The family took a new photo – with as many people posing as closely as possible to the way they did in 1997 – at Thanksgiving last year, and Bill and Carol still host family dinners every Wednesday night.
Which even more than the engineering resumes might be their greatest accomplishment as parents.
"We've been incredibly fortunate to have a family who gathers every week for dinner," Bill said. "It's just a moment of gathering for us."
With, yes, plenty of science, technology, engineering, and math talk.
"That's what people say – 'It must be pretty boring at your house on Thanksgiving with a bunch of engineers and scientists sitting around,'" Steve laughed.
"But this is just normal. This is what we do."