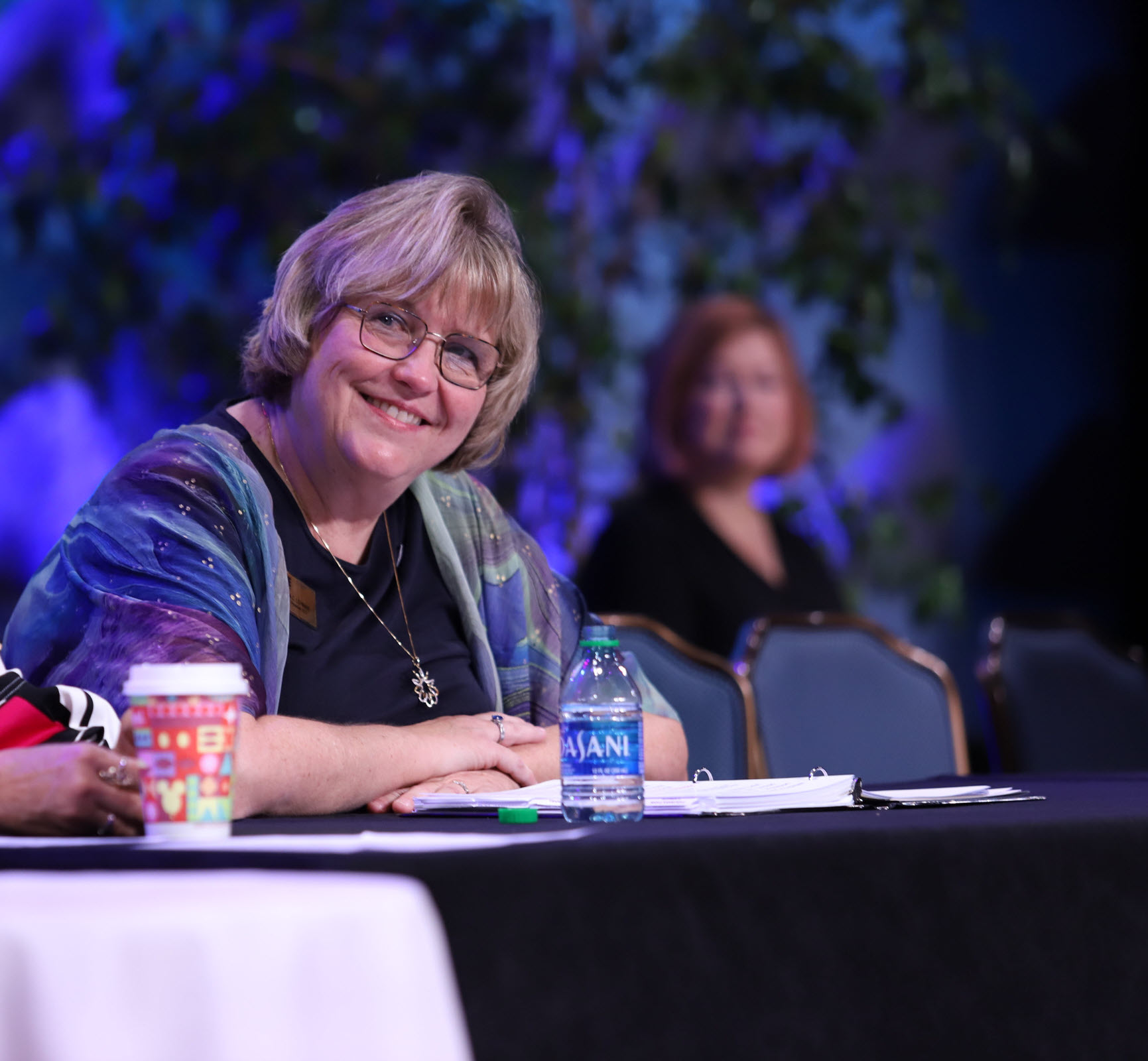 If Tuesday's ceremony is any indication, Maria Lehman is ready to work her magic as the 2023 ASCE president.
ASCE officially inducted Lehman as its new president – complete with a touching and magical introduction from her son Rian Lehman, a professional magician – during the annual membership meeting as part of the ASCE 2022 Convention in Anaheim, California.
"I see myself as cheerleader-in-chief and disruptor-in-chief," Lehman said in her first speech as president. "There's been a lot of progress, but there's a lot more to do."
Lehman was one of 10 new ASCE leaders to assume their duties at the meeting. Dennis Truax, Ph.D., P.E., BCEE, D.WRE, F.ASCE, in his final duties as the Society's 2022 president, swore in the new leaders and led the group in the Engineer's Creed. He then handed the presidential pin and gavel to Lehman in ASCE's traditional handoff of power. Typical of his humor-laced leadership style, Truax joked that he'd been dreading this moment before offering heartfelt congratulations: "I couldn't be more excited that Maria has this opportunity and has volunteered to do this," he said. "And I think great things are ahead."
Lehman, who works as the U.S. infrastructure market leader at GHD, has a long history with ASCE. This marks her fifth stint on the ASCE Board of Direction; her first began when she was 34.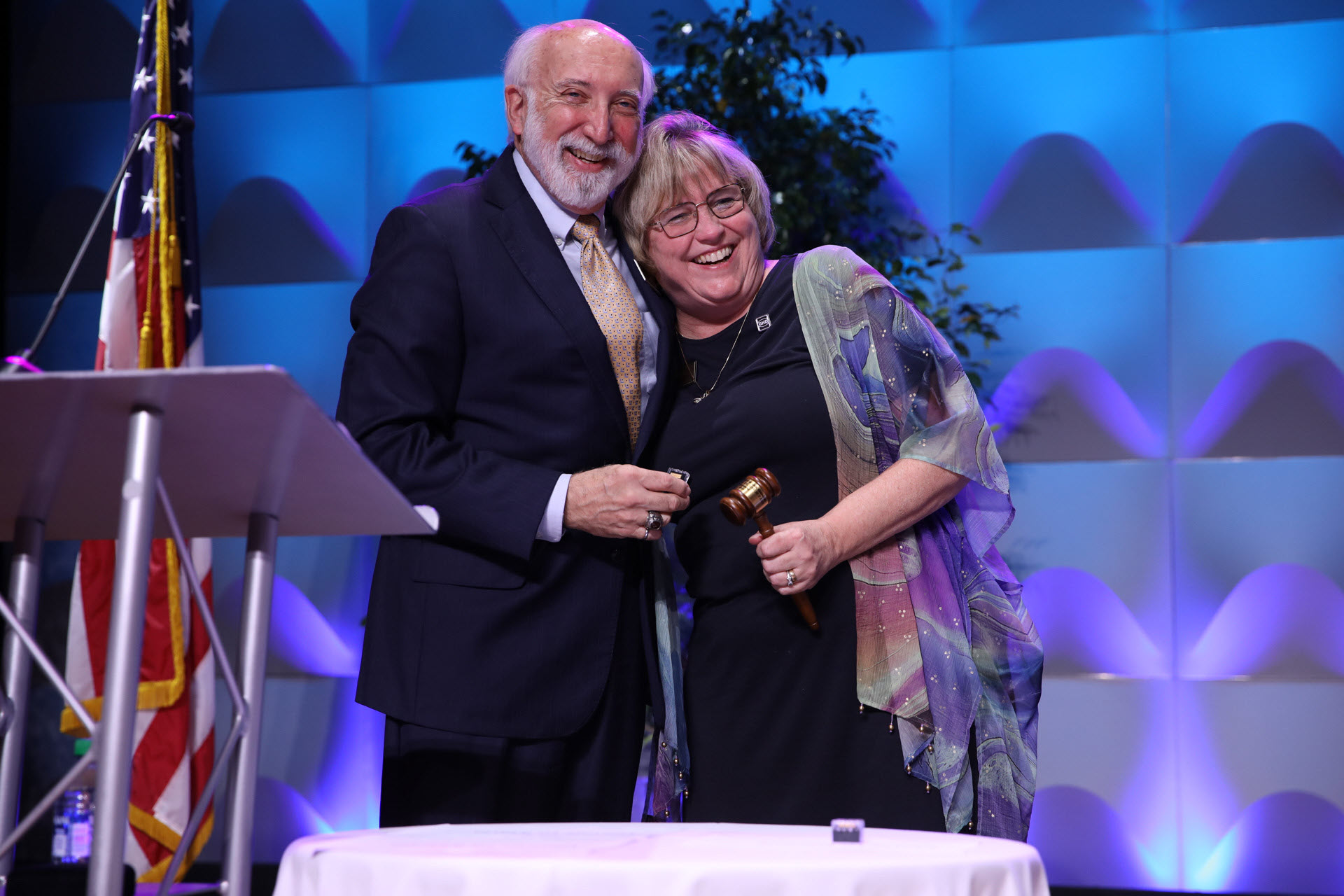 She's been particularly busy during her year as president-elect, representing ASCE as vice chair of President Biden's Infrastructure Advisory Council. During Tuesday's ceremony, Lehman's words echoed those of the convention's opening plenary about the tremendous responsibility on civil engineers to deliver on the infrastructure promises afforded by the bipartisan infrastructure law. Her leadership with the IAC and the increased influence of the ASCE Report Card for America's Infrastructure are testaments to ASCE's role in that process.
"We are the nation's trusted infrastructure advisor," Lehman said in her speech. "The go-to team."
Lehman shared some of her own personal history, thanking her husband, Carl, and sons Jason, Geoffrey, and Rian, whose sleight of hand with coins set the stage for his mother's rousing speech and forthcoming presidency.
"Now I challenge you. Step it up!" she emphatically told the crowd. "Bring your experience to make the world a better place. … The future of civil engineering is what we make it."
Introducing the board
ASCE also inducted Marsia Geldert-Murphey, P.E., F.ASCE, as the Society's new president-elect, along with the other new members of the ASCE Board of Direction: Rossana D'Antonio, P.E., G.E., F.ASCE (at-large director); Karen C. Kabbes, P.E., ENV SP, D.WRE, F.ASCE (technical region director); April J. Lander, MEM, JP, ENV SP, A.M.ASCE (Region 10 director); Carol C. Martsolf, P.E., PMP, LEED AP, F.ASCE (Region 2 director); Sean P. Merrell, P.E., PTOE, F.ASCE (Region 6 director); Erin M. Steever, P.E., M.ASCE (Region 7 director); Marsha Anderson Bomar, F.ASCE (treasurer); and Edward Stafford (assistant treasurer), P.E., PTOE, F.ASCE.