This year's ASCE Innovation Contest challenged students to address one or more UN Sustainability Goal by connecting their new ideas to the ASCE Future World Vision project. So it was perhaps especially innovative the way that the students from Auburn University developed a Future World Vision Mega City-styled technological advancements for a more rural environment.
"That's how we approached this," said Auburn team captain Morgan Burk, S.M.ASCE. "We looked at how we can develop those rural areas sustainably."
The Auburn team of Burk and her fellow third-year civil engineering student Stanton Freeman, S.M.ASCE, was one of two first-place winners of this year's ASCE Innovation Contest, with the final presentations taking place at the ASCE 2022 Convention in Anaheim, California, last month.
The Tigers were joined in first place by the student team of Bannari Amman Institute of Technology in India, which was honored for its "Rejuvenation of Rivers" innovation, a new way of treating polluted river water using local bacteria cultures.
Each school's student chapter earned a $1,500 prize.
Second place went to the University of Puerto Rico, Mayagüez for the design of a seed bank that works off the grid and can survive the elements.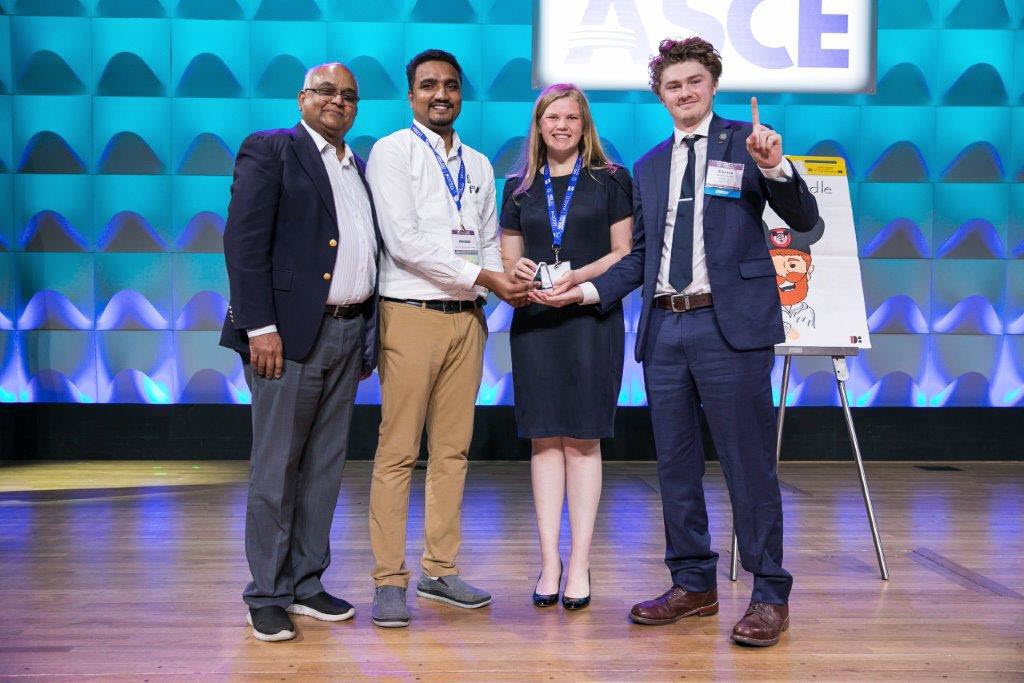 For Auburn, the innovation success started last spring when the student chapter hosted the Gulf Coast Student Symposium, and Burk and Freeman took first place there as well.
"The judges at the regional symposium gave us feedback and guidance with our innovation project that led us to the virtual semifinals over the summer, where we worked with industry leaders across the country to improve our project in preparation for the shark-tank style finals in Anaheim," Freeman said. "At the finals, we were able to network with ASCE professionals and present in front of a large audience, where we fielded financial and technical questions. Taking home this first-place win was a culmination of a lot of mentors helping us revise our project and sharpen our presentation skills. We are thrilled to have taken home the win for Auburn."
School officials believed it to be their first victory in an ASCE Society-wide competition.
The Auburn innovation – called SKY Environmental – provided a novel approach to waste management in rural areas.
"The way waste systems are currently is very tailored for urban areas with lots of population," Burk said. "So the whole idea of SKY Environmental is to bring in waste, separate it, and use those products back in the local market in a rural area where it's very expensive to ship products in or get rid of waste."
It wasn't difficult to find inspiration for SKY Environmental.
Burk and Freeman are familiar with rural America, having grown up in Kentucky and Alabama, respectively. Burk's parents own a company that does construction demolition waste hauling, so she's seen firsthand some of the issues SKY hopes to address.
"In these rural areas, there's such a high cost to bring in goods – things such as clean rock or sand or lime substitutes for agriculture; any of these basic products that aren't readily available in rural areas," Burk said. "So what's happening is you're having farmers and contractors having to go out and purchase a lot of these things from afar, and it gets really expensive to ship these products thousands of miles inland to rural America.
"So what I was most proud of with SKY Environmental was how we can use the byproducts that come out of the facility and turn them back into tangible assets onsite for local communities."
It's the kind of local-focused innovation that bodes well for the future built environment outlined in ASCE's Future World Vision.
"Supporting the local community is definitely the most appealing part of it to me," Freeman said.
Learn more about the ASCE Innovation Contest, including the theme and rules for the 2023 edition.