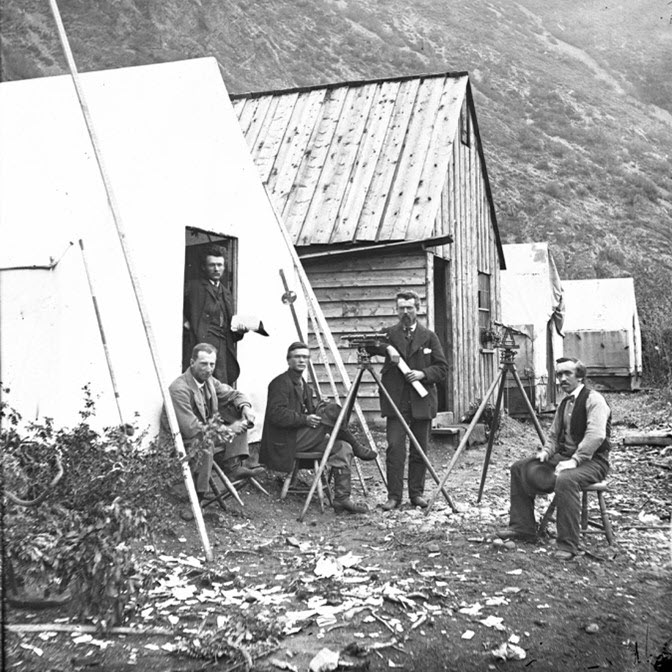 Surveying has been around for millennia, but it changed in the 19th century with the increased demands of civil engineering projects such as canals and railroads. In the early 1860s, two ASCE National Historic Civil Engineering Landmarks – the Central Pacific Railroad and the Union Pacific Railroad – began construction as the First Transcontinental Railroad. The reconnaissance, preliminary, and location surveys for these railroads were conducted by civil engineers.
Here are five things you didn't know about railroad surveying in the 1800s.
1- In 1831, American William J. Young invented the Transit, a rugged, lightweight, easy-to-use alternative to the traditional English theodolite instrument.
2- In the 1830s in the U.S., to more accurately survey roads, canals, and railroads, civil engineers began using 50-foot and 100-foot "engineer's chains" instead of the 66-foot Gunter's chain.
3- The crews conducting surveys for the early railroads were called field engineer crews, not survey crews, and their camps were called engineer camps, not survey camps.
4- The first job for young civil engineers was usually as a member of a field engineering crew conducting surveys. They referred to themselves as engineers, not as surveyors.
5- Both Grenville Dodge, chief engineer of the Union Pacific Railroad, and William Hood, chief engineer of the Southern Pacific Company, started their civil engineering careers as axe-men on surveys for railroads.
This article is one in a series of recurring features that the ASCE History and Heritage Committee offers on topics related to the history and heritage of civil engineering. Email chair Chuck Spinks at [email protected] for more information about their work.
As the committee continues to build an inventory of all ASCE Historic Civil Engineering Landmark projects, members of the committee and other volunteers have been visiting sites to photograph landmarks and ASCE plaques while assessing their conditions. If interested in volunteering to help the committee record these landmarks, email committee chair Tonja Koob Marking at [email protected].
Committee members have also been researching and writing biographies of ASCE Notable Civil Engineers. If interested in volunteering to help the committee document and preserve the histories of notable civil engineers, please email committee chair Dick Wiltshire at [email protected].