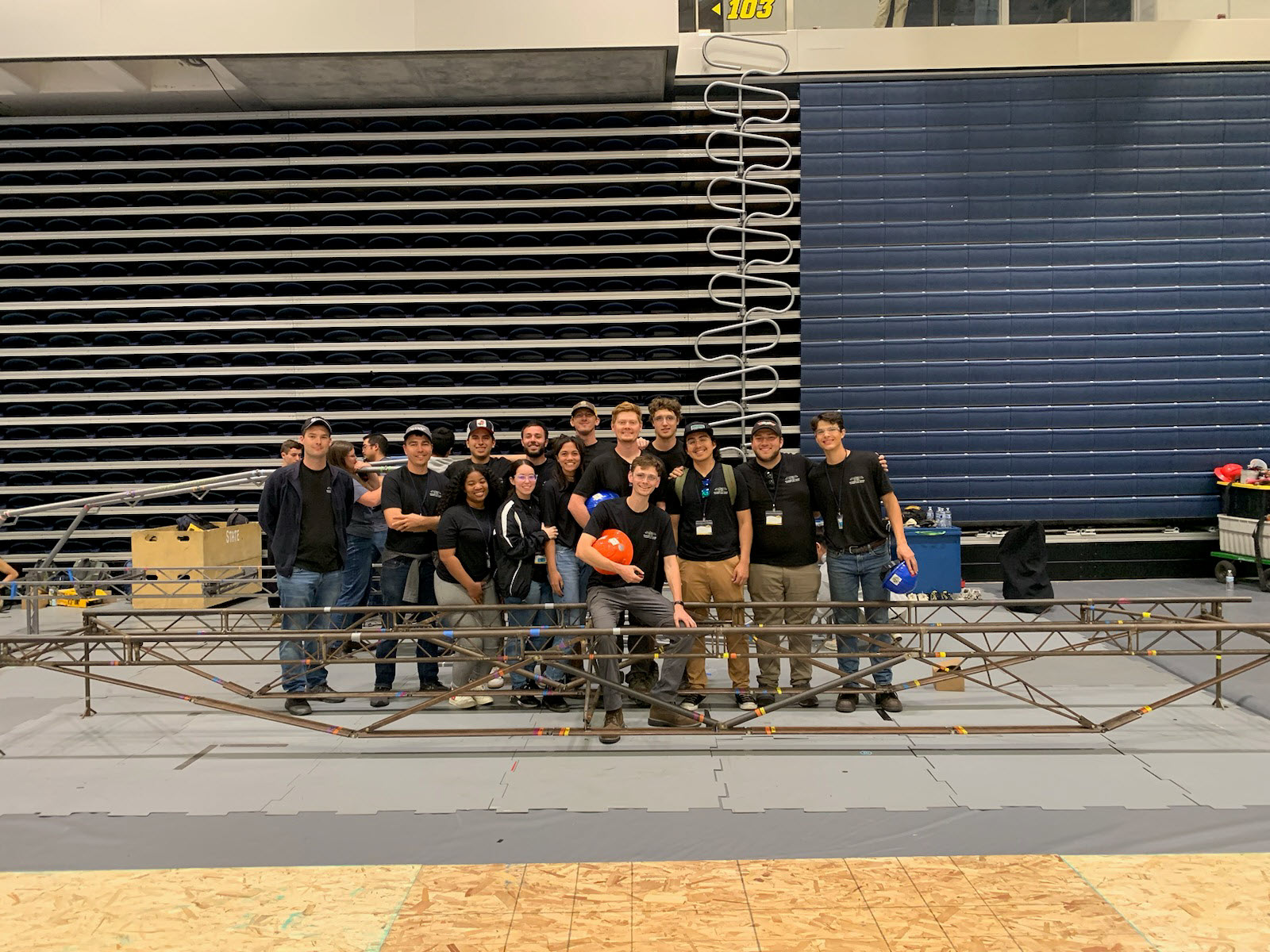 Students have designed and built a lot of bridges during the more-than-three-decade history of the steel bridge competition.
But no one's done this before.
The University of Florida earned first place in the 2023 Student Steel Bridge Competition National Finals, June 2-3 at the University of California San Diego. It was Florida's third straight championship, the first such three-peat in steel bridge history.
"It's hard any year to win nationals. It's never easy. It takes an extreme amount of work and dedication," said Joseph "Brock" Sullivan, S.M.ASCE, project manager for the Florida team. "But this year I kind of knew what to expect. I felt like I expected success, just knowing the pedigree of our school and our process. But of course, it feels completely rewarding and amazing."
En route to the overall championship, Florida also finished first in economy and construction speed. The Gators also won the Frank J. Hatfield Ingenuity Award for the second straight year. In 2022, Florida won the title with just two builders. This year they returned to the more standard build team of four, but the overall group remains small compared with many other steel bridge teams.
"We have a small, tightknit group," Sullivan said. "And while that can be difficult time-wise – this is a huge undertaking, right? – I think it provides us with a lot of benefits because that small group of people knows everything.
"We're all really good friends. We know how to work together. We don't really have any loose ends within the group. We know we're all 100% dedicated to the goal."
The Student Steel Bridge Competition is a partnership between ASCE and the American Institute of Steel Construction. This year's competition challenged students to design, fabricate, and construct a conceptual scaled steel bridge to serve as a hypothetical crossing in the San Diego National Wildlife Refuge, allowing users to access trails on both sides of the Sweetwater River while improving access for park service vehicles.
The Florida student team was followed in the overall standings by Youngstown State University and the University at Buffalo. The University of Tennessee, Knoxville won the Team Engagement Award; the South Dakota School of Mines and Technology earned the Robert E. Shaw Jr. Spirit of the Competition Award; and Harding University took home the John M. Yadlosky Most Improved Team Award.
For all the teams, it was a satisfying conclusion to a year of work and learning.
"You think about all those late nights that we spent," said Donald Stowell-Moore, S.M.ASCE, fabrication lead for the Florida team. "When you're in the moment, you might not feel like spending these extra couple hours tonight and maybe tomorrow night and the night after. It's just like this is a lot to handle as a student who's also in school full-time and working. … Huge shout out to our faculty adviser Taylor Rawlinson. He always pushes us to go the extra mile.
"And then after they call your name as the winner and you go up there on stage, it's like, 'OK, it's worth it and I'm ready for next year.'"
Said Sullivan, the first student ever to compete on three straight steel-bridge championship teams: "I think I got a lot out of it, in terms of leadership experience – being professional, learning how to manage and motivate people. As project manager this year, looking back there's a lot I would change and maybe do differently. But that's the whole point of steel bridge, that's the whole point of this project – to learn."
See the complete results from the 2023 Student Steel Bridge Competition National Finals.