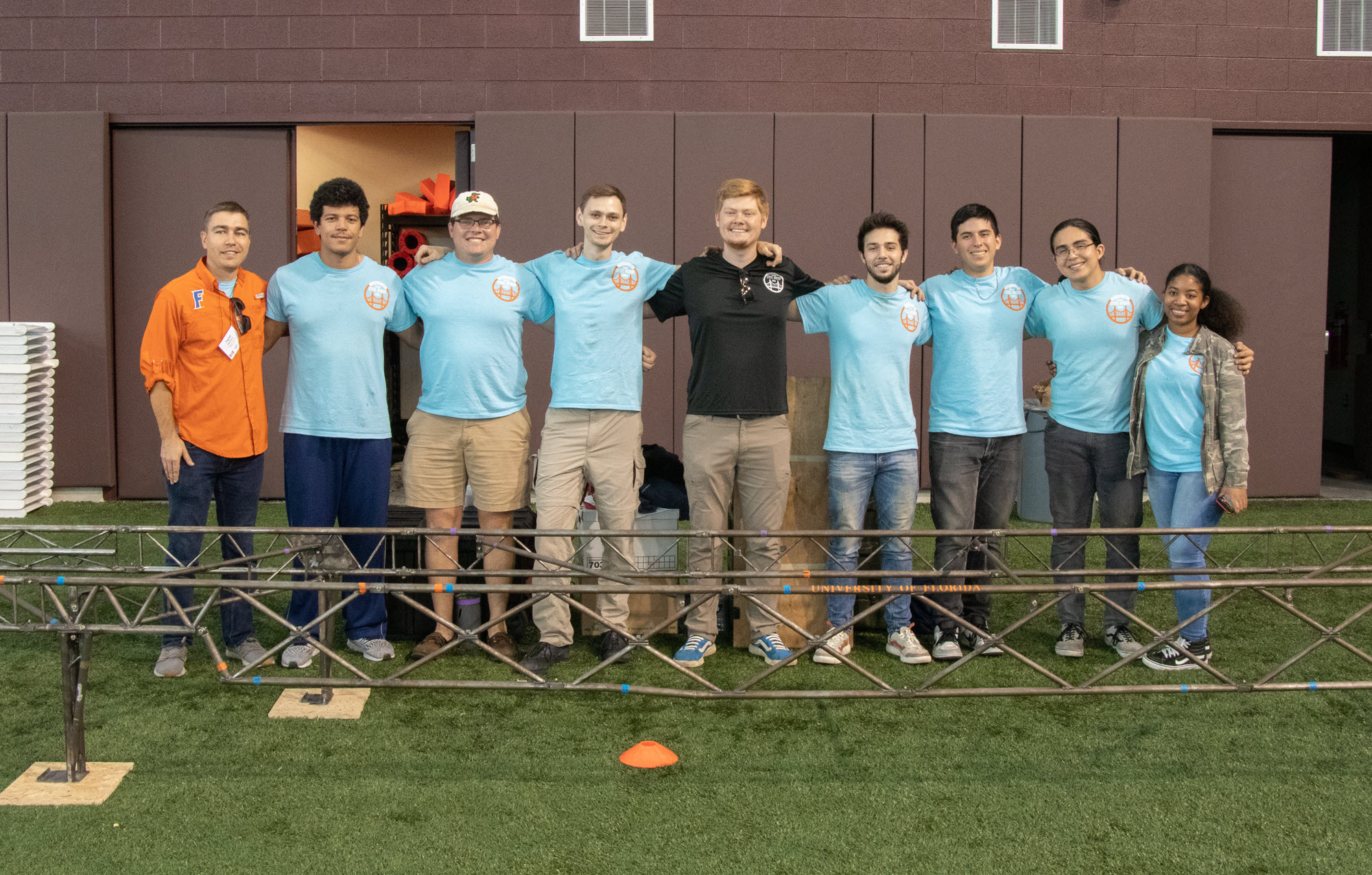 The University of Florida steel bridge team had a math problem.
With limited student availability ahead of the 2022 Student Steel Bridge Competition National Finals – internships, summer plans, etc. – the team had only two builders for the crucial assembly portion of the competition.
Two.
Most teams assemble with four, maybe even six builders. But many of the Florida team members were unavailable to practice in May, leading up to the finals.
"We had to get pretty creative," said the team's faculty advisor Taylor Rawlinson.
And it worked. The University of Florida team – two builders and all – finished first at the 2022 Student Steel Bridge Competition National Finals at Virginia Tech, May 28.
"I'm grateful as a senior to have had the opportunity to carve out huge amounts of time and energy," said senior captain Fletcher D'arcy. "I knew I wanted to win again and fall in love with a project again. I saw it as a way to test and strengthen my abilities. I feel incredibly grateful to have been given this as an outlet to do just that."
Remarkably, the Florida students finished with the third-fastest assembly time. They'd record their practice assemblies in their work lab on campus; then rewatch the video to identify inefficiencies and ways to improve.
"We were the only team to build with only two builders at nationals," Rawlinson said. "When you have two people it's kind of difficult because it's really a balancing act. You have to make sure the bridge doesn't fall over. We didn't want to have any downtime, so we really tried to choreograph the assembly run."
The competition marked the first time since 2019 that the finals were held in person. The Florida team brought its six students to Virginia Tech, along with two former captains serving as advisors – those from the 2020 and 2021 teams who had their senior years disrupted by the COVID pandemic.
"We wanted to make sure they had a chance to go, because they put so much time into their bridges when they were seniors," Rawlinson said.
The Student Steel Bridge Competition is a partnership between ASCE and the American Institute of Steel Construction. This year's competition challenged students to design, fabricate, and construct a conceptual scaled steel bridge to serve as a hypothetical wildlife crossing over I-90 in Washington state.
While Florida finished first overall, the University of Alaska, Fairbanks, team finished second, followed by Lafayette College in third.
Florida also earned the Frank J. Hatfield Ingenuity Award. The University of British Columbia took home the Team Engagement Award, and University of Puerto Rico Mayagüez won the Robert E. Shaw, Jr. Spirit of the Competition Award.
For Florida, it's fair to start tossing around the "dynasty" term. The Gators have now won four national titles and the run over the last seven competitions includes first place in 2015, third place in 2016, second place in 2019, and back-to-back championships now in 2021 and 2022.
"We have a great alumni base. A lot of the former captains stay involved. They're always there whenever the current students want to call them or ask any questions," Rawlinson said, noting that five of the six team members from the 2022 nationals are set to return next year, along with several other key team members who worked on the team throughout the school year.
"The transfer of knowledge is the most difficult thing, because usually you have so much turnover. But we really should have a strong group going into next year."