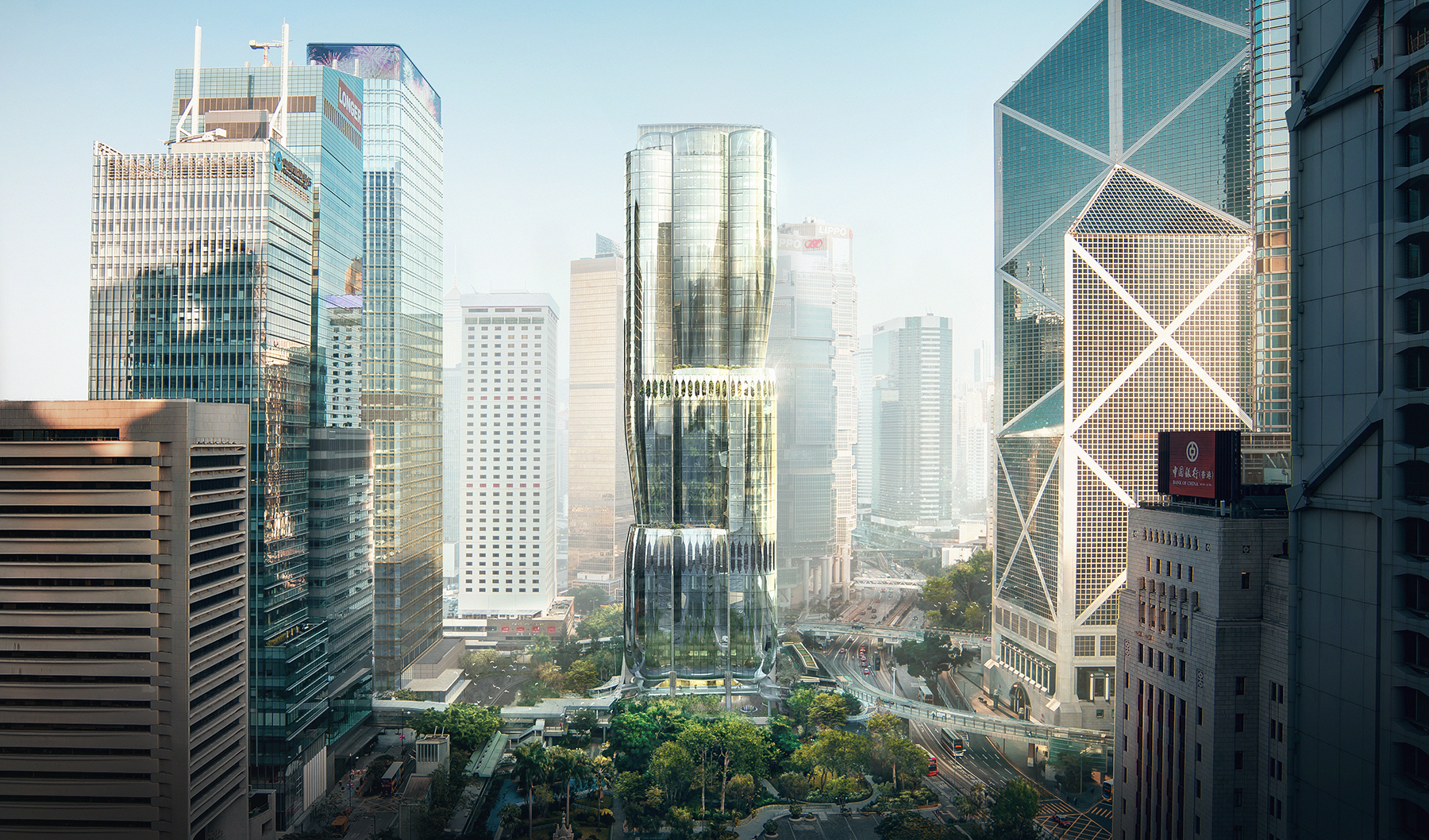 Automation and tech synergy will be the hallmarks of the 43,200 sq m, 190 m tall 2 Murray Road tower when it is completed in Hong Kong. Smart technology and design will create what the designers refer to as a "contactless pathway" so that workers can move from the sidewalk outside the building to their desks — or between rooms and floors within the building — without touching a thing.
The architect for the building, Zaha Hadid Architects, is working with Arup's Sustainability Team in Hong Kong on the design of these contactless elements. "The U.S. Centers for Disease Control and Prevention estimate up to 80 percent of infections are spread by hand contact with contaminated surfaces," says Sara Klomps, the 2 Murray Road project director for Zaha Hadid. "Therefore, to promote the healthiest working environment with the development, Arup specified a contactless pathway is to be provided throughout the whole building." Doors, elevator buttons, and security checkpoints will all be hands-free.
Designed pre-pandemic as a way to create a healthier working environment by limiting the need for occupants to touch potentially contaminated surfaces, the design elements will be particularly welcome in a COVID-19-impacted world, where contamination control will be of paramount importance.
The contactless access made possible by the building's smart management system will be controlled via mobile phone, contactless smart card, or biometric recognition and will include access to workstations, meeting rooms, lounges, recreation facilities, and bathrooms. As part of this, a smart control app that can be accessed by individuals' mobile phones will have the potential to control elevators, temperatures, operable windows and blinds, and mechanical office ventilation (though natural ventilation will be available) as well as food and drink dispensers, Klomps says.
The 36-story building's sophisticated air quality monitoring system will detect occupancy in a room and adjust the indoor temperature, humidity, and fresh air volume as necessary — it will also be able to detect and predict occupancy patterns to optimize energy efficiency. Two weather stations — one at street level and one on the roof — will be linked to the automated management system and will monitor real-time conditions, including wind speed, daylight, ozone levels, temperature, humidity, noise, and rainfall for optimal performance and supply of what the architects refer to as "high-quality" outdoor air.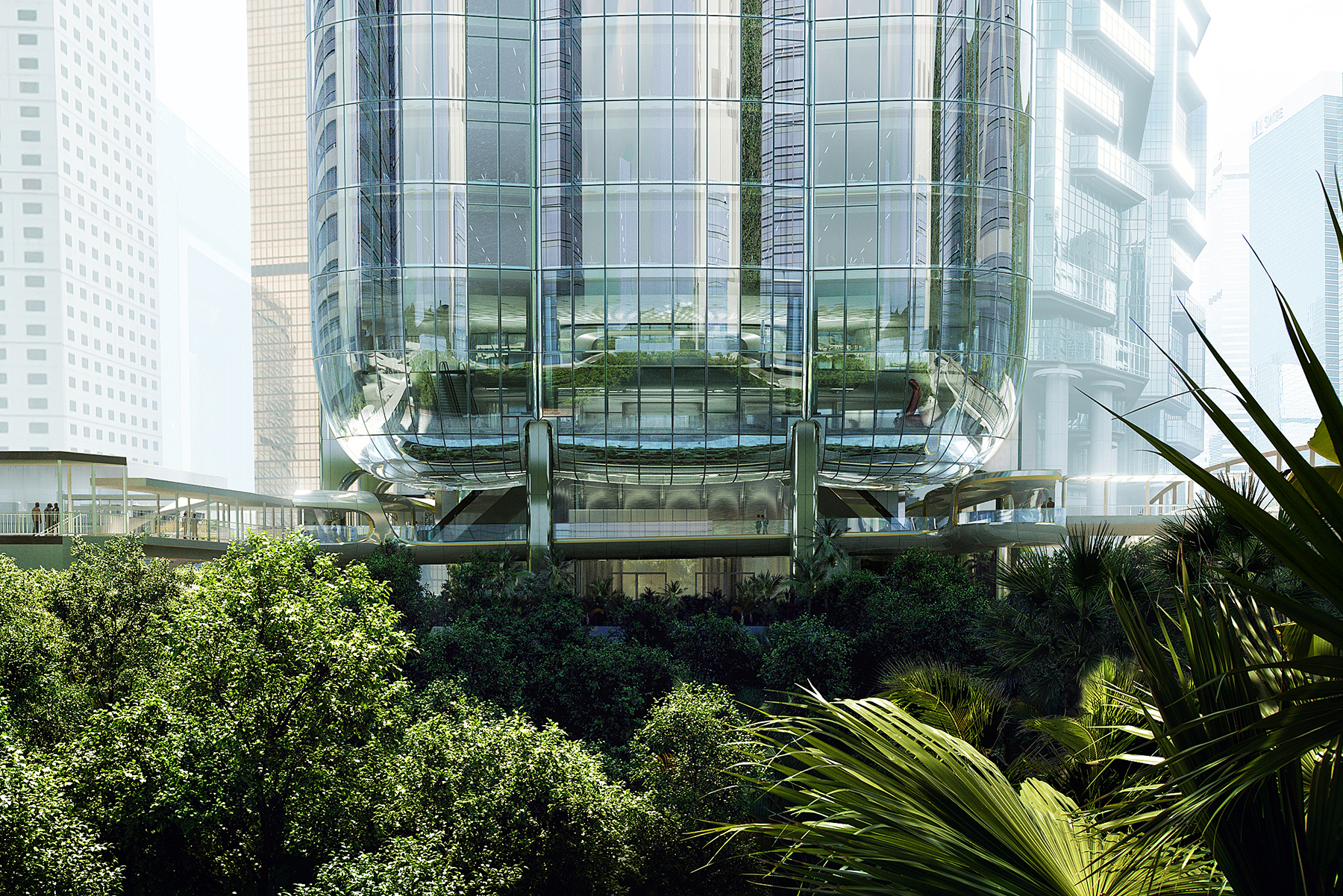 Daylight sensors will also reduce the use of artificial lighting when possible to maximize the use of natural light within the building.
The tower will be located in Hong Kong's central business district, next to the city's public Chater Garden and within walking distance to its Central and Admiralty Mass Transit Railway metro stations. The base of the building will include a double-height foyer and elevated public lobby that will provide covered space for courtyards and gardens at ground level. These will connect to the adjacent public garden, while the building's second-floor lobby will connect with the area's existing network of elevated pedestrian walkways.
Structurally, the building will be a high-tensile steel structure with a wide-span column grid of 26 m. The floor-to-floor heights will be a generous 5 m. The vertical core will be located on the eastern side of the building to optimize views west toward the adjacent gardens and the city's skyline.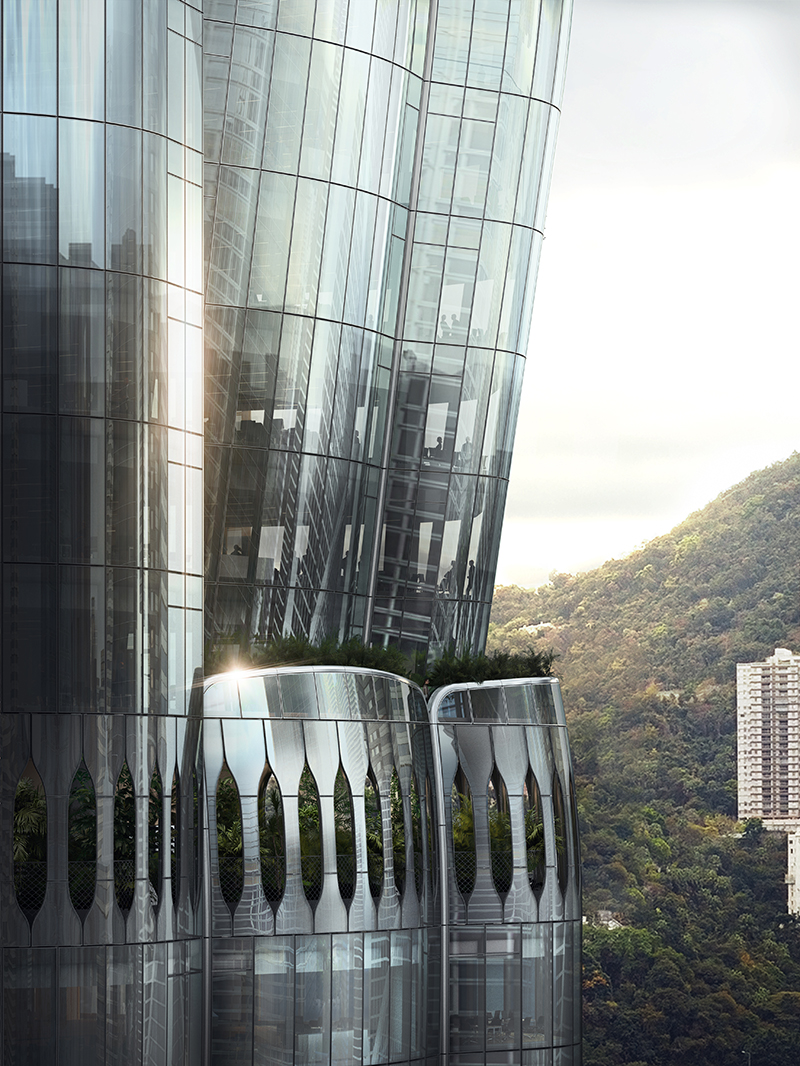 The top of the tower will include a hall with panoramic views of the city's skyline. The building will also include a sky garden with an outdoor recreation space, running track, and aquaponics planting network that will purify the air biologically by consuming contaminants, according to the architects.
The building design has achieved Leadership in Energy and Environmental Design Platinum and WELL Platinum precertification as well as a three-star rating in China's green building rating program. It has been designed to withstand typhoons, and the facade is composed of four-ply, double-laminated, double-curved insulated glass units. These will insulate the building and reduce its cooling loads as well as offer resilience to storms.
Construction began last year with completion expected in late 2023.