The COVID-19 pandemic was a black swan event, with lockdowns across the globe leading to a surge in imports. These record-breaking import levels resulted in increased congestion at U.S. seaports, especially in the adjacent California ports of Long Beach and Los Angeles.
"2020 itself was a record-breaking year in the (Long Beach) port's 109-year history with over 8 million TEUs (twenty-foot equivalent units) moved," says Sean Gamette, P.E., M.ASCE, the managing director of engineering services at the Port of Long Beach. These volumes were about 25% higher than the usual flows, he explains. The high volumes have continued; March 2021 was the port's busiest month ever. According to the port, "dockworkers and terminal operators moved 840,387 TEUs (in March 2021), a 62.3% jump from March 2020."
Seasonal ebbs and flows in freight from Asia are normal, but the recent congestion was unprecedented, Gamette says.
Complicating the issue of dealing with this surge in imports were the precautions necessary due to COVID-19, which affected how many workers could be safely deployed to help ease congestion.
"American shopping habits during the COVID-19 pandemic have resulted in an unprecedented cargo surge at U.S. West Coast ports, which has certainly been one of the more extraordinary events to affect the Port of Los Angeles in recent years," says David Walsh, P.E., M.ASCE, the chief harbor engineer at the Port of Los Angeles. "That said, it is truly an anomaly and the type of event that would not typically serve as a basis for planning, design, and construction of infrastructure."
Operational and logistical solutions
Solutions to ease congestion in the near term were understandably focused more immediately on operations and logistics, Gamette says. The Port of Long Beach activated its incident management team during the pandemic to ensure business continuity and continue ongoing capital construction while still following COVID-19 protocols.
To improve its ability to manage cargo, the Port of Long Beach changed its truck patterns in the north harbor to accommodate longer 16,000 ft trains, which were used to meet demand instead of the more typical 10,000 ft trains.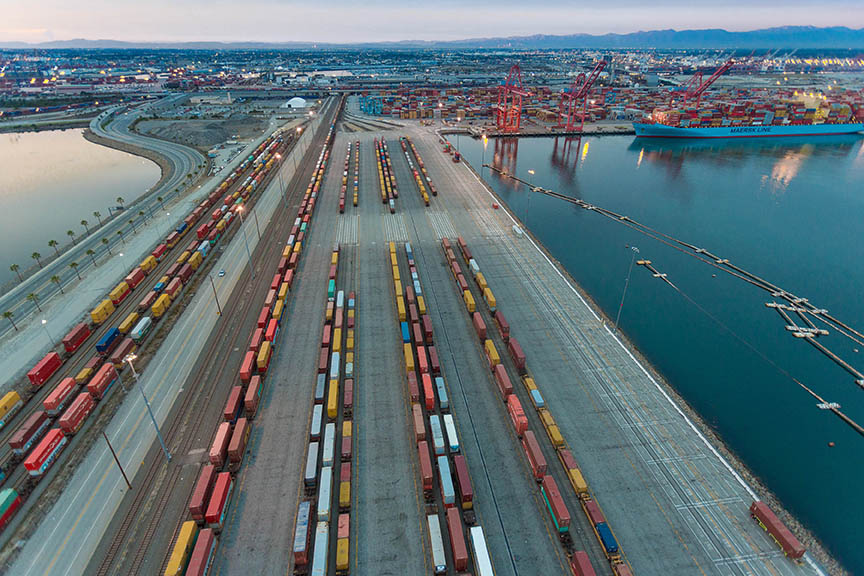 The port also secured a 40-acre overflow resource area within the harbor so that importers and exporters could better manage the flow of containers through the port. "We also released our weekly advanced volume estimate report that allows folks in our supply chain to better understand where their cargo is at any point in time so they can systematically schedule things to be a little more efficient," Gamette says. "These kinds of operational moves that the Port of Long Beach did along with our infrastructure improvements will allow us to get through the current backlog of ships probably by early summer."
Long-range planning
A port's infrastructure includes navigation channels that can accommodate deep and large ships and processes and equipment for cargo offloading and storage; it also includes rail and roads that can transport freight and people to their destinations.
While the pandemic temporarily increased congestion, other factors, such as the increasing size of freight ships, are leading to more permanent changes in infrastructure that can accommodate large ships and large volumes of cargo.
For example, says Walsh, "port civil engineers use cargo forecasts to prepare a variety of planning studies, such as navigation and berthing studies, rail and roadway advance planning, long-term facilities plans, and updates to Port Master Plan documents that ensure the port can accommodate future cargo growth."
Upgrades to accommodate larger ships will include "deepening harbor channels, providing navigational clearances, and ensuring cranes, wharves, and backlands can accommodate these vessels with continued efficiency," Walsh says.
The Port of Long Beach has been working hard on such infrastructure projects that promise to ease congestion in the long term, Gamette says. Among these, a new cable-stayed bridge, unveiled in October 2020, with 205 ft vertical clearance, which connects Terminal Island in the port to the mainland and Long Beach. "Over that bridge moves about 15% of the nation's imported cargo annually," Gamette says. Work on Port Long Beach's Middle Terminal, a $1.5 billion investment, is ongoing and will connect cargo from the terminal to rail.
Ensuring the channel berths are deep enough at 52 ft is also a focal part of the Long Beach capital program, Gamette says, as well as upgrading the existing rail system to better and more frequently accommodate trains up to 16,000 ft. long. The upgrades will allow for additional mainline capacity, so that more rail cargo can move in and out of the port while the longer trains are being assembled.
The ports of the future
The rise in imports during the pandemic might have been an anomaly, but a holistic approach to port design across the United States is still necessary, says Jeff Massengill, P.E., D.P.E., M.ASCE, global director of the maritime market sector and senior vice president in the Corpus Christi, Texas, office of HDR, a design firm specializing in engineering, architecture, environmental, and construction services.
"We have to develop a national freight strategic plan to evaluate local hubs and figure out what's important from a local, state, and federal level in terms of infrastructure investment to meet our future freight movement requirements in conjunction with adaptation of resiliency measures," Massengill says.
Planning for a zero-emissions future will be an important part of port design in the future. President Joe Biden's $2 trillion-plus infrastructure bill includes a healthy ports program that focuses on renewable energy and carbon capture mechanisms,
Given that the U.S. government has set a goal of generating 30 GW of offshore wind energy by 2030, expect that to also mold port design, Massengill says. "Storage areas, laydown yards, docking facilities for offshore wind support vessels, these are things to watch for in the future," he says.