By T.R. Witcher
Located in the wine country of Loudoun County, Virginia, 50 mi northwest of Washington, D.C., is the historic village of Hillsboro. Established in 1752, many of its existing structures were built in the 18th century. The rest were built in the 19th century, and none of the buildings on State Route 9, the main road through town, is less than 100 years old. The small village, with just a few hundred residents, is situated in a gap in the Short Hill Mountain, with steep, narrow lots that front the main road.
In its earliest days Hillsboro was a tavern-rich way station for travelers to the then-North American frontier. By the end of the 18th century it had become a hub for a rich agricultural hinterland and had opened a handful of mills; businesses supporting farming and transportation, from coach builders to wheelwrights, flourished.
But despite its age, Hillsboro never had much in the way of infrastructure — other than a series of wooden pipes that used to bring water to the village from a spring about 700-800 ft above town. This privately owned system of pipes was replaced with iron just before the Civil War and then mostly replaced in the 1950s when the town took control of the system.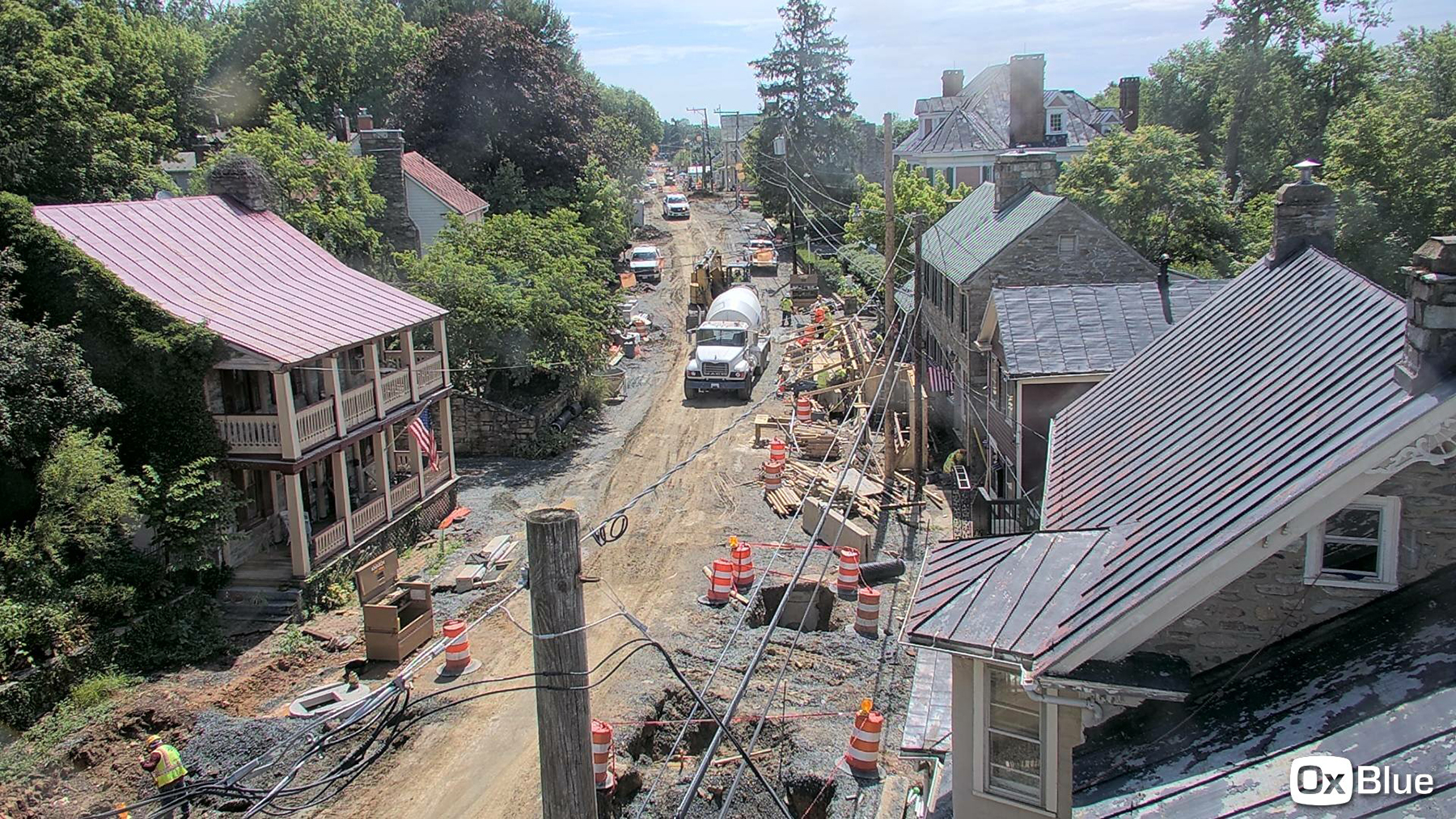 Over time, development pressures in Hillsboro taxed the water supply. State regulators worried that the water system was in a state known as GUDI — Groundwater Under the Direct Influence of surface water. (This can occur when groundwater gets too close to surface water sources, and "pathogenic organisms can move from the surface water source to the well or infiltration gallery.")
"Every time the government would come into town to look at the water situation, you'd have mass resignations from the town council," says Hillsboro Mayor Roger Vance. "There was a very anti-regulation sentiment among the people in town. They didn't want to give up the spring."
Eventually the town was named the top municipal water hazard in the state; city leaders ultimately agreed to a state health consent order requiring them to disconnect the water system from the spring. This began a unique odyssey to overhaul decades of infrastructure simultaneously — an unprecedented project that, if not handled just right, could have brought the town into the 21st century while destroying its character.
The city ultimately found a new water source in the center of town — a pair of wells near the North Fork of Catoctin Creek — which required building a pipeline to pump water up the mountain side, where the city's treatment plant was, and then back down to service residents. But other critical infrastructure issues also needed to be addressed: The village needed a new stormwater drainage system to carry runoff from the mountain out of town. Hillsboro also needed a new wastewater system. Individual septic systems, many of them 30-50 years old, were at the end of their lives and, given the steep topography, were at risk of leeching into nearby Catoctin Creek. "A municipal system has been an urgent need for two decades," says Vance.
The road to prosperity

The final element that needed an overhaul in Hillsboro was State Route 9, also known as the Charles Town Pike, which was becoming increasingly congested, carrying the farthest-flung commuters from the edges of northwest Virginia and even West Virginia into work in D.C. every day. At 17,000 vehicle trips a day, the road, says Vance, "had turned into a major commuter highway, slicing right through the historic town. … Sidewalks were basically obliterated (with) wide shoulders (and) terribly unsafe conditions for pedestrians."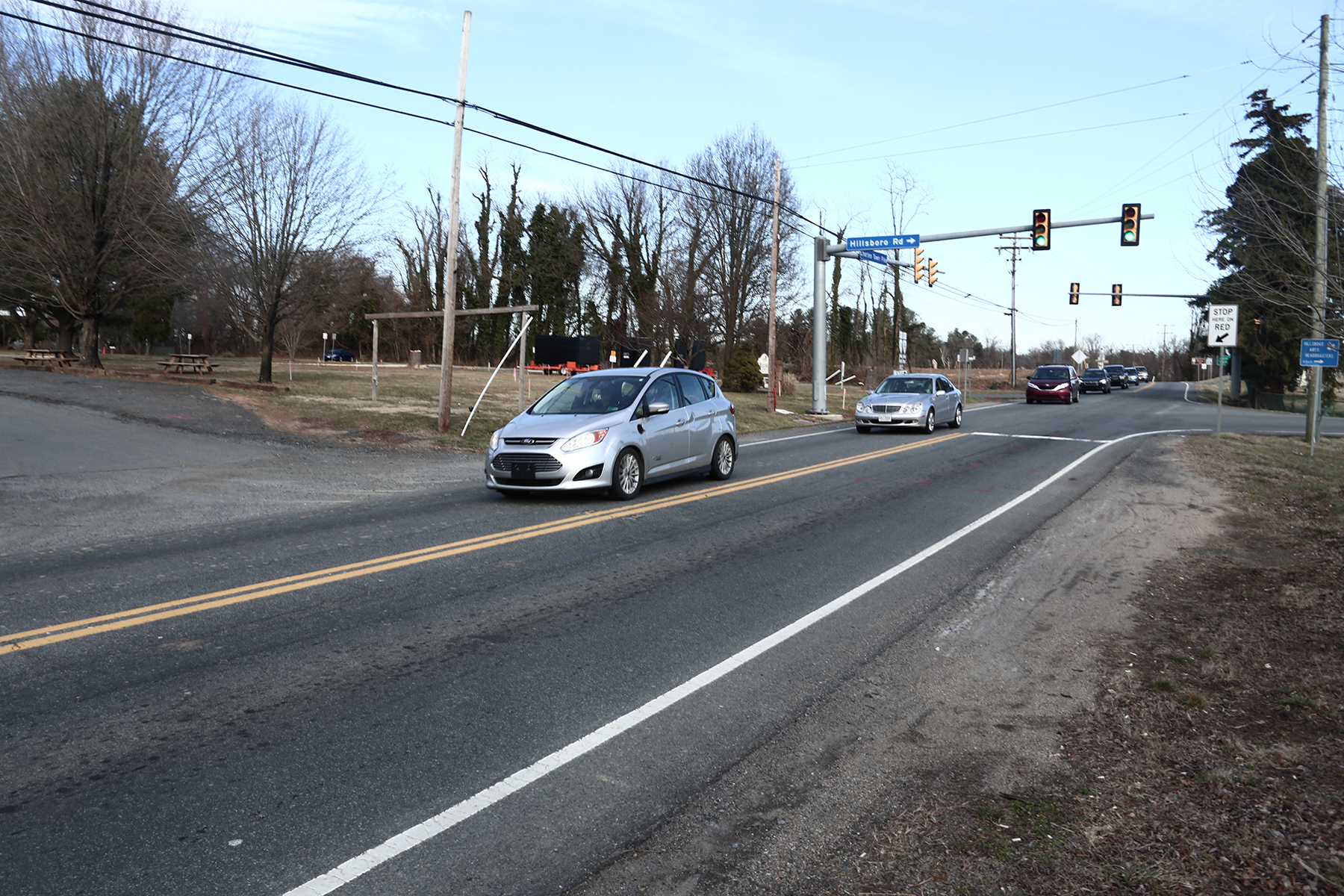 With all its other infrastructure needs looming, city officials came to a crucial — if common sense — insight. "We knew we had these other two critical public health issues to deal with," says Vance. "We knew the road project would eventually have to rebuild the road. I didn't want to be putting in a new water system or wastewater system or anything under that road that I knew would eventually be dug up and destroyed."
So Hillsboro began planning to install its new water infrastructure underneath its new road.
Easier said than done, as it turned out: The quest to fund and complete these major infrastructure projects took Hillsboro almost two decades. For years, state funding was scarce; there were too many other pressing transportation projects competing for dollars in northern Virginia. The needs of a tiny hamlet in the corner of the state did not rank highly on anyone's to-do list. But town leaders were scrappy, and over the years Hillsboro managed to cobble together about $10 million in funding from local and county sources for the road, the sewer, and the waterline. This was only half of what the town needed. To come up with the rest, Hillsboro applied for a competitive Smart Scale grant through the state's Commonwealth Transportation Board.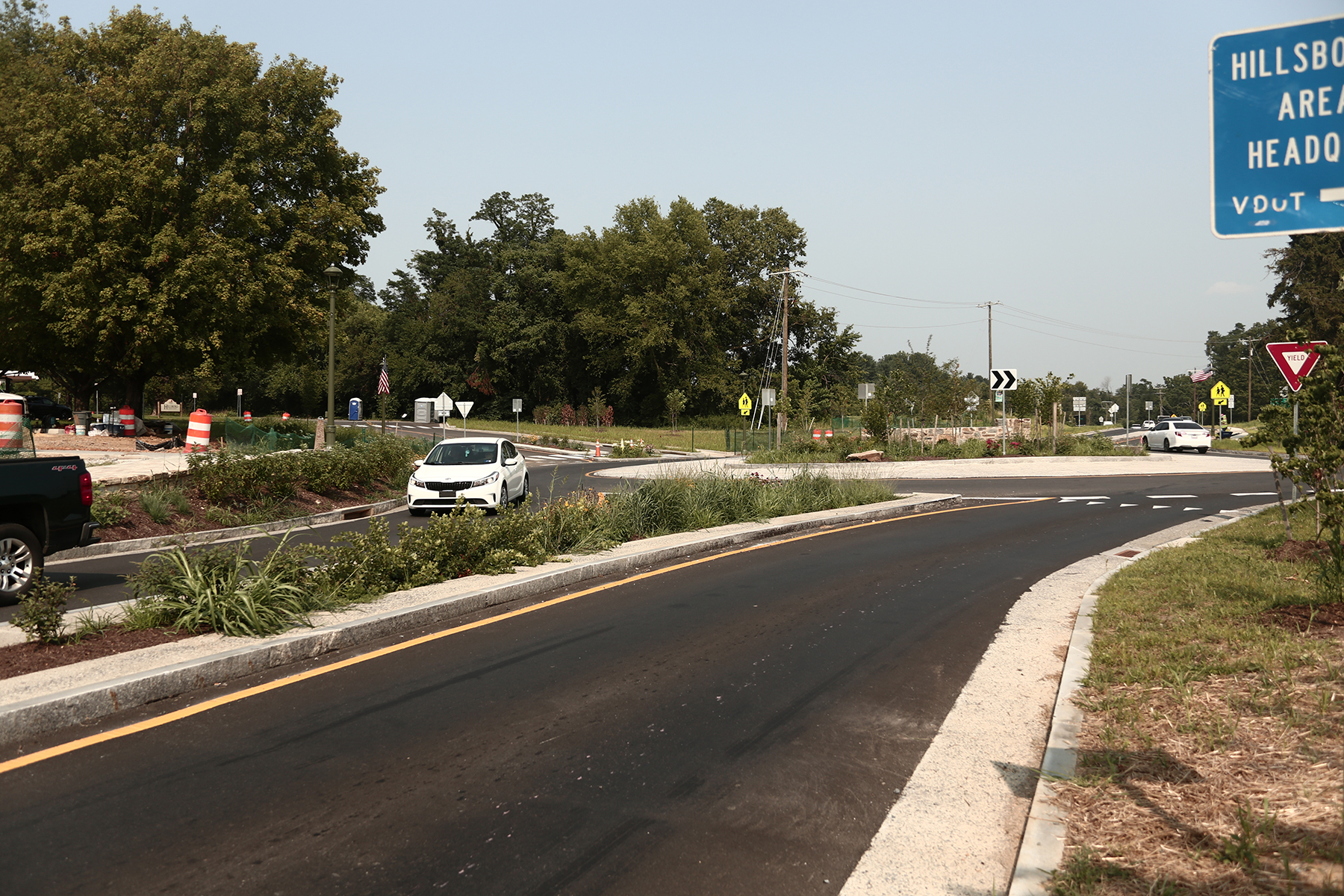 Vance's mantra was simple: "Let's build it now and build it once." Still, when the town took over oversight of the project from the state department of transportation, few believed Vance and his colleagues could pull it off.
Though he ultimately did not receive funding through Smart Scale, Vance found a partner in Volkert, an Alabama-based multidisciplinary civil engineering and construction management firm. Bobby Hester, P.E., Volkert's chief engineer and vice president, remembers attending a pre-proposal meeting the village hosted before it distributed the project's requests for proposals. The meeting was over crumb cakes, lemonade, and tea — a first for Hester. "Not many meetings like that," he says. He knew Vance and Vice Mayor Amy Marasco were driven but that they had never overseen a project like this. But Volkert ultimately came on board to help guide and design the infrastructure overhaul and to help secure funding. Volkert's long history with the Virginia DOT opened some doors. "We were able to take a project that sat for 12 years with VDOT and push it through in 18 months," says Hester.
With Volkert's help, Hillsboro received a $12 million grant in June 2018 from the Northern Virginia Transportation Authority, a special tax district that funds northern Virginia transportation projects. Volker drew up plans for a low-pressure sewer force main and duct banks to run telecommunications lines under State Route 9. Power lines were also relocated under the road.
The final challenge was the roadway. Initially state officials didn't want State Route 9 closed, but not doing so would ensure a lengthier and costlier construction timeline. Eventually the state agreed to two 30-day road closures, with the first scheduled to begin in November 2020. Traffic was rerouted along local and regional detours.
Meanwhile, the town was already working on building a new pipe to connect its new water supply with its treatment plant. The original main under the highway was "extremely fragile and very prone to breaks and leaks," says Vance. Engineers took care to ensure that the water pressure running through the pipe from its new water source would be close to the level of pressure from the old source running downhill, but when the water was turned on, on April 1, 2020, "almost instantly water began to seep to the surface of the pavement all along the downslope section under the roadway." It's unclear exactly why this happened, but Vance speculates that reverse flow likely dislodged scale and sediment that had filled in cracks and holes in the decaying, 60-year-old pipes.
The system was shut down for two weeks while workers installed a temporary above-ground main — and connected it to every residential water meter. "We had a water emergency crisis at the same time you're supposed to wash your hands every five seconds," says Vance, referencing the COVID-19 pandemic. "It was crazy." The town had to temporarily bring in bottled water to support its residents.
Silver lining
The water main problems were occurring right as the COVID-19 lockdowns were rolling out. But this proved to be a benefit. The water emergency, combined with significantly reduced traffic on State Route 9, enabled the town to persuade the state to expedite the road's complete shutdown — moving it up from November to May 4, and then extending it through Aug. 15. This provided crews at Archer Western Construction time to complete virtually all the heavy excavation and installation of all underground utilities. Traffic circles were added at both ends of the village to help calm traffic.
"The roadwork itself came with challenges; having the closure was an immense help," says Archer Western project manager Matt Phillips. "It's a tight corridor. You have overhead obstructions with power lines going to everyone's homes, so even dumping a load of stones to rebuild the road was something you had to be mindful of." Hester adds, "All those overhead utilities serve homes up high. … Now wires are coming in underground through (a) conduit system. Some houses didn't have meter boxes that meet code. We had to change out meter boxes. We had to go property by property, home by home."
Historic design
Laying all this new infrastructure concurrent with the road rebuild hinged on a more crucial element: The new road had to match the historic quality of the town. "Early on we set some basic principles," says Vance. "One of them was: It's not going to look like a modern roadway. It's not going to have materials that conflict with the historic character. Modern concrete curbs, concrete sidewalks, you might as well destroy everything. We held a very firm line with Volkert in design all the way through the process."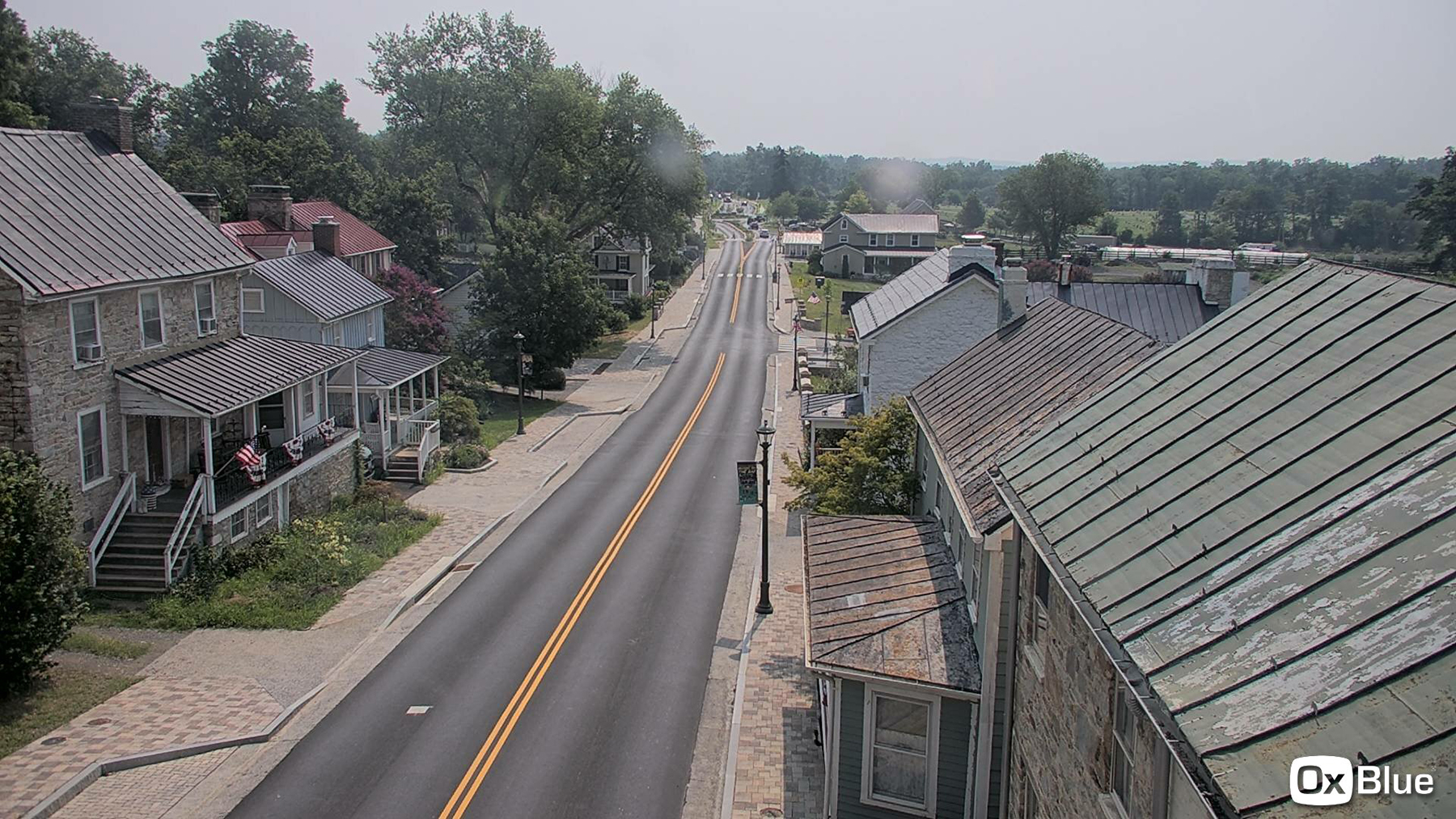 When he first got on the job, Phillips says, "I was blown away that this town in northern Virginia that didn't have drinkable water, didn't have broadband internet, didn't have underground power sources — I was a little shocked to see it. Then I made my trip out and saw it was a historic town, (and) my next thought was, 'I hope I don't tear it up.'"
Workers used a mix of granite curbs, concrete paver sidewalks, and cobbled stone parking bays. But the work was challenging. Vance says the first mock-ups Archer Western created were beautiful but "too perfect." The town wanted the road to appear as if it had been built 100 years ago. The stones looked too "new," Phillips says, and they all came roughly the same dimensions. So crews "roughened them up" to make them appear more aged — by knocking off corners, edges, and sides to vary the sizes more greatly in an effort to match the existing buildings and walls more closely. Workers also used three different palettes for mortar color and matched the mortar of the retaining walls to the look of buildings nearby. "The guys on the teams stated to really enjoy it," says Phillips. "Masons took a lot of pride in making something that looked old."
Work finished in June 2021, well ahead of schedule. For Hester, the process was an educational one in more ways than one. Volkert had the opportunity to educate Hillsboro on how complex infrastructure projects get funded and built. But Hester says the town opened his eyes to the challenges Hillsboro leaders faced when their constituents were all directly impacted by the work. "You have folks living on the corridor who are actually in charge of developing it," he says.