Edited by Laurie A. Shuster
Gaelle Ghanem, an affiliate member of ASCE and one of the 2021 New Faces of Civil Engineering-College honorees, is nothing if not curious. She graduated in 2021 from Lebanese University Faculty of Engineering II with an M1 degree, which is a bachelor's degree plus one year of a master's program. Her passion for learning led her on a path that combined structural and transportation engineering, and in April she landed her first full-time job, as a structural engineer in a third field — telecommunications — working for Nexius, which has its U.S. headquarters in Frisco, Texas. She recommends that students graduating from universities participate in activities, brush up on their social skills, and use all available sources to find a job.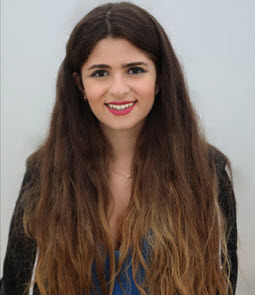 Civil Engineering: How did you first become interested in civil engineering?
GG: My aunts are architects, and I was always interested in what they were doing. I watched them work, and that got me interested in buildings.
Then while I was in high school, I went to a university conference where professors were giving presentations on each major. Civil engineering appealed to me because I am someone who likes to think and to build. I'm not interested in just creating stuff; I am interested in making things work. So that made me more interested in civil engineering than architecture. I decided that civil engineering was it.
Once I applied to Lebanese University, there was an entrance exam, so it was a challenge for me to get in. I had to prove to them and myself that I am made to be a civil engineer.
What were your favorite courses at university?
Everything that made me think outside the box. For example, I liked anything related to the mechanics of materials and understanding how structural stability works. Then when I got into the later years at school, I started taking courses related to roads and transportation. I did my final-year project that I had to present to get my diploma on transportation. So I got the best of both worlds.
Where were your internships and how did they help you?
My first internship was in my third year and involved buildings. I got to visit sites in the field and see how everything was built from scratch.
During that time, I was also in a national competition with a friend to design self-compacting concrete mixes. I had to try to optimize the mixture. I learned a lot from that and became interested in optimizing materials.
Then in my fourth year I did an internship with the Dar Group, an international infrastructure design company. It involved the calculation and design of structures, and I got to apply what I leaned in college to a real-life project. Because of COVID, the internship was online. It was challenging because we weren't very close to our supervisors; we couldn't just ask them a question whenever it popped into our minds.
How did you conduct your job search once you graduated?
We were in COVID lockdown after Christmas 2020 and into New Year's, and I was finishing my college courses. I had signed up to be sent opportunities through LinkedIn, but I hadn't applied for any yet. I got the one from Nexius and was talking to a friend about it. Out of the blue, he told me that he worked there. I didn't know! He referred me for the job, and then I got one interview after another until I was offered the job.
When I sent him my resume, it was right when I had been selected as one of the ASCE New Faces of Civil Engineering, and I think he mentioned that. I think it helped.
How did you prepare for the interview?
I searched for the company and learned as much as I could about what they do and what their goals are. Plus, I asked my friend about the job description and the company goals. He told me the kinds of questions they were likely to ask in the interview. I like to be prepared.
What appealed to you about the job?
It related to structures and stability, but it was something new — something I did not know before, which was telecommunications. And I like to learn, so I was interested in learning and growing here. After a few months here, I can say that I have learned a lot. In fact, I hadn't expected to learn this much!
Now that you have been in the position for a several months, how does the job compare with what you expected?
I expected it to be way less than it is. I expected there to be two or three tasks that I would be doing, but when I got here, I learned that this job is way more diverse. We have many steps and different types of analyses that we conduct. I had expected it to be a small learning opportunity, but it turned out to be a very big learning opportunity that never ends. And I am a person who loves to learn new things, so I like this challenge.
For example, I learned to analyze the structure of towers using a specific software, tnxTower. When we are replacing all the antennas on the structure, we do calculations in the software and by hand, and this was something I didn't know at all. It is way different than what I learned at the university.
What do you like most about the company and the job?
We have what we call the PURPLE values, which stands for progressive, unstoppable, revolutionary, purposeful, liberators, and entrepreneurial. When I was researching the company, I came across these, and I felt like I aligned with those principles. We have a culture that values working together and getting to know each other. They want to hear your ideas, and they want you to learn and grow. Also, this is a very diverse company, which was important to me.
What role do you see yourself working toward next?
When we get to expand our team, I'd like to teach other new civil engineers what I have learned. Hopefully in the future I will also get to manage a team.
What advice do you have for those coming out of school now?
First, don't just rely on one way to look for a job. Search and use job sites, but also talk to people. Had it not been for my friend, I might not be here.
Also work on your social skills. Skills like communications play a very important role; they help you stand out.
Participate in clubs and extracurricular activities. As a member of my ASCE student chapter and as its secretary, I helped prepare conferences and I was active in committees. It is important to not just join but be active.
What personal traits do you have that help you in your job?
My love of learning is one — being a curious person and asking questions. And being competitive. When I learn of a competition, I have to enter; I cannot sit by. I have to see what I can achieve. I don't give up. I push myself to do more. Because there is no finish line.