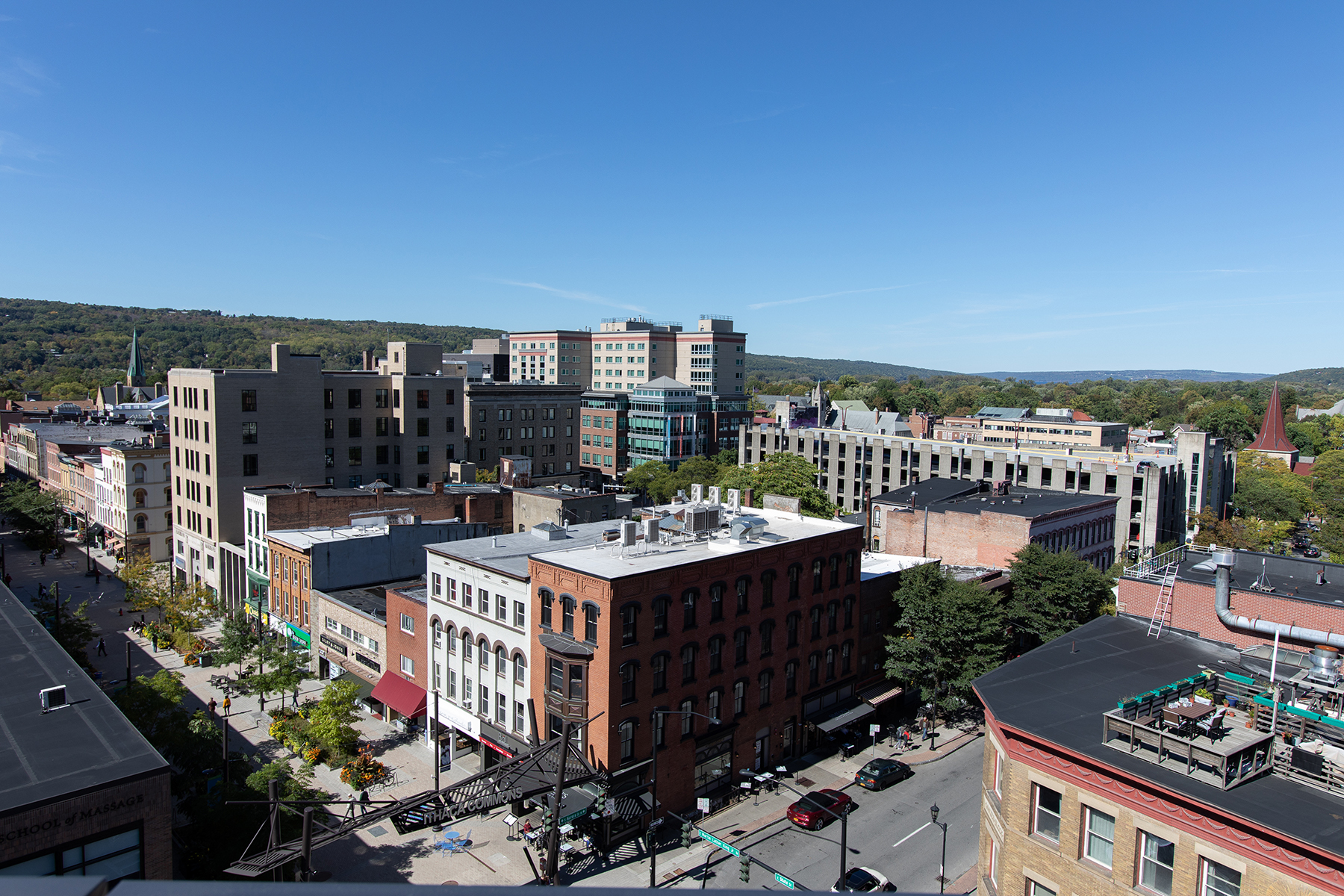 By Jay Landers
Ithaca, New York, recently became the first city in the world to commit to electrifying all its buildings, a key step in Ithaca's efforts to reduce carbon emissions. Situated in New York's Finger Lakes region and home to Cornell University and Ithaca College, the city of approximately 31,000 residents also intends to pursue renewable energy sources in an ambitious bid to decarbonize its economy.
Greening buildings
In 2019, the Ithaca Common Council adopted the Ithaca Green New Deal, an aspirational program intended to address climate change, economic inequality, and racial injustice. Among its goals, the Ithaca Green New Deal commits to achieving communitywide carbon neutrality by 2030.
Ithaca generates an estimated 400,000 metric tons of carbon dioxide emissions annually, according to information provided by the city. The two largest sources of such emissions are transportation and stationary sources, including residential and nonresidential buildings. The city has approximately 6,000 buildings that mostly use natural gas to fuel furnaces and hot water heaters, says Rebecca Evans, a sustainability planner for the city.
In November, the Ithaca Common Council approved the selection of a team led by BlocPower, a startup that focuses on greening older buildings, to lead the process of converting buildings in the city to rely solely on electricity as their fuel source. Other members of the team include Alturus, which will oversee the electrification of commercial buildings, as well as Guidehouse, Energetic Insurance, Taitem Engineering PC, and the Cornell Cooperative Extension of Tompkins County.
Improving energy performance
Known as the Efficiency Retrofitting and Thermal Load Electrification Program, the multiyear effort also includes a significant focus on improving the energy performance of buildings and reducing energy demand, Evans says. Because many buildings in Ithaca are fairly old, they make prime candidates for improving energy efficiency. Weatherizing and improving building resiliency are "wrapped up into the electrification program," she notes.
"The main objective of the (Efficiency Retrofitting and Thermal Load Electrification Program) is to gradually improve the overall energy performance of the city's building stock," according to Ithaca's request for proposals, issued in August, for a program manager to head the effort. This improved performance is to be achieved "by assessing each individual building and determining potential energy efficiency improvements, through energy retrofitting and the substitution of non-electric thermal loads and air conditioning systems, with air-source and ground-source heat pumps, and the installation of efficient lighting, photovoltaic and solar thermal systems, onsite storage, smart thermostats and smart meters," according to the RFP.
By electrifying buildings and improving their energy performance, the city of Ithaca "expects to eliminate most emissions from energy use in existing residential and commercial buildings, which today account for almost 40% of the total emissions in our city," said Svante Myrick, Ithaca's outgoing mayor, in a Nov. 4 news release issued by BlocPower.
Ithaca plans to implement its electrification program in two phases, the first of which will involve 1,000 residential and 600 nonresidential units, according to the RFP. Phase 2 will entail 3,500 residential and 900 nonresidential units. As part of both phases, the program will prioritize buildings located in low-income and historically marginalized communities.
Cornell connection
Researchers from Cornell University's Circular Construction Lab and Environmental Systems Lab are working with the city and its partners to identify individual buildings within the city that will be part of the initial electrification program. To assist with the selection process, the researchers are using a model that they developed to simulate the material stock and energy performance of all residential buildings in Ithaca, says Felix Heisel, an assistant professor of architecture and the director of the Circular Construction Lab within the Cornell University College of Architecture, Art, and Planning.
Using publicly available data, the researchers designed the model to include such parameters as building location, geometry, and construction typologies. In this way, the researchers "can run a unique material and energy simulation" for each building, Heisel says. The model can be used to evaluate "what-if scenarios," examining the extent to which various retrofitting techniques reduce operational carbon emissions while also assessing the embodied carbon contained in exchanged and new materials as part of the retrofit, Heisel says. "We can look at (a) scenario holistically and say, 'When does it make sense to do which kind of retrofitting, for example, and what's the real impact?'" he says.
The model also enables a big-picture assessment of potential building modifications conducted on a large scale. "We can validate specific proposals or assumptions and evaluate their impact not only on the building but also on the urban scale," Heisel says.
More broadly, Heisel views the use of the model as part of Ithaca's decarbonization program as a test case for potential application in similarly sized cities across the nation. "While, of course, every city is extremely specific, we aim to make our modeling setup scalable and applicable to a similar set of towns around Ithaca and within the U.S.," he says.
Seeking renewable energy sources
Of course, electrifying all buildings within Ithaca will only reduce carbon emissions to the extent that the electricity sources themselves are carbon-free. In this regard, Ithaca benefits from the fact that "upstate New York has a relatively clean fuel mix compared to the rest of the country," Evans says. The city receives its electricity from New York State Electric and Gas. Thanks to the availability of hydropower and nuclear power, "only about a third" of Ithaca's electricity currently comes from coal and natural gas, she notes.
To further reduce its reliance on fossil fuels, Ithaca plans to ramp up the delivery of local renewable energy sources, including solar and geothermal power. Meanwhile, development of renewable energy sources will be needed to offset the increased local demand for electricity that will result from the push toward building electrification.
"Electrification could potentially double electricity loads, but this is expected to be mitigated with local renewable energy projects," Evans says. For example, Ithaca is evaluating the feasibility of constructing a 6 MW solar array, which would provide enough electricity "to cover basically all municipal operations," she notes. At the same time, Ithaca also will encourage private residents to install renewable energy projects on their properties when practical.
Local renewable energy installations, and the power they generate, also will be needed to prevent potential increases in electricity prices. "As we transition to all electric (power) and off of natural gas, it's going to drive up demand for electricity in this area and otherwise drive up costs in this region for electricity," Evans says. Therefore, while Ithaca is "transitioning to full electric buildings, we'll need to also be implementing and strategizing around renewable energy projects here locally that can supplement that demand," she says.
Here, too, the model developed by the Cornell researchers can play a role in assessing how best to proceed. For example, the researchers are aiming to analyze the solar potential of rooftops in the city, Heisel says.
Paying for decarbonization
Ithaca's building decarbonization effort is expected to cost approximately $650 million, Evans says. "If we add smart controls and grid-interacting technology, that number could reach upwards of $800 million," she notes. If the cost of renewable energy projects and necessary upgrades to the city's aging distribution system are included, "we're looking at a total of approximately $1.2 billion," Evans says.
Some of this funding will come from homeowners and others looking to participate as part of Ithaca's voluntary electrification program. "To electrify and increase its efficiency, an average single-family home would have to spend about $50,000," says Dom Lempereur, the chief of engineering at BlocPower. "In Ithaca, not all the buildings are single homes. Many are larger units."
Low-interest loans will be available to help program participants finance the costs associated with the program. "The idea is to bring interest rates down so low that it becomes very, very affordable, especially for low-income people, to access this sort of technology," Evans says.
Private and public funding sources will be pursued for the project, Lempereur says. "The Ithaca program relies on private investors and energy program incentives from local governments and utilities to reduce the cost of capital and interest rates for project finance," he notes. Other potential funding sources include the U.S. Department of Energy and the New York Green Bank, he says.
As for how Ithaca's decarbonization efforts might affect the broader electrical grid to which it is connected, that remains to be seen. "The city of Ithaca has outlined a bold transition, and NYSEG is working to collaborate with the city," says Kelly Packard, the manager of corporate communications for Avangrid, which owns NYSEG. "More specifically, we are working to identify how large-scale electrification may impact the grid and the investments required to support it. As part of this analysis, NYSEG and the city are also collaborating with the state (of New York) to forecast and study long-term trends related to the electrification of transportation and heating and increased adoption of solar (photovoltaic technology) in the Ithaca area and will use this analysis to help inform needed solutions."