By Jenny Jones
Durable and strong, concrete is the most widely used building material in the world, but research shows it is also one of the most environmentally destructive. According to a 2019 paper in The Proceedings of the National Academy of Sciences, the cement industry accounts for 8% of global carbon emissions — the most of any industrial emitter. So, with designs for a new hotel in Colorado calling for a carbon-positive concrete building, the project team is being diligent about developing and following its carbon budget.
"The built environment, including homes, accounts for 45% of the global carbon footprint every year, and as developers, we need to take some responsibility for that impact," explains Grant McCargo, co-founder, CEO, and chief environmental officer of real estate developer Urban Villages. "That's why we decided to be bold and go carbon positive, meaning this hotel will offset more carbon than we put in."
Urban Villages is developing the hotel with sustainable design and construction features to meet its structural carbon budget, which is set at 4,397 MT CO2e, says McCargo. (This is the equivalent of the amount of energy used by 530 homes annually).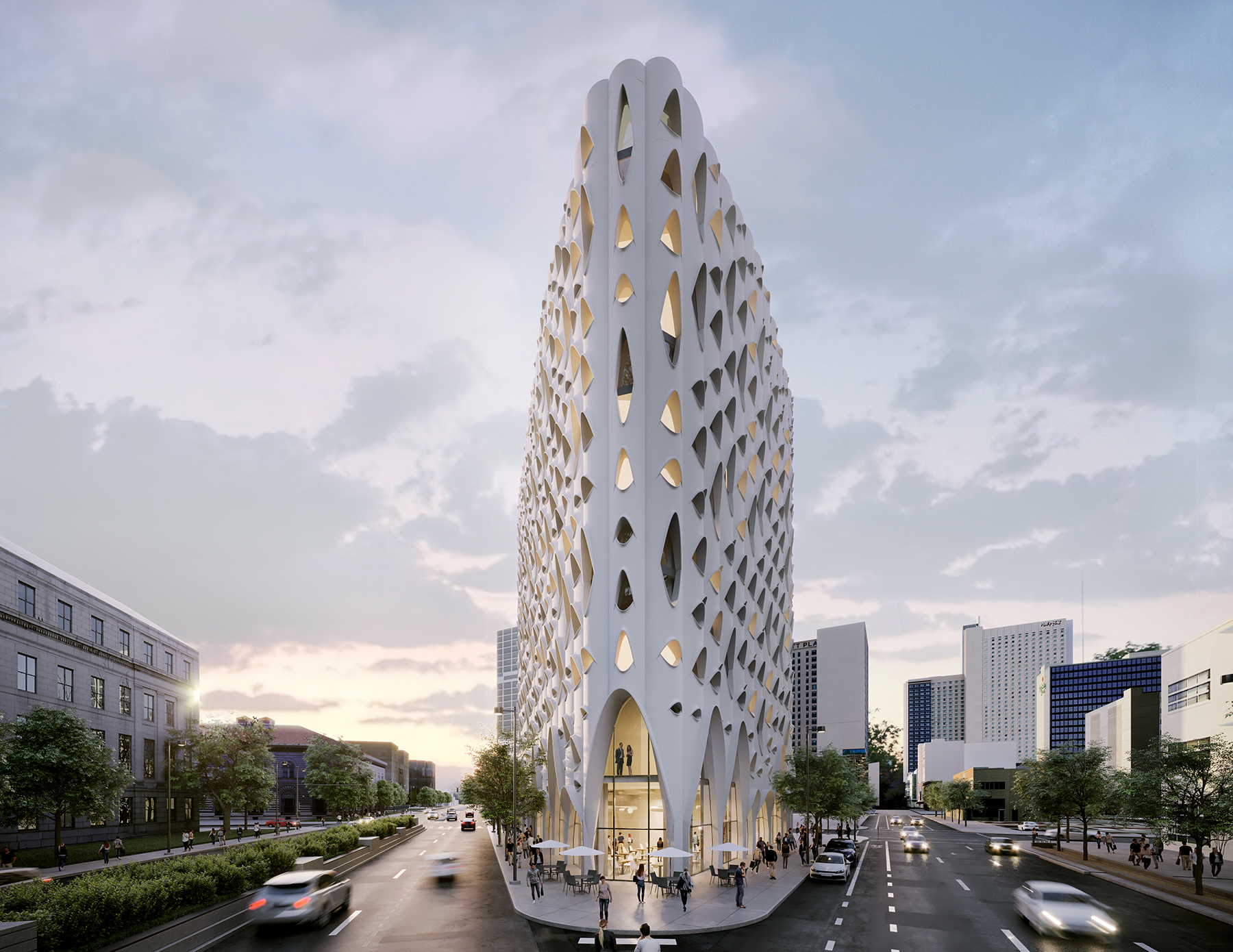 The 135,000 sq ft hotel is under construction on a 10,000 sq ft, triangle-shaped property in downtown Denver at the intersection of 14th Street and West Colfax Avenue. The prominent site is adjacent to Civic Center Park, a 12-acre community space surrounded by historic museums and government buildings, including the Colorado State Capitol.
Scheduled for completion in late 2023, the hotel will rise 13 stories and have 265 guest rooms. A striking facade with domed windows will contribute to the building's carbon-positive operation while also evoking Colorado's aspen trees, scientifically known as Populus tremuloides — lending the hotel its name, Populus.
According to reports, Populus will be the first carbon-positive hotel in the U.S.
A substantial ecological effort off-site, including an initial commitment to plant trees that represent over 5,000 acres of forest, will also contribute to the project's carbon-positive goals, McCargo says. This embodied carbon footprint offsetting is equivalent to nearly 500,000 gal. of gasoline. In the future, Urban Villages plans to plant more trees to offset the hotel's operational energy consumption.
Transformative design
The city of Denver kick-started the project in 2017 when it issued a request for proposals for a hotel. McCargo says that his firm submitted a proposal because it wanted to have an indelible impact on Civic Center Park, which the city had originally developed as part of its bid to become the state capital in 1867. The city has recently spent millions revitalizing the park.
"We loved the opportunity to go in and make a significant difference," McCargo says. "We won the project not because we offered the best price but because they knew we would do something transformative."
To that end, Urban Villages worked with world-renowned architecture firm Studio Gang on a design that would be visually stunning and environmentally positive — the latter being a complete transformation of what was once the site of Denver's first gas station. Studio NYL was eager to serve as the structural and facade engineer for the ambitious project.
"The kind of work that we take on has some aspirational goal — sometimes it's performance; sometimes it's building aesthetics," says Chris O'Hara, P.E., founding principal of Studio NYL. "This project has both: It's trying to be a carbon-positive building over its life as well as being this icon in a very prominent location."
The hotel will achieve its carbon-positive goals mostly through building operations, but O'Hara notes that several structural elements, including the facade and concrete mix, will also contribute to its efficiency.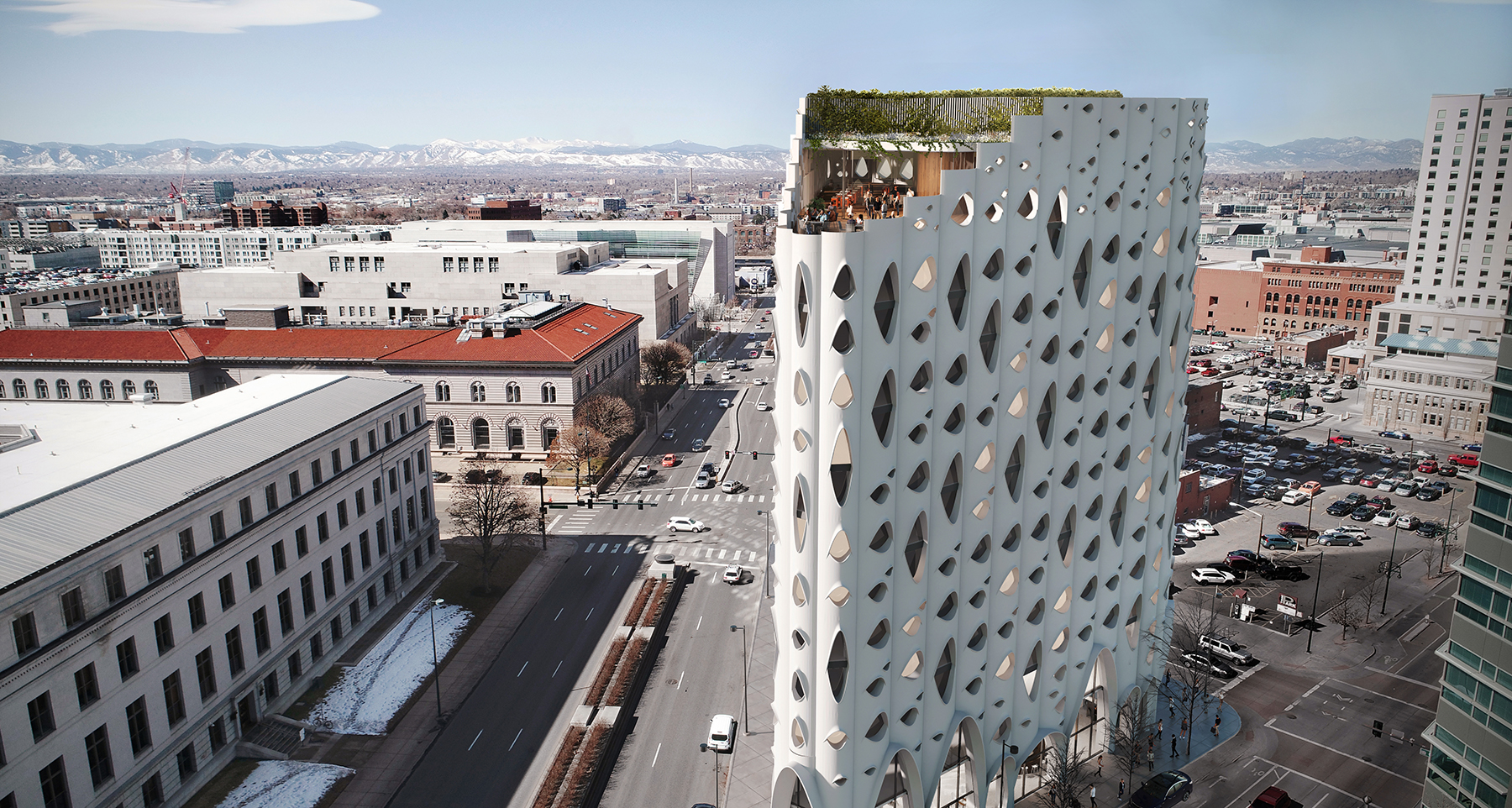 "A tight envelope was definitely important to achieving a high-performance building and minimizing the mechanical systems needed to service it," O'Hara says. "For the structure, it's all about trying to limit the amount of carbon in the concrete. As structural engineers, we're really trying to keep the material use down and follow our carbon budget."
Low-carbon concrete
Despite concrete's embodied carbon, the team selected the material due to the project's restrictive design parameters. O'Hara notes that the site's geometry, height limitations due to state capitol sightlines, and the square footage all drove the need to use concrete. "All of these different things made a flat-plate concrete system most appropriate to the architecture," O'Hara explains. "So, then the question really became, 'How can we take a building that has so much cement in it and make it as good as we can from a carbon perspective?'"
To meet that objective, the team is using a variety of approaches to limit the amount of concrete in the project. These include maximizing slab continuity, placing columns to take advantage of exterior cantilevers, and limiting column transfers while considering the impacts to the required amounts of steel reinforcement, O'Hara says. "The most important items are the integration of the column rhythm and cantilevers with the unit layout and the facade support strategy," he says. "With the desire to reduce material, we reviewed a variety of spacing options and cantilevers to work with the unit needs and mechanical circulation, and (we considered) how those integrated with the main level and amenity needs."
In addition to limiting the amount of concrete in the project, the team will use low-carbon concrete to meet the carbon budget. Fly ash, for example, reduces the amount of carbon in concrete. "We're at a minimum of 20% fly ash on this project, and we limited the maximum embodied carbon for each type of concrete placement, for example in the drilled piers, walls, columns, flat slabs, etc." O'Hara notes.
O'Hara says that carbon sequestration, a process that converts carbon dioxide into a mineral that is permanently embedded in concrete, could also further limit the concrete's carbon content. "There are four ready-mix plants in the region that use CarbonCure, which is a carbon sequestration technology," O'Hara explains. "Carbon sequestration is not currently in our embodied carbon budgets, but it's going to be a big goal for us to integrate it into our concrete mix design. We're just getting those plants on board now."
Facade design
Like the concrete mix, the hotel's envelope will be integral to achieving the project's carbon-positive goals. From an aesthetic perspective, the facade design recalls the state's aspen trees. "As an aspen tree grows, the branches fall off lower down with most of the canopy up higher," McCargo notes. "Where those branches fall off, it makes this charcoal gray eye-shaped eyelet. So, when you look at the facade and think, 'Wow, look at all of those different windows,' it's mimicking what the trunk of the tree looks like, and it creates a fun shape."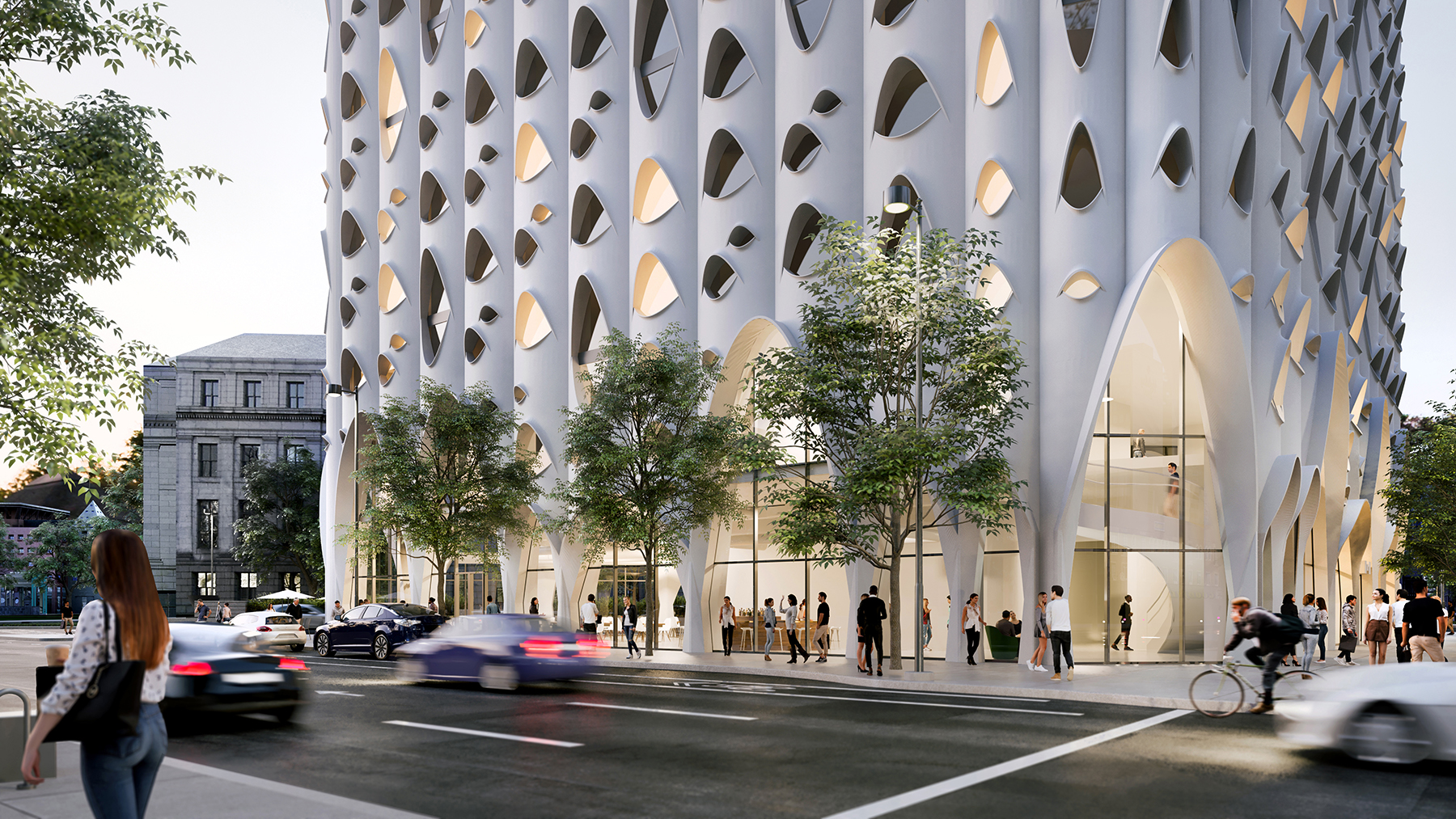 More than creating whimsical patterns on the facade, the placement and shape of the windows are also intended to reduce the building's energy needs. "We have a true opaque system with less vision glass than a lot of buildings of this typology, which means our solar heat gain is much less," says O'Hara, adding that the dome-shaped window design provides self-shading that also limits solar gain. "In Colorado, with the high solar intensity, getting that vision glass well shaded was a huge element in terms of getting better building performance."
Another important element to achieving the project's carbon-positive objectives is the method for attaching the facade to the structure. The facade will comprise glass fiber reinforced concrete panels, measuring approximately 20 ft tall by 10 ft wide. Unlike a typical rainscreen that attaches to the structure every 24-48 in., the panels will attach at the floor lines every 10 ft with dead load anchors, O'Hara says. "What that enables us to do is limit the number of potential thermal bridges in the facade so that we don't need as many thermally broken connections," he says.
What's more, the panels will carry much of the eccentric and in-plane seismic loads, so they will have pin connections rather than rigid fixed connections for minimal transmission. The frames of the panel act as pin-supported moment frames that do not transmit any flexural loads to the edge of slab "By doing that, we're able to keep our overall building insulative value much tighter than a conventional building as we can use more simplified thermally broken facade connections that only occur at the floor lines," O'Hara explains. "Getting all of that integrated as one holistic system of both structure and facade working together makes it way more efficient."
Industry standard
With intentional steps to limit the amount of carbon in the building's structure, the project team anticipates that the hotel will be well poised to achieve the balance of its carbon-positive objectives through building operations. According to McCargo, this includes off-site renewable energy, composting, and daily operational efficiencies. "We can do only so well with a concrete building," O'Hara admits, "but when you look at this project holistically in terms of how it will be operated and managed, that's where a lot of the carbon goals are met."
While building operations will ultimately make this a carbon-positive project, O'Hara anticipates that rigorous carbon budgets like this will become the norm in the future.
"We're in the process of doing life-cycle assessments on every project that comes out of this office," he says. "We have the mindset that if you don't measure it, you can't manage it. Whether they want to know it or not, we're going to start telling our project partners the carbon footprints of the different material options as we go through the schematic design. Some owners may choose to ignore that data, but our job is to at least give them the data to make informed decisions."
As more developers are exposed to this information, the expectation is that more will consider the environmental impacts of their projects, says Mere Hall, P.E., S.E., senior associate with NYL Studio. "The main focus is getting the knowledge out there so people can start having the discussions to help push along these efforts toward greater environmental sustainability," she says. "I really hope that this becomes the industry standard and part of what we provide to move projects forward."