By T.R. Witcher
The North Split interchange, just northeast of downtown Indianapolis, merges traffic from Interstate 70 with traffic from Interstate 65. First built in 1968, the interchange is the second-most trafficked interchange in the state — 214,000 motorists use it every day — and it has reached full capacity.
Starting in November 2020, the Indiana Department of Transportation embarked on a reconstruction of the interchange, which will include the restoration of 50 bridges and 27 lane-miles of new pavement. The new interchange will also improve safety and reduce bottlenecks by eliminating "weaving," where streams of traffic are forced to cross paths with one another.
Jacksonville, Florida-based construction company Superior Construction won the bid to construct the new interchange, and one condition of its contract with INDOT was that Superior would conduct monthly aerial surveys of the construction site.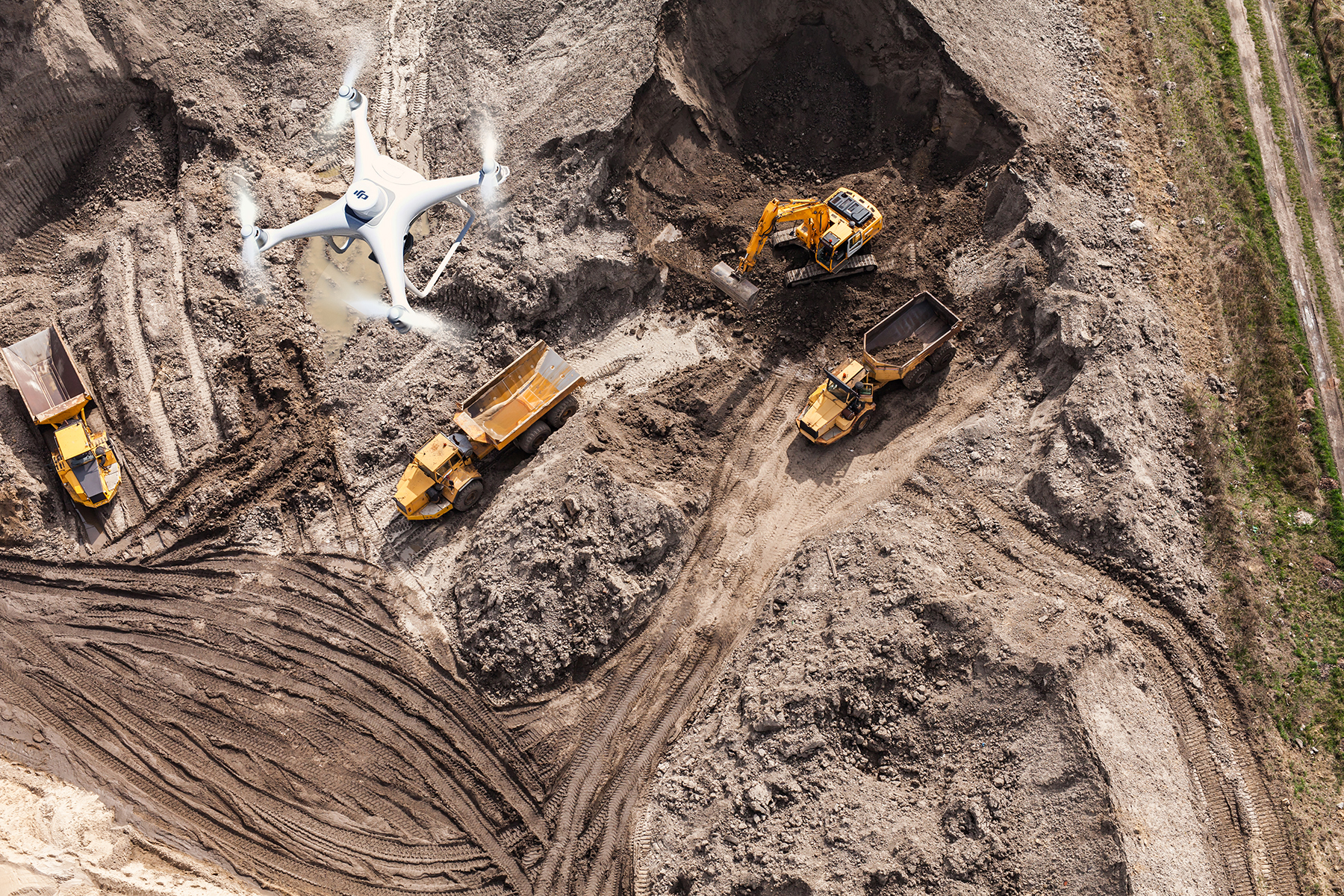 "INDOT is continually evolving and finding new, innovative ways to document progress," said Kyleigh Cramer, public relations director for INDOT's Greenfield District, which includes Indianapolis. "Drone surveying has helped not only the North Split team measure progress, but it's been a great tool to show the public what is happening on a project that is in the heart of Indianapolis."
Increasingly, state transportation departments are turning to drones for various tasks, including surveying. According to a 2019 report by the American Association of State Highway and Transportation Officials, more than seven out of 10 state departments of transportation have "hired hundreds of staff, including highly skilled personnel and pilots to manage drone operations."
The year the report was released, 36 state DOTs had funded centers or programs for drone operations — 10 states reported partnering with colleges to train drone pilots. At the time, 29 DOTs reported that using drones helped save money on construction projects. Observers say drones are also more efficient and safer than traditional surveying methods.
"As recently as last year, 45 state DOTs had some kind of construction activity using drones," says King W. Gee, M.ASCE, the director of safety and mobility for AASHTO. "At this point, I'd be surprised if there was a state that still had not yet gone into drone use of some kind." In addition to surveying and bridge inspection, those activities include incident response, disaster management, and asset management such as monitoring and managing slope stabilization.
Aerial footage over the interstate
To provide the aerial footage the state required, Superior partnered with Propeller Aero, a company founded in Australia and with offices in the U.S., Europe, and Asia. Propeller offers a "turnkey 3D drone mapping and analytics platform," according to Margaret Farmakis, the company's vice president of customer solutions.
For the Indianapolis project, Superior flew a DJI Matrice 300 RTK drone, selected for its ability to fly well in difficult weather. Four Propeller-built points called AeroPoints, which are about the size of a baseball base, are placed on the ground throughout the construction site. "They serve as a triangulated reference point for where the drone is in space relative to where the different points on the work site are," says Farmakis.
Since November 2020, Superior's drone has made approximately two back-to-back flights every two weeks, covering an area about 1.5 mi east to west and 1-1.5 mi north to south, at an altitude of approximately 330 ft. (The Federal Aviation Administration prohibits drone flights above 400 ft.)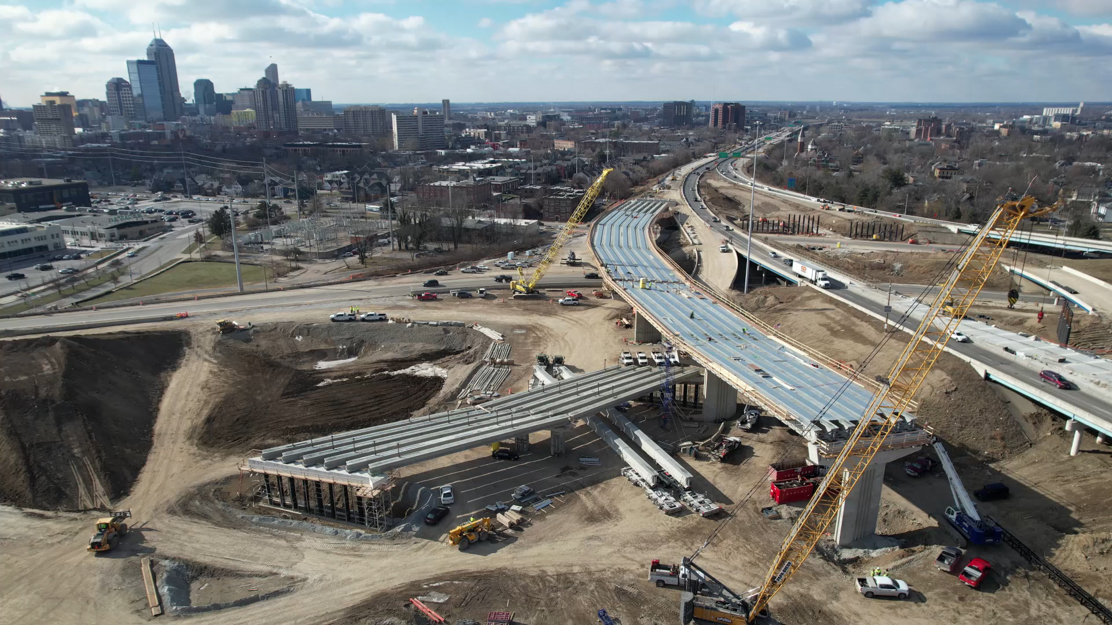 Collectively the flights last just under two hours, and the drone takes about 3,500 high-resolution images. Those images are then uploaded into Propeller's proprietary software platform and stitched together into 3D maps of the site.
"It's incredibly easy to fly more often and capture more data and share more data," says Mark Santucci, an engineering manager at Superior. "I have digital models and terrain models. I have most of those uploaded to Propeller, so our engineers can do a quick survey where we're sitting versus where we were last week."
Drone footage gives construction managers a "semi-current view of the site conditions," Santucci says, which can help in staging construction materials, on-site traffic patterns, and haul routes. "The design can be overlaid on top of the image to give an accurate view of where structures or topographical features will be when the project is complete."
Safety standards
According to Farmakis, surveying a site using traditional methods and on foot might limit a surveyor to covering 5 acres a day, depending on the topography of the site. "From a safety perspective, it's not ideal," she says. "From a time and money perspective it costs more and takes more time. With drone surveying, the surveyor or pilot can survey that same amount of acreage in a fraction of the time but standing in the same spot."
Surveying by drone is safer too. "You don't have surveyors on ground," says Santucci. "You're not interfering with traffic. You don't have to worry about somebody looking at that surveyor while they're driving at 50 miles per hour. You don't have to worry about an instrument being run over."
"The simple fact is (drones are) keeping our workers out of harm's way because it is aerial for the most part," adds Timothy Burch, the executive director of the National Society of Professional Surveyors. "Even the places where we're using remote sensing (like lidar), that is so much safer than having someone out trying to do it manually with old survey methods."
What's next?
The North Split project will be complete in November.
Still, challenges remain for the widespread adoption of drones in aerial surveying. "I would have thought by now we'd be using them more than we are," says Bill Johnson, a vice president at DAS Geospatial, a Dallas area-based aerial surveying company that uses airplanes and drones. "There are a lot of factors that come into play with that."
Chiefly, Johnson says, helicopters and airplanes can more easily handle larger, more accurate sensor and camera systems. Further, drones end up taking many more images than more advanced systems on larger aircraft, which means longer processing time. Finally, the crash record of drones might make many surveyors think twice before mounting the most expensive gear on them. "I typically say, 'It isn't a matter of if the (unmanned aerial vehicle) will go down but when,'" Jonson says. "So the thought of putting a half million or more dollars on a UAV is a scary proposition."
AASHTO's Gee says there are other challenges, including "the cost of the equipment, the training for the operators as well as the people processing the data." He adds that other issues include maintenance costs, user support, and "just the old resistance to change. But the level of accuracy, the amount of data, and just getting inspection and survey crews off the highway is a big time and safety savings."
"The science is still developing," says Gee. "I think the potential is huge. Lots of studies are still ongoing both in terms of how states are using them and how to improve the data processing."