By Jay Landers
In mid-June, historic flooding in northwestern Wyoming and southern Montana forced the temporary closure of Yellowstone National Park, one of the most iconic destinations operated by the U.S. National Park Service. Although much of Yellowstone was reopened a little more than a week after the event, infrastructure damage was severe in many locations, particularly within the northern reaches of the park. In the face of costly repairs that could take years to complete, the NPS must confront the thorny questions of whether and how to rebuild damaged infrastructure in some of the nation's most ecologically sensitive areas.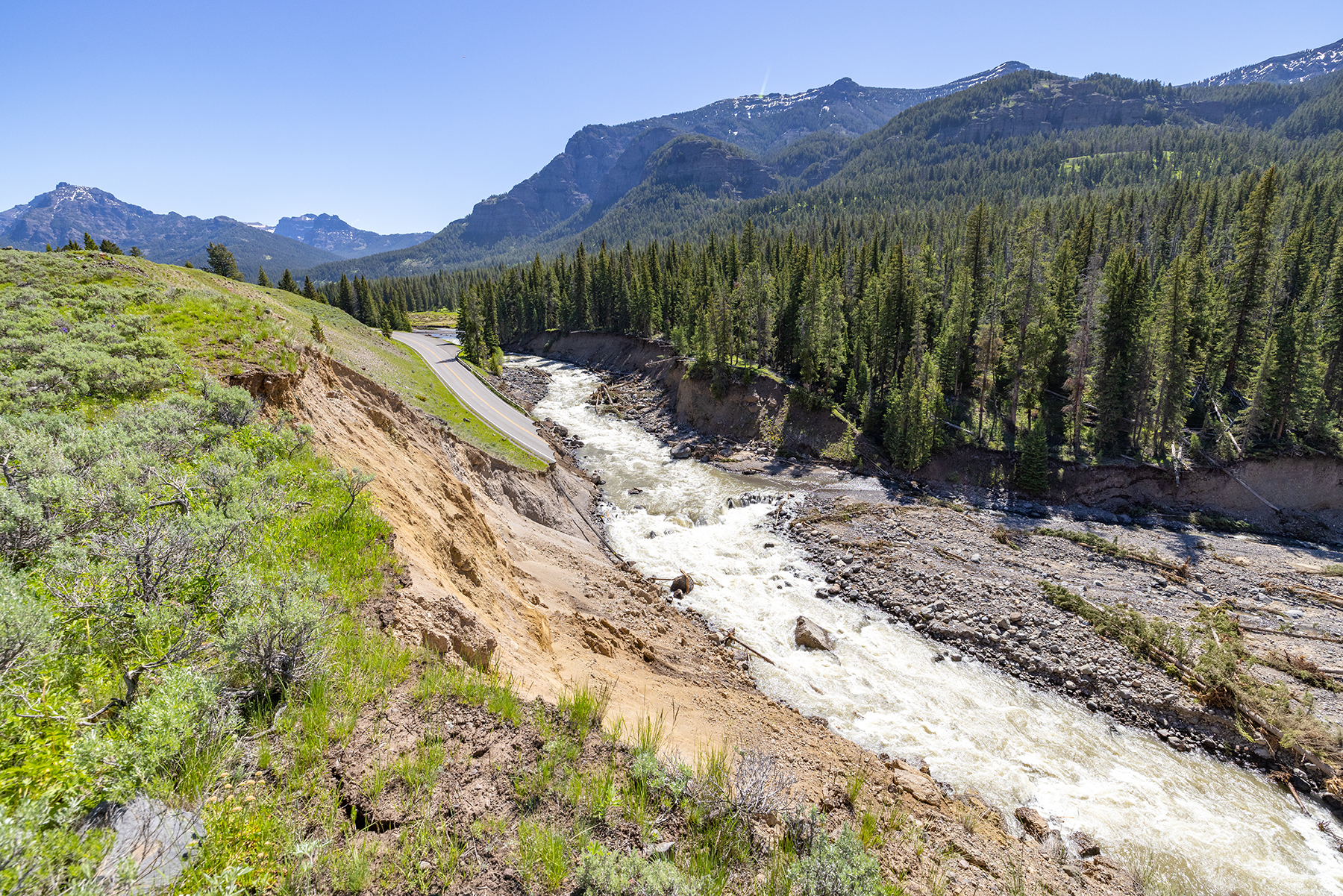 'Unprecedented' flooding
Within Yellowstone National Park, the Yellowstone River flows north by northwest from the park's southeastern corner toward its North Entrance near Gardiner, Montana. During the second week of June, an unfortunate combination of weather conditions led to "literally unprecedented" flood levels along the Yellowstone River in the park and in southern Montana, according to a June 20 news release from the U.S. Geological Survey describing the event.
"During June 10-13, 2022, an 'atmospheric river' event — a system of warm and extremely wet air that usually originates in the tropics — struck the Yellowstone National Park region," according to the USGS release. "More than 2-3 inches of rain, combined with warm overnight temperatures, melted a large amount of snow that had not previously melted because of a cool and snowy spring. The result was historic flooding."
On June 13, the day of the disaster, the Yellowstone River reached a height of nearly 14 ft at Corwin Springs, Montana, which is approximately 10 mi north of Yellowstone's North Entrance. This water level was about 2.5 ft higher than the previous recorded high in June 1918. "Discharge peaked at approximately 50,000 CFS (a provisional estimate that is subject to revision), which was much greater than the previous peak flow of about 32,000 CFS from 1918 and in the late 1990s," according to the USGS release.
The flooding forced the evacuation of approximately 10,000 visitors from the park. Fortunately, no injuries to visitors or park staff were reported.
Widespread destruction
Not surprisingly, park infrastructure along or near waterways sustained the worst damage. For example, much of North Entrance Road — an approximately 5 mi long stretch of U.S. Route 89 that extends from the park's North Entrance to the Mammoth Hot Springs area — runs beside the Gardner River, a tributary of the Yellowstone River. This road experienced major damage.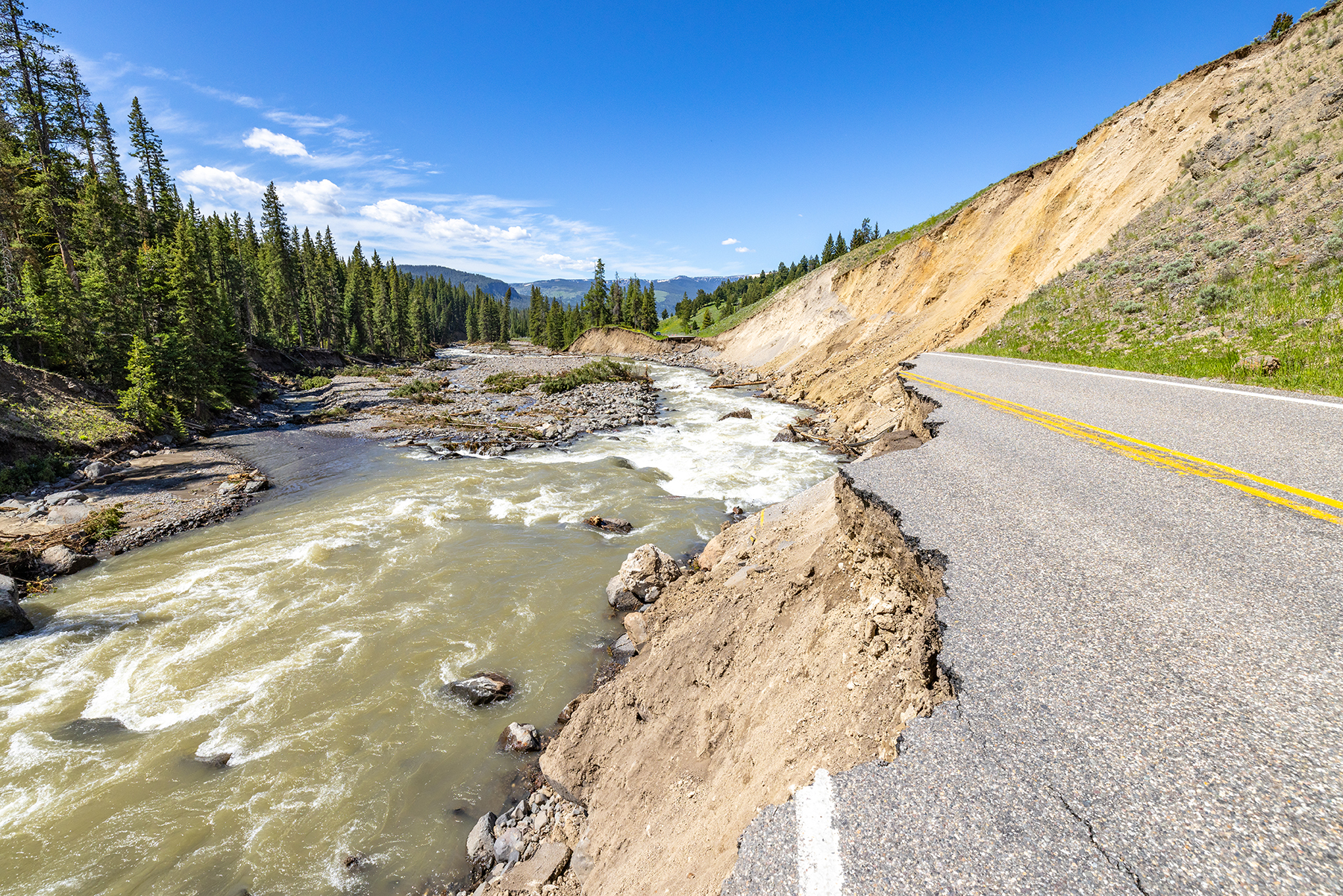 A "significant amount" of the road "was damaged to where it's totally impassable," says Steve Iobst, a former Yellowstone deputy superintendent who retired from that position in 2016. Iobst, who spent half of his 43-year NPS career at Yellowstone, has spoken with current park staff about the damage and has reviewed images provided by the NPS. "They have lost whole portions of that road," he says. "Asphalt, base, subbase, and beyond."
Northeast Entrance Road, a 29 mi long stretch of U.S. Route 212 that extends from the park's Northeast Entrance near Silver Gate, Montana, to the Tower-Roosevelt area, also suffered severe flood damage. Along with mudslides and downed trees, Northeast Entrance Road had a "segment of road washed out," according to a June 17 online update provided by the NPS. Elsewhere in the park, other roads also experienced washouts, mudslides, and downed trees. "Many sections of road in these areas are completely gone and will require substantial time and effort to reconstruct or relocate and build," according to the update. "In some cases, roads may not be able to be reconstructed in place and will need to be relocated."
Meanwhile, flooding destroyed a section of sanitary sewer in the park's Mammoth Hot Springs area. Although temporarily repaired, the damaged sewer will require a permanent fix in the future, according to the NPS.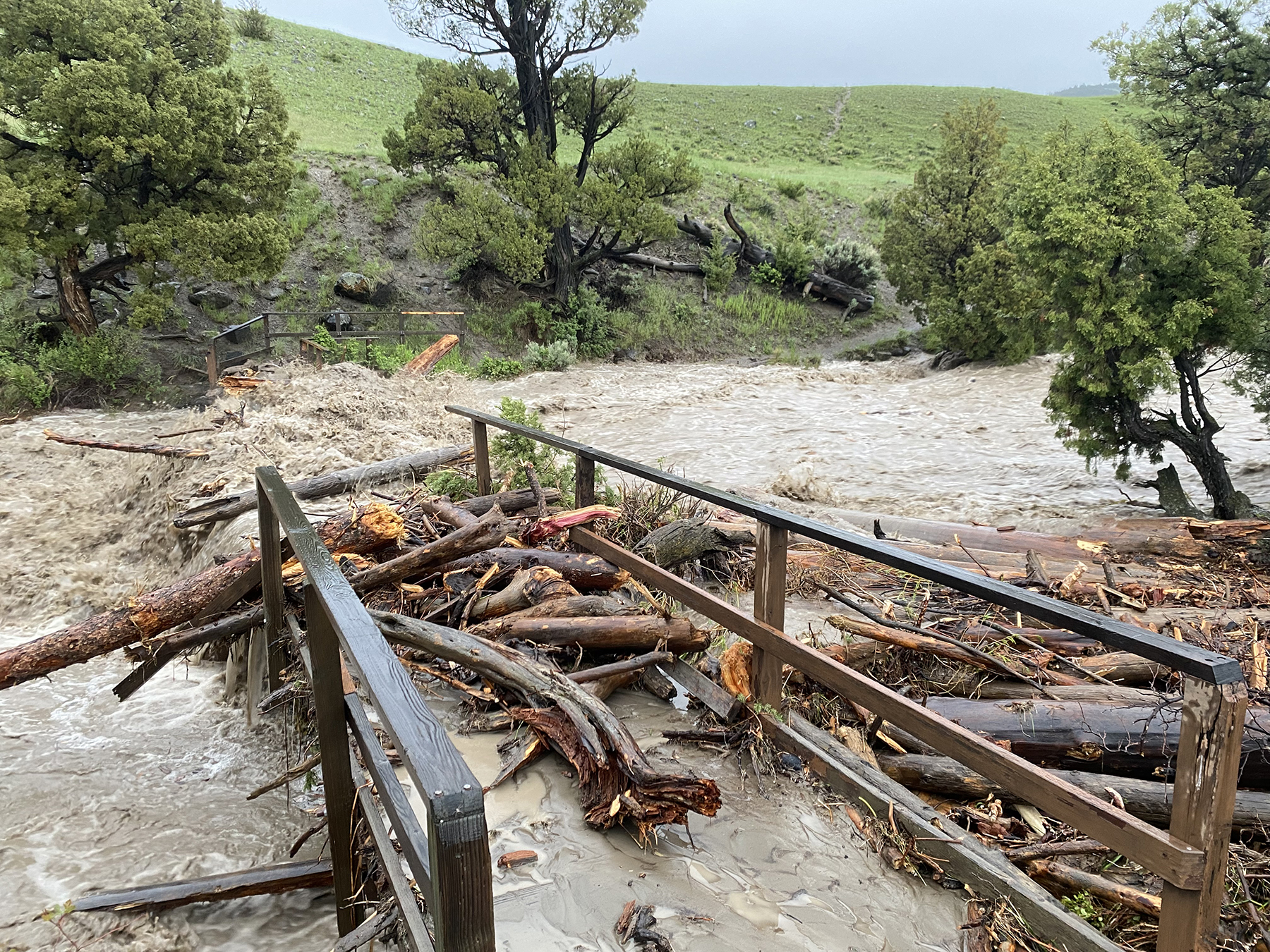 Because of flood damage, the Slough Creek and Pebble Creek campgrounds in northeastern Yellowstone had to be closed for the rest of the 2022 season. Named for the waterways beside which they are located, the two campgrounds each have roughly 30 sites and are "very popular," Iobst says. "Those are going to need to be rebuilt." Numerous trails also experienced washouts as a result of the flooding.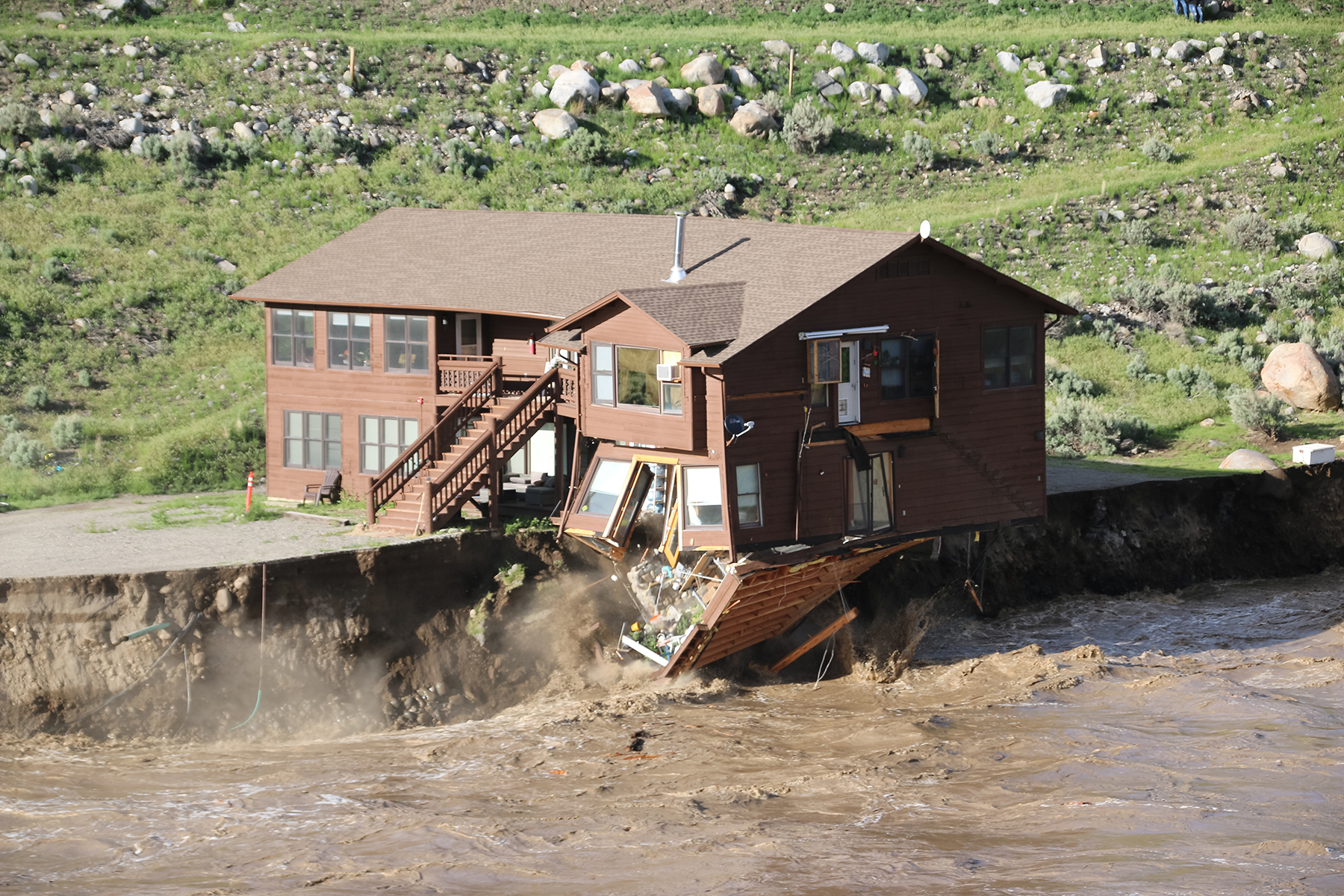 In a dramatic scene captured on video, a building owned by the NPS and used for employee housing collapsed into the Yellowstone River just downstream of Gardiner, Montana, and was swept away. "That was a shocker to see that building go," Iobst says, because it "wasn't right on the edge (of the river)."
Repairs to take years
As of July 13, 93% of roadways and 88% of backcountry areas in Yellowstone were open. At publication time, both entrances on the north side of the park remained closed and were expected to stay that way for some time, given the extent of the damage to the roadways that serve them.
In various published reports, Cam Sholly, Yellowstone's superintendent, has stated that permanent repairs of the damage throughout the park will likely take from three to five years. The NPS did not respond to a request from Civil Engineering for an estimate of the cost to repair Yellowstone's damaged infrastructure.
However, the price tag is sure to be costly, says John Garder, the senior director of budget and appropriations for the National Parks Conservation Association, a nonprofit organization that works to protect and enhance U.S. national parks.
"The extent of damage is significant and certainly rivals the major catastrophic events that we have seen over at least the last decade for our national parks," Garder says. "The damage assessment may very well surpass" the $550 million — in today's dollars — that was required to repair NPS facilities in the northeastern United States in the wake of Hurricane Sandy in 2012, he says. "It wouldn't be surprising to see that price tag (for Yellowstone repairs) be higher."
Emergency funding
One week after the flooding, the NPS announced that it was providing $50 million in emergency funding to Yellowstone "to restore temporary access to Gardiner and Cooke City, Montana, and other additional sites," according to a June 20 NPS news release. Cooke City is about 4 mi east of Yellowstone's Northeast Entrance.
On June 23, the U.S. Department of Transportation's Federal Highway Administration announced that it had made available $60 million in emergency funding to the NPS for road repairs in Yellowstone. The money will go toward such efforts as "emergency debris removal, bridge repairs, restoration of eroded embankments, landslides, and repairs associated with reestablishing access to Yellowstone National Park," says Nancy Singer, an FHWA spokesperson. At the same time, the FHWA provided $3 million to the Montana DOT and $2 million to the Wyoming DOT for repairs to their flood-damaged facilities.
The funding provided by the two agencies is "doing wonders to help reopen the park and provide for short-term transportation solutions," Garder says. "But it's just a drop in the bucket in terms of the funding that will be needed" to develop long-term solutions, he says.
Ultimately, Congress will need to provide more funding for Yellowstone as part of a larger emergency supplemental spending package, Garder says.
Critical road repairs
To facilitate temporary access between Gardiner and the park, the NPS has begun upgrading Old Gardiner Road, a rugged access road that roughly parallels the existing roadway between the North Entrance and Mammoth Hot Springs.
"The park is working diligently to ensure this single-lane dirt road will be a two-lane, paved and safe-to-travel-on road before winter, allowing some limited and managed visitor traffic," according to a July 12 online update from the NPS.
Once improved, the road also will facilitate emergency services and the delivery of food and other supplies.
Restoring access to the roadways that serve the park's two northern entrances is not just important to Yellowstone National Park. Local communities also depend heavily on the roadways as critical transportation routes, Iobst says. For example, during winter, Northeast Entrance Road through Yellowstone provides the only available roadway into or out of Silver Gate and Cooke City. Unless the roadway is fixed, he says, "come winter, those people don't have an option to get out of town and into town."
Expensive options
Devising a long-term replacement to the roadway linking Yellowstone's North Entrance to the Mammoth Hot Springs area is expected to prove vexing. Constructed at a time when few gave much heed to negative environmental effects associated with transportation projects, the existing road traverses the ecologically sensitive Gardner Canyon as it largely follows the course of the Gardner River.
"Many roads in Yellowstone were originally designed for horses and buggies," Garder says. "The first vehicle to enter the park was a (Ford) Model T."
Following the recent flooding at the park, ecologists and others have called on the NPS to remove the roadway from Gardner Canyon. For its part, the NPS has indicated that it is considering this possibility. "Plans and assessments of reconstruction" of the road are underway, the NPS said in its June 17 update. "The new road will likely not be reconstructed in the same corridor as the previous road."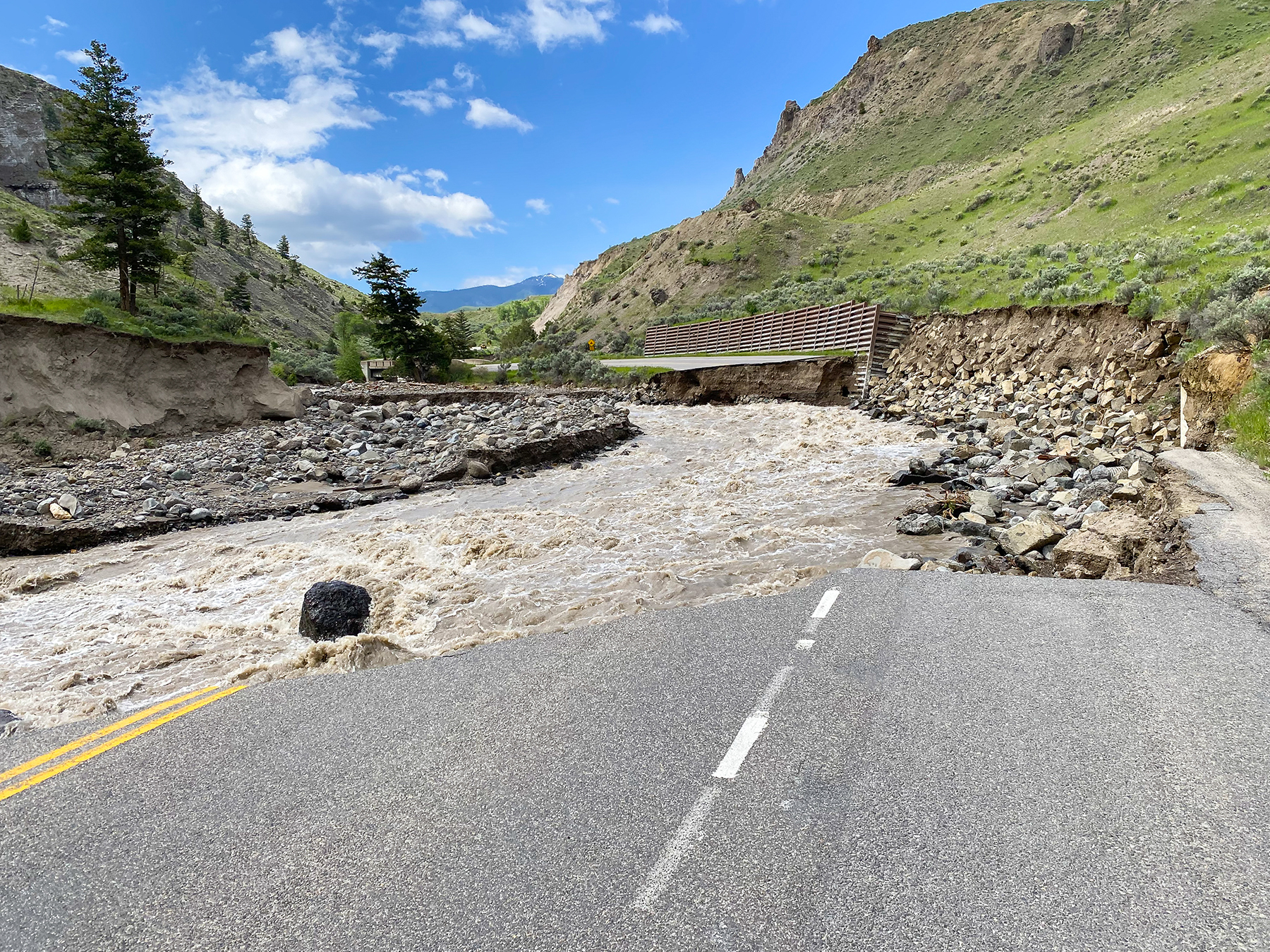 What that alternative route might consist of remains to be seen. Simply replacing the existing route with an upgraded version of Old Gardiner Road is not a likely solution, Iobst says. Along with alignment challenges, Old Gardiner Road has "some significantly unstable soils," he says. "I believe that could be engineered around, but it would be significant from a cost standpoint."
Essentially, all available approaches come with major drawbacks. "There are options," Iobst says. "They're all expensive in construction costs as well as potentially a varying degree of environmental cost." For example, other alternative routes outside of Gardner Canyon would require passing through areas of essentially undisturbed wildlife habitat. "You're talking about putting a road through existing grizzly bear and elk habitat and other species of animals," Iobst says. "I'm not saying it's a non-starter, but that would be a tough one."
Accounting for climate change
Of course, any solutions developed by the NPS to replace North Entrance Road will have to clear numerous regulatory hurdles. "Environmental review prior to a major construction project is standard for any federal endeavor," Garder says. "The park service will need to do environmental and cultural resources review to determine what potential impacts would be to those cultural and natural resources. They will also need to take into account climate change and considerations of visitor access and the flow and management of traffic that has been increasingly an issue as more and more visitors come to Yellowstone and other national parks."
More broadly, efforts to respond to and repair flood damage at Yellowstone must contend with the implications of climate change, Garder says. "Unfortunately, the disaster at Yellowstone outlines the challenges of climate change to infrastructure and speaks to the importance of Congress planning ahead with climate legislation that will allow public lands agencies to prepare for climate change in numerous ways, including infrastructure concerns."
"The cost to public lands agencies, to the federal government, and to society at large, will only worsen over time the longer our decision-makers go without addressing the climate threat," Garder says.