By Catherine A. Cardno, Ph.D.
A planned expansion of Singapore's Changi Airport that will include a new terminal with a capacity of up to 50 million passengers a year has restarted after being stalled for two years due to the COVID-19 pandemic. The goal is to make the Changi Airport — which already connects 120 cities globally with a total of 4,000 weekly flights — a premier air hub with global connectivity.
The design of the new terminal, T5, is being reconceptualized post-pandemic to offer flexibility for current needs and those that would arise should another global pandemic occur. To that end, the KPF and Heatherwick Studio design will focus on the terminal as a series of smaller "neighborhoods."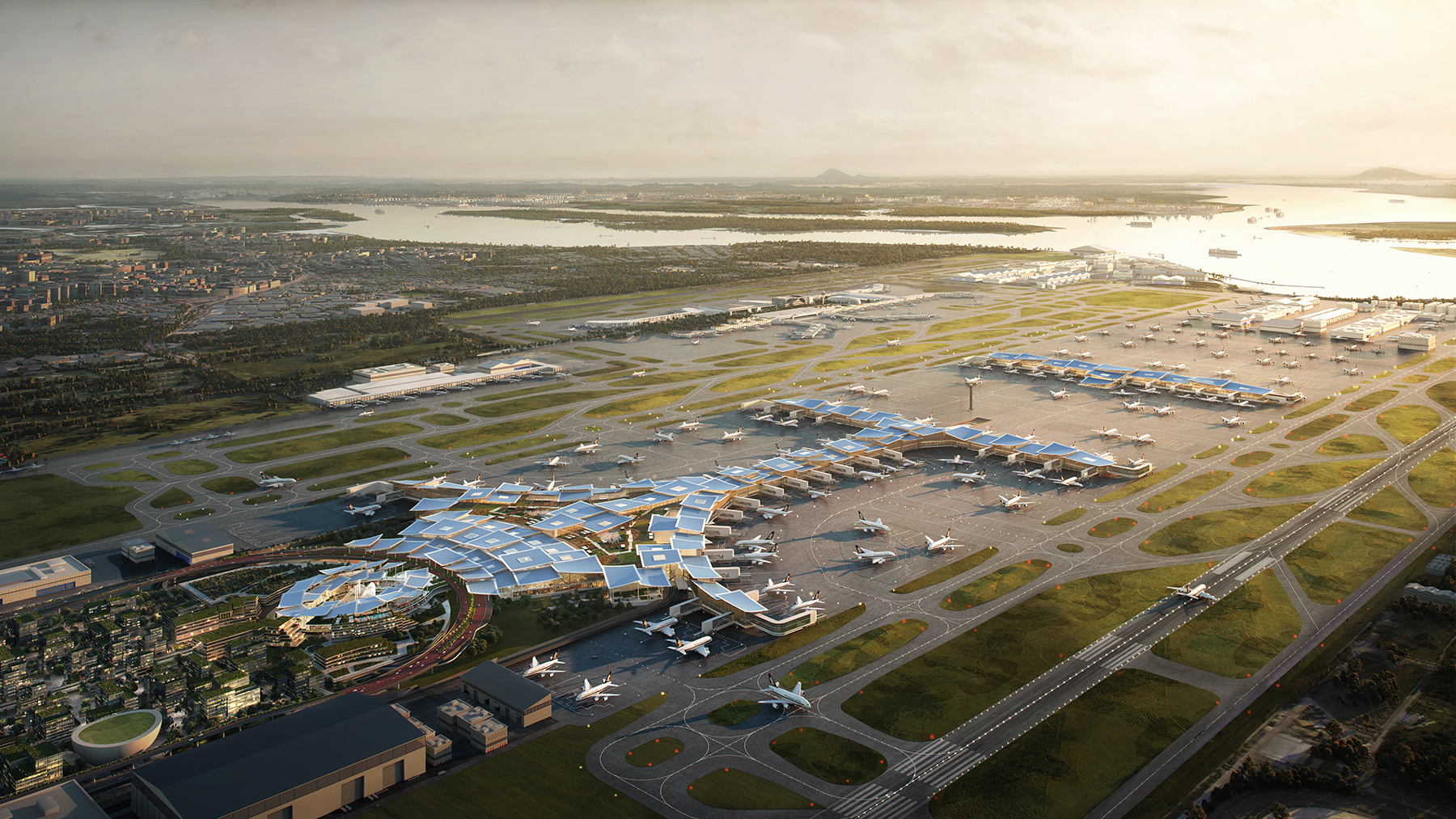 Doing so will offer a variety of scales for different spaces and will also enable smaller sub-terminals to potentially operate independently if desired. This could be necessary, for example, if testing or isolation of high-risk passengers needed to take place in another pandemic.
The expansion will be adjacent to the existing Changi East Urban District and will include a dedicated ground transportation center where rail and other transport services will be available.
"Our intention is to redefine what an airport terminal can be. Most airports aren't great places to spend time, but Changi has always been different," said Thomas Heatherwick, founder of Heatherwick Studio, in quoted material about the design distributed by the design team. "Rather than making a single vast monolith on the outskirts of a city for the exclusive use of travelers, our plan is to create a social space that people living in the city are excited to visit."
The terminal will be built to minimize its carbon footprint and will include solar panels and thermal energy storage. Contactless systems at passenger touch points and enhanced ventilation systems that can be activated to minimize the mixing of air will be built into the airport, according to the design team.
The terminal will also include cutting-edge technologies, including smart building management systems and systems that capitalize on emerging robotics and artificial intelligence systems, such as for baggage handling and transportation via autonomous vehicles.
KPF and Heatherwick Studio, as design partners, are part of a Master Builder Consultants consortium led by KPF and Singapore-based architects 61. This group also includes subconsultants SAAarchitects and RSP Architects.
As part of the MBC, Arup Singapore Pte Ltd, Mott MacDonald, and Surbana Jurong are providing engineering services. DP Architects Pte Ltd has been appointed by Changi Airport Group to provide retail design services for the commercial spaces in T5.
T5 is expected to be complete by 2035. The project is being undertaken by Singapore's Ministry of Transport, the Civil Aviation Authority of Singapore, and the Changi Airport Group.