By Jay Landers
On Aug. 29, 2021, Hurricane Ida made landfall in the United States near Port Fourchon, Louisiana. Although the Category 4 storm weakened to a tropical storm as it headed inland and turned to the northeast, it continued to leave devastation in its wake. After dumping record amounts of rainfall in many locations along the way, Ida reached the Northeast a few days later. There the storm and its resulting flooding killed more than 50 people. In New York City, the rainfall was so intense and the flooding so rapid that at least 11 people became trapped and drowned in basement apartments.
Ida offers a stark example of what has come to be known as a cloudburst — or a sudden, heavy downpour — that quickly overwhelms the drainage infrastructure of a neighborhood or city.
The city of Copenhagen, Denmark, has led the way in developing approaches for dealing with cloudbursts, particularly by designing streets, parks, and other open, public areas to accommodate large volumes of runoff during storm events. After a storm has passed and sewers and other drainage infrastructure have regained capacity, water stored in open areas can then be directed to the sewer system.
Partnering with Copenhagen, New York City began its Cloudburst Program several years ago, one component of the city's multifaceted green infrastructure effort to manage rainfall closer to where it lands.
To date, the city has spent more than $1 billion on more than 11,000 green infrastructure installations, including rain gardens, retention basins, and permeable pavers. Construction is expected to begin later this year on New York's first cloudburst project, a $4.5 million pilot on the grounds of a city housing project in the borough of Queens. Two other projects are under design. But the city has even more ambitious plans for its Cloudburst Program: In January, New York City Mayor Eric Adams announced that the city intended to construct four more cloudburst projects at a total cost of $390 million.
Increasing resilience
The large sum devoted to the Cloudburst Program indicates the seriousness of the city's plans to increase resilience in the face of extreme storms, including in areas that historically have not always received significant attention.
"This is the largest capital investment in cloudburst design in the U.S. and highlights the mayor's commitment to environmental social justice," said Rohit Aggarwala, Ph.D., New York City's chief climate officer and the commissioner of the city's Department of Environmental Protection, in a Jan. 9 news release issued by the DEP.
Of the four newly planned projects, two will be in Queens, one in the Bronx, and one in Brooklyn. Still to be designed, the projects "will incorporate a variety of gray and green infrastructure as well as open spaces to store excess stormwater until torrential rains pass and there is sufficient capacity in the neighborhood drainage system to better manage it," says Douglas Auer, a spokesperson for the DEP.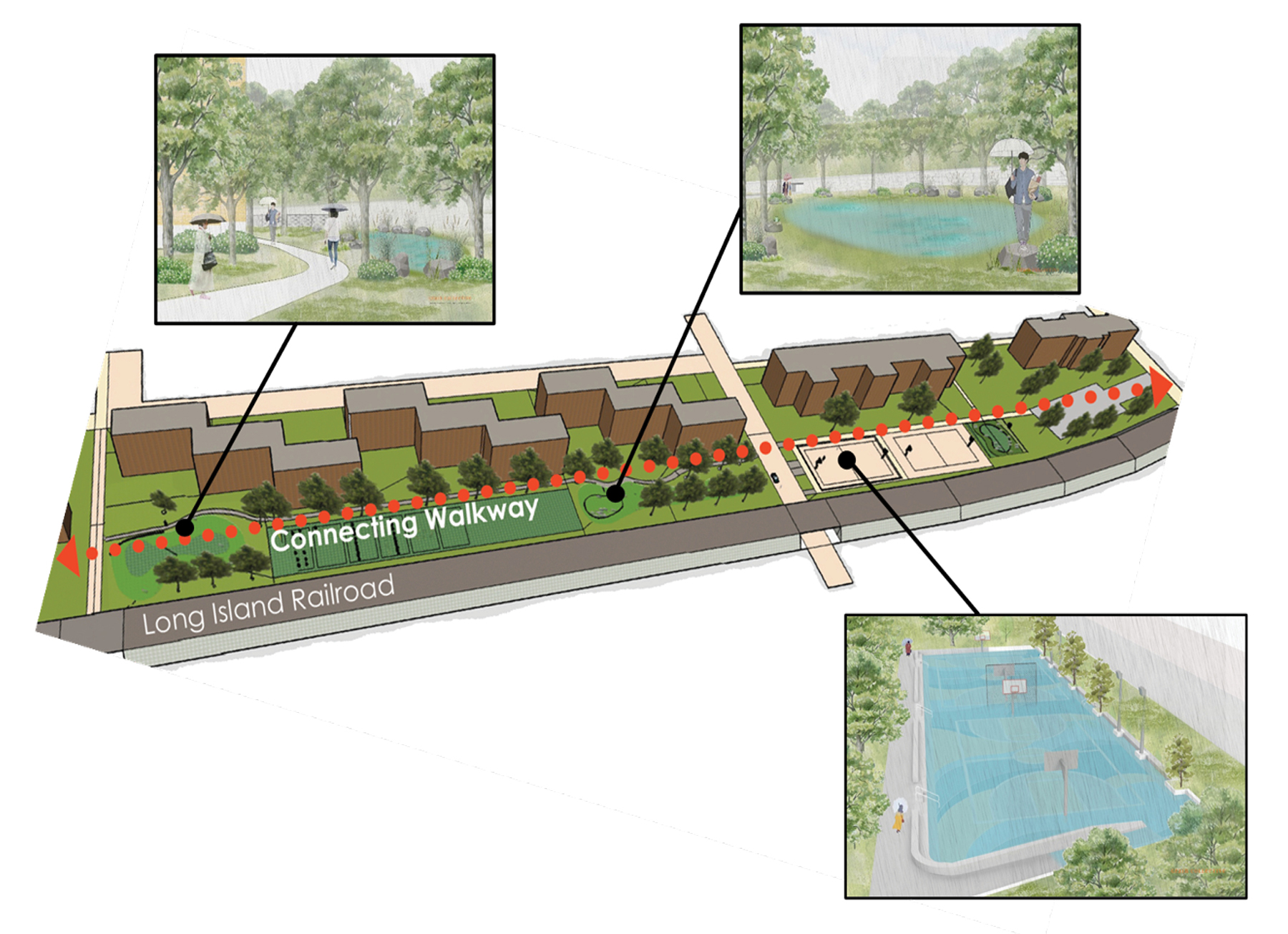 The department is in the process of awarding design contracts for the projects and expects construction to begin in 2025.
By managing runoff and reducing sewer overflows, the projects are "one of many ways New York City is working to make neighborhoods more resilient to stormwater flooding and improve water quality," Auer says. "These projects consider larger volume storage, designed to mitigate future extreme weather events predicted to bring up to 2.3 inches of rainfall per hour, and will provide (combined sewer overflow) reduction benefits as well as stormwater resilience."
Creating capacity
The pilot project to be constructed later this year will be at the South Jamaica Houses, a Queens housing project owned by the New York City Housing Authority. Designed by the consulting firm Hazen and Sawyer, the project "features a series of connected stormwater management practices, including two grassy areas, and a basketball court," Auer says.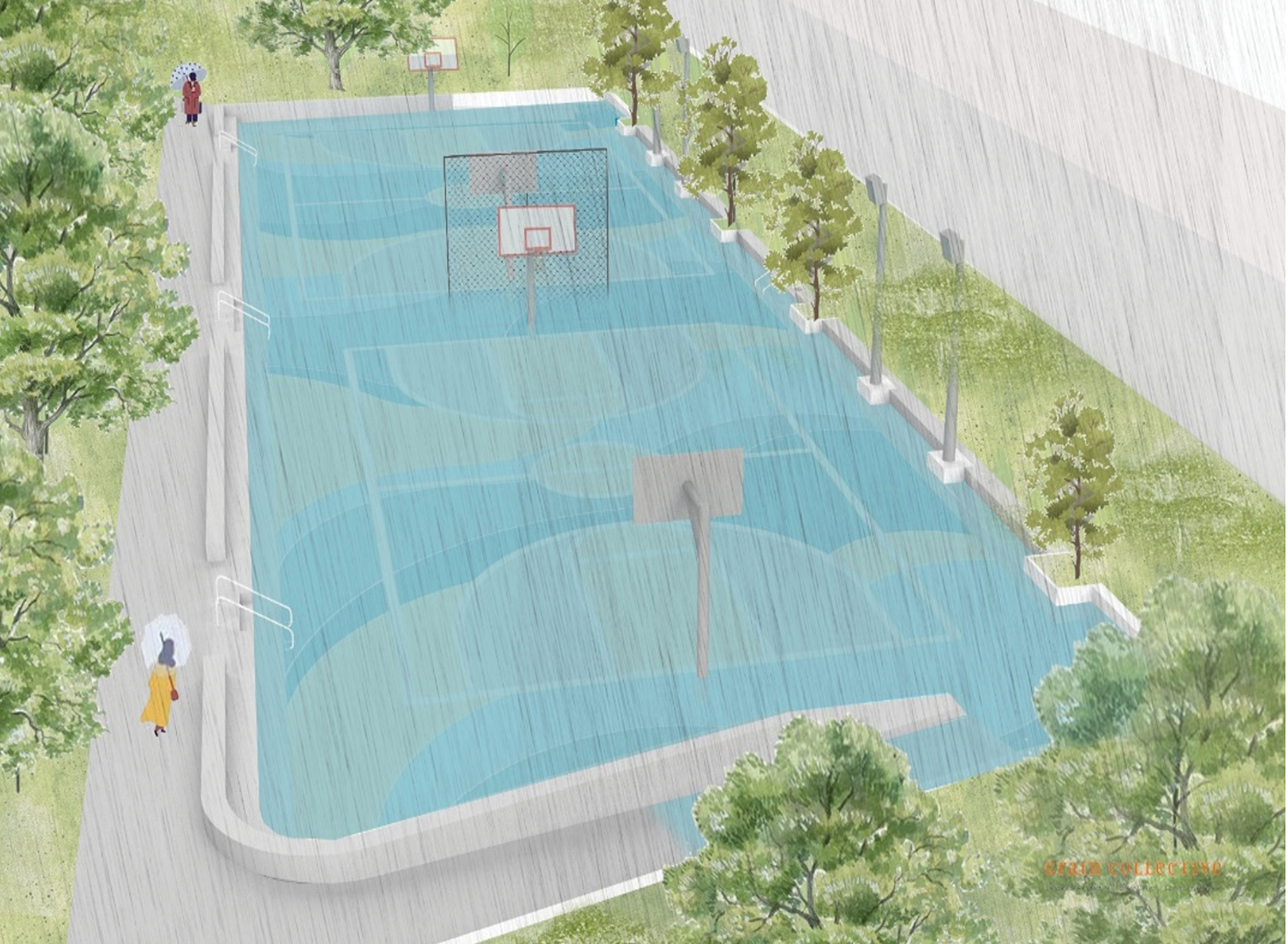 Existing drainage will be rerouted, first to the grassy areas and under a new connecting pathway, and then under the basketball court, the surface of which will also be lowered "to create extra capacity for runoff in the heaviest rain events when the court itself can fill with water," Auer says. Overall, the project will have a stormwater storage capacity of approximately 300,000 gal.
Expected to begin late this summer, construction of the project will include adding steps to the perimeter of the lowered court to create a new seating area for spectators. Work will also include enhancement of walking paths, lighting, and benches near the court, Auer says.
More projects planned
As for the two other cloudburst projects under design, one is to be in the St. Albans neighborhood of Queens and the other in the East Harlem neighborhood of Manhattan. Hazen and Sawyer is designing the former, while the planning, design, and construction firm Dewberry is designing the latter.
The DEP has plans for additional cloudburst projects as well. "More than two dozen additional locations are also being evaluated for inclusion in the Cloudburst Program," Auer says. When selecting sites for cloudburst projects, the DEP works in partnership with three other city departments: Parks and Recreation, Transportation, and Design and Construction.
The selection process uses a framework that accounts for historic and future stormwater flooding hot spots, existing city projects, environmental justice areas, and social factors that may increase vulnerability to stormwater flooding, Auer says. "Siting also takes into consideration underlying soil conditions, groundwater levels, and the ability to accommodate subsurface stormwater storage chambers," he notes.
"The projects are being funded with a combination of city and federal funds," Auer says. "DEP will continue to aggressively apply for federal funding to support this vital work and expand this critical program."
This article first appeared in Civil Engineering Online.