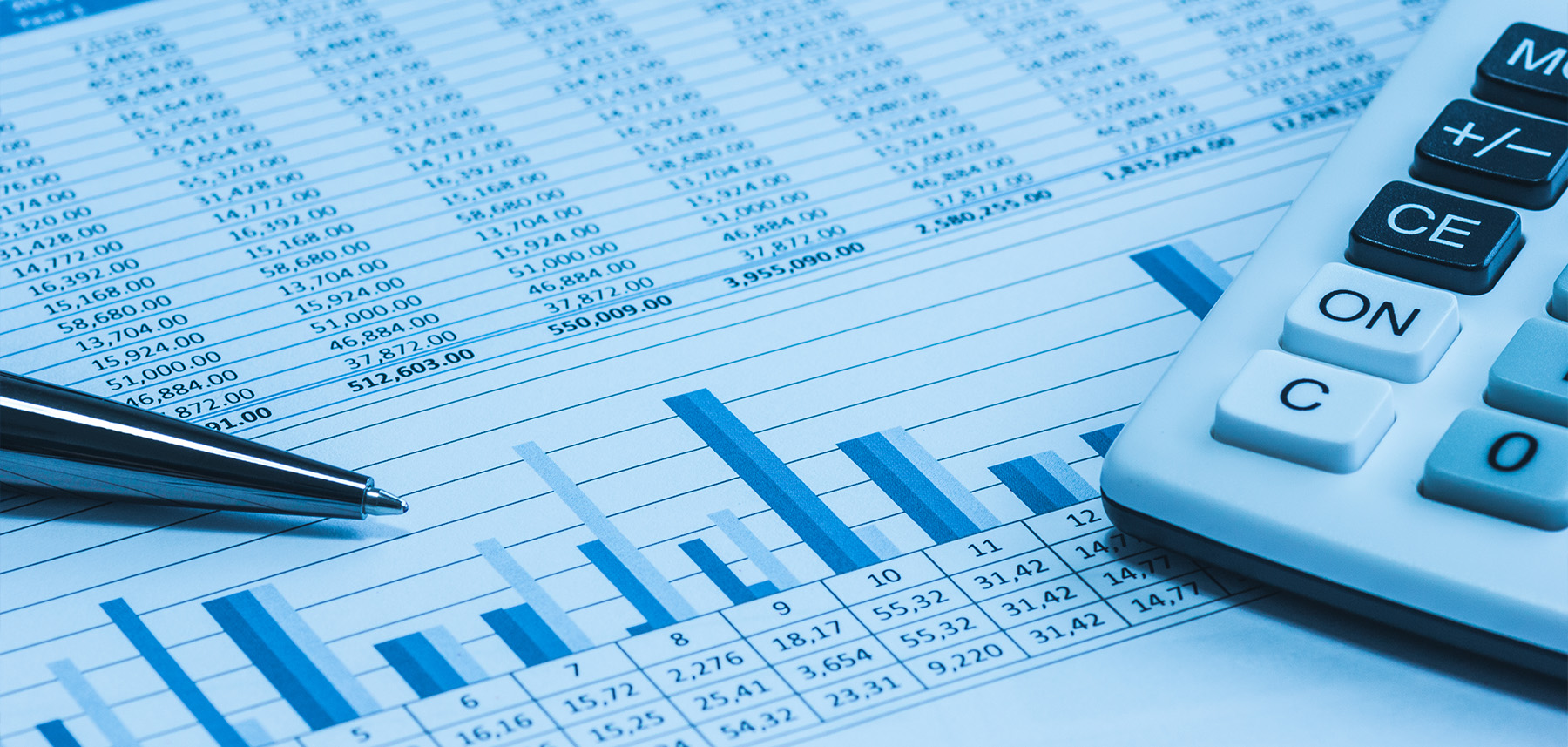 By Matt Fogleson
Go West, young engineer. Based on 2022 data assembled for ASCE's latest Best Places for Civil Engineers, that might be sage advice, regardless of what stage you are at in your career.
After four years of crunching numbers from 2019 to 2022, ASCE can identify a clear top five Best Places, with Los Angeles sitting at the top of the list for the second consecutive year. The metropolitan statistical areas of Dallas, Houston, Denver, and Chicago round out this year's top five, meaning no Eastern MSA made the cut.
In addition to leading the last two lists, Los Angeles was No. 2 in the first two rankings, meaning an average placement of 1.5, which no other MSA can match. Houston is next, with an average second-place ranking, followed by Denver (a third-place average), Chicago (fifth), and Dallas, whose average placement is fractionally behind Chicago's.
Of these five MSAs, only Chicago and Dallas have ever missed a top five showing; Chicago was sixth in 2020, and Dallas was 10th in 2019.
Though there has not been much movement among the top five over four years, a closer examination of the data reveals significant and compelling trends lower down the list. And many of the upward trends involve MSAs in California and other Western states.
This year's top 20 includes two MSAs appearing there for the first time. Both are in California, with San Diego checking in at No. 15 and Oakland at No. 17. San Diego has made an impressive march up the list, beginning at No. 37 in 2019. The region climbed to No. 34 in 2020, then 21st in 2021 before rising six more spots on the new list.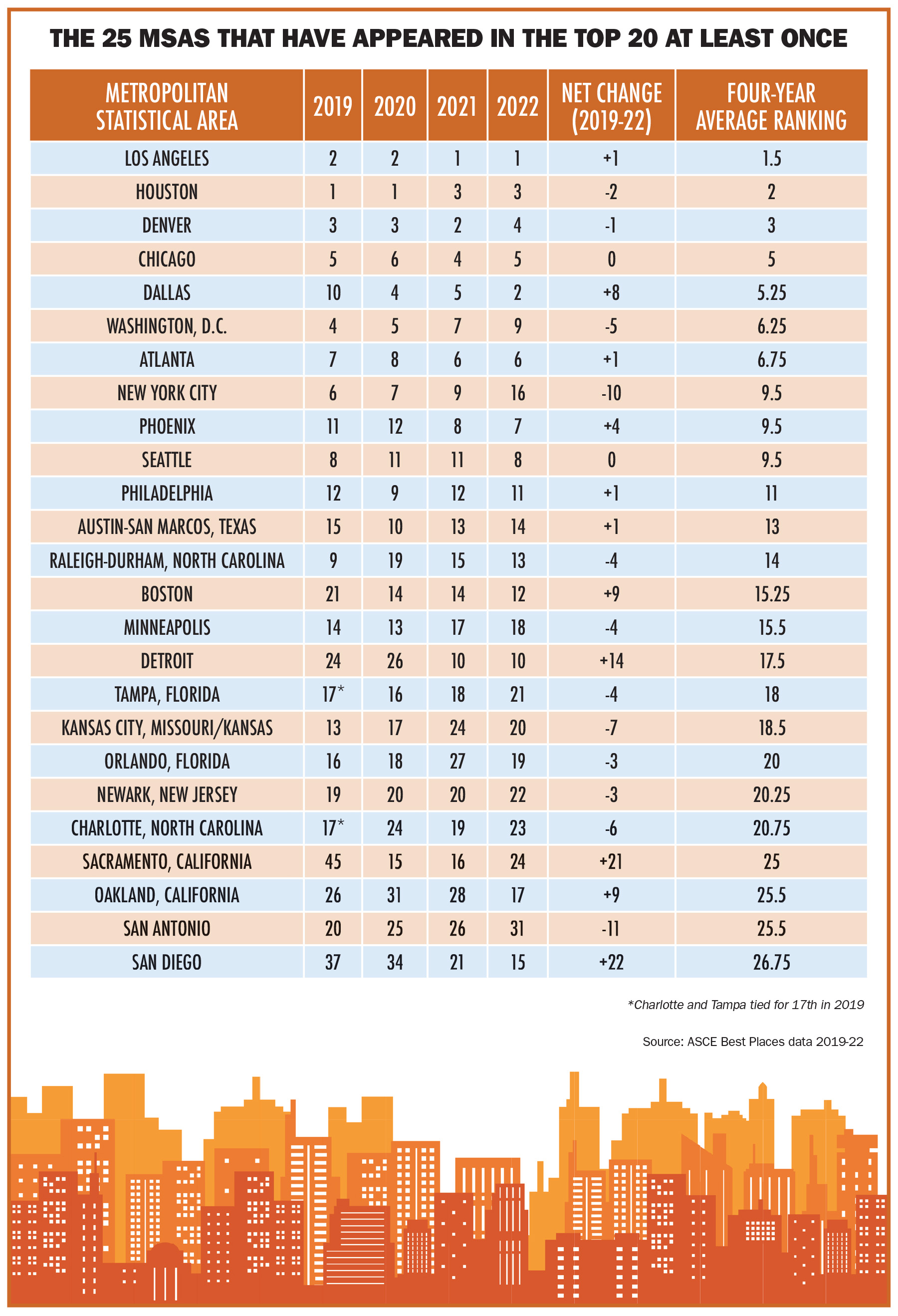 Three components factor into the Best Places formula: salary, cost of living, and job availability for civil engineers. For San Diego, a significant hike in salaries and a sharp rise in job opportunities allowed it to enter the top 20.
In Oakland, all three metrics led to the region's ascent, particularly an easing of the relative cost of living from 2019 to the present. Oakland started at No. 26 in 2019 and did not move much for two years — 31st in 2020 and 28th in 2021 — before breaking into the top 20 this time.
In contrast, a pair of East Coast cities — Newark, New Jersey, and Tampa, Florida — are outside the top 20 for the first time. Newark, which was 19th in 2019 and 20th in each of the next two years, has seen its job opportunities fall. The MSA drops to 22nd on the new list. Tampa, meanwhile, checks in at No. 21 this time. The Florida MSA tied for 17th place in 2019, then was 16th in 2020, and 18th in 2021. Slight movements in all three components of the formula bumped it down the list.
In four years of analysis, 25 MSAs have made at least one top 20 appearance. In addition to the top five MSAs, nine others have made that cutoff every year: Atlanta; Austin-San Marcos, Texas; Minneapolis; New York City; Philadelphia; Phoenix; Raleigh-Durham, North Carolina; Seattle; and Washington, D.C.
It's certainly not all bad news for Eastern cities. Boston, for example, is the only MSA to miss the top 20 in 2019 but appear in that position in the three subsequent years. At No. 12 on the new list, Beantown, which has seen a rise in job opportunities and a relative decline in cost of living, makes its best showing.
Among MSAs with at least one top 20 showing in the last four years, the biggest climbers from 2019 to the present are San Diego and Sacramento, California. San Diego's meteoric rise saw it move up 22 spots since 2019. Sacramento made the top 20 in 2020 and 2021 but missed this time. The Golden State's capital was 45th in 2019 and is 24th on the new list for a net gain of 21 spots, though it is down eight spots from a year ago.
Focusing on the top 10, two MSAs that were not among that group in the first two years of the analysis have cracked it in back-to-back years: Detroit and Phoenix. The Motor City began at No. 24 in 2019 and fell to 26th in 2020. But the area surged to 10th for the analysis of 2021 data and retains that spot on the newly released list. An improved job outlook has been the impetus catapulting Detroit into elite territory.
Having just missed the top 10 in the first two years, Phoenix did not have as far to come as Detroit. Phoenix has had an impressive four-year run, starting at No. 11 in 2019 and dropping to 12th in 2020 before finishing eighth in 2021 and seventh on the latest list. Like Detroit, Phoenix's rise can largely be attributed to a boom in jobs.
New York City has steadily slipped on the list since starting at No. 6 in 2019. The area fell to seventh in 2020, then ninth in 2021 before checking in at No. 16 on the new list. While civil engineers' salaries in the nation's most populated city have remained mostly steady, job availability is down and cost of living is up, according to the data.
The Washington MSA has also slipped slightly over the years but hangs on to a top 10 slot on the new list at No. 9. The nation's capital was previously fourth in 2019, fifth in 2020, and seventh in 2021. Like New York, the D.C. area, which is the only Eastern MSA ever to make the top five, has seen a rise in cost of living and a drop in jobs with little movement in salaries.
Over the history of Best Places data, there have been many such examples of incremental movement and some MSAs seeing large swings. There are sure to be more movers — up and down — when new numbers are released next year.
Matt Fogleson is the technical editor of Civil Engineering Online.
This article first appeared in Civil Engineering Online. It appeared as a sidebar in the May/June 2023 print issue of Civil Engineering as "Crunching the Numbers." For an in-depth look at the top three Best Places for Civil Engineers 2023, read "Where are the best places for civil engineers to work?"