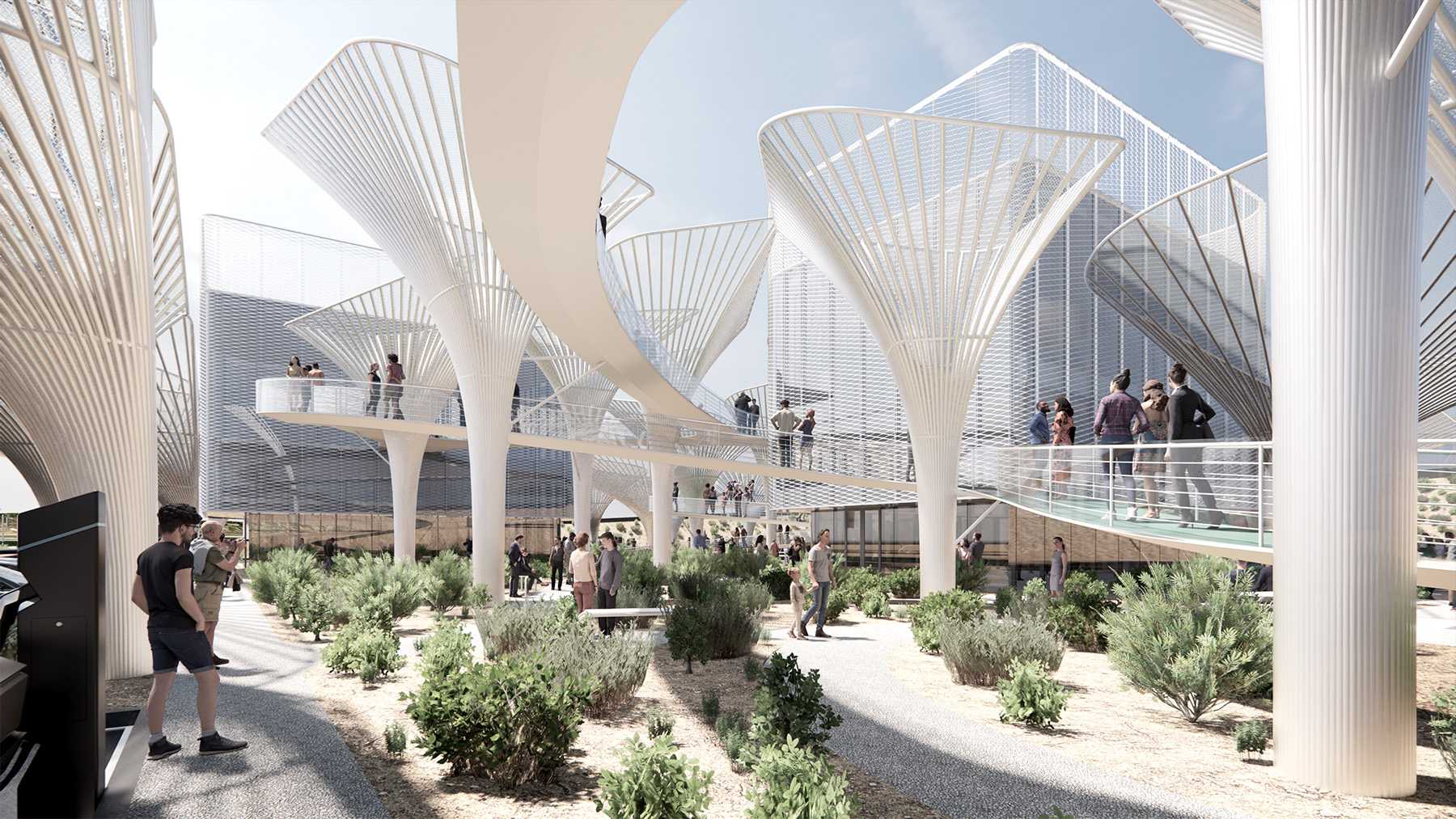 By David Jen
Electric Oasis is a far-future charging station concept that would provide electric vehicle charging, programming activities, economic revitalization, and ground remediation in a single package. The design leverages steel to combine canopies, pathways, and resiliency hubs into a multifunctional destination that puts people — and leisure activities — first.
The design, created by the New York City- and Los Angeles-based Level (LVL) Studio, won the American Institute of Steel Construction's 2023 Forge Prize, which honors "emerging architects who create visionary designs that embrace steel as the primary structural component while exploring ways to increase project speed," according to AISC.
While gas stations require large buffers between pumps and discourage unattended vehicles, EV stations present a new set of parameters, explained studio co-founder Jeffrey Lee during a March presentation accepting the award.
Refueling in the age of EVs must shift its focus toward people and away from cars. "On average, a gas stop takes around seven minutes to refill a tank," Lee said. "A level 2 (EV) charging station, which is the most common type, takes upwards of 4 1/2 hours for a full charge. Considering these major differences, it becomes pretty clear we have an opportunity to reimagine the gas station typology into something that can revitalize local economies."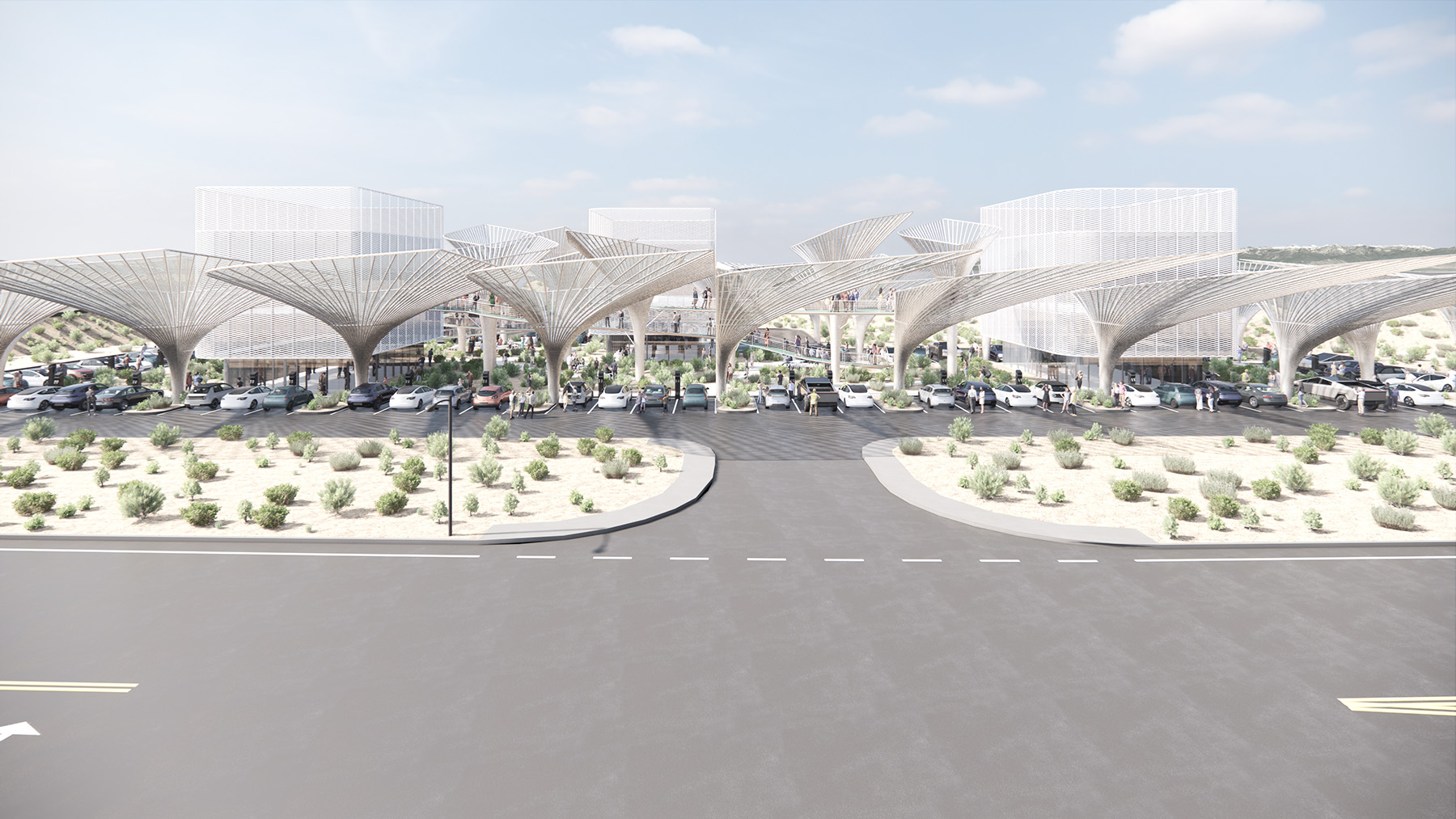 The team envisions amenities such as gym, retail, and co-working spaces that people can use while waiting for their vehicles to charge. What's more, these stations will create economic opportunities for the often-small highway communities best situated for EV stops.
As a case study, the team considered a site in Buttonwillow, California, a community of about 1,300 people (2020 census) along Interstate 5 that is notable for being a convenient stop for food and gas and that also sits within EV range of San Francisco and Los Angeles.
Treelike steel canopies will offer solar power and water catchment possibilities in addition to shade, said studio co-founder Lexi White in the presentation. The canopies will also work to remediate the soil via a soil-vapor extraction process, as the team expects charging stations to sit atop brownfield gas station sites. The base of each canopy will include a nutrient injection well, an aeration injection well, an extraction well, and an above-grade monitoring well.
"By integrating this infrastructure, the design allows the remediation to run concurrently with construction, therefore speeding up the overall timeline," said White.
Recent legislation partly fueled the overall concept. "Our project was conceptualized in response to both local and federal regulations," said LVL co-founder Christopher Taurasi during the presentation.
"On the federal side, there's the (bipartisan) infrastructure law and the Inflation Reduction Act, both of which provide funding for electric vehicle infrastructure. And on the local side, there's California's Advanced Clean Cars II regulations, which ban the sale of gasoline vehicles beginning in 2035," Taurasi explains.
For California to reach that goal, the California Energy Commission estimates the state will need 250,000 EV chargers by 2025 and 1.2 million by 2030, not including those needed to support medium- and heavy-duty vehicles. The commission, however, reports about 87,700 chargers installed across the state to date.
This article first appeared in Civil Engineering Online as "EV station reimagined to support communities and travelers." It appeared in the July/August 2023 print issue of Civil Engineering as "EVs, Reimagined."