By Robert L. Reid
A new government office building under construction in San Mateo County, in California's Silicon Valley region, promises to be the nation's first net-zero-energy civic structure made from mass timber. A net-zero building is designed to generate more energy than it consumes.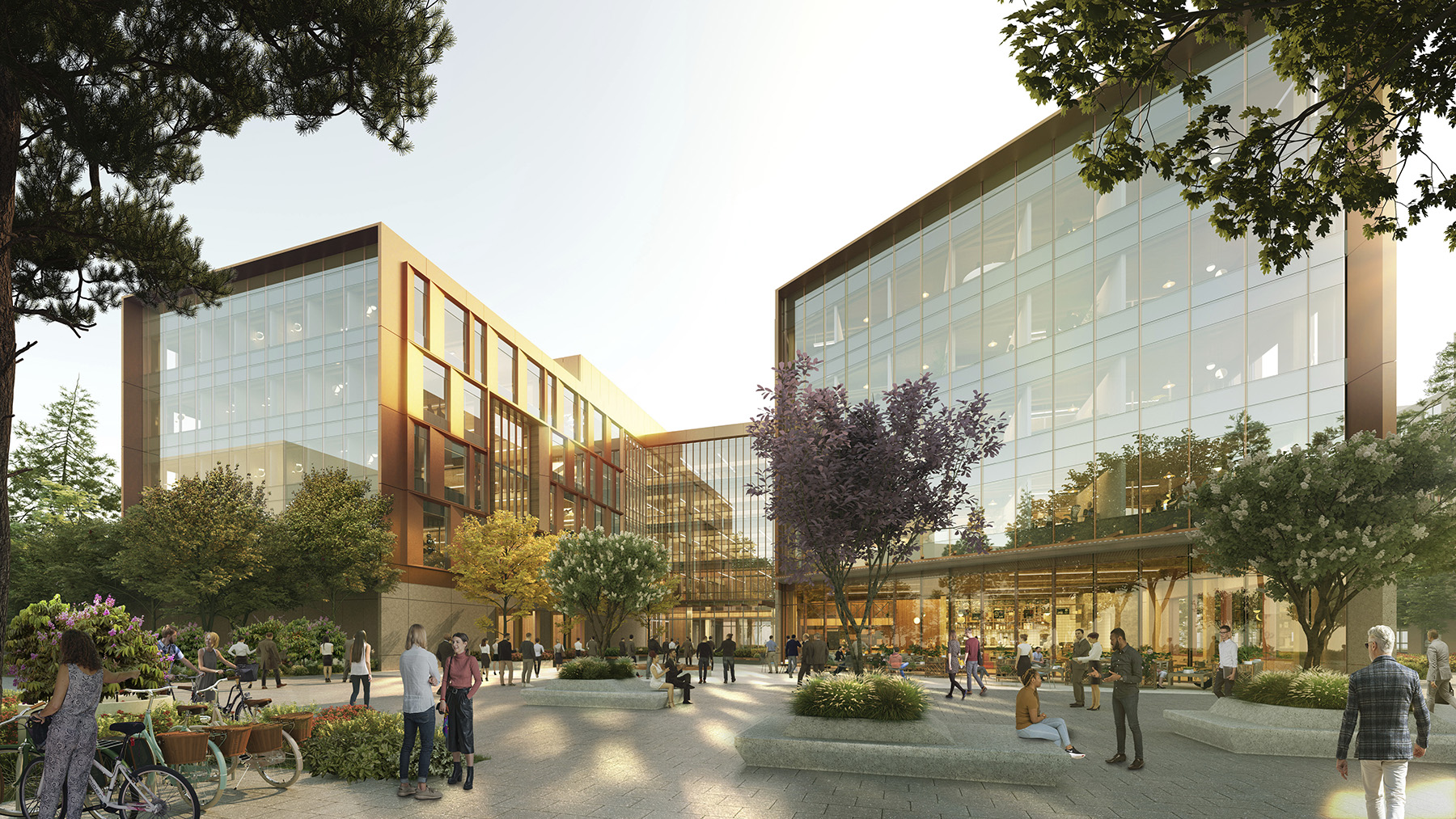 Expected to open by year's end, the COB3 project refers to County Office Building 3, a five-story structure with a gross area of 207,000 sq ft that will serve as the San Mateo County government's headquarters. The facility will combine in a single location various county functions that previously had been dispersed among several sites throughout the region, notes Eric Long, P.E., S.E., LEED AP, M.ASCE, a partner at San Francisco-based SOM, which was responsible for the architectural, structural engineering, and interior design of the new facility.
Environmental focus
Designed as "a testament to San Mateo County's environmental stewardship," COB3 is targeting Platinum certification under the U.S. Green Building Council's Leadership in Energy and Environmental Design rating system, according to SOM's website.
Although founded on a concrete slab and deep concrete piles — with four steel cores and steel braced frames as its lateral support system — COB3 uses mass timber for its columns, beams, and flooring. As a result, the building features an estimated 70% reduction in embodied carbon compared with a similar structure made entirely of steel or concrete, Long says. Moreover, the building is I-shaped in plan, with narrow wings that measure 65 ft wide to facilitate natural ventilation and natural lighting throughout, reducing the facility's energy footprint, Long notes.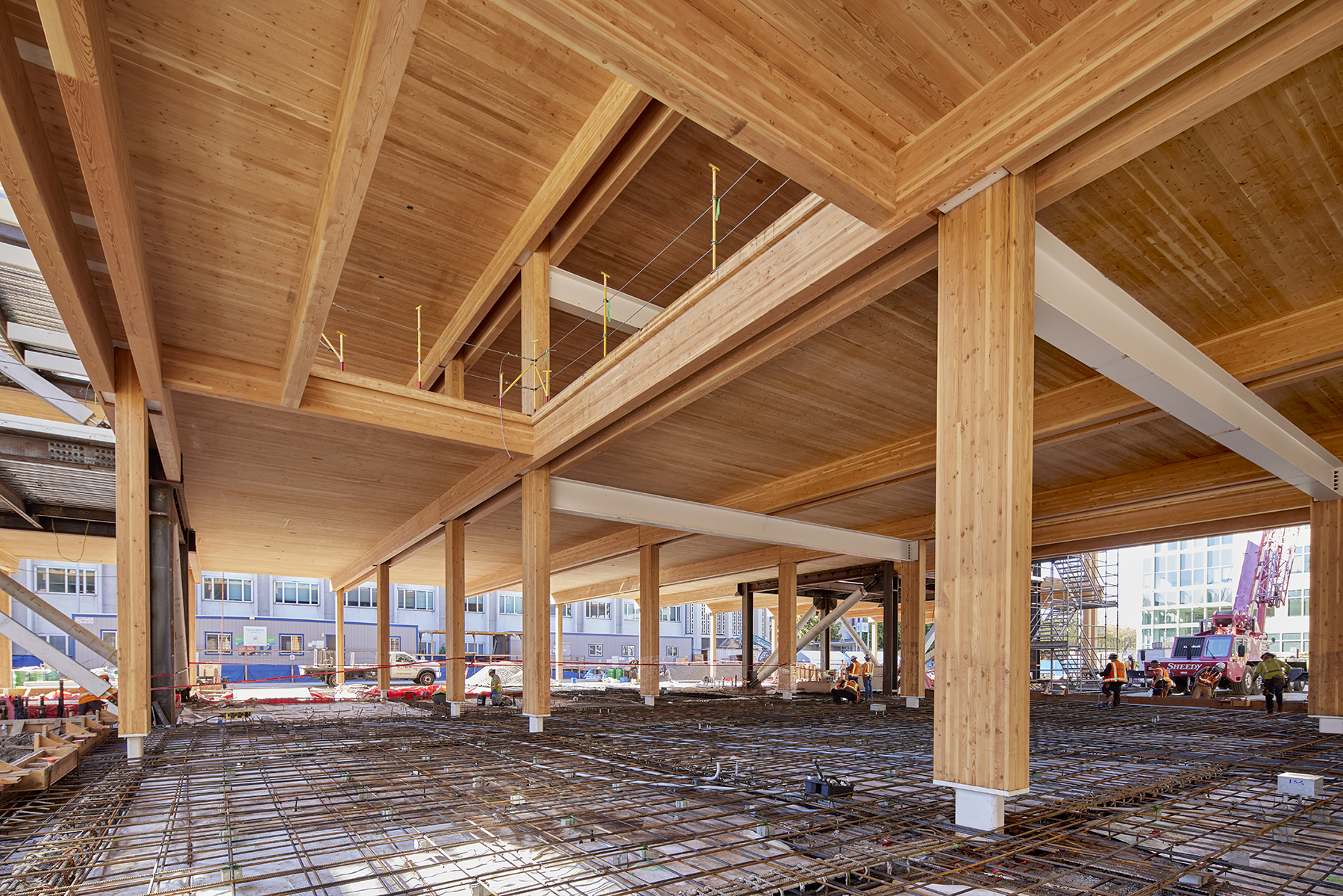 Solar panel arrays on the COB3 roof and atop a nearby county parking garage structure are expected to generate all the electricity required for the building's operations, Long says. The glazing on the building's north and south facades will be recessed to help reduce heat gain, while the windows on the east and west sides will be shaded by fins.
On-site bioretention planters are expected to absorb and treat 100% of the site's stormwater runoff, rather than diverting that water to municipal treatment facilities.
Mass timber makeup
The building's mass timber framing includes cross-laminated timber decking and glulam columns along the structure's perimeter that measure 12 in. by 12 in., typically, in cross section, and 12 in. by 25.5 in., typically, for the columns in the interior spaces, Long says. The glulam beams measure 8.75 in. by 25.5 in. and are attached in pairs on either side of the columns, thanks to a custom-designed steel connection system, he adds.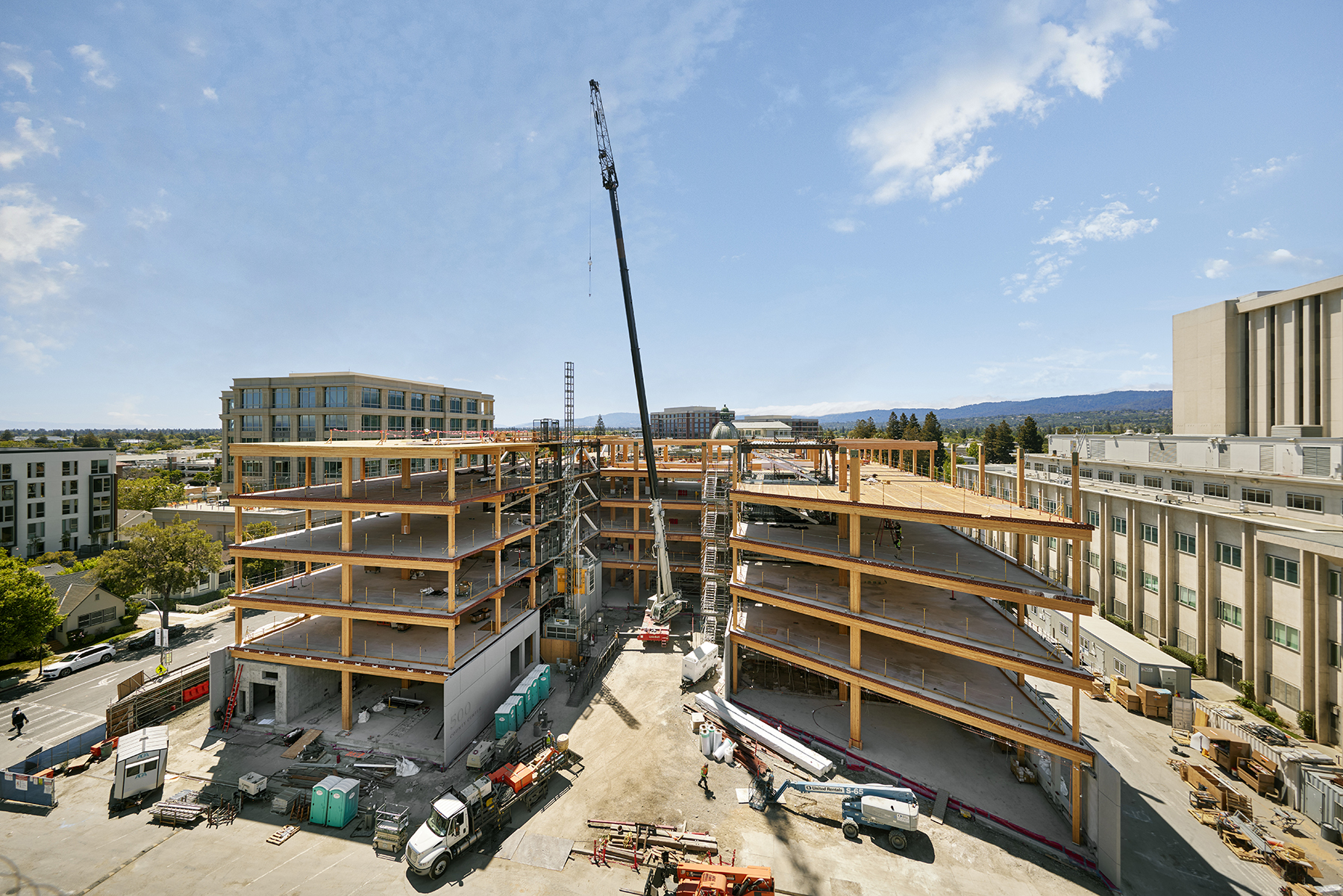 The connection system features a steel shape that creates a series of horizontal shelves to support the glulam beams, which are secured to the shelves by steel screws. Because of fire concerns, the steel shelves are not exposed but instead are recessed into the underside of the timber beams and covered by a 2 in. thick wooden plate to provide the necessary fire rating for the system, Long notes. The mass timber framing was sized to provide a fire rating consistent with the International Building Code's Type IV-HT (heavy timber) classification, he adds.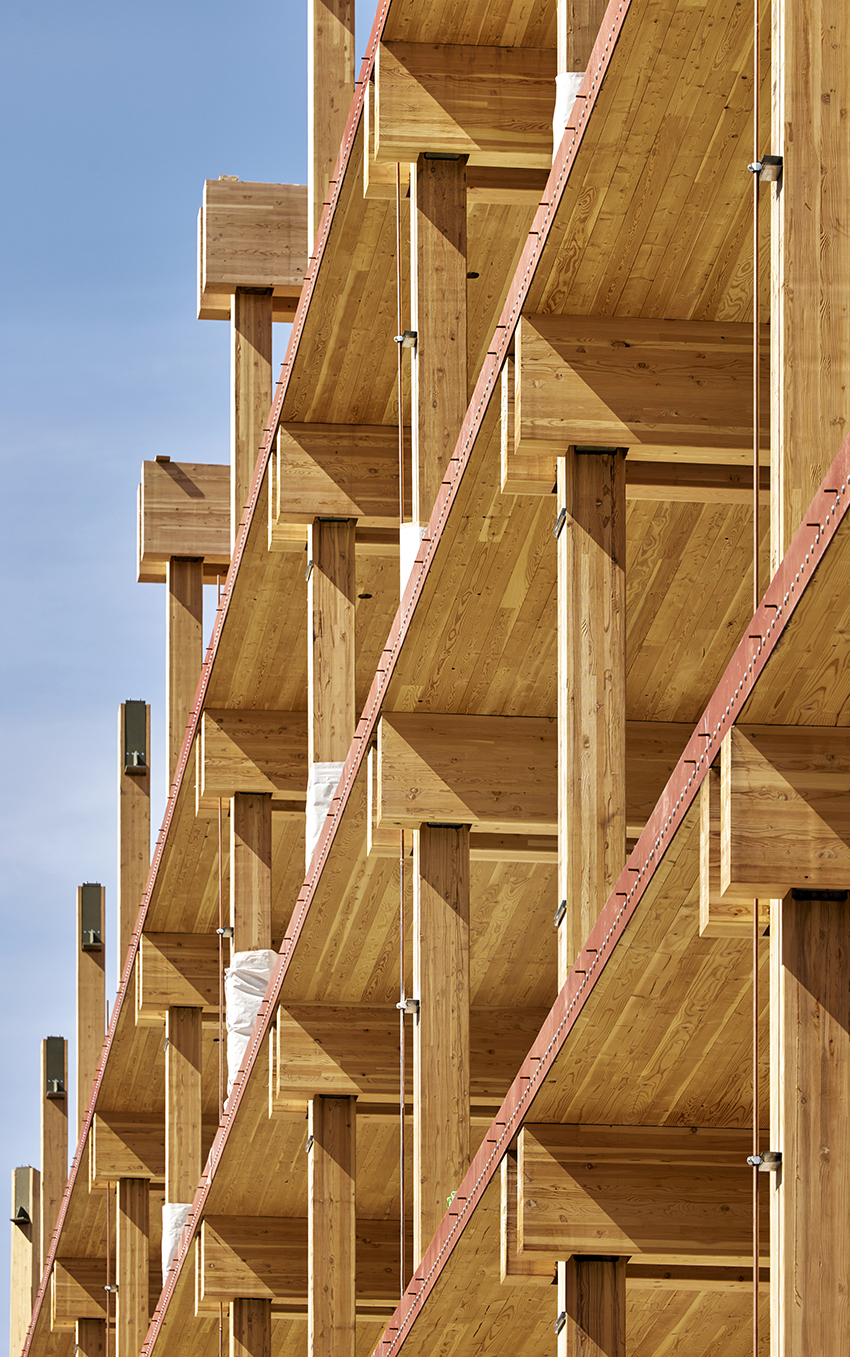 The four steel-framed cores were positioned around the center portion of the building's I-shaped form so that all the timber systems would be near one of the cores. This enables any seismic loads to be transferred to the cores' buckling-restrained braces and taken down to the foundations, which feature 18 in. diameter auger-cast concrete piles 75 ft deep, Long says. The foundation system also utilizes a 10 in. concrete slab, pile caps, and grade beams.
Team effort
The ground-floor level houses the entrance lobby, a large chamber in which the county's board of supervisors will hold public meetings, a cafe, multipurpose rooms, and some offices. A long-span steel beam approximately 65 ft long was installed above the board of supervisors' chamber to create the large, column-free space needed for the public assemblies, Long notes.
Levels 2 through 5 feature offices for numerous county functions, ranging from the district attorney offices to the project development unit that manages county construction projects, including COB3, Long adds. The ground-floor ceiling heights are 18 ft, 7 in. while subsequent levels feature ceiling heights of 13 ft, 5 in. To protect the mass timber framing from possible rot, decay, or degradation caused by exposure to the elements or ultraviolet light, the system is shielded within a conventional facade made from an aluminum-and-glass curtain wall, Long says.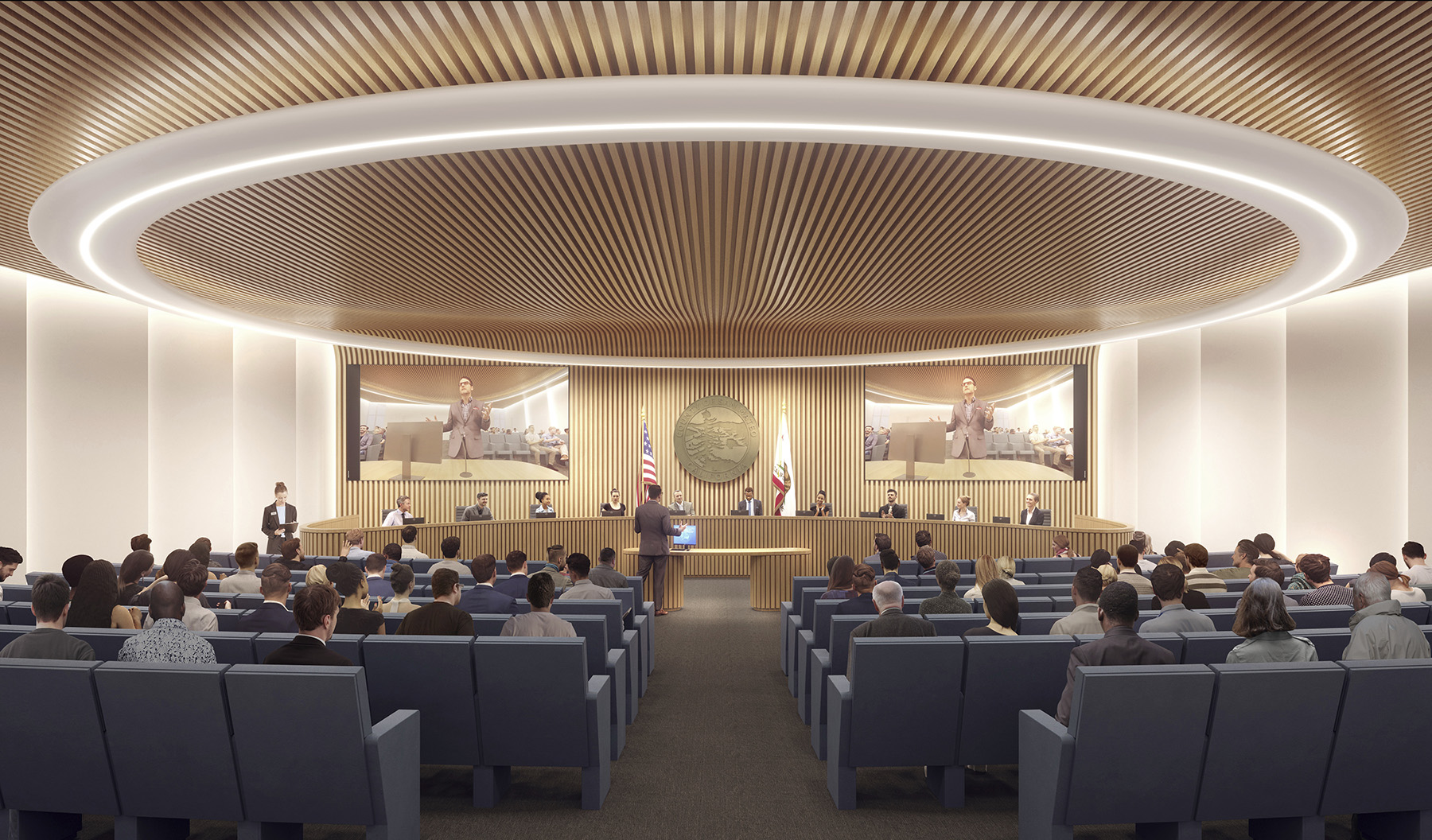 In addition to SOM, the design and construction team included Truebeck Construction, of San Mateo County, as the general contractor; ENGEO Inc., of San Ramon, California, as the geotechnical engineer; and Meyers+ Engineers, of San Francisco, as the mechanical systems consultant. Western Wood Structures, of Tualatin, Oregon, was the lead timber contractor, and Olson Steel, of San Leandro, California, was the contractor for the steel braced frames. Fast + Epp, of Vancouver, British Columbia, also provided timber consulting, and SmartLam, of Columbia Falls, Montana, was a CLT specialty supplier.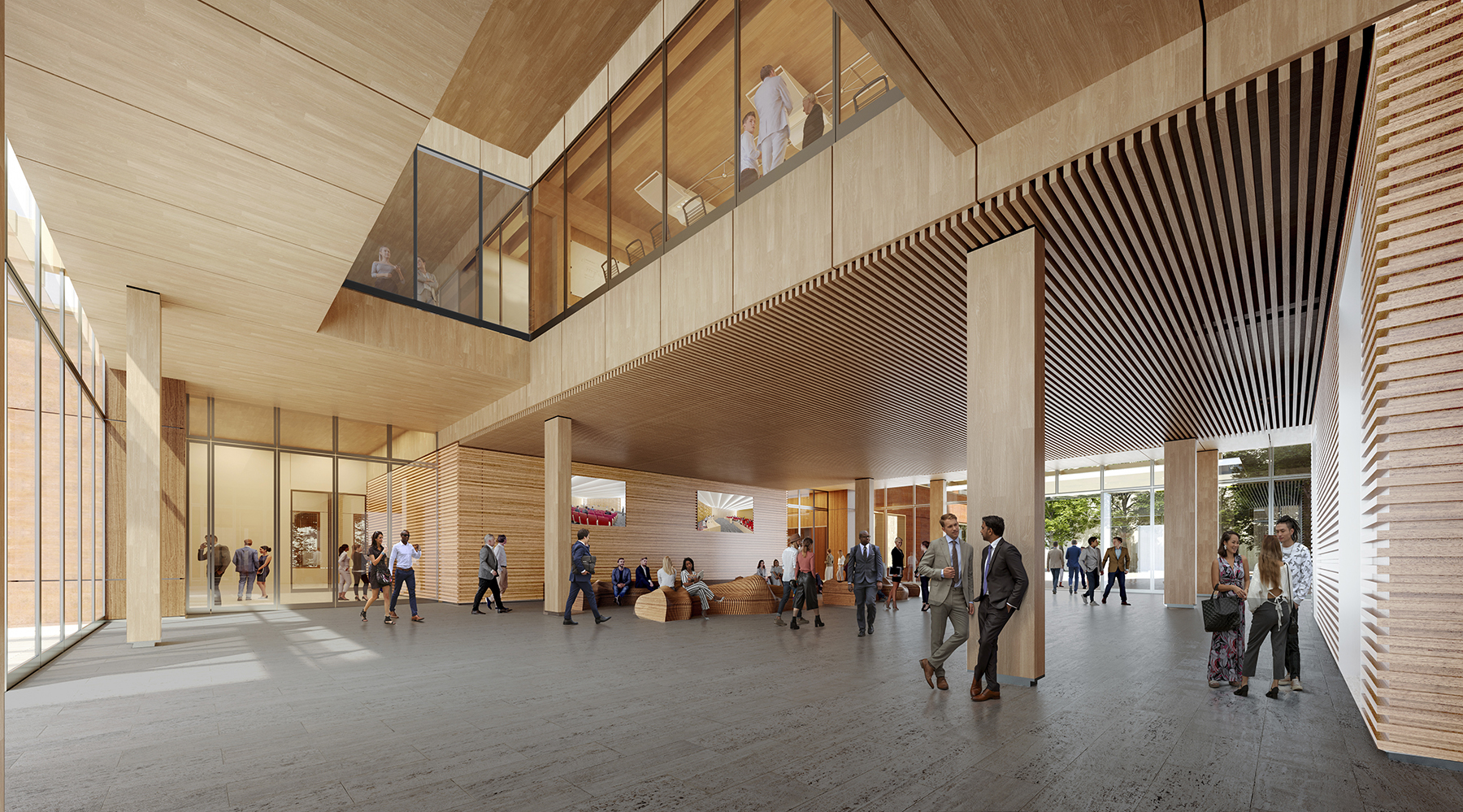 This article is published by Civil Engineering Online.