By Robert L. Reid
Round Top, Texas, a small town roughly halfway between Houston and Austin, is famous for its series of antique festivals. But now the area is gaining attention for something much more modern: 3D-printed eco-friendly houses made from a near-zero-carbon cement mixture.
Unveiled in late June, a residential development in Round Top known as The Casitas @ The Halles features five small houses, ranging in size from 400 sq ft to 900 sq ft that were constructed by a 3D printer using a so-called green cement product.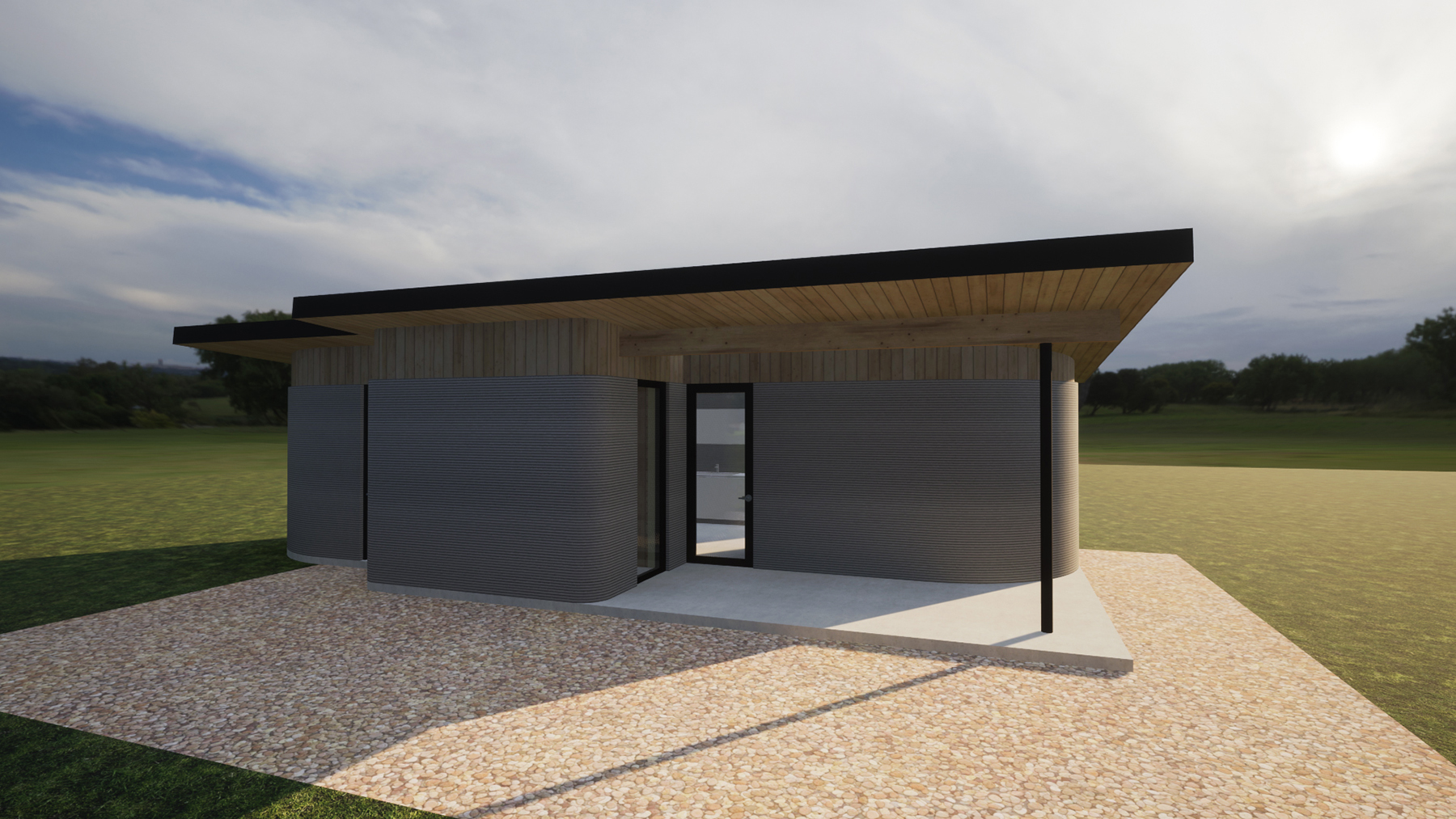 This sustainable construction material, known as PozzoCEM Vite, completely replaces the use of traditional portland cement, dramatically reducing the product's carbon footprint, says Danny Gray, P.E., the executive vice president for business operations and strategy at Eco Material Technologies. Based in South Jordan, Utah, Eco Material manufactures the PCV green cement product, which generates about 90% fewer emissions than portland cement during its production while setting much faster during application — in just minutes rather than the 4-6 hours for portland cement, Gray explains.
This means the printer head speed can increase and improve the system efficiency, Gray adds.
Eco Material worked with Houston-based Hive3D, a leading automated construction company, to customize its low-carbon material to print the five, single-story structures at The Casitas. The project team also included BEC Engineers and Consultants LLC and Ordinary Architecture Practice, both based in Houston.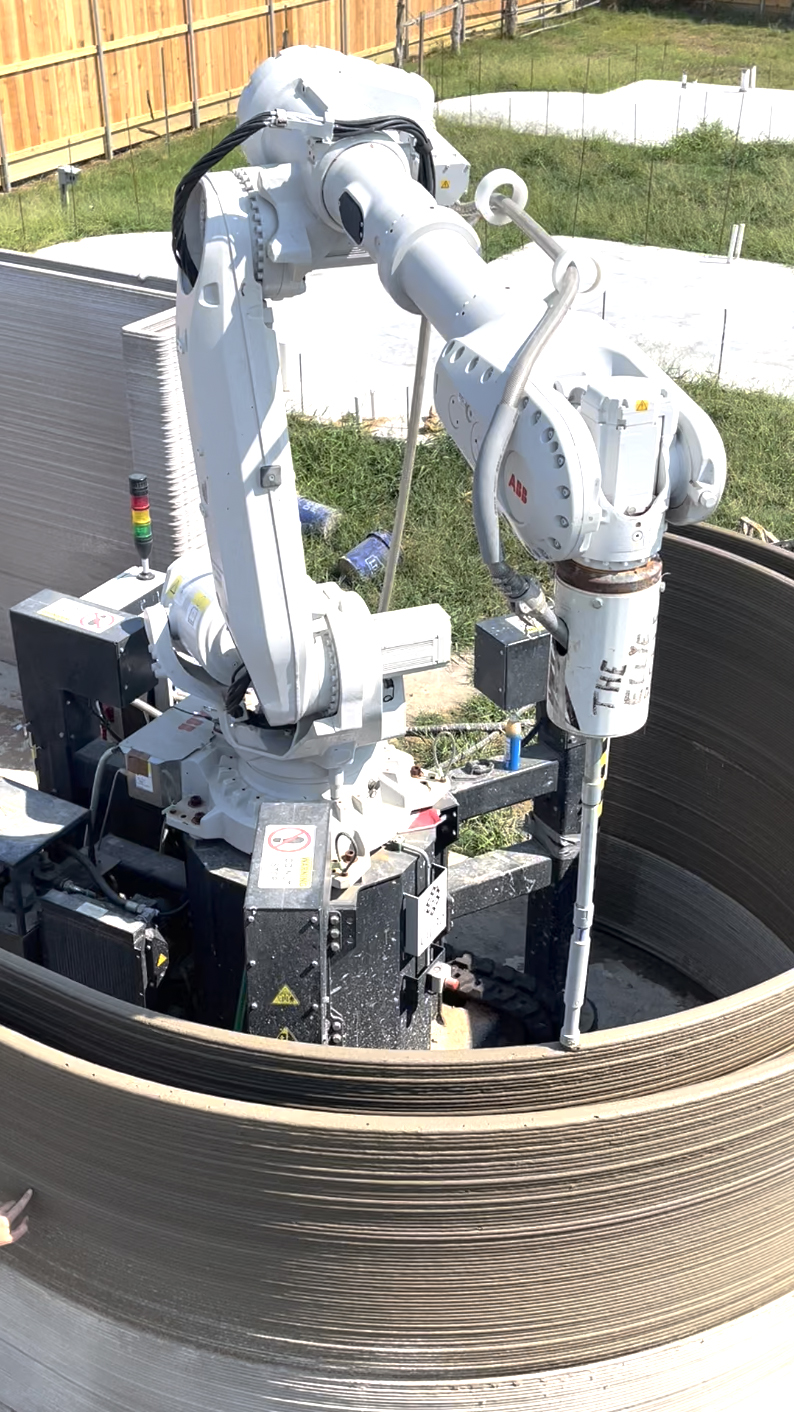 Eco Material's PCV green cement product was developed in 2020 and relies on fly ash — a byproduct of coal-fired power plants — or other pozzolanic materials that, under a microscope, resemble small ball bearings. This makes the material ideal for pumping through 3D-printing nozzles, Gray says. Pozzolanic cements date to the ancient Romans and Greeks and were incredibly strong as building materials — some ancient structures have stood for thousands of years, Gray explains. But pozzolanic cement also required extended cure times to strengthen enough to add a second layer, Gray adds, which is why it was eventually replaced by modern cement products. "We set out in R&D to mimic what the Romans and Greeks did with pozzolanic cement but to activate the material for the quicker set times and equivalent performance of modern cement," Gray explains.
At the Round Top work site, Hive3D first dug down 12 in. in the soil and constructed conventional reinforced-concrete slabs and grade beams to serve as the foundations for the 3D-printed houses, says Tim Lankau, CEO of Hive3D. The 3D printer — a robot arm on a crawler system with a circular printing envelope — was then driven onto the foundation slab to print each house in four sections from the inside. Each section took about three hours to print, with another 30 minutes needed each time to move the printer from one section to another, Lankau says.
The printer created hollow walls 8-12 in. thick, depending on the house, Lankau says. Rebar foundation ties and horizontal bond beams with rebar at the tops and bottoms of the outer walls secured the exterior framing, while galvanized steel supports tied the inner walls to the outer walls. Conduit was run through the hollow portion of the walls for the electrical and plumbing systems, while 16 in. long anchor bolts tied the top plate to the top bond beam, which is tied down to the foundation with rebar. The hollow walls were then filled with foamed concrete to create a monolithic structure, Lankau says. The foamed concrete uses similar pozzolanic cement manufactured by Eco Material mixed with a stable foam to create fill that adds insulation and additional structure to the wall.
Doors and windows were installed with concrete screws.
To accommodate the tough climate in Texas, the houses were designed with curved and rounded exterior walls that provide stability in high winds, while the lack of organic materials or drywall inside the structures should minimize the damage from any flooding and make the houses pest resistant and fireproof, Lankau says. The thermal mass of the walls, combined with the good insulation qualities of the foamed concrete and the lack of thermal bridging or leaking in the structure, makes them exceptionally energy efficient.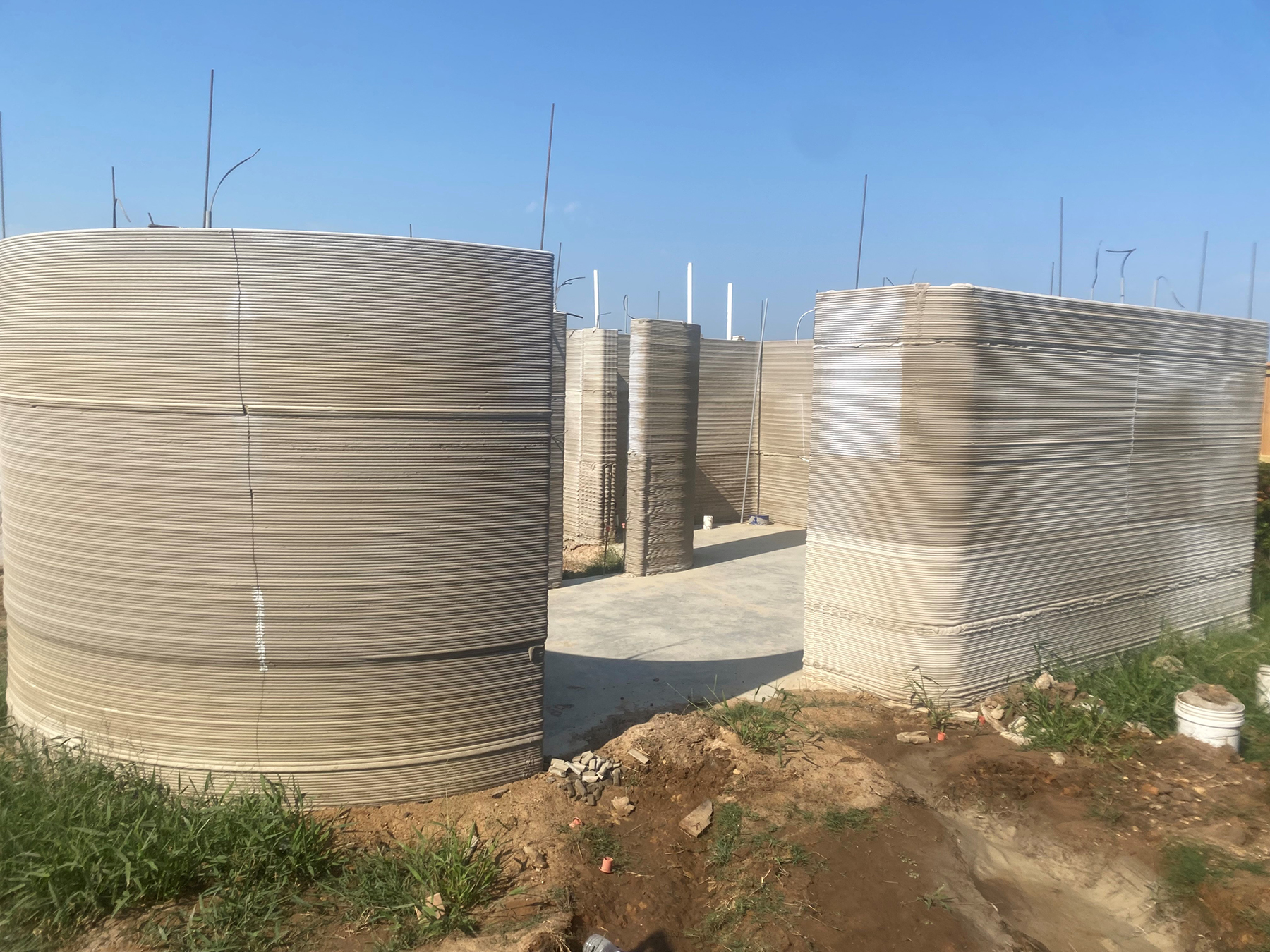 Looking ahead, Eco Material is preparing for a future in which the replacement of coal-fueled power plants with other energy sources reduces the amount of conventionally sourced fly ash available to make its green cement products, Gray notes. That's why the firm opened a plant in Pennsylvania a few years ago to harvest and process fly ash from a landfill. The plant currently recovers more than 100,000 tons of fly ash per year that was disposed of by a coal-fueled power plant in the 1980s and 1990s.
"Now things have come full circle," Gray says. "We're taking the ash mineral resources out of the landfill and putting it back into beneficial reuse" for the construction industry, Gray explains.
This article was published by Civil Engineering Online.