By Ray Bert
Inclusive Transportation: A Manifesto for Repairing Divided Communities, by Veronica O. Davis. Washington, D.C.: Island Press, 2023; 176 pages, $32.
"What do we owe each other?" author, civil engineer, and transportation expert Veronica O. Davis, P.E., M.ASCE, writes in kicking off her first book. "When it comes to getting from point A to point B, most of us come across as unwilling to endure any minor inconvenience for the country's greater good." She then rattles off some common roadway sins — running red lights, illegally blocking crosswalks while running in for quick errands, texting while driving, and others.
But selfish behavior behind the wheel is only a microcosm of a larger point: that our car-centric, car-first approach to transportation, transportation policy, and construction in the United States — despite some progress — remains badly in need of an overhaul to serve everyone more equitably. Inclusive Transportation is, Davis writes, "a vision for change and a new era of transportation planning," noting that much of it is based on her career as a planner and an engineer.
The book's first chapter, titled "Transportation is Personal," explains the author's passion for the subject. In addition to her mother — a New York City Transit Authority veteran — on her father's side, Davis is a third-generation worker in the transportation industry. Her paternal great-grandparents owned a cab company, and her father, James E. Davis, P.E., F.ASCE, began his career in the railroad industry and ended it serving 13 years working for ASCE — including as executive director and CEO.
Her other family ties to these issues, however, also factor in. Her maternal grandparents' home and high school were taken by the Louisiana government in the 1960s to make way for construction of a highway, part of a neighborhood of homes owned primarily by underprivileged Black and Italian families; the neighborhood largely ceased to exist as a result. This type of practice was repeated across the country for decades. The systemic racial and economic equity issues underlying these and other transportation practices are covered in Inclusive Transportation. Another example is the varying levels of e-bike use in underprivileged neighborhoods that is linked to whether equitable access — such as by providing the option to pay with cash — has been considered during the planning process.
The chapter "Should There be a War on Cars?" tackles another contentious set of issues head-on. Davis notes that while she is not anti-car, she is anti-prioritizing cars over all other modes of transport. Why? "Prioritizing cars creates traffic congestion …(because) the fact remains that (cars) are not efficient ways to move people," she writes, pointing out that "the more we invest in non-car modes, such as public transportation, bicycles, and pedestrian infrastructure, the more we can bring healing and restoration to communities."
The "Power, Influence, and the Complexity of People" chapter examines the difficulty of balancing the needs and preferences of a variety of stakeholders. Here, Davis leans on her difficult experiences working to develop a bicycle track in Washington, D.C. She notes that a variety of problems contributed to a disastrous first public meeting, but that in retrospect "the largest misstep going into the project was failure to publicly acknowledge the racial dynamics" undergirding existing tensions on one portion of the project. This also reflects one of the book's repeated points: Race has been a factor in producing the system and some of the problems that we have now — acknowledging that and avoiding repeating similar mistakes is key to fixing them.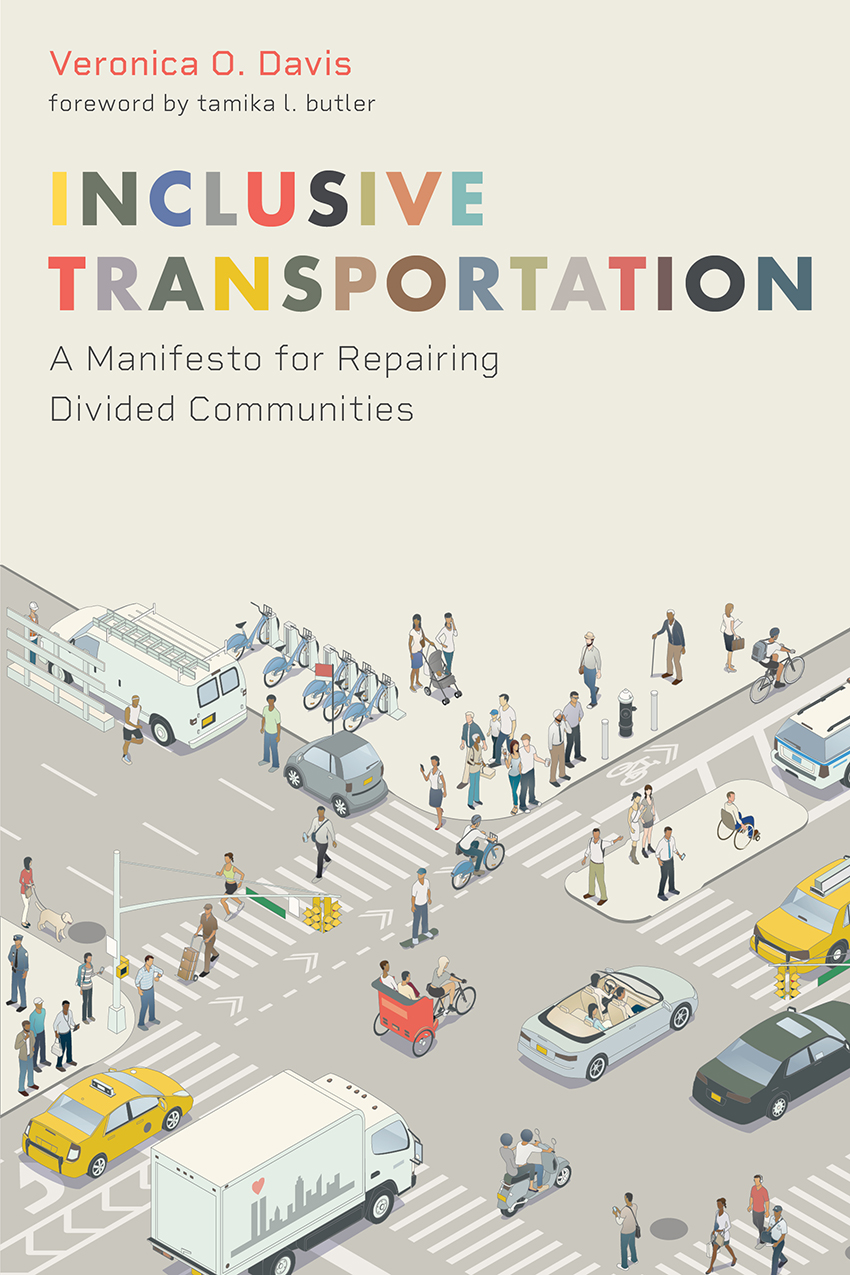 In wrapping up her book, Davis offers a six-point prescription for reshaping the industry and transportation systems to work better for everyone. Each point will require effort and time. Indeed, she describes the sum total as a "monumental task … that will require boldness, courage, and empathy as we push against forces in the industry that are resistant to change. It is a task that will require less engineering and planning from behind a computer and more engagement and collaboration with communities."
Inclusive Transportation makes a forceful impression even though it is a relatively slim volume. It is dense with facts, examples, and ideas and pulls no punches in its description of why change is so long overdue.
This article is published by Civil Engineering Online.
---
In the May 29, 2018 edition of the ASCE Interchange, Veronica O. Davis, P.E., a transportation engineer, co-founder of Black Women Bike, and then co-owner and principal planning manager at Nspiregreen, discussed the future of transportation.
---