By David Jen
The shape and silhouette of the tea fields and bamboo forests of China's Zhejiang Province will soon take a new form in the Anji Culture and Art Center, a complex designed with a nod to the area's landscape.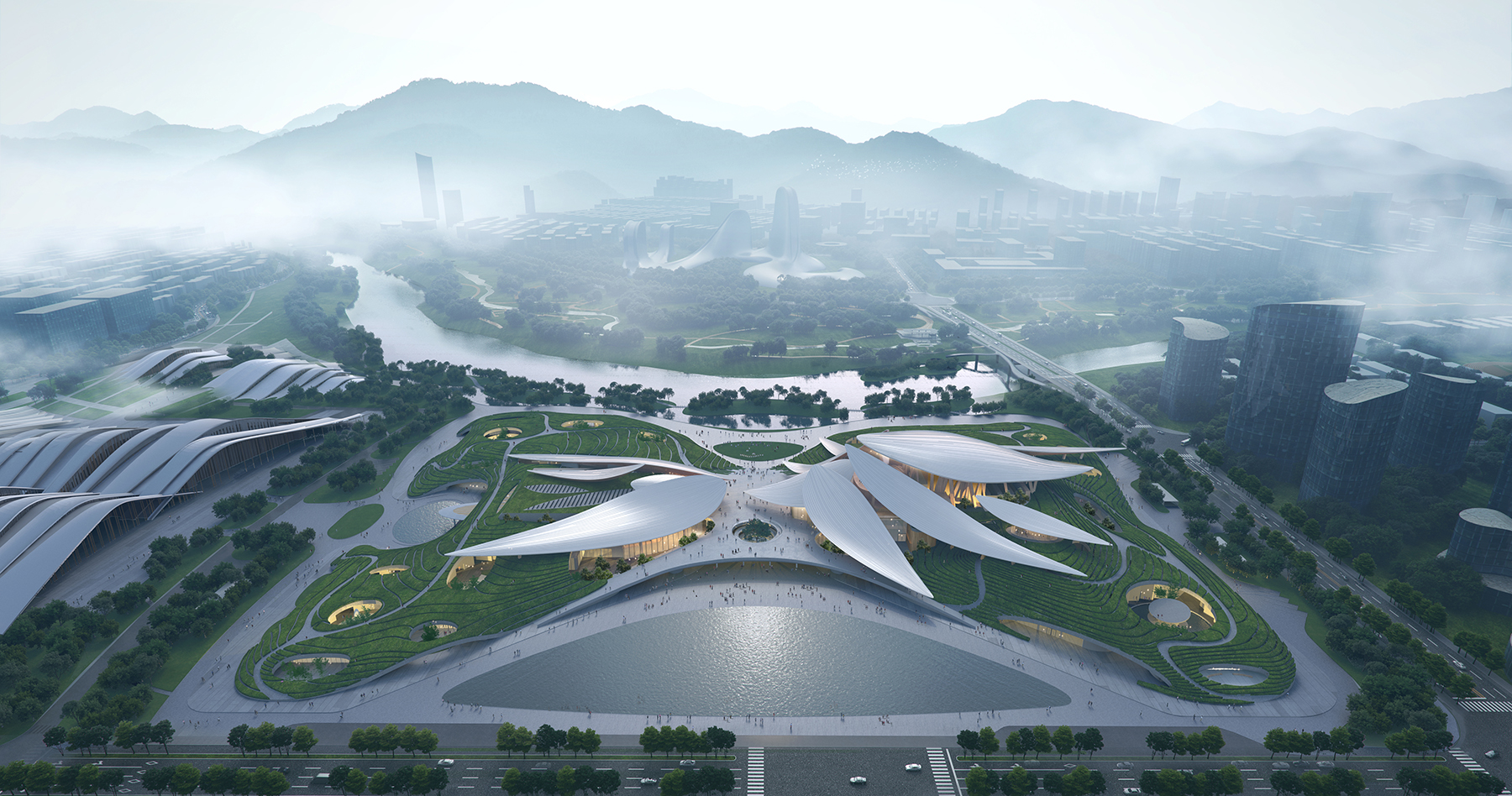 Designed by Beijing-based firm MAD Architects, the project will feature an open, white-tiled canopy of "bamboo leaves" encompassing six separate venues beneath it in the 149,000 sq m complex, according to MAD press material. Gaps between the overlapping metal leaves will allow natural light into the spaces below, while underneath and outside the canopy, gently sloping rooftops planted with Anji white tea will serve as green roofs for the buildings and mirror the canopy's "undulating silhouette."
MAD designed the project for client Anji Construction Holding Group. With construction already underway, the firm expects the project to be completed in 2025.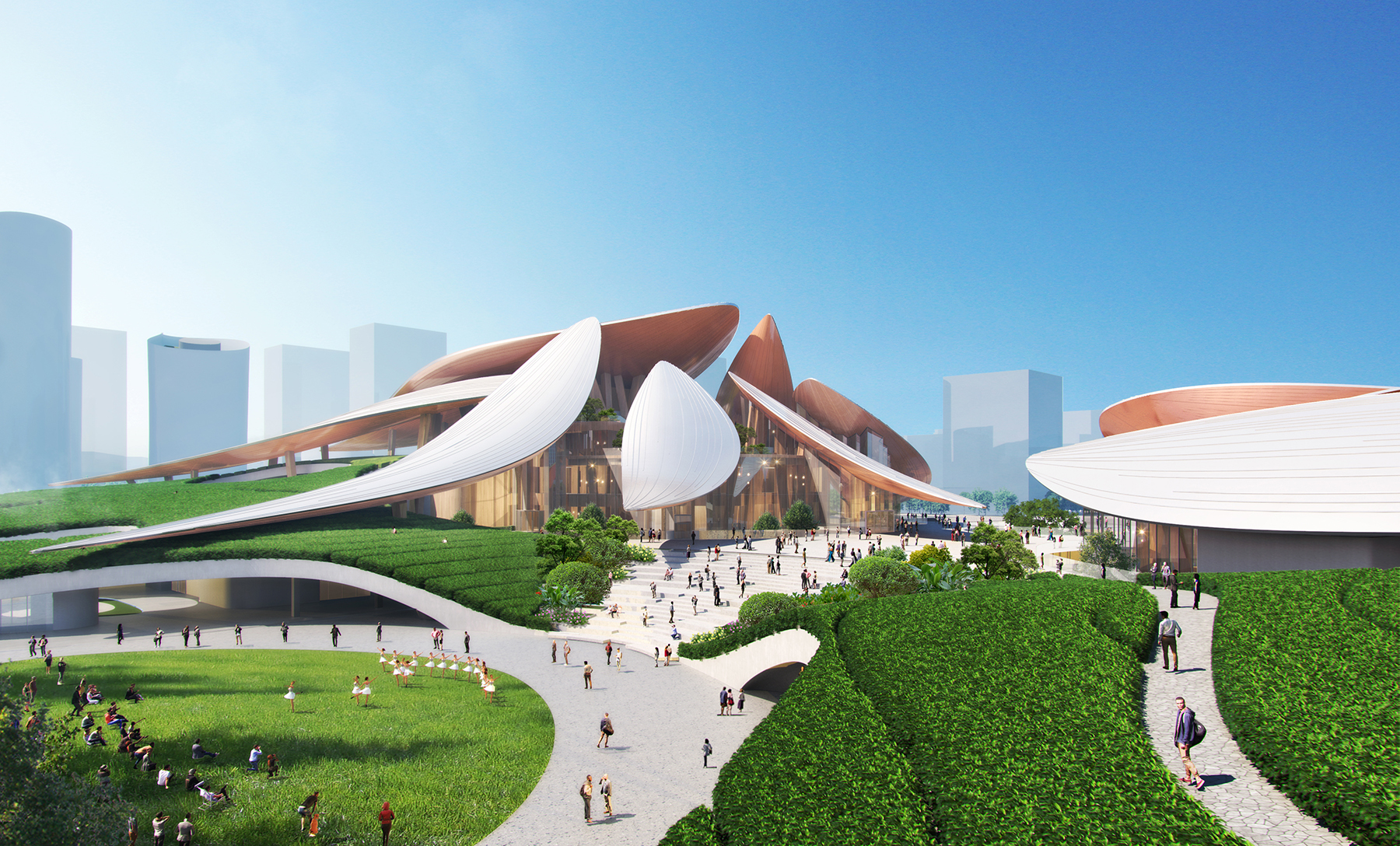 Anji County, about 120 mi west of Shanghai in the northwestern corner of Zhejiang Province, is home to Anji white tea and the Anji Bamboo Sea, a large forest of multiple bamboo species. In addition to providing myriad products — such as food, building materials, and clothing — Anji bamboo forests have gained recent attention for their high carbon-sequestration capacities, according to research.
Anji's picturesque Bamboo Sea also featured in Crouching Tiger, Hidden Dragon and other films.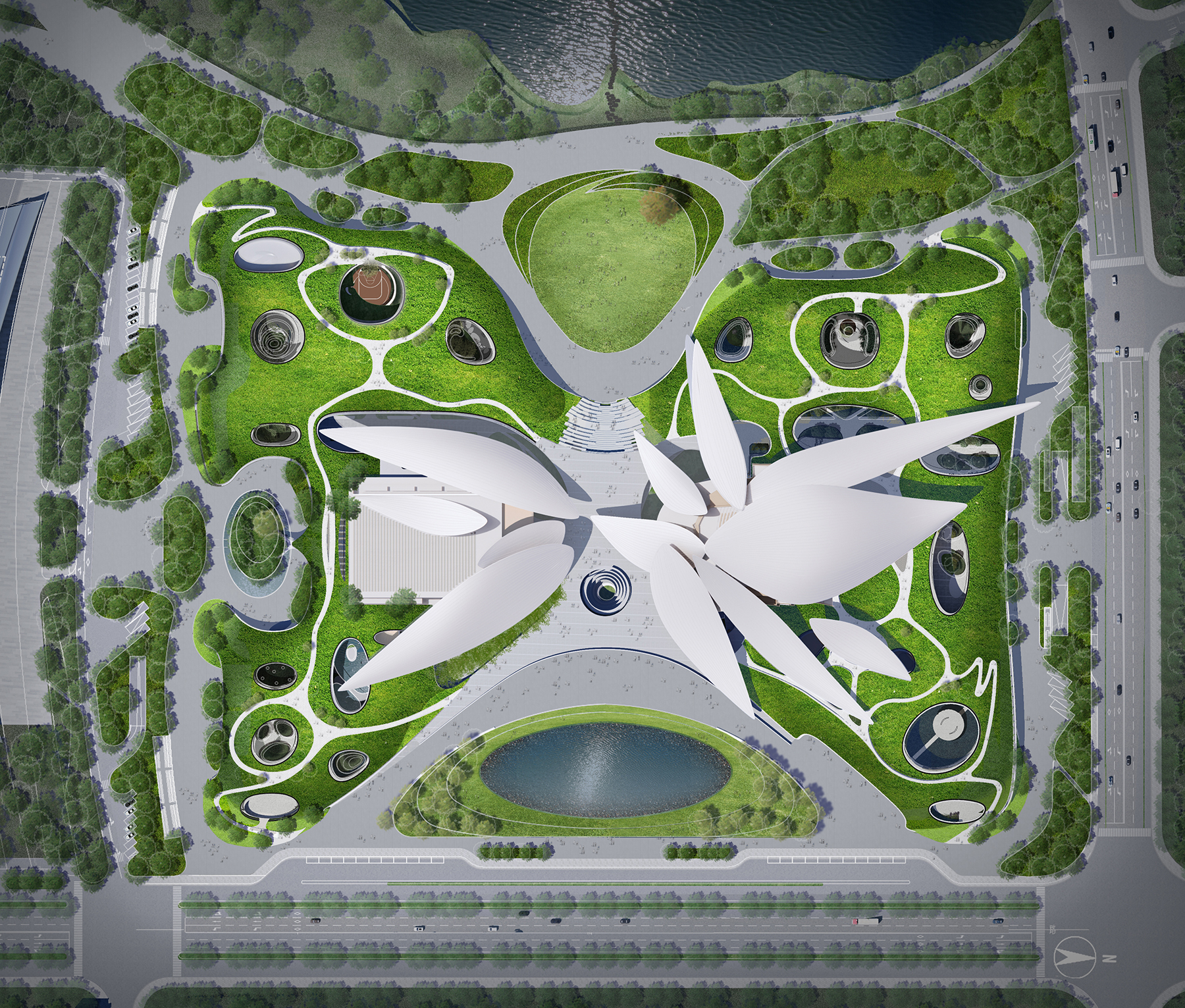 At the center of the culture and arts complex, the 1,300-seat Grand Theater will sit opposite a conference center large enough for events and meetings of up to 2,000 people. Both buildings will feature a two- to three-story layout. At the center's corners, a sports center, youth activity center, art education center, and leisure center, each with a one- to two-story layout, will complete the center's offerings.
"The project is designed as a transitional connecting space between the natural and built environments of the region," writes MAD. "On the east side lies the city, while the river and the mountains (lie) in the distance on its west side."
The center's main glass facade will complement the canopy and add to the project's openness, bringing in natural light from the sides to illuminate a warm, wood interior. And at 17 m high, the facade will stand as "the highest self-supporting glass wall in China when it is completed," according to MAD.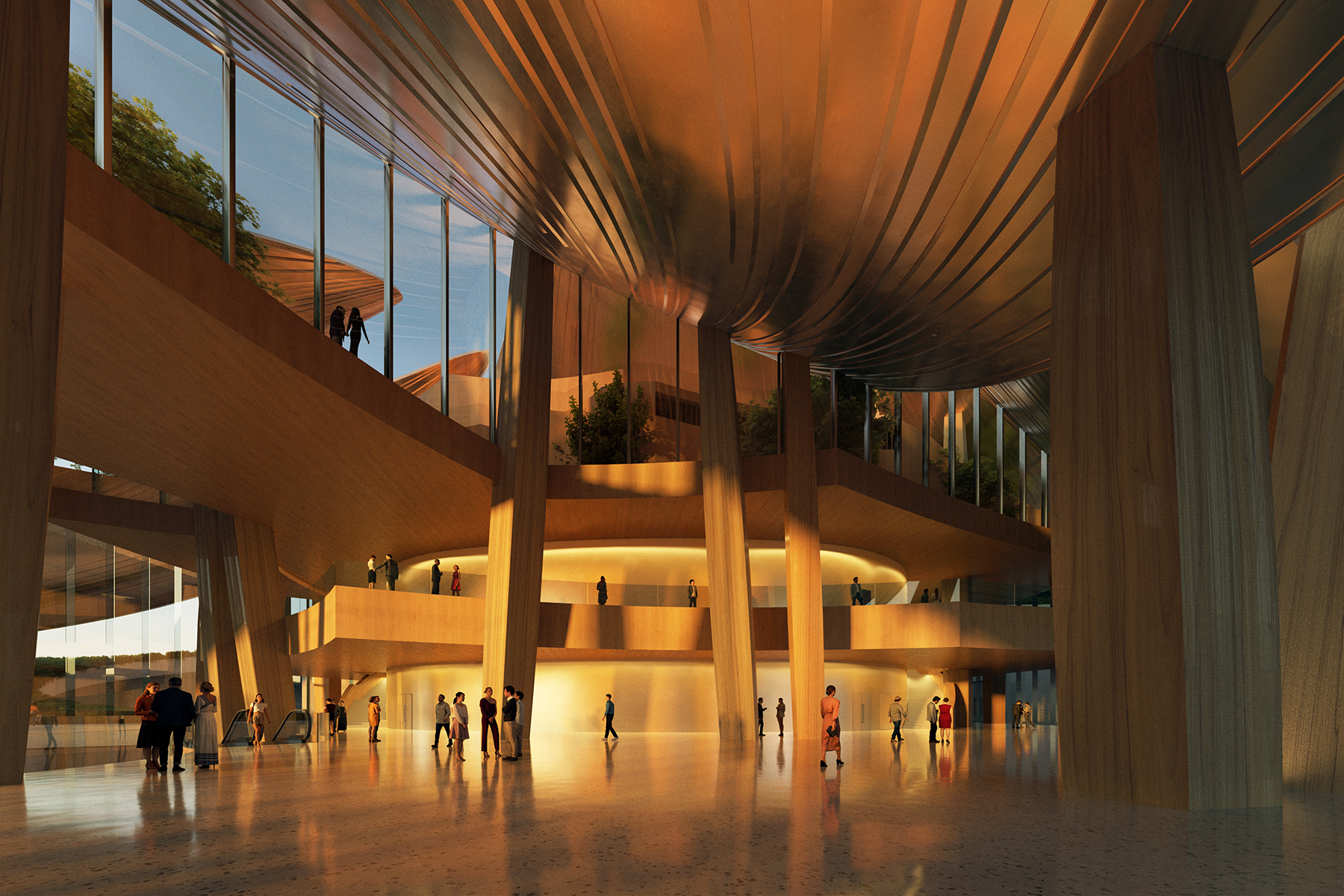 In addition to the green roofs, the project will include permeable pavement, recessed green space, and rainwater collection to optimize its energy usage.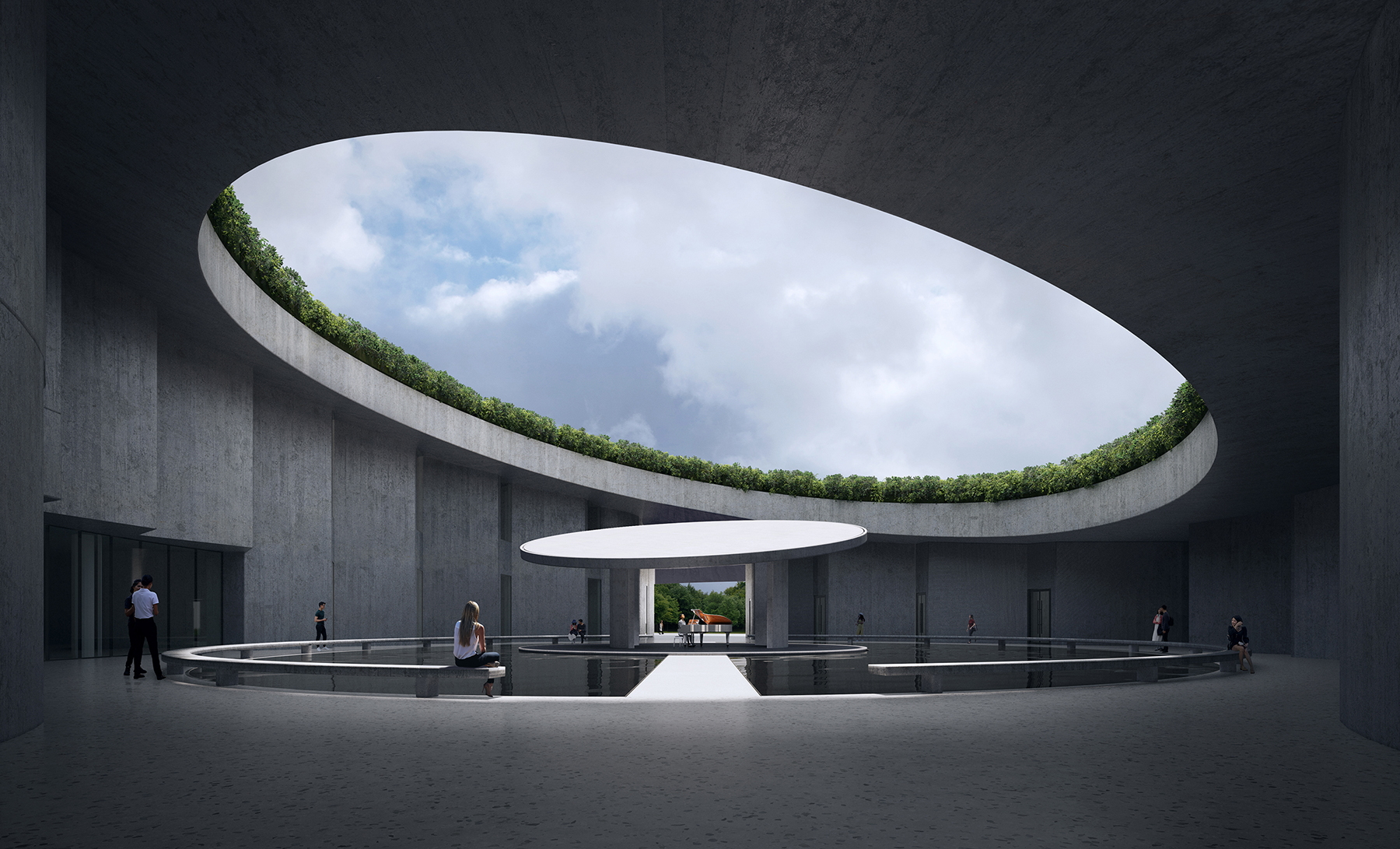 "We pursue the unique aura of this region and integrate it into everyday life," says MAD founder and principal Ma Yansong in the press material.
This article is published by Civil Engineering Online.