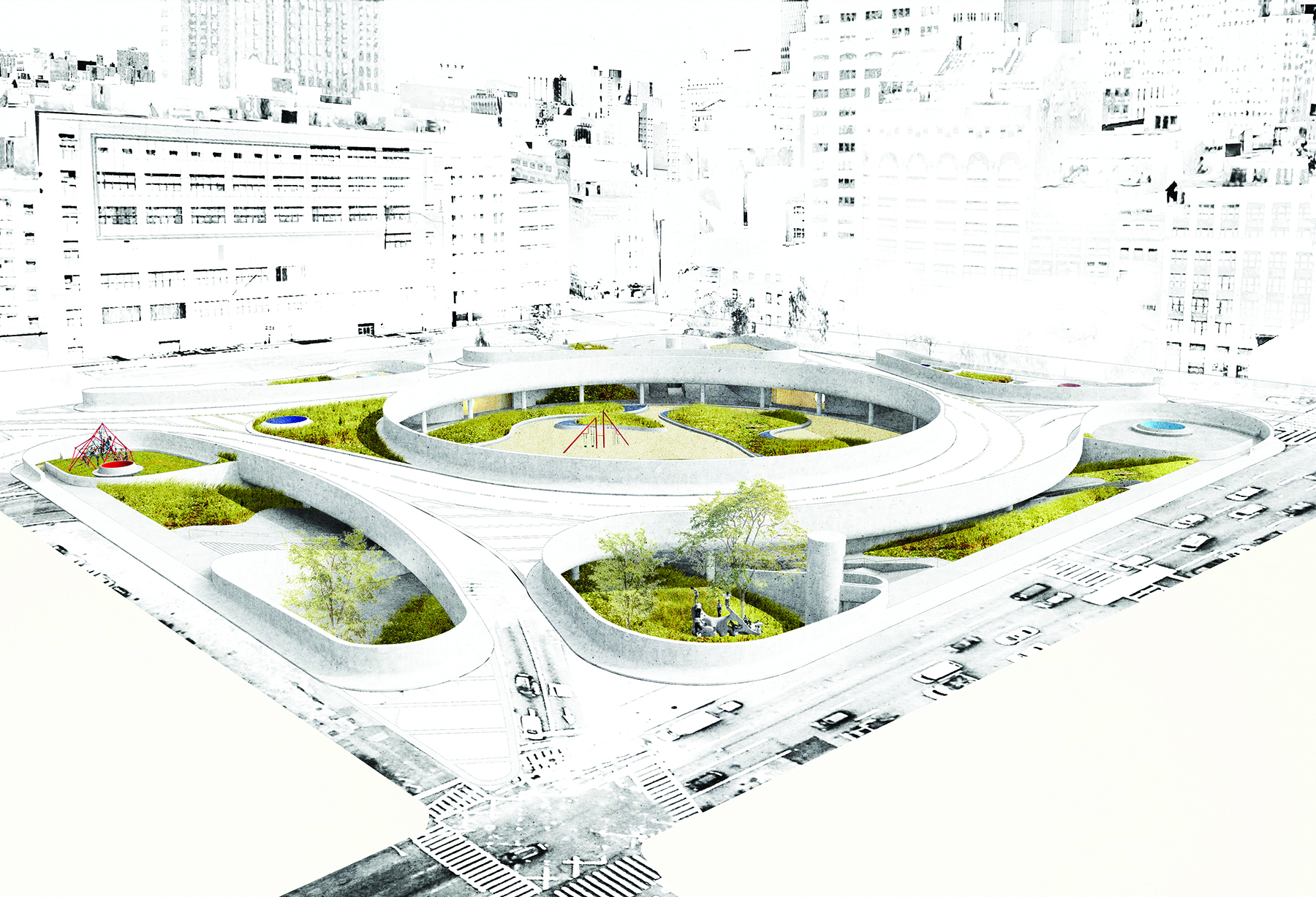 One of the best-known ways to enter the New York City borough of Manhattan is through the Holland Tunnel, immortalized in movies, books, and songs. Indeed, it is reported that well over 100,000 people pass through the tunnel every day.
What is much less well known, however, is that the terminus of the Holland Tunnel in New York City is St. John's Park. A complex circular traffic pattern occupies the city block surrounding the park, disbursing traffic in five directions via five offramps.
With no pedestrian access to the center of the block because of the complex traffic pattern, the park remains unusable by the public. Its nomenclature remains, despite the fact it became outdated in the late 19th century when the area was first developed as a freight terminal, before its early 20th-century conversion for vehicular use. Now the architecture studio Ballman Khapalova has released a hypothetical vision of how St. John's Park couldbecome a true recreation area.
The proposal takes the geometry of the existing offramps and offers a solution that would allow traffic to continue unimpeded while opening a whole new world for pedestrians and neighborhood activities between and below elevated roadways. Ice skating in the winter, a seasonal farmers market, an outdoor venue for film and performances, and a piazza for gathering and relaxation are part of the architects' vision.
Instead of building the park at ground level and raising the roads and ramps onto newly built, elevated structures, the designers envision "elevating" the roads and ramps by keeping them where they are and building the park beneath them. Part of the park would encompass a 275 ft diameter circle surrounded by the newly supported roadways and ramps, and the remainder would be located within the block's footprint but outside the traffic zone. These areas would also be excavated to provide passageways for pedestrians to the circular park.
The structures that would be built to support the roadways would also provide protection for the walkways, and the geometry of the offramps would create a series of pocket parks and enclosed venues. The open-air spaces could be used as gardens, dog parks, playgrounds, or piazzas. The covered areas could be used for shops, movie theaters, lecture halls, bathhouses, or yoga studios, in the architects' vision. Staircases, ramps, and elevators would descend from surrounding streets to the park and program spaces.
The park would become a cultural destination for the surrounding neighborhoods, the architects say. Landscaped with native plantings, the park's center could also serve as a bioswale during storms, retaining water and dealing with runoff by using water features. CE
This article first appeared in the January/February 2021 issue of Civil Engineering as "A Park Once More."