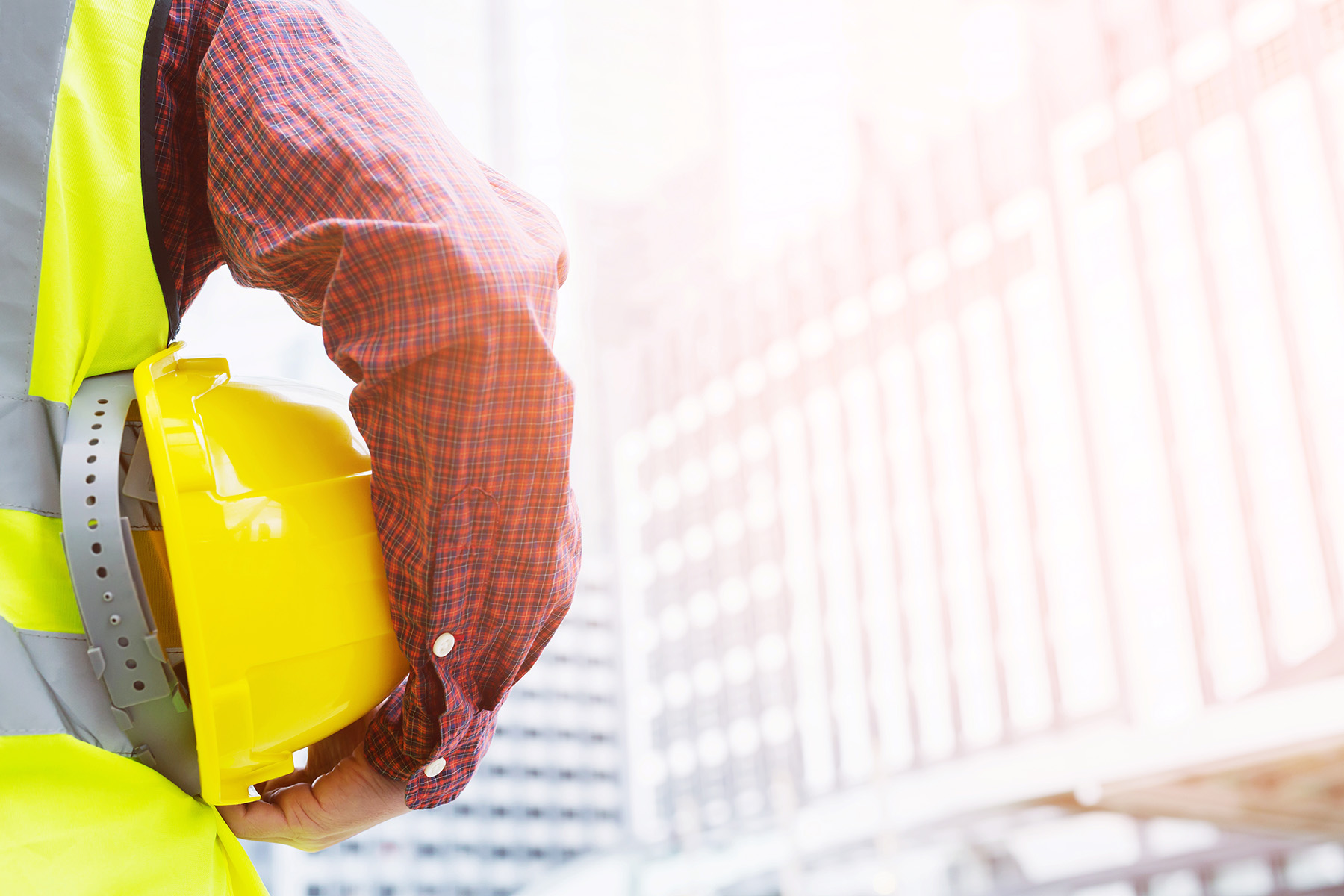 Edited by Robert L. Reid
The civil engineering curriculum in colleges and universities across the United States needs to include information on workplace safety, argued expert panelists during a recent roundtable discussion. Panelists debated how to achieve that goal and learned about the experience of another industry that successfully tackled the same problem.
At a May 1 meeting in Boston, the ASCE Board of Direction unanimously adopted a "safety challenge" issued by the Society's Industry Leaders Council that seeks to "raise awareness of the safety problem in the construction industry and implement strategic recommendations to make meaningful changes that reduce deaths and injuries."
The challenge involved six key recommendations from the ILC, focused first on communication and education (see the sidebar below ). Toward those initial goals, the ILC safety committee and Civil Engineering held a virtual roundtable discussion on May 11 that addressed one of the key elements within the challenge: the addition of safety-focused material and/or courses to the undergraduate-level civil engineering program criteria in colleges and universities, as established by ABET, previously known as the Accreditation Board for Engineering and Technology. ABET is the nonprofit organization that accredits college and university programs in applied and natural science, computing, engineering, and engineering technology. It is composed of 33 professional societies — including ASCE, which oversees programs in civil, architectural, and construction engineering as well as related technologies.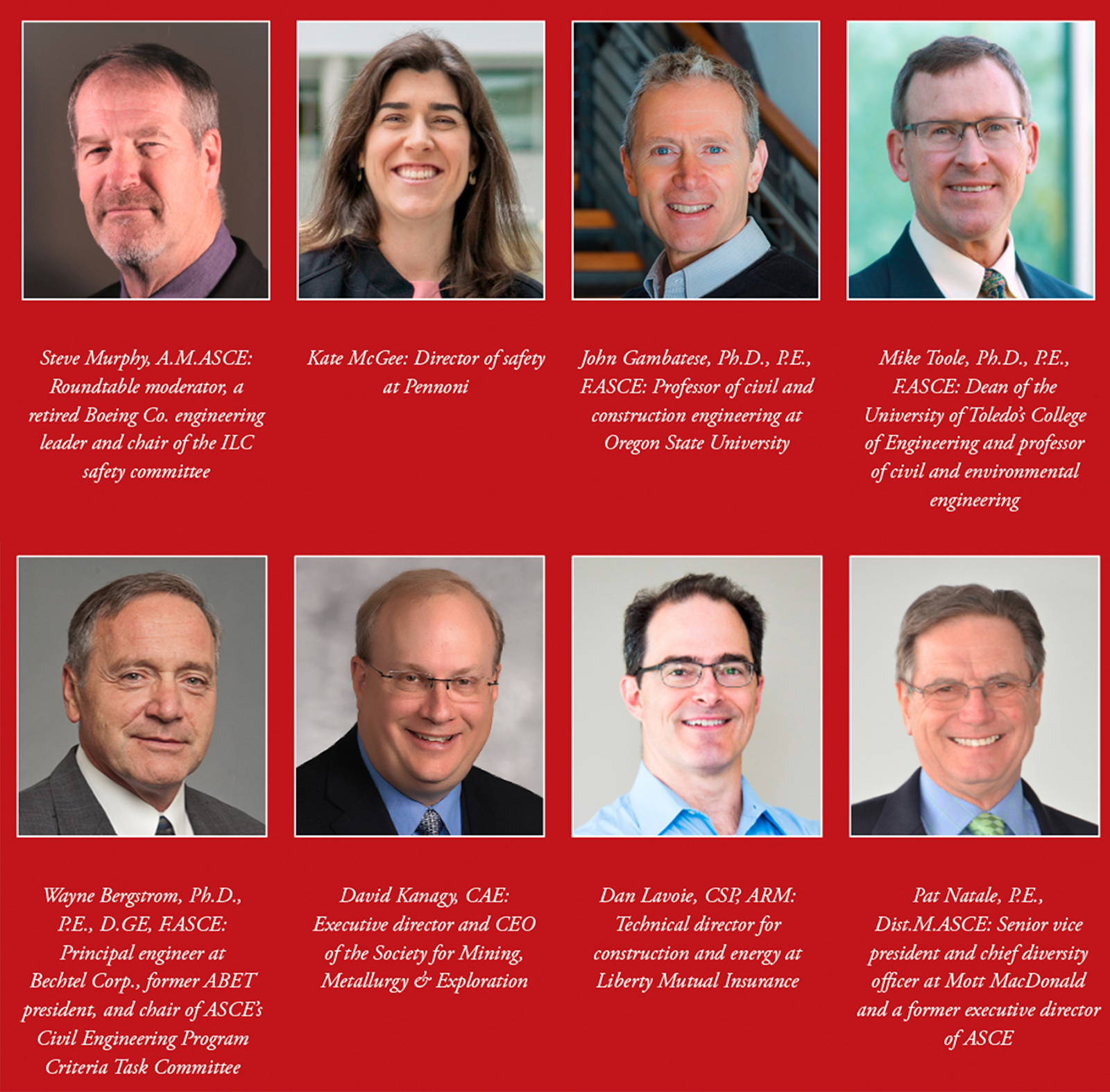 The members of the roundtable panel included experts in civil engineering, academia, industry, insurance, and the related technical field of mining, which has addressed similar safety issues. Steve Murphy, A.M.ASCE, a retired Boeing Co. engineering leader and the chair of the ILC safety committee, moderated the roundtable with assistance from Civil Engineering. In these pages we present, in edited form, an exclusive summary of the safety roundtable discussion.
Construction concerns
Although safety issues can arise in almost any workplace or situation, the construction industry is the setting in which civil engineers are most involved and in which there is clearly room for improvement. In 2019, for example, the construction industry experienced more than 1,000 deaths and approximately 200,000 recordable injuries — more than any other large industry in the United States, as Murphy explained to the ASCE Board of Direction.
Liberty Mutual Insurance's most recent Workplace Safety Index — based on 2017 data — reported that serious injuries involving more than five days of missed work cost the construction industry more than $10 billion annually, explained Dan Lavoie, CSP, ARM, Liberty Mutual's technical director for construction and energy. "Most of our industry does not realize how bad the situation is," Murphy stressed. "There is little communication and discussion of the subject and even less education and training on the many methods to eliminate or reduce hazards in the industry."
Large companies often "place a higher degree of importance on safety, often through professional safety staff," Murphy added, "while middle- to smaller-sized companies that make up the majority of our industry are less likely to promote and support safety to a high degree." Continued growth in the construction and civil engineering industry "will make this even worse if we don't start to do something different now," he concluded.
During the roundtable, Kate McGee, director of safety at Pennoni, outlined the issue. "Civil engineers are uniquely positioned to influence safety through their design choices, and this is so important it's acknowledged in the ASCE Code of Ethics," McGee explained. "But the problem is this important role is not well addressed in undergraduate education. So how do you reconcile the fact that the ASCE Code of Ethics identifies it as a paramount concern for an engineer, yet it's not really talked about in undergrad?"
Safety needs to be part of the ABET-accredited curriculum, McGee stressed, "so that we're setting up young engineers and developing engineers for success as they move into their future careers."
Mining measures
To that end, civil engineering educators can learn from the experiences of another industry that had to deal with historically unsafe conditions yet managed to make significant improvements: mining. Mining-related fatalities once numbered in the thousands annually, according to statistics from the U.S. Department of Labor. In 2020, however, the industry experienced just 29 mining fatalities, "making it the sixth consecutive year that mining fatalities were below 30. Among those fatalities, five occurred in coal mines, a historic low," explained a news release from the DOL's Mine Safety and Health Administration.
There are many reasons for this dramatic improvement, noted David Kanagy, CAE, executive director and CEO of the Society for Mining, Metallurgy & Exploration, at the roundtable. Kanagy and other mining industry leaders spoke to the ILC safety committee in 2019, as the idea of the safety challenge was being developed. During the roundtable, Kanagy explained that "there is no silver bullet" to account for his industry's safety improvements. "It's taken a lot of different things from a lot of different groups and a lot of different cultural changes, etc., to make it happen."
But one positive step certainly involved the mining industry's efforts to add safety to the ABET-accredited curriculum at mining schools, which started in the early 1990s and took nearly a decade to accomplish, Kanagy noted.
At each of the nine or so schools that offers a Bachelor of Science degree in mining engineering, there are now at least one or two courses specifically focused on mine safety; mine safety and health; health, safety, and risk management; or similar topics. Moreover, the ABET program criteria for mining engineering specifically includes "health and safety" in the list of what the curriculum must prepare graduates for; the program criteria for civil engineering does not, Murphy noted.
Most of the mining safety courses are required courses, according to a 2019 presentation to the ILC by Rick Honaker, Ph.D., a professor of mining engineering at the University of Kentucky. Kentucky requires mining engineering graduates to complete a two-credit course, Mine Safety and Health Management and Processes, which focuses on the "history and overview of mine health and safety; effective health and safety management systems; building a health and safety culture; hazard anticipation and identification, risk management, and hazard control; federal processes for health and safety system management; mine safety and health resources; mine laws, including safety regulations and interpretations for mining engineers and supervisors; and contemporary issues in mine safety," according to the university's College of Engineering course catalog.
The safety culture in the mining industry is now strong, Kanagy added. "It's in your face every single day, and you can't help but think about the best way to operate safely ... which is what really drives it back to the universities because you've got these industry-academic advisory groups that are in each program," he explained.
"And a lot of times, the CEOs ... or chief operating officers are in the groups, and they're driving this back to the universities to remind professors that, 'Hey, you've got to bring it into your senior design projects and other activities that you ask your students to do," Kanagy said.
Add and subtract?
So what will it take for civil engineering schools to emulate the success of the mining industry's academic efforts?
For one thing, it will require a larger undertaking than what the mining industry did, simply because hundreds of colleges and universities offer civil engineering degrees compared with less than a dozen schools that have mining programs. And while there currently are examples of civil engineering-focused safety programs in higher education, those are mostly at the graduate level.
Oregon State University, for instance, offers a graduate-level class called Design for Safety in the School of Civil and Construction Engineering, notes John Gambatese, Ph.D., P.E., F.ASCE, the professor who teaches the class. As Gambatese explained to his fellow roundtable panelists, some undergraduate students do take his course, but most of the students are seeking their Master of Science degree or Ph.D., typically from OSU's programs in construction, structures, transportation, geotechnical, and other discipline areas within civil engineering.
Some also come from programs outside civil engineering, including industrial engineering, mechanical engineering, and forest engineering. "I've designed it so it's applicable" to multiple disciplines, Gambatese explained.
Although the solution might seem to involve simply offering safety courses at the undergraduate level, the reality is more complicated. To add a new undergrad safety class would require OSU to drop something else from its undergraduate civil engineering curriculum, "and that's a very difficult thing to do," Gambatese said.
"We have many classes that we need to include in the curriculum" to meet ABET or university requirements or because those courses "are wanted by our industry advisory boards," Gambatese explained.
Throughout academia, the trend has been to reduce the credit hours needed to earn an undergraduate degree, with some seeking a 120-hour cap, noted Pat Natale, P.E., Dist.M.ASCE, the senior vice president and chief diversity officer at Mott MacDonald and a former executive director of ASCE. "So how do you force in another course?"
The same was true for the mining industry, said Kanagy, who noted that mining engineering schools are also under "lots of pressure" to reduce the curriculum to 128 or even 120 credit hours to help students graduate in just four years. "It's incredible how much pressure there is now for that," he explained.
But the question then becomes: What sort of courses will you drop to add a safety course? Obviously, "you don't want to drop a critical component of something that a student needs to learn in order to be operating safely out in any environment or any industry," Kanagy said. His organization stressed that the complex problems in engineering tests that are related to surface and underground mining must include health and safety in the curriculum. "The complex problem requirement makes it clear that health and safety coverage must be significant and not just a cursory review," he added.
Now, most mining engineering schools offer a stand-alone health and safety class in the sophomore year, in part because the Mine Safety and Health Administration "has some pretty prescriptive requirements for health and safety in the industry and the certifications that are expected to be held by mining engineers," Kanagy explained. So he recommended that civil engineers "go to the ASCE accreditation committee and ask them to consider modifying the program-specific criteria for civil engineering to mandate that something is included in the curriculum for health and safety topics."
One approach could be to embed safety information into multiple existing courses to circumvent the caps on credit hours that make stand-alone courses difficult, noted Natale.
Likewise, Lavoie wondered if stand-alone safety classes were necessary "or if that safety mentality should be built into the overall curriculum and multiple classes" so that it becomes an integral part of how civil engineering is taught. "Certainly, every topic doesn't necessarily have to have a safety component," he concluded, "but I think there are a lot (of topics) that you could embed safety into in the curriculum to make (them) more robust."
Seeking consensus
Wayne Bergstrom, Ph.D., P.E., D.GE, F.ASCE, a principal engineer at Bechtel Corp., a former ABET president, and the chair of ASCE's Civil Engineering Program Criteria Task Committee, noted that "there is nothing that prevents an accredited undergraduate program from taking on any topic," including life-cycle safety, safety in design, construction safety, and similar themes.
But, Bergstrom stressed, the first step to requiring such a curriculum change in all ABET-accredited civil engineering programs involves the creation of a broad consensus among academics and practitioners within the civil engineering community. That will likely prove a challenge, Bergstrom added, because "if you put 30 civil engineers in a room and ask them to give you a list of the most important components of a civil engineering curriculum, you will get 30 different lists ... so to make this happen, you must have a very broad consensus, a very strong consensus to be heard when everyone else is talking about the topics that they believe are most important."
Moreover, "if one is going to mandate this kind of safety topic, then it must be prepared or developed (so) that it's applicable within a very broad range of civil engineering programs," many of which do not include construction as a required topic, Bergstrom explained.
All that will take time, he added, because any proposed criteria changes "must be taken up through a series of steps within ABET itself before they can be approved, and that process typically takes a couple of years to get through the multiple layers of approvals necessary within ABET — because ultimately ABET is adopting those criteria as their own, so they have a significant role in approving and/or in modifying those criteria."
Finding the fundamentals
Because the civil engineering field and the range of academic programs are so broad, the ILC safety committee wanted to be certain that the addition of safety would not become "a free-for-all" with "very conflicting information being taught," noted Murphy.
So the committee decided to create a set of principles to help guide such programs and create a consistent approach to safety education throughout all civil engineering schools. To that end, the ILC safety committee spent more than a year developing that set of principles, designated as the "fundamental pillars of life-cycle safety," Murphy explained.
These pillars address three central points that Murphy said all civil engineering programs should include:
People, which focuses on the behavior and culture needed to effectively manage risks and make real, measurable, and lasting improvements that can best be achieved through communication, competency, and accountability.
Process, which considers the life-cycle fundamentals of the built environment and involves efforts to enhance standards, licensing, and training, especially in terms of logistics, the environment, continuous improvement, and a safety management system.
Product, which includes the key elements that need to be considered in the planning, design, construction, operation, maintenance, and decommissioning phases of a project, especially in terms of suitability, constructability, and sustainability.
Who should teach?
If a safety focus is to be added to the civil engineering curriculum, the question then becomes: Who best can teach it, especially since safety has not been a key part of a civil engineering education to date?
Moreover, several panelists noted that today's civil engineering faculty members often do not have as much practical experience as similar professors did in the past. "When I was in school, all of my professors in civil engineering had practical experience — designing, managing projects, etc.," noted Natale. "But now it seems today's faculty frequently focus on engineering theory."
Gambatese concurred, noting that the amount of practical experience required to teach at many universities "is very minimal, if any." Design classes often must be taught by a licensed professional engineer, he explained, but otherwise "the rigors of research, and being able to bring in research dollars, is a priority" over practical experience in many cases.
"Success as a faculty member these days is different," added Mike Toole, Ph.D., P.E., F.ASCE, the dean of the University of Toledo's College of Engineering and a professor of civil and environmental engineering. Toole noted that he had been an officer in the U.S. Navy Civil Engineer Corps and worked for various private engineering firms or organizations before becoming a university professor — experience that he said is "too unusual, unfortunately, among tenured faculty these days."
Toole has also been an OSHA 500 instructor, which means he was certified to teach the Occupational Safety and Health Administration's 10-hour and 30-hour construction safety and health outreach classes. On the plus side, he suggested that many other potential instructors can be found who are also qualified. Industrial hygienists, for example, can make great instructors, "as long as they understand what civil engineering is about," Toole noted.
Gambatese agreed that industrial hygienists and others with some sort of occupational safety and health background would make good potential instructors. But both panelists also stressed the benefits of considering people with experience in industry, even those without a formal education in safety, because they could help teach about and promote a safety culture in ways specific to the sort of work civil engineering students will eventually do.
Someone who understands things in a "civil engineering context would be tremendously beneficial because they can talk about safety related to steel construction or formwork construction or designing an underground pipeline" or similar aspects of civil engineering, Gambatese noted.
Toole added that the University of Toledo hires a number of part-time faculty members who are "fantastic instructors because they're coming from industry."
McGee noted that the key elements of a safety curriculum can be considered from a philosophical standpoint — considering the core tenets of safety, like risk assessment, hierarchy of controls, fault tree analyses, and other tools that help "get your brain set on making good decisions."
And then there are the actual design decisions that engineers make when they apply these safety tools to specific situations in transportation, wastewater, structures, and other engineering settings. "When you start talking about experience and drilling into the discipline-specific elements, I think someone who is really knowledgeable in that specific industry and who is a little versed or becomes familiarized with what some of the core decision-making processes are around safety could be an excellent instructor for safety in that particular field," McGee concluded.
"I don't think there's any one answer," added Lavoie, who expressed confidence in both the existing civil engineering faculty and the possibility of bringing in experienced engineers from outside academia. "I think there's a lot of opportunities. It probably just depends on what the school wants and what they have at their disposal."
When to teach?
Another critical question involves timing: In what year of a civil engineering student's undergraduate education should safety be taught?
In the mining field, safety courses are often offered during the first semester of the sophomore year, Kanagy said. That's because many mining engineering students "are going out and doing internships in the summer, so they need to get some sort of safety culture ingrained early on in their curriculum," he explained.
"But that doesn't mean that safety is only taught for one semester," Kanagy added. "It's really ingrained in all courses, and it's a key component of a lot of different things that go on in design projects, senior design activities, etc. So, as far as when it should be taught, it's got to be ingrained in every class."
Bergstrom stressed that safety lessons could be included at important points throughout the civil engineering student's education. "For instance, if I was teaching steel design, I would want to bring in an erection specialist at some point to talk about all the difficulties that occur during steel erection and rigging," Bergstrom explained.
"If I'm teaching reinforced concrete, I would like to bring someone in who could talk about the safety of handling precast systems and the difficulties involved, for instance, within crowded reinforcement. Or the dangers in dealing with posttensioned systems," Bergstrom continued.
These and other topics aren't necessarily intended for any particular year, Bergstrom said. Instead, they could be included on a sort of just-in-time educational basis as the specific issues are being taught to the structural engineering students or as other topics are taught in any of the subdisciplines of civil engineering, he concluded.
Working with what we have
Although the addition of safety to ABET-accredited programs will take time to achieve and the effort faces the various obstacles discussed during the roundtable, the panelists also highlighted measures that engineering schools can take right now to help create and promote a better safety culture during the education of future civil engineers.
At Oregon State University, Gambatese noted, there is an undergraduate class called Construction Safety. Although that class is intended primarily for students in the university's construction program, he knows that some civil engineering stu-dents are taking the course and gaining safety knowledge that way. The approach could be replicated at other schools that also have construction safety courses and civil engineering programs, he suggested.
For Natale, a key effort involves sharing stories about real-world episodes. "I still remember back in college classes when professors talked about experiences they had on a project they designed and what they learned," Natale recalled. These stories will be especially useful when they involve things that the instructors learned "out in the field the hard way," he explained.
Likewise, Liberty Mutual has been building a database of what Lavoie called "leading practices" in workplace safety — a term he prefers over "best practices" — that professors can share with their students. The company has also started an annual safety contest, the Liberty Mutual Safety Innovation Award in Construction, which "recognizes innovative evidence-based technologies, work practices, and programs (interventions) designed to reduce or eliminate construction hazards that lead to injuries and pain in the construction industry."
The contest, like the database, is one of "all sorts of different avenues that professors could steer their students toward," Lavoie said. "Whether it's a webinar or just a website that talks about construction safety, (there are) lots of opportunities to branch out beyond just the core curriculum and those expectations and say, 'Here are some things you can do if you're really interested in learning more about this,' because it will be part of what you do going forward," Lavoie explained.
Other panelists cited educational safety modules — Toole created one on steel; Gambatese created one on reinforced concrete — that civil engineering students can use to learn how to design for safety. There is also a major safety-related conference planned for this year, if the pandemic has eased sufficiently: The Congress on Safety in Engineering and Industry 2021 will welcome "leaders across industries and the breadth of science and engineering disciplines to address shared safety challenges" from Nov. 1-3, in Fort Worth, Texas. ASCE's Construction Institute is a cosponsor of the event.
"There are a lot of resources available," Gambatese stressed. "So what can civil engineering professors do? They simply can go online" to look up safety information. "There just has to be a desire and a motivation to do so."
Ethical efforts
For those who say it is difficult to fit more information into the civil engineering curriculum, Bergstrom recommended including safety into the already required courses on professional ethics. "The safety issue that we're talking about is very clearly part of our ethical obligations," he stated.
"Safety is the top priority according to the ASCE Code of Ethics," added Gambatese. "Therefore, it shouldn't be difficult or controversial to add it into the ABET civil engineering program criteria. Doing so demonstrates that ASCE thinks it is a priority and makes the program criteria consistent with the Code of Ethics."
Moreover, Gambatese stressed, similar additions have been made in the past. Civil engineering students did not always learn about project management, business, public policy, leadership, or sustainability, he noted. Instead, those concepts were all added over time to the ABET-accredited civil engineering program criteria. So the same thing can be done with safety.
"It might be difficult," Gambatese conceded. "But there are examples of adding things into the curriculum, just as we've done before."
---
SIDEBAR
What's in the safety challenge?
ASCE's Industry Leaders Council has issued a safety challenge — adopted unanimously by the ASCE Board of Direction — that promotes awareness of the safety problem in the construction industry. The challenge involves six key recommendations:
Lead the communication of the following items to ensure our industry is aware of our safety problem and is knowledgeable of the steps each person can take to improve our safety record.
a) Increase safety articles/messages in ASCE communications (e.g., Civil Engineering magazine, Civil Engineering Source, president's and executive director's articles, etc.).
b) Start all major meetings, conferences, and events with safety moments.
c) Develop the ILC safety presentation into an ASCE webinar. Reinforce the need to improve our safety record through presentations to sections, branches, institutes, student chapters, multiregional leadership conferences, and other organizations.
Lead the development of education policies and training materials to allow for greater awareness and knowledge of best practices to improve our safety record. The safety challenge depends upon education of all industry participants to promote and be aware of best practices that can improve our safety record.
a) Add "safety" to the civil engineering program criteria set forth by the Accreditation Board for Engineering and Technology. ASCE is the lead society for the ASCE Civil Engineering Program Criteria and has control over the criteria content.
b) Change the appropriate ASCE policies from "ethics" to "ethics and safety."
c) Include "safety" in mandatory continuing education requirements.
d) Include more specific safety criteria in the next Civil Engineering Body of Knowledge update.
e) Utilize the fundamental pillars of life-cycle safety to drive a consistent message across all future safety training.
Take advantage of ASCE's many industry, education, and association partners to build more knowledge and education of best practices from other industries.
a) Increase partnerships and strategic relationships with other groups and organizations on "safety," both within and external to ASCE.
Share a safety pledge to encourage all industry participants to work together in a similar manner to keep everyone safe. This would provide for a consistent safety message and awareness across the industry.
a) ASCE to share, facilitate, and oversee a national/global "safety pledge" with ASCE member firms and partners.
Identify opportunities to add safety elements to the Future World Vision. The Future World Vision is one of ASCE's largest initiatives, and this future should highlight better practices as a target for our industry to develop.
a) Identify opportunities to include safety elements in Future World Vision updates.
Add safety elements and scoring to all future innovation contests. There are national competitions in place that currently offer safety awards, so it should be relatively easy to add this to our ASCE competitions.
a) Include safety in future Innovation/Blue Sky competition criteria.
Robert L. Reid is the senior editor and features manager of Civil Engineering.
This article first appeared in the September/October 2021 issue of
Civil Engineering
as "An Academic Safety Challenge."