Edited by Catherine A. Cardno, Ph.D.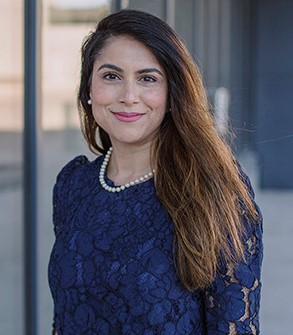 Sadaf Parvaiz is the first global enterprise inclusion and diversity leader appointed by GHD, a technical professional services firm that provides advisory, architecture and design, building, digital, energy and resources, environmental, geosciences, project management, transportation, and water services. The firm has 200 offices and more than 10,000 employees across the United States, Canada, Chile, Australia, New Zealand, the Philippines, Singapore, the Middle East, and the United Kingdom. Parvaiz is based in its Mississauga, Ontario, Canada, office.
What does diversity, equity, and inclusion — broadly speaking — look like to you and your company?
Diversity contains aspects of someone's identity that really make them who they are. It's the unique traits and characteristics that are specific to an individual. But while you may belong to a particular group or identify as part of a group, it doesn't mean that everyone in that group is the same. That's an important distinction to make because not all people who identify with a particular group are going to react or behave in the same ways in certain situations.
Equity is ensuring that the systems and processes allow for every individual, no matter what their differing background, to succeed and thrive in an organization. And it's not the same as equality; equity and equality are two different things. Equality is when you treat everyone the same. And equity is where you actually understand that there are certain groups or individuals that have historically been disadvantaged, and you take that into account and incorporate that knowledge into the systems and processes that you're administering.
Inclusion is about how we individually or systemically engage and value people who hold differing identities. So, for example, if we design a building, are we enabling access of people of differing abilities? Do we have policies — such as parental leave policies — that are gender neutral? Are we being inclusive of all kinds of individuals? Or are there differences in the systems and processes we have, depending on who you are?
I would also note that oftentimes DEI becomes part of human resources and is just a focus of recruitment and performance management. And it's not just an HR issue. It permeates all aspects of the business. Marketing, branding, client service — all those processes or functions need to be involved in DEI work.
What programs or systems need to be in place to create a diverse, equitable, and inclusive culture at a global corporation?
The first place that most people go is training and development. While I agree that education and training are important, they can't be done in isolation. We can't underestimate the importance of culture and ensuring that the systems and the processes that are in place support the behavior change that we are looking for.
You can have world-class learning and development programs around this topic. But if your HR systems, your compensation systems, and your performance management systems are all rewarding, recognizing, and reinforcing behaviors that are counter to what you are educating people on, then it's very difficult for people to behave in ways that are more inclusive. So you need both — you need that individual education and awareness, but then you need the systems to change to enable more equitable outcomes.
A lot of times people like to implement leadership programs to help women or underrepresented populations move up the ranks. I'm cautious of that approach because to me it only confirms people's biases that these groups aren't good enough and that they need this special help or these special programs to help them succeed.
To me, the systems approach is really answering the question: "What is it about the current system that is not showing us the results that we're looking for?" Changes might require setting specific criteria for development opportunities and succession planning and being more explicit about the representation on those slates, putting some checks and balances in place to make sure that those systems are actually fair and equitable and not relying on people just nominating people they already know.
What kind of criteria would you say need to be added to existing systems?
A lot of times people fall into the past performance versus future potential debate when talking about assessing people's suitability for new roles. But the most important thing is keeping things as objective as possible. It's also making sure that we are making unbiased decisions. So it's asking, "What is in this particular opportunity that is the criteria for success?" and, "What are the outcomes we're looking for?" And taking an outcomes-focused approach and being really explicit about what would make someone successful in a role.
And then saying, "Which particular candidates have proven their success in this particular skill set? Or have been given feedback that they can do this well by third parties, whether it's the client or their peer group?"
If you make it more objective, there is less opportunity for people to just choose those they are more comfortable with.
What are the top tips you'd give to someone looking to implement a global corporate effort?
You want to make sure you're not falling into a tick-box exercise just to appease investors or employees. You need to understand the answers to these questions:
Why is the corporate world focused on diversity, equity, and inclusion now?
Is this truly a strategic imperative and business priority for my company?
What does success look like for my company and how do we articulate that?
The second thing is to really understand your company's current state — the starting point — and where you want to go. Having the ability to collect data on that is important.
Third is to listen to your employees about their experiences. You really need to get to know people at all levels of the organization and create safe spaces for them to share what their reality on the ground is without them fearing repercussions. Most corporations are made up of smaller cultures: There are team, group, and city cultures, and those all add up to an organizational culture. Having employee resource groups or other avenues beyond your employee's local teams is important so that people can talk to a neutral third party outside of their immediate workplace and have the appropriate mechanisms to communicate any particular issues.
What kinds of checks or balances are needed to make sure that these efforts are successful and unbiased?
I think what's important is a systems approach. Make sure that this is something measured just like any other business priority. So if market share or utilization targets are some things that get measured at every business meeting, then DEI efforts need to be measured and monitored in that same vein. Without having appropriate accountability and key performance indicators, we're never really going to know if progress is being made. Regular reporting and accountability also signal to the leaders and all levels of the organization the importance of this work.
What is difficult is that because this effort requires everyone to participate and be involved, no one person can make an organization more inclusive. It requires everyone to buy into the effort and to actually start supporting it. And that behavior change can take a while, and it takes a lot longer to move forward if you don't have enough people focused on it.
What are the biggest challenges in implementing such systems?
As someone who has been in this space for 17 years, I would say that there are people who are so invested in this work that they tend to have a level of urgency around making progress. But sometimes making progress can feel slow, and often people develop what we call DEI fatigue, where leaders feel like, "We did all these great things! Why aren't we seeing progress? Why are we only seeing incremental change?"
That's a big challenge, because people can then burn out or lose focus when they aren't seeing the impact of their decisions and choices for two or three years.
What are the biggest opportunities and benefits?
I would say that particularly in the engineering, architecture, design, and construction sector, there is huge opportunity because we literally have the ability to impact not only our employees and the workplace that we're operating in but also the communities that we're serving. By having more inclusive infrastructure and building more inclusive cities, we can actually have an impact on people all across the world.
To me that's really exciting because if we have the right teams in place with people from all walks of life and different ideas and different perspectives, we can actually create a more inclusive world.
Catherine A. Cardno, Ph.D., is the managing editor of Civil Engineering Online.
This article first appeared in the May/June 2022 issue of Civil Engineering as "Developing an Inclusive Corporate Culture on a Global Scale."