By Catherine A. Cardno, Ph.D.
A team at Northern Arizona University has developed an instrumented bike that will improve cyclist efficiency, safety, and mobility by tracking — in real time — the condition of cycling infrastructure such as trails, sidewalks, and paved pathways.
"Introduction of an instrumented bike to the cycling community and agencies will help achieve a goal of delivering these end users with 'smart wheels' to oversee day-to-day cycling operations," says Chun-Hsing Ho, Ph.D., P.E., M.ASCE, the team's principal investigator and an associate professor in NAU's department of civil engineering, construction management, and environmental engineering. "Since there is currently no instrumented bike to our knowledge designed to identify the quality of cycling facilities, the project will serve as a pilot study to help detect anomalies on cycling facilities and provide a safer environment for cyclists."
Brendan Russo, Ph.D., P.E., an associate professor within the same department, and Steven Gehrke, Ph.D., an assistant professor in the department of geography, planning, and recreation, are co-principal investigators on the team.
Ho is interested in promoting the sustainability and longevity of pavement systems to increase their life cycles. The work brings together multidisciplinary research in emerging technologies, pavement engineering, intelligent transportation systems, multimodal facility design, sensing design, computing algorithms, and geospatial analysis, he explains.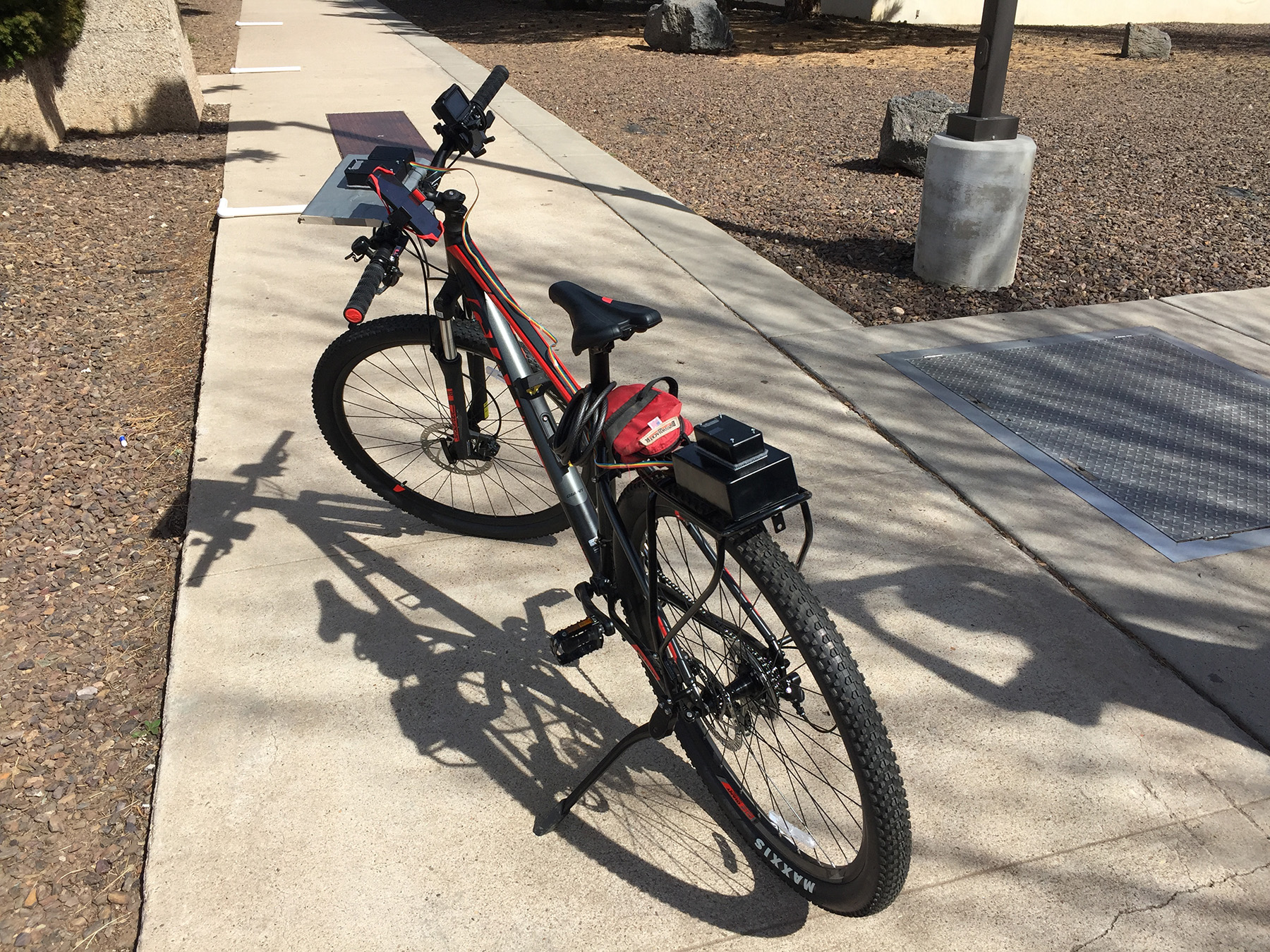 The bicycles are equipped with 3D accelerometers and video recording devices that are linked to a mobile app and cloud server. Algorithms developed during the project analyze the sensor data that are collected, and any potential hazards — such as potholes, bumps, cracks, and uneven surfaces — are georeferenced and images displayed in real time for users on either their computers or smartphones.
Once information about a route's quality is collected and shared, short-term hazards can be avoided by other users, and maintenance issues can be flagged for repair by municipal authorities.
"Recent advancements in motor vehicle technologies have aimed at the creation of smart, connected, and autonomous cars," Ho says. "However, while these methods exist, similar attention has unfortunately not been placed on more sustainable modes of transportation such as bicycling."
The team's work is designed to fill that gap.
The first field test of the bicycle and its sensors took place in April on the NAU campus in Flagstaff, and potential hazards, including maintenance holes, were identified and tracked for the university's facilities management team, according to Ho. A second round of field testing on unpaved and paved surfaces and involving a variety of bike types, such as street bikes and mountain bikes, took place in May.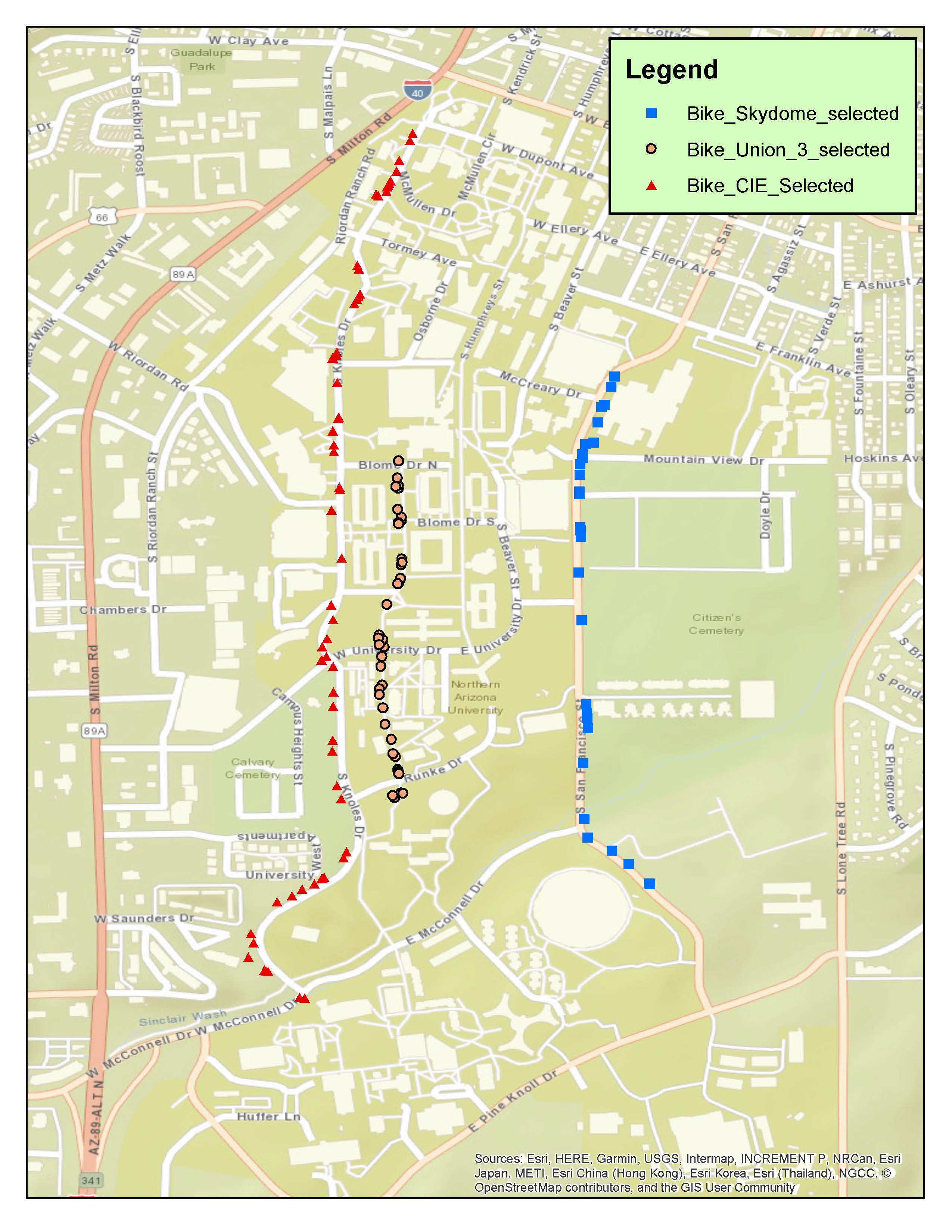 Ultimately, it is not enough for the data to just be collected; they need to be shared with cyclists in as close to real time as possible. "We need as much of this information provided to the user as quickly as we can," Gehrke says. "If we can provide immediate information on the quality of surfaces to the cyclist, that could perhaps make a difference about whether they choose to bike that day or the route they select."
The instrumented bicycle can collect information about the ground surface anywhere it is ridden, but it will be most useful on bike trails and in other locations where cyclists ride but motor vehicles typically cannot operate. With access to these areas, the bicycle will be able to collect vibration responses and record videos where it would otherwise not be possible to collect such such data. And the data will also speak directly to riders' comfort.
"We didn't have a way in the past of measuring direct comfort based on vibration data," Russo notes. "There are some measures based on traffic stress that are calculated using general roadway and vehicle traffic conditions, but we haven't seen any way to evaluate the ride comfort directly in the way we're planning to do here."
The biggest technical challenge faced by the team is how to communicate and transfer signals among the instrumented bicycle, the mobile app, and the cloud server, according to Ho. "We are working on the development of sensor loggers and computing algorithms with a goal to make sensing more efficient and accurate," he says.
During the COVID-19 pandemic, cycling was encouraged — and chosen by many — as a way to decrease exposure to others on public transportation, according to Russo. This surge in bicycle users will hopefully continue. "We feel that there is an urgent need to improve the current quality of cycling facilities to meet increasing demands for cyclist safety and that high-quality facilities with smoother surfaces will further encourage and motivate greater cycling activity across the country," Ho says.
The project was funded by a grant from the U.S. Department of Transportation's Pacific Southwest Region University Transportation Center, which is managed by the University of Southern California.
Now that the pilot project is nearing completion, the team is looking into potential partnerships with local cycling agencies and mobility providers interested in instrumenting their bike-share fleets. This move will enable the system to be scaled up, and the sensors' ability to assess pathways and pavements can be evaluated on a larger scale with the types of bicycles being standardized across a fleet, Russo explains.
While the instrumented bikes themselves will not reduce emissions on the roads, it is the team's hope that with the scaled-up implementation of the instrumented bicycles, people will be encouraged to bicycle instead of drive, thus reducing a region's transportation-related emissions — while improving their health and well-being.
Catherine A. Cardno, Ph.D., is the managing editor of Civil Engineering Online.
This article first appeared in the July/August 2022 issue of Civil Engineering.